Double Duty Degree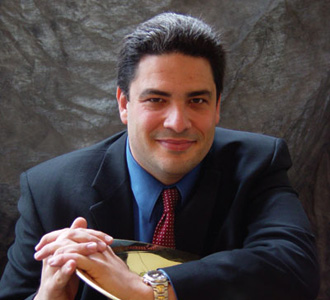 Dean of the Conservatory David H. Stull '89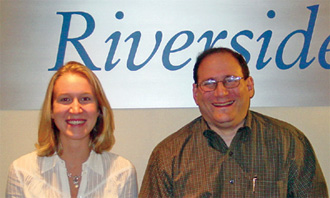 Riverside Company analyst Evelyne White '04 and CFO Béla Schwartz '79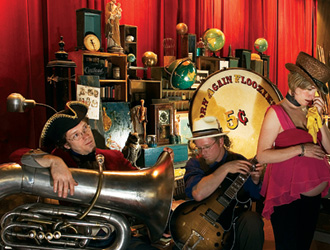 Chemist and musician Benjamin Vokits '98 (left) and his band, the Born Again Floozies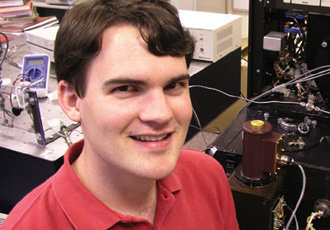 Hugh Churchill '06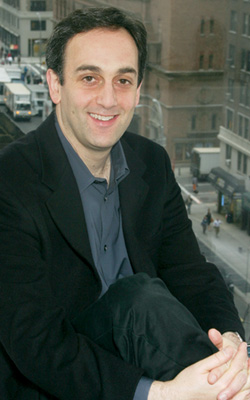 Patron Technology founder Eugene Carr '82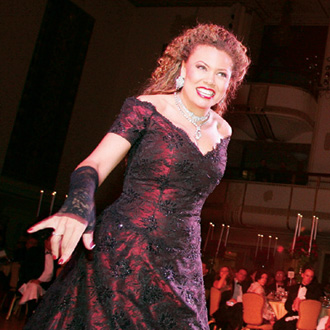 Opera singer Alyson Cambridge '02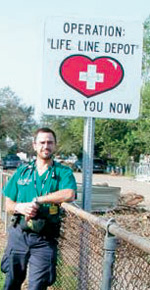 Physician Michael Millin '92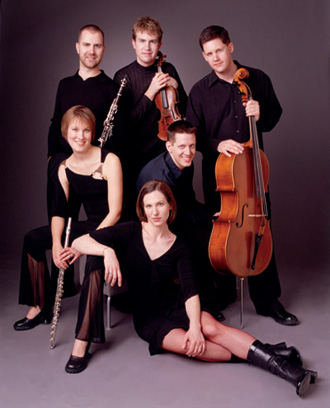 Matthew Albert '96 (violin), Matthew Duvall '95 (center, percussion), and Lisa Kaplan '96 (bottom, piano) are among the double-degree grads in the contemporary music ensember eighth blackbird.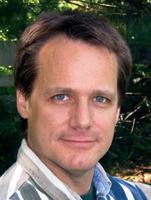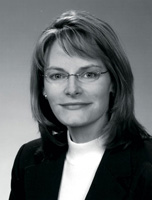 Book author Tim (Mikesell) Riley '83 (left), Attorney Susan Lubow '90 (right)
It takes five years of study to earn a double degree, plus enough ambition to fill a tuba case. What is the motivation for such an intense college experience?
Lynne Talley was 12 when her piano teacher suggested that she apply to the Curtis Institute, a highly selective music conservatory that at the time accepted very young students. She declined. "I knew I didn't want to close off the academic side of my life," she recalls.
She felt the same way about college a few years later. "I loved to play the piano and also to think about physics and math, so I applied to Oberlin as a double-degree student. I didn't want to close any doors. Oberlin let me keep them open as long as possible."
Talley graduated in 1976 with two degrees: a Bachelor of Music in piano performance and a Bachelor of Arts in physics. Today she has two curriculum vitaes. One leads off with her PhD in oceanography and her work as a professor at the Scripps Institute of Oceanography at UC-San Diego. The second mentions her postgraduate work in piano in Germany, along with her awards and gigs as a keyboardist and accompanist. Yet despite her vocational focus in science, Talley says, the solid foundation of her Conservatory education has never left her: "Those years of practice and work were like learning another language, but much more intense," she says. "Playing piano is easy now."
Oberlin's double-degree program has been serving students such as Talley since the 1920s. Unlike conservatory/college partnerships of nonrelated institutions, such as Columbia and Juilliard or Tufts and the New England Conservatory, Oberlin seems more readily able to resolve the philosophical and practical conflicts inherent in pursuing professional music training simultaneously with academics—while also providing the highest standards in both.
Dean of the Conservatory David H. Stull '89, himself a double-degree graduate (English and tuba performance), describes today's double-degree students as "ex-ceptionally talented." "They carry the highest GPAs on campus. The double-degree candidates have the intellectual curiosity and depth of a liberal arts student, but they also retain the professional skills that are required for training in music. In the College, they have the capacity to apply an intensive focus to a particular subject; in the Conservatory, they bring context and imagination to their playing."
Students submit separate applications to the College and the Conservatory. This fall, 41 freshmen entered Oberlin as double-degree students, the largest number in recent years. Historically, about half the entering students continue with the program, which usually takes five years; the others typically drop one degree for the other. Alumni records show that the ensuing careers of double-degree grads are split equally between music and other professions, particularly business, education, and science and medicine.
"At first, I wanted to play chamber music and teach, but those jobs were few and in godforsaken places," says Béla Schwartz '79, who was one of three double-degree clarinet students in his Oberlin class. "I knew that I really wanted to be in New York, and business school was the shortest route to a well-paying job."
Schwartz is now CFO of the Riverside Company in New York, a multi-city private equity firm started, incidentally, by two Oberlin alumni. And although he hasn't played his clarinet in public for nearly a decade, he recently bought new reeds and a mouthpiece and is indulging in a little dreaming: "I'd like to play the Mozart Clarinet Quintet with the Jasper Quartet."
It's a Matter of Time
The value of a liberal arts education for budding musicians hasn't been lost on other colleges and universities in recent years. Stephen Clapp '61, retiring dean of the Juilliard School, notes that the Juilliard-Columbia relationship, plus a new partnership between Harvard and the New England Conservatory, reflects Oberlin's longevity and leadership in this area.
"Traditional conservatory education neglected the intellectual side," he says. "Many of the most talented musicians are also the brightest, and they don't want their minds to go vacant for four years. Everyone out there now recognizes the value of the idea that for some people, it is really important to have both."
Bard, a small liberal arts college north of New York City, launched a music conservatory last fall that requires all music students to earn a double degree; in other words, every student in its conservatory is also a student in the college. Bard's president believes that competition among highly skilled musicians, combined with dwindling revenues from concerts and recordings, will force classical musicians of the future to rely on a second, more "market-viable profession."
Double-degree graduate Michael Manderen '76, director of Conservatory admissions at Oberlin since 1978, admires Bard's initiative, but speculates that requiring a double degree will shut out those high-caliber musicians who want total immersion in music. That, he says, makes it hard to construct a top-notch conservatory.
"The best players seek a challenging musical environment, one in which they will be stretched," he says. "Oberlin seeks a balance between the two by offering a first-rate double-degree program, while, at the same time, expecting to attract and enroll students who seek a more narrowly focused program. The success of our double-degree program has everything to do with our ability to attract both types of students."
Pursuing the double degree at Oberlin requires considerable motivation and discipline. Students must complete 152 credit hours, as opposed to 112 for a Bachelor of Arts degree and 124 for a Bachelor of Music. That averages to 15.2 credits per semester, but in practice it can work out to many more. Double-degree students must plan out their college lives from the moment they arrive on campus, figuring out which courses to take first, and which ones can be delayed.
Just the logistics of attending class can be challenging. "I did sometimes have to go to great lengths to make things work out," says Hugh Churchill, a 2006 graduate who triple majored in physics, mathematics, and tuba performance. "The most absurd example was the semester I audited an advanced calculus course that met at the same time as orchestra. I made it to the math class about 75 percent of the time, sometimes by running from the Con to the math department with a tuba on my back."
Even so, Churchill managed his schedule so well that he was able to study in Paris for a semester; he also earned a record-high GPA in the physics department, landed a prestigious Goldwater Scholarship, and is the 2006 winner of the American Physical Society's LeRoy Apker Award (four-year college category), which recognizes outstanding undergraduate work in physics. He's now studying computational neuroscience at the University of Chicago.
Such an ability to organize is common to many students in the program, says Professor of Physics Stephen FitzGerald: "They all seem to be able to tell you exactly where they will be and what they will be doing every day and night for the next two weeks."
While juggling such a schedule can be exhausting, some double-degree alums remember actually enjoying the frenzy. Benjamin Vokits '98, a synthetic organic chemist developing drugs at Eli Lilly, says that simultaneously pursing two very different tracks—tuba and chemistry—actually helped his focus. "If I had to study for science class, I'd practice tuba; if I had to practice tuba, I'd study. It was a good thing, because if something was really frustrating me, I always had something else I could do, and do well."
Vokits has kept up with his playing—in a rock, jazz, and country band, and in a trio he formed with a tap dancer and a guitarist. Would simply taking music lessons have given him the same skills? Vokits says no. "People who just take lessons don't have the same kind of music education that I do. People are amazed at what I can do with analysis—I can take music apart, analyze it, and add something totally different. The skill to see what's cool, and how to build on that, is a rare thing."
Business entrepreneur Eugene Carr '82, while studying cello and history at Oberlin, managed the student radio station, WOBC, and started a concert booking operation. "The juggling of two degrees was actually thrilling. In the morning, I'd be in rehearsal, talking with music students, and in the afternoon I'd be studying cosmology or Chinese history," he says. "It was a tremendous amount of work, more than I'd banked on. And it was tricky. At all times you had to act toward teachers as if theirs was the only degree you cared about. No one was willing to cut you any slack because you chose to do two degrees at once."
These days, double-degree students have much more help in managing the chaos. Students have advisors in both areas of study, and a reorganization in 1991 gave control of the program to an administrative committee headed by associate deans Ellen Sayles in the College and Marci Alegant in the Conservatory. Still, for each double-degree student, the program is different. "Students have to have a curricular imagination," Stull says.
Facing the Music
A common theme among double-degree Obies is a yearning for diverse intellectual exploration. Violinist Lisa Grodin '83 remembers the fun of dissecting a fetal pig one hour and playing Berlioz's Symphonie Fantastique the next. "I was very serious about music, but I came from a family where everyone practices law and I had a love of other things," she says. "I didn't buy into the idea that a musician could only succeed with music as a sole focus. That would be stifling. Lots of programs added academics to music for decorative purposes, but they seemed to be waste of time. I wanted a strong program in which students were vitally interested in lots of things."
Grodin used her history degree as a license to explore. "Every semester, I'd sign up for many more credits than I could manage, and then whittle them down to those I couldn't part with. There was the history of Japan; poetry; a seminar in the history of infinity. I took a course on science and society and wrote a paper on the Mediterranean fruit fly."
Grodin's passion for exploration carried over to her Conser-vatory work. Looking for insights into playing Bach, she approached violin professor Marilyn McDonald, who initiated her into the world of baroque violin and historical performance. Grodin went to Eastman for graduate school and then plunged into the historical performance world, landing a spot in the new Philhar-monia Baroque Orchestra in California and jobs with top period ensembles in Europe. Today, Grodin says, her life in the Bay Area is "like the double-degree program all over again": it includes the Philharmonia, modern chamber music, violin, and viola, plus teaching in a private school centered on music and historical performance outreach programs that incorporate dance, history, and literature. "It's like being in a candy store," she says. "I want to try every jar."
Still, even at Oberlin, the inherent conflict between the focused training of the musician and the wide net cast by the liberal arts student can't help but surface occasionally. Like other Con students, double-degree students need hours in the practice room if they are to move forward and keep their teachers happy. Finding enough hours in the day can be a challenge. And while most double-degree graduates say that their instrumental teachers supported their academic goals, they could not avoid the feeling that they ought to have been in the practice room.
Oboist Willa Henigman '87 says she felt some resistance from her teacher, the late James Caldwell, about doing the Oberlin in London program—a seminar on Baroque opera that actually turned into an intensive study of Shakespeare. "He was a little worried that I wouldn't be studying in the American style there," she says. "But he didn't pressure me, and my English advisor said 'yes, go.' I knew I'd have plenty of time to play oboe when I got back, and I did—I won the concerto competition."
Opera singer Alyson Cambridge '02, who toyed with the idea of law school for a while, also resisted pressure to focus solely on music. "I went to the Chautauqua Institution the summer after my junior year, where everyone encouraged me to finish my music degree and go to New York as soon as possible. But I felt, 'I've put in three years to do both degrees, what's another two?'" Cambridge finished studies in voice and sociology, won the Metropolitan Opera National Auditions, and then joined the company's young artists program, which she completed in 2006.
"When I decided to go to Oberlin, someone in the music world told me that anyone who gets a backup degree plans to use it—that you're setting yourself up for failure," she says. "I don't see it like that." That "backup degree" means, for one thing, that Cambridge can easily defy the "dumb singer" stereotype. "Opera directors love the fact that I have other interests, that I bring more to the table," she adds.
Evelyne White '04, who began college as a double major in harp and environmental studies, says, "No one is expecting you to commit to biology or English for the rest of your life. As a musician, however, you are expected to have that commitment. I felt that if I was going to put my time into the Conservatory, I should be committed to it 150 percent. I decided at the end of my sophomore year to make the call."
White dropped her music degree, and in her junior year she took an American government class with Paul Dawson that changed her into a politics major. The Oberlin Business Scholars program then introduced her to the world of investment banking, and, after graduation, she took a job on Wall Street as an analyst at Bear Stearns. After two years in banking, White joined the Riverside Company, where she now works alongside Béla Schwartz and several other Oberlin alumni.
Other students make the opposite call, dropping the College degree. Stull sees both as acceptable choices and says that the 50 percent of students who complete the double degree is "not a percentage we seek to improve. When students realize they want to focus in one area, they should," he says. "It's not a hurdle or rite of passage."
Unexpected Careers
For the double-degree students who do persevere, the choice of profession may come at different stages and take unexpected turns. Physician Michael Millin '92, certain that he would be an opera singer, realized in his fourth year that what he most enjoyed was working ski patrol on the weekends. "As much as I loved and still love music, it was not the right career for me," he says. "I realized I was spending more time skiing and rock climbing and doing other outdoor activities than I was in the rehearsal hall."
He began looking into health careers, which dovetailed with his ski patrol interests. Now a doctor at Johns Hopkins with a specialty in emergency medicine, he also has an active role in disaster management planning. The music, he says, stays with him still: "The wonderful appreciation I have for the performing arts is an important part of my humanity."
Margot Golding '76, who won a place in the Fort Wayne Philharmonic after her fourth year at Oberlin, started on the career track as an orchestral oboist. But after a few years of orchestra jobs, she changed her mind and returned to Oberlin to finish her degree in East Asian studies. A Chicago bank was recruiting on campus, and Golding talked herself into a job. "I was a fish out of water in the bank training program. I had no experience with the business environment," she says. "But one thing that doing music gives you is confidence. I had done a lot of research, and I had all the transferable skills. I could prove I had the brains and the persistence, if not the background."
Today, Golding is executive vice president and head of Whole-sale Loan Services at Wells Fargo Bank. She's also principal oboist in several Bay Area ensembles. "Playing in an orchestra for me is a team sport—feeling how well in tune you are with others, how well you are phrasing together. That to me is really fun."
For former cellist Eugene Carr, "the double degree set me up for a life that didn't have me shy away from doing the impossible or the unusual." After business school and a stint as executive director of the American Symphony Orchestra in New York, "the Internet came, and I went off in a direction I never expected."
Carr first launched CultureFinder, a web site that offered cultural event information for cities worldwide. His latest venture, Patron Technology, provides e-mail and web-based marketing tools and consulting to nonprofit and arts organizations; its 700 clients include the New York Philharmonic and the Cleveland Orchestra.
For years, Carr says, he searched for a way to reconnect with his music in a substantial way. "I didn't just want to play music, I wanted to play with people who were also like me—serious musicians with professional training. I also yearned to play in public." Five years ago, he joined a large ensemble that plays jazz and Sephardic-style music to accompany Friday night synagogue services at B'nai Jeshurun in New York. "We've made CDs, done concerts, and 1,000 people come every week. It's joyous, and very enriching."
The Power of Knowledge
For career musicians, a second degree can be enormously beneficial in ways that are less tangible than job security, says Stull. "The real evolution of artistry parallels a person's self-discovery of what they wish to project as an artist, a process that is influenced by a range of stimuli. A person who is curious about the world and seeks knowledge can potentially achieve a greater depth of expression. This kind of discipline, coupled with imagination and intellect, allows a student to penetrate aspects of music that are often difficult to engage. I think this is one of the reasons so many of our students eagerly participate in our contemporary music program, and find such success in this challenging field."
Case in point: nearly half the members of the successful contemporary music ensemble eighth blackbird, formed at Oberlin, are double-degree graduates. Matthew Albert '96, Matthew Duvall '95, and Lisa Kaplan '96 say they would have been "bored" just doing music.
Albert says his focus on theater was a conscious choice. "Study-ing plays and talking about the interpretation of plays is similar to what I do in the practice room. I look at the notes on the page and think about the composer's intentions." Kaplan sees strong links between her studies in art history and music history. "It puts everything in context. Everything had more meaning for me." Duvall says his degree in classics "influences everything I do—the way I read, the way I learn things, how I absorb materials."
National piano recitalist and soloist Jeremy Denk '90, while being interviewed on NPR a few years ago, credited Oberlin English Professor David Walker for helping him develop a love of novels and poems—a literary education "which factors very definitely into my musical life," he said. "Sometimes I think of (musical) pieces like little novels, condensed into 10 intense minutes; or like poems, in 20 rhythmical seconds."
Henigman, principal oboe of the Dallas Symphony Orchestra, says that having a liberal education is empowering. "I don't feel threatened by people in authority. When I deal with lawyers or when people put things in front of me, I know I can evaluate them and respond. I don't have to agonize that the only way I can express myself is through music."
With a second major in English, Henigman also writes poetry. "If something were to happen to my hand and my ability to play oboe, I wouldn't be in despair. I might not be an English teacher or a published poet, but I could set my mind on doing something else. The whole liberal arts experience prepared me for that."
---
So how does a professional music performance foundation affect those who opt for other careers? For some, the effect is direct. Carla Zecher '82, who studied organ and French at Oberlin, is the director of the Center for Renaissance Studies at the Newberry Library in Chicago. With a PhD in French (and a focus on Renaissance poetry because of its historical connection to her studies in keyboard), Zecher says her scholarly work delves into the relationship between poetry and music. Her upcoming book, Sounding Objects: Musical Instruments, Poetry and Art in Renaissance France, discusses how musical instruments are represented in French poetry and art. She has "a nice harpsichord" at home and is looking forward to playing it more now that the book is finished.
Tim (Mikesell) Riley '83, an English and piano major, also used his music training in a scholarly way, albeit with an unconventional subject. At Oberlin, Riley took a winter-term course in music criticism and taught a popular Ex-Co course on the Beatles. As a graduate student at Eastman, he developed a book proposal—"a critical analysis of Beatles recordings in the sequence they were released." Bought by Knopf in 1985, Tell Me Why: A Beatles Commentary launched Riley's career as an author of books about popular music.
"The Beatles invented this whole new thing—the recorded version of a song—the idea that a performance is a tape," he says. "I think I was the first to write about it." Books on Bob Dylan, Madonna, and rock gender soon followed. Today Riley is working on a major new biography of John Lennon for W.W. Norton and filing stories for NPR's Here and Now out of Boston.
No matter what their careers, many alumni say the focus and organization that enabled them to complete a double degree has carried over beyond graduation. "I remember interviewing for summer associate positions," says Columbus attorney Susan Nolan Lubow '90, a voice and law and society major who earned her law degree at Harvard. "I was asked if Harvard was competitive. I said, 'Not nearly as competitive as auditioning for an opera role at the Oberlin Conservatory.'"
A partner in a large firm, Lubow doesn't use her music degree professionally, but says, "It is so intrinsically a part of me—my ear for music, my appreciation for a well-done musical performance. I incorporate music into my family's life, and I'm better equipped to instill a love of music in my three kids."
As for Carr, he's still looking into the future—and perhaps yet another career change. "When I've finished being an entrepreneur, I can think about performing full time," he says. "It's a life skill that doesn't go away."
Heidi Waleson, a New York-based writer, is the opera critic for the Wall Street Journal.