Around Tappan Square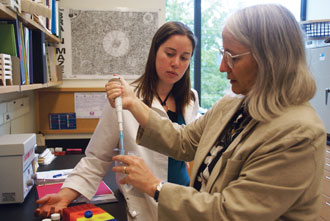 OC Research Team Finds Link between Hormone and Memory
Women are twice as likely as men to develop Alzheimer's disease, says Professor of Neuroscience and Biology Jan Thornton. At Oberlin, she is leading a team of student researchers who are using animal models to study the relationship between memory loss and a reproductive hormone found in post-menopausal women.
Thornton, along with former students Shira Ziegler '08 and Anne Berry '05, presented their findings at a summer meeting of the Society for Behavioral Neuroendocrinology in Groningen, Netherlands. Ziegler and Thornton will next present at a November meeting of the Society for Neuroscience in Washington, D.C., and they are preparing an article for a scientific journal.
The finding, says Thornton, is that as an aging woman's estrogen level goes down during menopause, the level of luteinizing hormone, or LH, goes up. High LH levels can cause decreased cognitive function and memory problems. If the LH actions are blocked, some of the cognitive deficits seen in Alzheimer's disease might be eliminated.
"Some menopausal women take estrogens to help maintain their brains, but the problem is that estrogen also increases the risk of some forms of cancer," Thornton says. "We think an LH antagonist, or a drug that blocks the actions of LH, could cause fewer side effects than estrogen therapy."
Ziegler, an award-winning scholar who focused her honors project on this topic last year, graduated in May and began a year-long position at the National Human Genome Research Institute.
This year, Thornton continues her research with senior Olivia Winter, who is looking at whether LH impairs memory formation, consolidation, or recall, as well as which region of the brain is affected. "I believe there is real value in understanding what LH is doing to our bodies," says Winter. "Personally, I wanted to engage in this process, and go through all the steps in painstaking detail to come to the right conclusions."
Also working in Thornton's lab is Alex Roseman '09, who believes that estrogens may help minimize some symptoms of schizophrenia.
"Girls in Motion" Leads to Success in Classroom
"Middle-school girls face a ton of social pressures, especially in terms of their bodies," says Oberlin Professor of Theater and Dance Ann Cooper Albright. "We work on issues of body image and self-confidence through fun physical activities."
Albright is the founding director of Girls in Motion, an after-school outreach program for Oberlin middle-school girls who may be at risk for academic failure or have low self-esteem. The girls engage in step dancing, hip-hop, yoga, wall climbing, and ultimate Frisbee, as well as creative activities and writing projects. The aim is to help the girls use physical activity as way of focusing, not just in the gym and dance studio, but also in the classroom and community. Oberlin College students serve as mentors and role models.
"I wanted to create a program that girls would be hungry to come back for," Albright says. "One girl says that she now uses a yoga technique called the sun salutation when her mom is angry at her, instead of yelling back the way she used to."
Former mentor Lucy Segar '08 says the girls respond to the program with a "willingness that leads them to find joy in their accomplishments, their movements, and their bodies."
Mentor Melissa George '11 grew up in Oberlin and knows many of the girls in the program. "That makes the idea of going to a college like Oberlin much more accessible to these middle-school kids," Albright says. "I can't wait for the day that one of these girls goes to Oberlin College and comes back to be a mentor."
Allegra Fonda-Bonardi '11 started Boyz in Motion last spring to give Oberlin middle-school boys an outlet to express themselves through dance. The pilot program attracted eight students and will continue this spring.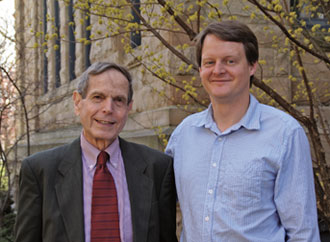 Yep, It's Rocket Science
When the European Space Agency's Ariane 5 rocket blasts off from Kourou, French Guiana, in March, the payload will include the intricate scientific curiosity of Chris Martin.
Martin, assistant professor of physics and astronomy at Oberlin, is the principal investigator of a key project to be implemented by the Herschel Space Observatory. Herschel, which will launch on the Ariane 5 rocket, has the largest mirror ever built for a space telescope. At 3.5 meters, it will collect long-wavelength radiation from some of the coldest and most distant objects in the universe.
Since 1999, Martin has grappled with the mysteries of star formation and the composition, stability, and ever-changing patterns of unimaginably huge—as great as 1,000 light years across—molecular clouds. He and his team are pursuing a better understanding of how galaxies work. Only in recent years have astronomers concluded that a matter-devouring black hole exists at the center of many galaxies, including the Milky Way. The current theory is that galaxies are a kind of cosmic pinball machine in which objects spiral and eventually find their way into these quiet black holes, where they require billions of years to unfold.
"In a sense, I'm watching the cars of a cosmic train go down the tracks," Martin says. "Eventually they will go off the cliff and into the black hole, but we're not looking at that end point; we're looking at the passage."
Martin and his team believe that the material descending into black holes is broken up into packets along the way; those packets apparently build up into a ring. When the ring accumulates too much material, it clumps into a thicker cloud that falls toward the hole, creating giant stars and supernovas along the way. Herschel will allow Martin's team to find the material in this ring and confirm this hypothesis for starbursts.
"We are hoping to learn more about how matter works its way down to the black hole," he says. "We want to better understand how supernova star­­bursts happen. Star­bursts require fuel. We don't know when that fuel will arrive, but when it does, the center of the galaxy will be one of the brightest spots in the night sky."
Oberlin has another connection to Herschel. Scientist Martin Harwit '51 is a member of the Herschel Science Commit­tee who pushed to get the telescope built and helped define its original goals. Harwit, a former professor of astronomy at Cornell University and past director of the Smithsonian National Air and Space Museum, received the 2007 Catherine Wolfe Bruce Gold Medal for lifetime achievement in astronomy from the Astronomical Society of the Pacifics.
Before Herschel's three-year exploratory life is complete, Chris Martin will be involved in gathering related data from another astronomical source: a balloon-based instrument to be positioned high above Antarctica.
Martin spent two years in Antarctica as a member of the Antarctic Submillimeter Telescope and Remote Observatory crew at the Amundsen-Scott South Pole Station. The Stratospheric Terahertz Observatory (STO), which is expected to launch in 2010 or 2011, will study many of the same cosmic galaxies as Herschel, but over a much broad­er swath of the sky. Oberlin junior David Lesser assisted with STO's construction this summer and will continue to work on the project, along with other students, in the time leading up to the launch.
Violin-Making Soldier Visits Oberlin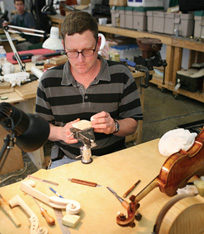 (photo by John Seyfried)
Geoffrey Allison, a medic in the U.S. Army, looked forward to off-duty hours during his service in Iraq. Most soldiers will do almost anything to keep their minds off of the war, he says. A self-taught violinmaker, Allison created instruments styled after those of Stradivarius. Eager to sharpen his skills and build relationships with other violinmakers, he traveled to Oberlin this summer to take part in the Violin Society of America's annual violin and bow making workshops.
Read his story at www.oberlin.edu/oam.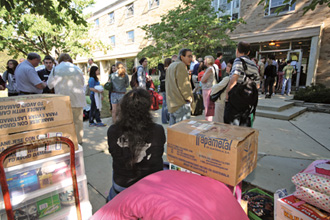 By the Numbers
Information provided by the Office of Admissions in September
Total New Student Enrollment, Fall 2008:
| | |
| --- | --- |
| First year | 744 |
| Double-degree | 24 |
| Transfers | 43 |
| Graduate | 5 |
| Total | 816 |
Geographic Distribution:
| | |
| --- | --- |
| New England | 10% |
| Mid-Atlantic | 30% |
| South | 9% |
| Midwest | 25% |
| Southwest | 4% |
| West | 14% |
| International | 8% |
Applicant Pool:
| | | |
| --- | --- | --- |
| | Arts and Sciences | Conservatory |
| Applicants | 5,793 | 1,378 |
| Admitted | 2,054 | 336 |
| Enrolled | *668 | *143 |
(*Includes 24 double-degree students enrolled in both divisions.)
Art Rental, the Way Ellen Johnson Intended
What would motivate Oberlin College students to wait on line for 17 hours with sleeping bags, tents, and suitcases full of books, food, and laptops? Such behavior is typical before the World Series or a major concert, but true to Oberlin's atypical spirit, these students are waiting to rent art.
Sixty years ago, esteemed art history professor Ellen Johnson founded the art rental program to provide allow students a more personal connection with art — by allowing them to hang works in their dorm rooms. Students would start lining up outside the museum the night before, some with sleeping bags, guitars, or tents, and wait for their turn.
However, all of this changed about seven years ago when a roll-call list started to generate among the students, says Lucille Stiger, registrar for the Allen Memorial Art Museum (AMAM) and art rental coordinator.
"The student or students posting the list each semester would determine when attendance would be taken as well as if proxies would be allowed and, if so, how many. Sometimes roll was called every hour and sometimes every three to four hours, it depended on the student who organized the list," adds Stiger. "Some students were unhappy with this procedure. There were also reports of students adding their friends to the list."
In light of increasing complaints, Stephanie Wiles, the John G.W. Cowles Director of the AMAM, held meetings with students to discuss their concerns. Stephanie Weiss, John G. W. Cowles Director of the AMAM later decided that it would be best to return the program back to the way Johnson had intended.
For the spring 2008 art rental, students followed the procedure devised by Johnson: they lined up outside the north gate of the AMAM building, and were admitted at 9 a.m., five at a time to make their selections. (In cases of bad weather, lines are permitted indoors, snaking through the classroom building behind the museum.)
"It went great this year," says Stiger of this fall semester's art rental, the second art rental event in nearly seven years that was conducted in the manner in which Johnson had intended. "We sold out by noon, all 329 pieces. And the students that came through seemed very happy."
Read more at www.oberlin.edu/oam.
Well-Balanced Meals?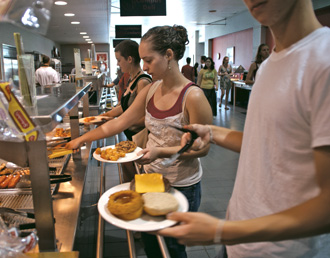 When the first snow falls in Oberlin this winter, students may be sorely disappointed by a lack of available sleds. That's because this fall Oberlin removed trays from Stevenson Hall, its largest dining facility, hoping that students will be less inclined to take more food than they can eat. The goal is to reduce the consumption of food, water, and energy.
Two nationwide studies conducted by the food service provider Aramark found that when institutions eliminated trays, food waste was reduced by 25 to 30 percent. At Stevenson, 369 pounds of food waste per day was recorded in 2006 by a yearly food waste audit.
Catherine Durkin '11 first proposed the trayless idea last spring. Working with Campus Dining Services Director Michele Gross, Durkin hung posters to educate students about the benefits of trayless meals, among them the fact that organic matter and food scraps are the biggest contributor to methane emissions, a greenhouse gas that is 23 times more potent than carbon dioxide in trapping heat close to the earth's surface.
Representatives of Bon Appétit, Oberlin's food service provider, say that removing 800 trays from Stevenson will reduce energy and water consumption substantially, since the trays are washed about 1 million times each year. Not purchasing new trays and extending the life span of those on hand could also save thousands of dollars, says Gross, adding that the plan is to eventually eliminate trays from all dining halls with the all-you-can-eat option. Lord-Saunders has already followed suit.
"Oberlin is an environmentally conscious campus," says Aisha Hadlock '09, who attempted to go trayless last spring. "If [the initiative is] presented in that manner, there won't be much student opposition."
But not everyone is excited. "People have asked me, 'But what if I want more than one drink?'" says Durkin. "Well, then place your food down and walk back to grab another one. It may add a few minutes to your dining experience, but in the end we will seriously cut back on our food waste and energy usage."
Gross says the benefits of removing trays will be worth the small amount of frustration. "Oberlin students appreciate and commit to these sorts of initiatives really well, so I think this is going to be a very positive thing."
Student Scores on Jeopardy
Junior Kendra Pettis made her second appearance on the TV quiz show Jeopardy! in September, appearing in a special episode that reunited former child contestants. "I was 10 the first time I appeared," says Pettis, who is a cinema studies and anthropology major from New Jersey. "My dad signed me up then without telling me. I'm pretty convinced that I made it on only because one of the [test] categories was Star Trek aliens." This time around, Pettis repeated her pop culture success: "I'm not very proud of this, but I took the entire MTV reality show category," she says. Her concentration in cultural studies came in handy, as did her involvement with the Oberlin Musical Theatre Association and time spent in Infinite Monkey, a local comic book store. Pettis placed third on the show and took home $2,500 in prize money.
Residence Hall Makeovers
Thanks to $8 million worth of upgrades made to four student residence halls this summer, clanging pipes and built-in furniture are now relics of the past.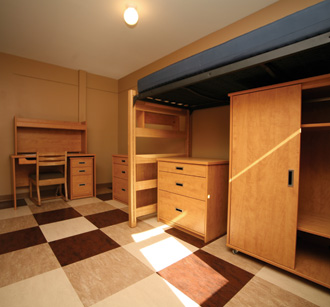 Substantial structural renovations were made to the plumbing, heating, and wiring systems in Noah, Harvey, Kade, and Price. Input collected from students last year helped guide other visibly pleasing improvements to student rooms, which are now furnished with free-standing, eco-friendly desks, beds, dressers, and closets. Tiled floors, energy-efficient windows, and wireless Internet service were installed in every room, along with additional electrical outlets and upgrades that support formerly prohibited items such as microwaves.
Director of Residential Education Molly Tyson says that last spring students were invited to view a mock-up of a projected furnished room, and that the majority of their suggestions were implemented. "The student response has been very positive," she says.
Additional upgrades to the halls included a new card lock security system, ADA compliant rest rooms, and a refurnished lounge in Noah. Renovations to other halls are in the works.
Lessons for Life
Immigrant workers who hold jobs in rural Ohio towns may take part in the Immigrant Worker Project, a nonprofit organization meant to help Latin American workers acclimate to life in the United States.
Aiding in the effort are several student interns from Oberlin College charged with organizing groups of volunteers—about 20 per semester—to teach free English language classes in neighboring towns. Eric Oeur '11, who spent Saturdays last year teaching English, says: "I remember visiting Mexico and feeling bad because I couldn't speak Spanish to my host mom. Even though we tried to communicate, there was this language block between us. My family, who is from Cambodia, also had a hard time with language barriers when they came to the U.S."
Help with even the smallest tasks—such as counting money, ordering food, and grocery shopping—can make a huge difference in the lives of workers who are so far from home, the Oberlin students realize. But ensuring that each worker gains a thorough understanding of English is a challenge. Homework, tests, and even class attendance takes a backseat to the workers' irregular job schedules. "On a good day we may have 20 to 30 people show up," says instructor Edwin Avarca '08. "On a bad day we might have just one. People drop in when they can."
On the flip side, he said, are the workers who have steadily attended class for years, and who serve as powerful role models for the newcomers. Such varying circumstances, says Katrina Forman '10, have led the student instructors to take a pragmatic approach in light of the immigrants' everyday lives—teaching them the names of their body parts, for instance, in preparation for doctors' visits.
The teachers use similar pragmatism in deciding when, where, and how often to hold lessons. "It's not like we decide that we're going to hold an English class and then advertise for it," Forman says. "We have a dialogue with the community and figure out what works best."
Formed in 1999, the Immigrant Worker Project offers legal assistance, leadership training, and organizing help intended to empower the workforce to start its own movement. Other IWP interns from Oberlin include juniors Vilma Uribe and Paia Dalke and sophomore Elizabeth Stoiaken.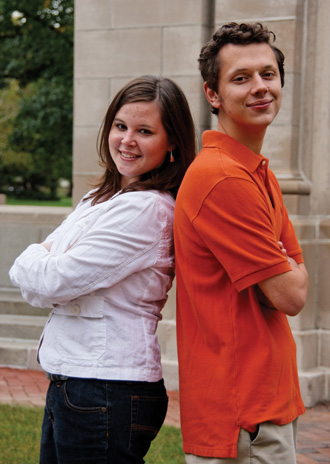 Wavemakers
Regardless of lopsided political demographics on campus, Oberlin Democrats and Republicans are passionate about getting their voices heard. Juniors Andrew Watiker, a campus Democrat, and Allison Lint, president of the Oberlin College Republicans, are perfect examples of the fervor.
Both were involved in partisan and nonpartisan organizing to gear up for the November election. Much of Watiker's energy went into a nonpartisan early voting campaign and voter registration called the Oberlin Voter Coalition. The group arranged for bus transportation to the Lorain County Board of Elections, with hopes of "making sure that as many students as possible get their votes counted this year. By voting early, students could [avoid] the five-hour lines that caused a lot of problems four years ago."
The OC Republicans, meanwhile, took a different approach to raising awareness, in part by using its Ronald Reagan Political Lectureship Series to host campus visits by such speakers as Newt Gingrich. "We've found that a conservative speaker who brings together a couple of hundred students is one of the most effective ways [to speak] to students who are interested in hearing what we have to say," says Lint. The group also hosted debate-watching parties that were open to everyone.
Lint and Watiker both experienced a change of political atmosphere when they came to Oberlin. Watiker, a native of Scarsdale, N.Y., describes his hometown as "a Democratic area where people are not that politically involved. One thing that makes Oberlin unique is that you can encourage students to ride a bus for two hours to vote, and people get really excited to do it."
Lint, who hails from Cuyahoga Falls, Ohio, describes her immediate family as "Reagan Republicans. Political enthusiasm, or even awareness, shouldn't be taken for granted when you're in the minority," she says. "OC Republicans have struggled in the past to thrive on such a liberally leaning campus, but we're doing really well now. I just hope that our profile in the campus eye holds up long after the election whirlwind."
Do you think there is a healthy atmosphere for debate on Oberlin's campus?
Watiker: "Obviously there's a definite partisan advantage for one party over the other, but I think that people are generally open to hearing the other side. At the Newt Gingrich convocation, for example, a lot of people came in with preconceived ideas, but they didn't come in unwilling to listen to him."
Lint: "The campus represents democratic, socialist, and liberal views quite well, and within that there is a great buzz of opinions, forums, talks, and outlets for political information to reach the campus. We've got this great open environment, and so many ridiculously intelligent students without the means of actually debating anything because the Republican side is so poorly supported."
—Joshua Spiro '09