Losses
Dr. Yakubu Saaka
Professor of African American Studies
Dr. Yakubu Saaka, a devoted and longtime professor of African American Studies at Oberlin, died August 31, 2008, in Johannesburg, South Africa. He was 62. Dr. Saaka's career at Oberlin spanned 36 years. A native of Ghana, he joined the African American studies department in 1972—known then as the African American Studies and Community Development Program—and became a devoted architect of the fledgling enterprise, joining colleagues Calvin Hernton and Booker Peek in shepherding it through its formative years. For several generations of Oberlin students, his courses on African politics and cosmology were staples in understanding African culture and tradition. A specialist in African politics, Dr. Saaka practiced what he preached—serving in Ghana's Third Republic as a member of Parliament, as deputy foreign minister, and as a United Nations ambassador while on sabbatical from Oberlin. He recently renewed his commitment to Ghanaian national politics in declaring his intent last year to run for president in the 2008 elections. A prolific scholar, Dr. Saaka published three books and many scholarly articles, and for many years authored the Collins Encyclopedia entry on Ghana. He earned his PhD in political science at Case Western Reserve University in 1977, and shortly thereafter published his first book, Local Government in Northern Ghana. While serving in the Ghanaian government in the early 1980s, he met his future wife, Abrafi, who survives him. After his death, flags in Ghana were flown at half-staff. Dr. Saaka also leaves his children, Yakubu Saaka '06, Hassan Saaka '05, Aiesha Saaka, and Yasmin Saaka; his father; and brothers Braimah Saaka '80 and Adamu Saaka '81. Memorial donations may be made in Dr. Saaka's name to the Oberlin Scholarship Fund, Office of Development, 50 W. Lorain St., Oberlin, OH 44074.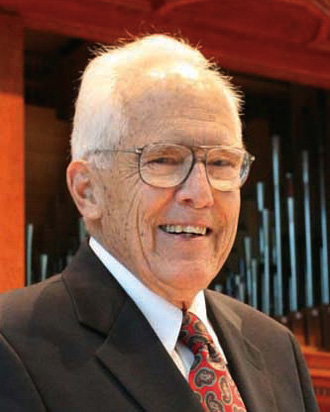 Fenner Douglass '42
Oberlin Professor of Organ, 1949-1974
Fenner Douglass, whose distinguished and influential career as an organist, teacher, and scholar brought him international acclaim, died April 5, 2008, in Naples, Fla., at the age of 86. His long and productive association with Oberlin began in the late 1930s, when he arrived here from his hometown of New London, Conn., as a student in the College and Conservatory, studying organ with Arthur Poister and earning the BA in 1942. This was followed by four years of service as an officer in the U.S. Navy, much of this on a destroyer escort in the Pacific. Following his wartime service, he was admitted to Harvard Law School but opted instead to continue his music studies at Oberlin, earning the BM degree and, in 1949, the MMus degree. He remained as a member of the Conservatory faculty until 1974, when he accepted the positions of university organist and professor at Duke University, where he continued to teach until his retirement in 1987.
At the outset of his career, Fenner became an active proponent of the "historical" organ. This coincided with an emerging interest in Europe and the U.S. in restoring organ-building to its classical roots. Fenner charted a course for the organ department and for himself as a performer and scholar that would leave an indelible mark on the profession and help lay the groundwork for Oberlin's Historical Performance Program. His plan to equip the new Conservatory complex with mechanical-action organs in six practice rooms and two teaching studios can only be considered bold and innovative at a time when nearly all American organs were built with electro-pneumatic action. It marked also the beginning of a close friendship and professional relationship with the eminent Dutch organ builder Dirk Flentrop, who was later to build the organ in Warner Concert Hall and subsequently the large gallery instrument in Duke Chapel.
In what is rare for a performing faculty member, Fenner embarked also on a career as a scholar, focusing his attention on the organ traditions of France. He took his young family to Holland in 1963-64 to carry out the research that led to the 1969 publication of his first book, The Language of the Classical French Organ, widely regarded as the most important reference work on the instruments and organ music of the French baroque period. Its popularity led to a second and revised edition in paperback in 1995.
He next pursued research into the work of Aristide Cavaillé-Coll, the greatest French organ builder of the 19th century. Holding a research status appointment in 1971-72, he again took his family abroad for the year, skillfully gaining access to previously inaccessible documents in Paris relating to the work of this master builder. His efforts resulted in a large, two-volume work, Cavaillé-Coll and the Musicians, published in 1980 and subsequently condensed and published as Cavaillé-Coll and the French Romantic Tradition in 1999.
Fenner performed as an organ recitalist frequently in the U.S. and in Europe, often with his wife Jane at his side, assisting as registrant. During much of his Oberlin teaching career he served also as organist and choirmaster at St. Peter's Episcopal Church in Lakewood. He was widely admired as a master teacher. This is perhaps best reflected in the success of so many of his former students who are prominent today in the organ profession. He was particularly skilled at holding the rapt attention of groups in a master class or lecture format. His ability to simultaneously teach and entertain with anecdotal material was legendary. Among his many stories was an account of his efforts to charm the granddaughter of Cavaillé-Coll into entrusting him with her grandfather's correspondence, contracts, and related materials.
In 1952 Fenner married his student Jane Fetherlin, which began a close personal and professional partnership that continued until her death in 2005. The Fenners loved to entertain students, faculty colleagues, and numerous out-of-town guests from among their wide circle of loyal friends. The large music room in their Morgan Street home contained a Flentrop organ, a harpsichord, and a grand piano, and it was frequently the site of after-concert receptions. Devoted parents, they found creative ways to involve their three children, Stephen, Emily, and John, in their travels and professional activities. While still living in Oberlin, Fenner and Jane built a home on Cape Cod that became the center of family activities in the summer months.
Even after leaving for Duke University, Fenner maintained his active interest in the organ program at Oberlin. He returned a number of times to serve on the faculty of the summer organ institute. He also was a helpful and enthusiastic supporter of the efforts to build new organs in Fairchild and Finney chapels. Throughout his career he was much in demand as a consultant on major organ projects, sometimes extending his involvement beyond the technical aspects of these projects to cultivating donors. Among such efforts, he collaborated with his brother, attorney John W. Douglass, to raise money from his clients for several major projects at Duke and Oberlin. Their cultivation of a lead gift from Kay Africa made possible the magnificent C.B. Fisk organ in Cavaillé-Coll style in Finney Chapel.
Fenner was formally honored on several occasions. Oberlin recognized his achievements in 2001 by awarding him the honorary Doctor of Music degree. One of his last consulting projects was the beautiful Taylor and Boody organ in Bower Chapel at Moorings Park, a retirement community in Naples where Fenner spent his last years. The organ was subsequently dedicated to Fenner Douglass. In 2007 his friends Alan and Marilyn Korest gave for Finney Chapel Oberlin's 200th Steinway piano in honor of both Jane and Fenner.
We mourn the loss of this great colleague and friend.
David Boe is a professor of organ and chair of the Oberlin Conservatory's Keyboard Division. This Memorial Minute was adopted by a standing vote of the General Faculty of Oberlin College on October 15, 2008.