Alumni Notes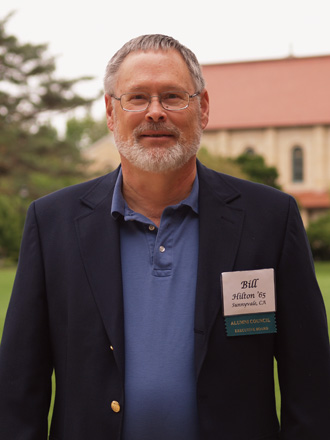 Leadership at its Best
The Oberlin Alumni Council met for its annual meeting in September. It was a terrific weekend—for lots of reasons. Most significant was that Danielle Young was introduced to about 275 council members as the new executive director of the Alumni Association. Now I want to introduce her to you.
Danielle—with whom I have had the pleasure to work for several years—served the College and the Alumni Association remarkably well as interim executive director following the resignation of Laura Gobbi last April. After a national search process that lasted four months, Danielle was recommended unanimously in August for the permanent position.
Danielle first arrived at Oberlin in 2005 as assistant director of alumni events and electronic communications, previously having led alumni affairs for Penn State University's College of Education. She holds a bachelor's degree in English, cum laude, from Colorado State University.
At Oberlin, Danielle continues to demonstrate grace under pressure, an in-depth know-how of alumni operations, and a keen understanding of the Oberlin milieu. Among her top priorities is filling four vacant positions in the office. Despite not having these positions staffed, she coordinated all arrangements for Council Weekend and brought it off without a hitch. (Writing that sentence has made me pause to wonder how many of you actually know what occurs during Council Weekend. I'm glad you wondered.)
Each fall, Oberlin's class presidents, class agents, regional coordinators, and members of Alumni Association committees gather for a weekend of meetings and events. You can see a list of Council members at www.oberlin.edu/alumni. Follow the "alumni leadership" link.
Alumni Council weekend affords these leaders first-hand exposure to Oberlin so they can communicate effectively with the larger alumni body. This year's weekend included about 50 meetings, a Q&A session with President Krislov, a dinner with students, several athletic events, tours of Kendal at Oberlin, heavenly views from Peters Observatory, and performances of Arthur Miller's Death of a Salesman, with Avery Brooks '70 and Justin Emeka '94 in lead roles.
In addition, Board of Trustees Chair Robert Lemle spoke about a number of financial and governance issues facing the board. You may hear more about these topics in your Class President's letter this fall.
Finally, Dwan Robinson '83 was confirmed as president-elect of the Alumni Association. She will be a terrific president, ready to assume the role when my term concludes next September.
But back to Danielle, who, I'm proud to say, coordinated the entire weekend without a major glitch. Whether you regularly engage in alumni activities or just occasionally catch up on the latest news, know that Danielle is directing Alumni Association activities on a full-time basis. I very much look forward to continuing my teamwork with her, and I expect to benefit greatly from her support and counsel during my second year as president.
Bill Hilton '65
President, Oberlin Alumni Association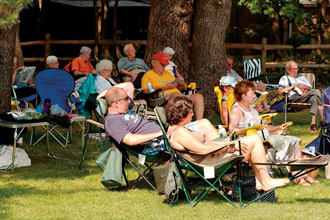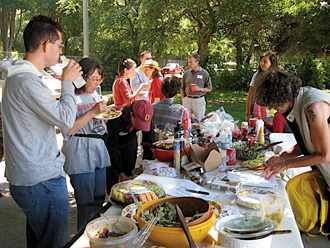 Regional Roundup
What's Happening in Your Region?
Find out at ObieWeb, www.oberlin.edu/alumni/oberlinClubs.
Rhode Island
Alums welcomed incoming freshmen and their parents during a well-attended picnic in August at the home of Dan '74 and Martha '75 Snydacker.
Western New England
The club's annual gathering at Tanglewood Music Festival in July went off spectacularly, with more than 150 Obies and friends in attendance. The event was ably led by co-regional coordinators Harry Lavo '61 and Marybeth Bridegam '57, who, sadly, will step down from their roles next spring.
Northeast Ohio
Twenty budding oenophiles spent a hazy summer afternoon taking in the process and history of winemaking at the Klingshirn Winery in Avon Lake. The group, of course, did not miss out on a chance to taste and grade a number of the vineyard's varietals.
Seattle
Alumni young, old, and future enjoyed a sun-drenched family picnic in July at Seattle's Goldens Park.
–Aaron Mucciolo '02