Apollo Rising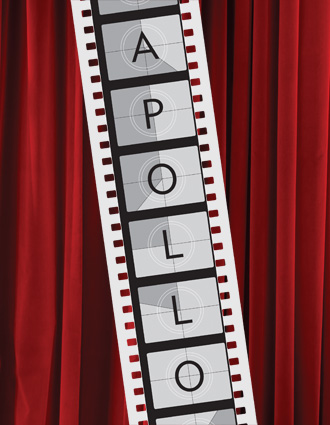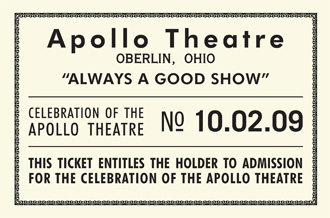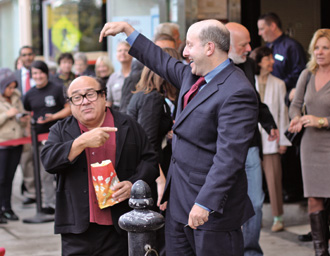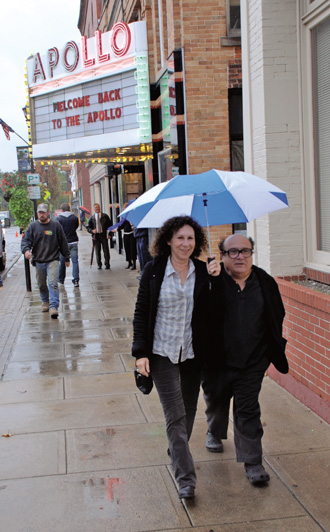 Hollywood comes to Oberlin to celebrate a regional icon's reopening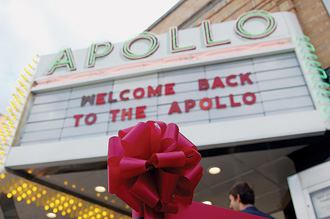 October 2 was a day of undeniable excitement and Hollywood glitz at Oberlin, as TV director and writer James Burrows '62, along with husband-and-wife actors Danny DeVito and Rhea Perlman, were seen roaming the campus and downtown, stopping in on classrooms and popping up in Main Street restaurants.
But this was no mere star-studded glamour-fest.
Like any Hollywood epic, the story of Oberlin's historic Apollo Theatre has been years in the making. It's a story that featured a worrisome plot twist—the theater's close call with its own demise—yet ultimately a happy ending: its dramatic rescue and transformation.
Burrows, one of TV's most respected and successful sitcom producers, writers, and directors, along with his wife, Debbie, and DeVito and Perlman, the parents of a current Oberlin student, were joined by Robert Lemle '75, chair of Oberlin's board of trustees, and President Marvin Krislov at a festive ribbon-cutting ceremony celebrating the Apollo's reopening. A crowd of onlookers and autograph seekers gathered to watch the VIPs officially re-open the theater, which had been closed for three months. Its renovation is the first phase of an ambitious plan to transform the complex into a state-of-the-art showcase for first-run films and a new space that will serve as a community asset and innovative incubator of theater and film art.
In a brief presentation following the ribbon cutting, Burrows admitted that it was during a white-knuckled Apollo screening of Alfred Hitchcock's Psycho in his student days when he determined that if he "got out of the theater alive" he would donate money to Oberlin. He also showed a short clip of his most recent series, Gary, Unmarried, which included a playful jab at Oberlin athletics. He was quick to point out the line was not his but rather the work of the show's writers. (Later in the evening, President Krislov told Burrows that Oberlin's football team was waiting nearby to discuss the reference.)
Although much of the building's $1.2 million in renovations dealt with bringing the infrastructure up to current codes, improvements were visible: a revamped lobby, ADA accessibility throughout, a new high-definition projection system, and state-of-the-art sound system. Retaining the historical and architectural significance of the landmark was a priority; the much-loved outdoor ticket booth continues to greet patrons, and the lobby's Zig-Zag Moderne features and vinyl-padded walls have been preserved.
President Krislov praised the Apollo as "one of the few widely shared rituals of Oberlin life.
"For everyone at Oberlin College, and in the city of Oberlin and the surrounding countryside, the Apollo is a cultural and historical landmark," he said. "It is also a portal to other worlds and galaxies. In this theater, Obies young, old, and in between have enjoyed vaudeville acts and have been transported by the magic of the movies to places such as Oz, Casablanca, Mumbai, Jurassic Park, Hogwarts, and Zombieland," the latter referring to the film that would play later that evening. Krislov also invoked Oberlin College's long-running connection with those in the film industry.
"John Kander '51, one of the giants of musical theater, watched movies here, as did William Goldman '52, the great novelist, playwright, and screenwriter. So did aspiring student actors such as the late John Cazale, Avery Brooks '70, Bill Irwin '73, Eric Bogosian '76, and Ed Helms '96. Future directors such as Julie Taymor '74 and Jim Burrows '62 also went to the movies at the Apollo. Some of you may even have sat next to them."
Summing up the rationale to buy the theater in a difficult economic climate, board chair Lemle said, "Try as we might, we just could not picture Oberlin without the Apollo."
The history of the Apollo dates back to its 1913 construction and its first screening soon thereafter, the early three-reel thriller Thor, Lord of the Jungle. While some in town found the new technology morally dubious, that view changed after new ownership came to the Apollo in 1928. The late historian Geoffrey Blodgett '53, who wrote a brief article on the Apollo's history, noted that "Jerry Steel's arrival in Oberlin, and the advent of the 'talkies,' made commercial movies respectable again."
The college archives includes an invitation for the "Premiere Opening of Jerome G. Steel's Moderne Apollo Theatre" in September 1931, with a program featuring George Arliss in Alexander Hamilton and an assurance that "The Apollo has been designed to provide you with the fullest enjoyment of our programs – Comfortable seats – Conditioned Air – Perfected Sound and Projection – Water Fountains – Retiring Rooms and other modern appointments." Another remodeling, in 1950, brought the now-iconic triangular porcelain marquee with traveling neon lights.
The Steel family put the Apollo up for sale last year. In February, after no potential buyers had stepped up and it became clear that there were no viable alternatives to save the theater, College Properties of Oberlin, a subsidiary of Oberlin College, purchased the complex. In addition to Danny DeVito and Rhea Perlman and James and Debbie Burrows, early donors include Lemle, the Steel family, the Goldring Family Foundation, the Nord Family Foundation, and an anonymous Oberlin High School graduate.
While the Apollo will continue to be a working movie theater, the college hopes to expand the role of the building so that it is an educational and community asset.
"The cinema and media studies program is very involved in the Apollo project," says Elizabeth "Rian" Brown-Orso, associate professor of cinema studies/new media. Program faculty members participated in the architectural planning for the space above the theater, with the hope that it will include state-of-the-art recording and editing facilities and breakout classrooms with film-quality lighting options, she says. Possibilities for the future include an additional screening room for student-run seminars, film festivals, and film series.
Concurrent with the Apollo renovations, the cinema studies program is developing a media literacy program for Lorain County youth. College students will be trained to go into area schools to teach about various media and to work on video projects, such as stop-motion animation. Following a semester-long practicum next spring, college students will conduct a filmmaking camp for local children next summer. "The Apollo represents a real community-and-college union now," says Brown-Orso.
To support the second phase of the project, Apollo devotees have formed Friends of the Apollo, whose steering committee includes Burrows, DeVito, and Perlman; director Joanathan Demme, the father of two current Oberlin students; current and former Oberlin parents David Ignat, Peter Casey, Rosemary Casey, Gary Goldring, and Matthew Bernstein; and alumni Elizabeth Ignat-Bausch '91, Justin Bausch '90, Eric Bogosian '76, and John Scheinfield '75..
"It's absolutely unprecedented in a liberal arts college to have a cinema studies program—in which we teach film production and critical studies in cinema and media—housed in an original 1913 movie theater," says Brown-Orso.
"Until now we did not have a building, and now we have a building that represents cinema studies."
For more information about the Apollo, including a slide show, visit: http://new.oberlin.edu/apollo.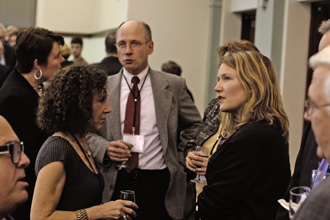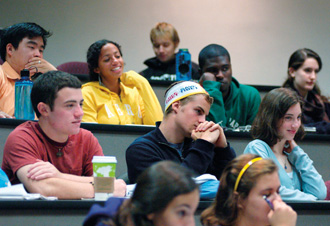 "It's absolutely unprecedented in a liberal arts college to have a cinema studies program—in which we teach film production and critical studies in cinema and media—housed in an original 1913 movie theater," says Rian Brown-Orso.
You have to know funny…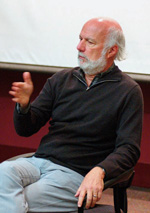 If you've turned on a TV in the last 30 years, you've seen Jim Burrows' work. Creating, producing, and directing such shows as Cheers, Taxi, Friends, Will and Grace, Big Bang Theory, and Gary, Unmarried, Burrows defines his media. For students, he is an inspiration. Visiting Oberlin to rededicate the Apollo, Burrows set aside time to meet with students, giving them the advice on success, passion, and "the funny," and a few behind-the-scenes stories, including one about working with comic legend Andy Kaufman. (Yes, he was as strange as he seemed.)
His biggest word of wisdom? Persistence.
"The ones who are persistent are the ones who impress me. You've got to knock down every door—a thousand resumes are not enough."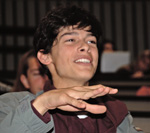 Speaking to packed classrooms of cinema studies and theater majors, Burrows stressed the role of preparation. "When you get your opportunity, you have to capitalize on it," he said. "When it happens, you have to be ready to take it."
When students asked about the challenges caused by the current recession, Burrows answered hopefully, "Despite the economic times, there are many more venues for work. If you make a funny video, it's going to get out there."
And how do you make things funnier? "I can't tell you how to make things funny. With funny…you just have to know."
Aries Indenbaum '09 is a web fellow in Oberlin's Office of Communications.