Her Fortunate Age
When it comes to Obies moving to Brooklyn after graduation, Joanna Smith Rakoff '94 wrote the book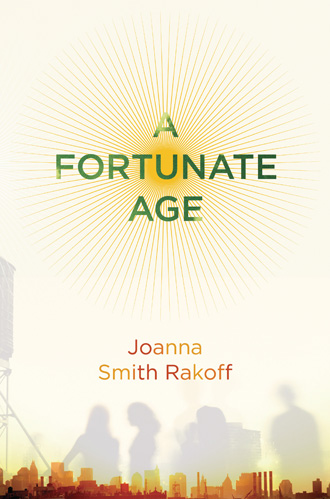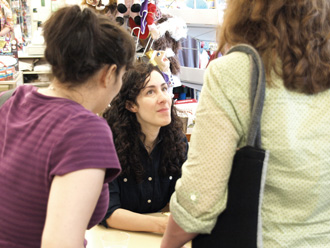 For most Oberlin alumni, reunion weekend is a memorable time. For Joanna Smith Rakoff, whose critically acclaimed debut novel A Fortunate Age (Scribner, 2009) centers around a group of recent Oberlin grads living in Brooklyn, N.Y., the 2009 reunion held even more meaning.
"This is going to sound really dorky," says Rakoff, "but my reunion was kind of like an Oberlin rebirth. It afforded me a whole new perspective on Oberlin and the way it impacted and really defined my life."
Smith Rakoff's 15-year reunion last May was her first since her novel was published and subsequently reviewed in the New York Times Book Review and other major publications. Oberlin's MindFair Books was an important stop on her tour. And then there were the reunion festivities, steeped in nostalgia. The experience, she says, chatting by phone from New York, was illuminating.
When it came time to head home to New York, where she lives with her husband, Evan, son Coleman, 4, and daughter Pearl, almost 1, Smith Rakoff nearly cried. "We started driving out of town and stopped for gas, and, though my husband didn't go to Oberlin, we were both kind of on the verge of tears," she says.
"He said to me, 'You know, we don't really have to be back in New York yet. We could just turn around, see if there's a room at the Oberlin Inn, and stay for a few more days.' And so we did."
Non-Obie friends in New York teased her for "vacationing in Ohio," but Smith Rakoff didn't mind. Oberlin—and her experiences there—had been front and center on her mind since 2001, when the idea for A Fortunate Age came to her. She began a short story about three Obie-like 20-somethings who lived in New York. The story grew, along with the number of characters in it. "I realized after I had written 75 pages or something that this was not (going to be) a short story," she says.
Around that time, Smith Rakoff began reading Mary McCarthy's classic 1963 novel The Group—the satirical story of upper-class New England society in the 1930s that centers around eight Vassar graduates living in New York. The book had long been on her "to-read" list, and Smith Rakoff found herself struck by the similarities between the experiences of McCarthy's characters and the experiences of her own friends and herself.
"It set something off in me. I decided that the characters I was thinking about were indeed part of a novel, and that I was going to structure that novel as a contemporary retelling of Mary McCarthy's The Group."
But while McCarthy's characters are WASPs, Smith Rakoff's main characters are all Jewish—and recognizably Oberlinian. There's struggling actress Emily, struggling musician Dave, would-be-scholar Lil, actor-on-the-rise Tal, book editor Sadie, and scholar Beth. Oberlin alumni will appreciate references to Wilder Bowl, the "Oberlin mafia" (recent Oberlin graduates who flock to certain parts of New York), WOBC, food co-ops, and even the Oberlin Alumni Magazine.
"I wanted to write a novel that would take a close look at what I thought of as New York's most recent Gilded Age," Smith Rakoff says. "I also wanted to write about the difficulties of trying to be an intellectual and maintain political ideals once you leave college."
That struggle, she says, seems to affect Oberlin alumni more profoundly than graduates of other colleges. Originally, she planned to have her characters be alumni of a fictional college, but later decided against it.
"I thought if I read a novel about people who went to Oberlin, I would truly be able to understand the ways in which they are crushed by the real world once they enter it," she says.
Oberlin, she adds, draws a certain type of student: idealistic, intellectually curious, and open-minded young men and women who might not have fit in with their high school peers. "I was a complete outcast in high school, who found that suddenly everyone was like me at Oberlin.
"College is only four years of your life, and I don't know if this is true for people at other schools, but Oberlin is more intense. Those four years are so vivid in many ways," she says.
As a student, Smith Rakoff acted in theater productions, dined in co-ops, took studio art classes, and majored in English. She counts Oberlin Professor of English David Walker among her mentors. "I knew Joanna as a student of drama and modern literature, not as a creative writer," says Walker. "I got to know her particularly well when she studied on the Oberlin-in-London program with me in 1993 and proved herself a focused, lively, incisively intelligent member of the group."
After Oberlin, Smith Rakoff earned an MA at the University College in London and an MFA at Columbia. Her articles and book reviews have appeared in the New York Times, Time Out New York, the Los Angeles Times, Newsday, Vogue, O: The Oprah Magazine, and Nextbook. Her poetry has appeared in journals such as the Paris Review, the Kenyon Review, Western Humanities Review, and Arts & Letters, and her personal essays have appeared in anthologies such as How to Spell Chanukah and If You Really Want to Hear About It: Writers on J.D. Salinger.
For a first novel, A Fortunate Age received a lot of buzz—and praise. The New Yorker wrote that it "ably captures the zeitgeist, with venture capitalists financing magazines headed by M.I.T. prodigies and young people worrying about the gentrification of their Brooklyn neighborhoods." Entertainment Weekly called Smith Rakoff's interweaving characters and plot lines "compellingly drawn."
"I read it with a good deal of pleasure," says Walker. "People have talked about its relation to The Group, but it actually reminded me of those huge Victorian novels that track a number of characters through a broad swath of social history. As a first novel it's incredibly ambitious, and I was really pleased, though not surprised, to see Joanna handling her materials so expertly. And even though the book's tone is sometimes sharply satirical, I thought her affection for Oberlin came through unmistakably strongly."
Her friends from Oberlin have embraced the novel. They've also tried to figure out if any of the characters are based on themselves or personal experiences of the author.
"There are certainly bits of each character that resonate with me," Smith Rakoff says. "In a way, all of the characters are me, in terms of their flaws, their personalities, and what have you. There are bits of things that are based on my experiences." But the book, she insists, is entirely fictional.
Her portrayal of Oberlin, however, will ring true for anyone who has set foot on campus. Through the years, Smith Rakoff has remained connected to her alma matter—particularly her former Oberlin English professors.
"I'm still quite close with some of my mentors: David Walker, David Young, Phillis Gorfain. They have had such a profound impact on the person I am today, in the things they had me read and the way they instructed me to look at literature and to look at the world," she says. "I loved their classes, but I loved even more just knowing them. I think about them a lot when I think about Oberlin."
Smith Rakoff is now working on a new novel about the three grown children of an upstate New York family. One child has separated from her husband and moved back home; another travels to North Africa and finds herself in the midst of a renegade organization; and a third travels to Germany to write about German Jewry.
Smith Rakoff ultimately sees Oberlin in her future, as well. "If I could, I would like to come back and teach at Oberlin," she says, adding with a laugh, "if they would have me."
Elizabeth Weinstein is assistant director of alumni outreach at Oberlin.
Excerpt from A Fortunate Age
"Wait," said Sadie. "He's married? He's, like, twelve. How is he married?"
"I know!" agreed Meredith.
"He got married in college—" Dave began.
"In college—" cried Beth.
"—sophomore year, so that he could live off campus—"
"Ohhhhh." This was not so strange. Oberlin's housing regulations were draconian: no student could live off campus—in a house, rather than a college-owned dorm or co-op—until junior year, and even then, one had to luck into a high number in the housing lottery. That is, unless one happened to be married, which no one was, of course. But every year a few students—those with older, cooler friends or those whose nicotine habit had grown too heavy to tolerate what the brochures called "a nonsmoking environment"—lined up potential spouses and begged rides to Cleveland's city hall in order to get around this ridiculous rule. Junior or senior year, they'd have the marriage annulled. Or so they said, at the outset. Their friend Josh Weissman, who was gay, was still officially married to a quiet girl named Jill Bialystock. He lived in San Francisco, she in Ithaca. Presumably, when Jill wanted to marry someone else (or Josh, if gay marriage became legal), they'd fill out all the requisite paperwork.
"So he's not really married," said Lil, with a little sigh of relief. They were all so worried about Emily—poor, single Emily —like a tribe of mother hens. Why, Dave thought, was no one worried about him?
"Not really," Dave admitted. "But sort of. He and his wife—it's really weird to say that—ended up getting involved." The girls, in silence, exchanged a dark glance. "Their senior year, I think. They'd been living together for a while—in Blue House —remember?" They smiled, for they did—a big, rambling house on North Professor. Their friend Erin had lived there senior year, in an attic room with a slanted ceiling. "And they got really close. They moved to New York together.
"Weird," said Meredith.
"But kind of charming," said Sadie, "right? It's like a romantic comedy."
"Green Card," said Beth. "Meets Reality Bites."
"Exactly," said Dave, who suddenly realized that he was still standing, and sat, too hard, down on the grass beside her.