Ed Helms Grinning and Picking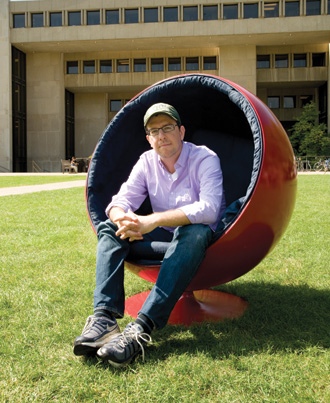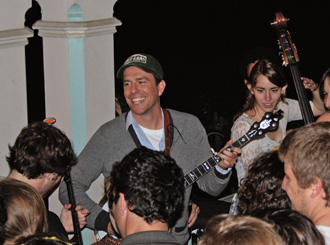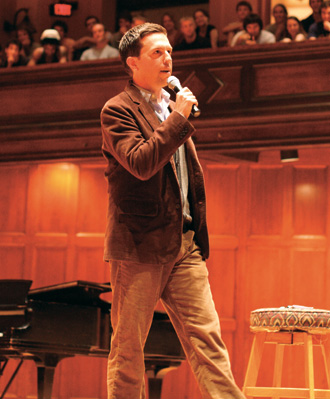 From television to feature films, funnyman Ed Helms '96 enjoys upending ideology almost as much as he enjoys playing music.
When Ed Helms graduated from Oberlin in 1996 and set off to make it in show business, he arrived in the same daunting New York City where countless other strivers land every day.
In fact, Andy Bernard, Helms' character on The Office, might describe Helms' circumstance by belting out Another Hundred People, Stephen Sondheim's urban-arriviste anthem. "It's a city of strangers," goes the chorus—all of whom are scrambling for sublets, auditions, and 16mm films with the odds decidedly stacked against success.
For Helms, though, New York was actually a city of familiar faces, despite his upbringing in Atlanta.
"There was a mass migration of Obies to New York when I decided to go there," he recalls. "I had this built-in support network of people who were really familiar with the city. I felt that [earlier on], from the moment I arrived at Oberlin. I was awed by how sophisticated and mature the students from New York seemed. New York had always been exotic and cool to me, but I was just this sheltered southern boy."
The tight-knit New York network helped set him on the road to stardom but it also testifies to the Obie experience, Helms says. "People who meet at Oberlin just seem to stay friends. Among my very best friends today are guys I was at Oberlin with. That's pretty rare."
Already well-established in popular culture, thanks to a bravura five-year run as a correspondent on The Daily Show, Helms officially entered comedy's A-list in 2009. First came the end of another acclaimed season of The Office, where Andy Bernard remains a fixture extended well past the eight-episode arc originally planned for him.
Then last June came a starring role as dentist Stu Price in the megahit The Hangover, a canny, bawdy mix of bro-comedy and procedural that became the top-grossing R-rated comedy in film history. [And yes, that really is a missing tooth. Helms had an implant removed for the part.]
Taking a break from shooting The Office and a raft of film projects, Helms retraced his path from dorm to trailer at Finney Chapel on September 12 with a lively show that featured several musical interludes: his imitation of Elton John singing and playing piano, a rambling tour through a song by new age artist Yanni, and a semi-reunion of his Oberlin-era bluegrass band Weedkiller, featuring two pick-up members and thus dubbed the Roundups. His appearance was part of the college's ongoing Convocation Series.
But before he could begin his talk, there was a little legal matter to clear up. Just as President Krislov was about to introduce Helms to a capacity crowd—which had already greeted the celeb with thunderous applause—college security officer Gary Kriesen approached with a file folder supposedly containing scores of unpaid parking tickets and various fines. In the midst of the gag, Helms looked at Kriesen and said "I remember you. You ruined my parties." The audience roared.
Helms kept them laughing with Oberlin-specific observations and commentary, including a riff about a few things that Oberlin got wrong. "Oberlin's motto is 'Learning and Labor,'" he said, joking, "both of which suck." Oberlin also "really messed up in the mascot department." And he referred to the architecture of South Hall as "something out of 1972 Moscow."
Though Helms admits to not agreeing with much Republican philosophy, he did opine that "If you're a Republican at Oberlin, you're a badass." He also asked, "Why do co-ops smell so bad? They've got this weird, garlicky funk."
For someone whose stock in Hollywood has risen so sharply, Helms remains incredibly affable and self-deprecating about what he calls his "bonkers" year. Unlike a lot of comedians, he's not afraid to not to be "on." He expresses disarmingly earnest thoughts about his time at Oberlin and a range of topics.
"There is just a tremendous amount of intellectual curiosity on campus, and that's something I value," he muses. "I've always liked being around people who are passionate and interested in what's going on in the world."
Helms was active on campus, spending a year on the swim team, singing in the Obertones a cappella group, and performing with the improv troupe Primitive Streak. As he began to feel his artistic oats, either on the banjo as part of Weedkiller or doing improv or by directing short films, a powerful force of opposition presented itself.
"In the time I was there, politically correct activity was peaking," he says. "There was a real sense of institutional insecurity. It preyed on people's insecurity and fostered timidity. At some point the ethos of PC had gone all the way around the circle and come back to Puritanism."
There was an upside to the limitations, though.
"I enjoy expressing antipathy toward dogma," Helms says. "A big part of my work at The Daily Show was undermining ideology."
There were quite a few steps between the PC mid-'90s and the polished performer who will forever live in Daily Show fans' memory for the hidden camera he deployed for a segment on Speedos in Cape May, N.J.
Helms, having designed an independent major called Film Theory and Technology, dreamed of becoming a director. He remembers former film studies professor Dan Goulding as "the Tom Wolfe of Oberlin—this larger-than-life character" who stoked his enthusiasm.
"There is just a tremendous amount of intellectual curiosity on campus, and that's something I value," Helms muses."I've always liked being around people who are passionate and interested in what's going on in the world."
He spent one semester focusing on film at NYU and "basically spent a semester (his senior year) commuting to Akron" to borrow a filmmaker's flatbed editing system. Short films shot at such signature Oberlin locations as The Feve coffeehouse soon followed.
While working at a post-production house in New York, Helms' versatile baritone got him some voiceover work on the side. The side gigs soon became full time, and about five years after graduation, Helms beat out 300 other hopefuls for a spot on The Daily Show.
One constant in all of Helms' work has been music. He has injected it to great effect into many of his performances, notably Stu the dentist, who takes solace in being able to sit at a grand piano in The Hangover. "Stu's Song"—improvised by Helms on set and shot in four or five takes on a lark at director Todd Philips' insistence—is a simple lament that lasts barely a minute.
"What do tigers dream of when they take a little tiger snooze?" it begins as Stu serenades a tranquilized tiger in the hotel suite. "Do they dream of mauling zebras or Halle Berry in her Catwoman suit?"
The song not only proves an unlikely showstopper onscreen, but for anyone who knows Helms as an Obie, it fits perfectly.
"Music is a big part of my life," Helms says, "and I don't think any other place does music like Oberlin does."
Dade Hayes is a writer and senior VP focused on corporate entertainment at Rubenstein Communications in New York. Additional reporting for this story was provided by Jeff Hagan '86.
Special thanks to Oberlin Director of Libraries Ray English for allowing OAM to carefully remove a womb chair from the library.