Losses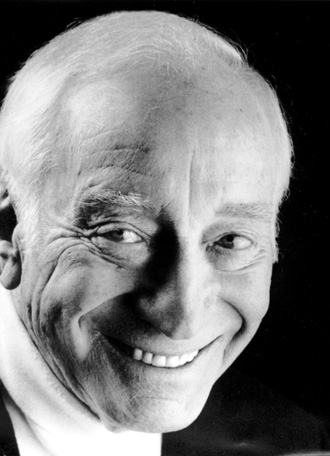 John Noot Stern '39
Former Oberlin Trustee
Mr. John Noot Stern '39, attorney, philanthropist, and art connoisseur, graduated from Harvard Law School, cum laude, and was awarded an honorary doctorate from Oberlin in 1988.
He joined the trust department of the American National Bank in 1957 and was appointed vice president of the probate division soon after, retiring in 1972 to spend more time on charitable pursuits.
He had many interests throughout his life—art, education, law, music, and sports —but his true passion was a deep desire to help others. He provided opportunity and inspiration to countless individuals through his generosity and proclivity to give back. In turn, the many people he met and helped along the way inspired him.
During his more than 35 years of philanthropic work, Mr. Stern worked closely with organizations of all types. In his hometown of Chicago, Mr. Stern served on the visiting committee and board of the Smart Museum of the University of Chicago. Named a life trustee, he gifted to the museum two works by one of Chicago's most important early modernist artists, John Storrs. Mr. Stern was also a board member of the Ravinia Festival in Highland Park and of the Museum of Contemporary Art, as well as a governing life member of the Chicago Orchestral Society and the Art Institute of Chicago.
In 1945, he became as a trustee for the Altheimer Charitable Foundation in Arkansas, which was created by Mr. Stern's close family friend and employer Ben J. Altheimer. Mr. Stern focused his efforts on achieving a flawless administration of the Altheimer Foundation, which, under his 50 years of guidance, became a major contributor to the University of Arkansas and its law school, establishing the first three faculty chairs there.
Mr. Stern also enjoyed a long and rewarding relationship with Oberlin College. In 1974 he was appointed to Oberlin's Board of Trustees, serving for 14 years before retiring as an honorary trustee in 1988. He helped organize the John Frederick Oberlin Society, the recognition society for major contributors, and was the group's first president. His generosity to Oberlin remains evident across its campus; an avid collector of art, he donated many works to the Allen Memorial Art Museum, where a gallery bears his name.
Mr. Stern was a founding member of the John W. Heisman Club and was named to its hall of fame in 1996. Passionate about Oberlin athletics, he was an avid supporter of student athletes and recently guided the funding and construction of Oberlin's new tennis complex, giving the college one of the premier college tennis facilities in the region.
Also a supporter of the sciences at Oberlin, Mr. Stern is the namesake of a scholarship in the natural sciences and the sponsor of a biology faculty research laboratory. In 2003, as an honor to Mr. Stern, the Altheimer Charitable Foundation donated money to endow in his name one scholarship at Oberlin and four scholarships at the colleges of the University of Arkansas. Recipients of these scholarships are known as Stern Scholars.
Mr. Stern's love for music prompted even more philanthropic ventures. He was an active life trustee of the Music Associates of Aspen in Colorado, and he established a scholarship designated for Oberlin students at the Aspen Music Festival and School.
"There is an Oberlin tag line of a few years ago that says, 'Believe one person can change the world? So do we!'" says Bill Barlow, Oberlin's vice president for development and alumni affairs. "Well, John certainly did that with his many charitable endeavors and the gifts he made, which will have a direct impact on the lives of others for many, many years to come. He really did make a difference in this world, and you can't honestly say that about too many people."
Mr. Stern died July 11, 2009, in Winnetka, Ill. His wife, Fay, a daughter, and two granddaughters survive him.
Memorial contributions can be sent to the John Stern Scholars Scholarship at Oberlin College, Office of Stewardship, 50 W. Lorain St., Oberlin, OH 44074.