Alumni Notes
The Alumni Association welcomed 56 sons and daughters of Oberlin graduates—a number that represents sizable growth from five years ago, when the figure was 32—into the Class of 2013 this fall. President Marvin Krislov and Alumni Association Executive Director Danielle Young enthusiastically greeted the group at an Orientation Week luncheon in August, where alumni parents represented classes from 1971 through 1993. The students and their families came together for this photo afterward.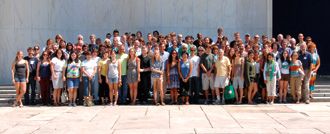 (photo by Tony Morrison)
Such Gifts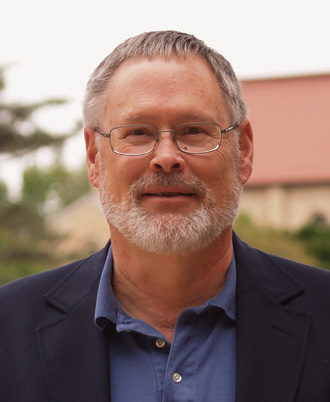 I have been tempted in recent weeks to believe that my service to the Oberlin Alumni Association was concluded during Alumni Council Weekend in September with the transition of the presidency to Dwan Vanderpool Robinson '83. E-mail doesn't allow such an indulgence for long. Today, however, I am reflecting on an existential level, and I feel that an Oberlin education tries very hard not to let go of me, whether I am currently "active" or not.
Save one regional event in the 1980s, I had no involvement in our alumni organization until 1995, when I attended my 30th reunion. Since then, I have willingly let our alma mater "get a hold of me." Since I ceased resistance, I have engaged joyously in renewal of acquaintance with Oberlin and with a part of myself largely dormant for 30 years. My very personal highlight reel includes these "holds."
During Alumni Council Weekend, I actually toured the skeletal structure that will be our Alumni Center by next spring. Lots of us have had a hand in this, but there would not be an East College Street development for the center had it not been for the fortitude and vision of three alumni who are the principals of Sustainable Community Associates.
My younger, but retired brother recently returned to campus for the first time since he graduated—renewing acquaintances with several faculty members who modeled the way for him so many years ago. Several years ago, a girlfriend from my junior year had a warm hug for me upon a chance meeting during Council Weekend, and I have enjoyed e-mail contact with another former girlfriend for the first time since I graduated. I've renewed acquaintances with many classmates who have lived rich, remarkable lives all over the planet.
Seldom in my life have I worked with so capable and dedicated a group as the Alumni-Elected Trustee Search Committee, on which I served several years ago. This was due in part to the leadership of two wonderfully gifted chairs but equally to all members who strove to improve both process and results of nominating outstanding alumni to serve on the board. Similarly, the search committee for the association's executive director was a joy for me, too, though we met many times by phone but only once in person. Our selection has proven to be excellent, I believe.
I might go on with these reflections and bore you, my readers, for I trust I am reflecting something of your experiences in connecting with Oberlin and its alumni. If you have fallen to reading this but have not been involved with the association or its members recently, I hope you'll give in to whatever hold Oberlin has on you and take a plunge. I cannot imagine your not being rewarded.
Bill Hilton '65
Past President, Oberlin Alumni Association
Globetrotting Filmmaker
Norma Percy '63 Returns to Campus
Celebrated documentary filmmaker Norma Percy '63 travels the globe for her films but felt quite at home when screening her three-part documentary, Iran and the West, for two nights on campus this fall.
Percy is one of the United Kingdom's premier documentarians, the go-to filmmaker for major events in world news. "Every significant international story seems to have its Percy film," wrote the U.K. newspaper The Guardian in a gushing editorial last February when Iran and the West began airing on the BBC. "Her documentaries stand out for their seriousness," the article continued, "but most of all for the extraordinary range of people who agree to appear on them. These programs do not depend on one celebrity autobiography, or a handful of journalistic talking heads; they interrogate players from all sides with a respect for complexities that demands concentration."
For Percy, who has lived in England since departing Oberlin for the London School of Economics, the visit had the feel of a warm homecoming.
"I loved my visit," she wrote in an e-mail to OAM. "It was the same place in lots of ways that mattered: from the look and smell of the co-op kitchen, to the students who instantly 'got' my supposedly difficult Iran TV series, to snatching the last Indian summer sun in Tappan Square between lectures, and the amazing absence of traffic.
"It was so familiar; I kept thinking the group of students outside Wilder were my friends Raye, Peter, Steve, and Bill—or the stooped chap crossing the road was Mr. Lanyi," she continued, referring to "the" George Lanyi—the government professor from Budapest who was mentor and family member to a generation of government honors students.
Percy was pleased to see that Oberlin is "still a haven for cosmopolitan scholars," noting visiting professor and former Iranian UN Ambassador Jafar Mahallati, whom she first met in Tehran. "Talking to him and to his comparative religion class really felt like Oberlin."
But not everything was the same for Percy. She noted the sale of alcoholic beverages at Gibson's, the victory of an Oberlin sports team over Ohio State ("my cousin Becca Mann's '11 rugby team"), and "a charming college president who rides a bike and knows the students.
"Despite the improvements, I'm delighted it's recognizably the same place."
Jeff Hagan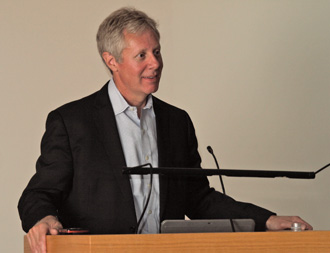 Jim Margolis '78 brings Passion for Politics to Campus
Though the Monday-night speech was billed as "President Obama's Journey to the White House and the Current Health Care Debate," it contained about 95 percent the former and 5 percent the latter. Not that the 100 or so students and handful of others who showed up for the lecture in October minded.
The speaker was Jim Margolis '78, a senior partner at the political consulting firm GMMB and a senior strategist for Barack Obama's presidential campaign.
Margolis told tales from the trail of a campaign that broke new ground historically and tactically. He also recalled some of the campaign's most inspirational moments and most important innovations, particularly its embrace of new technology.
"This campaign could not have been waged even 10 years ago," said Margolis. He proved his point with one slide in his presentation: In 2004, Facebook was only narrowly available, MySpace was just launched, and YouTube didn't exist. It was the power of such social networking that the Obama campaign anticipated, harnessed, and fine-tuned to electoral politics perfection.
"We met the voters where they were," Margolis said. That meant everything from going to states many Democrats ignored—what Margolis calls "expanding the map"—to developing smart phone apps to allow volunteers from anywhere to call into targeted states—on their own time, yes, but also on their own dimes.
Margolis provided intriguing insight about what went into some of the tactical decisions the campaign made, such as having Obama's convention acceptance speech take place in a sports stadium. He also offered an insider's view of some of the campaign's high points, including when Obama clinched the nomination and cautioned his celebrating staff, "Don't cut down the nets yet—we've got a long way to go." Later, when Obama prepared to declare victory on the night of the general election, he spoke to Margolis about the great changes possible in light of such overwhelming challenges.
"I thought Jim's talk was great," said senior Daniel Abramson, a politics major from Brooklyn, N.Y., who worked on a New York City Council campaign last summer as a Cole Scholar. "Jim's personal stories and anecdotes are what makes hearing a professional like him better than reading an article. It was nice to see an Obie who has successfully put his passion and ideals to use."
Jeff Hagan
Regional Roundup
What's Happening in Your Region?
Find out at ObieWeb, www.oberlin.edu/alumni/oberlinClubs.
The Alumni Association sponsored a record number of 16 summer picnics around the country this year, each well attended by alumni, parents, and students. The Oberlin tradition involves alumni and parents hosting picnics for incoming and returning students. Thank you to everyone who attended, and especially to our generous hosts!
Cleveland
Alumni Happy Hour
Nearly 40 Cleveland-area Obies joined new regional coordinator Kira McGirr '06 for an alumni happy hour downtown. Kira is looking for volunteers for the club's outreach efforts; if you are interested in getting involved, please contact the Alumni Office at alumni@oberlin.edu.
North Carolina
Folk Performance with Joe Hickerson '57
John Graybeal '59 hosted legendary folk singer Joe Hickerson '57 at his home for a special performance. Joe, a lifelong singer, was founder and president of the Oberlin College Folk Song Club.
New Mexico
Reception with College of Arts and Sciences Dean Sean Decatur
On August 12, a diverse group of 25 alumni from Albuquerque and Santa Fe joined college Dean Sean Decatur for conversation and cocktails at the Rio Chama Steakhouse.
2010 Oberlin Cares
Alumni Day of Service!
Whether it's sorting provisions at an area food bank, painting houses for the elderly, or cleaning up a local park, the Oberlin Cares–Alumni Day of Service on April 17 will bring alumni, students, and friends together throughout the country, offering a chance to connect with each other while making an impact on their local communities. Look for an upcoming community service project in your area by visiting www.oberlin.edu/alumni/oberlinClubs/oberlincares.html.
John Keller
Director of Regional Activities and Engagement
OC Football Player Turns
Child Advocate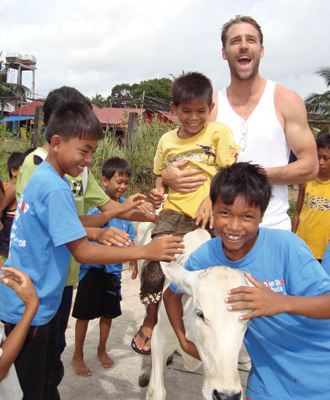 What would you expect a geology major and star receiver for the Yeomen football team to be doing in the decade following graduation? Playing professional ball? Returning home to his native Spain to open a lounge bar? Helping children to escape sexual predation?
Felix Brooks-Church '99 has done them all.
After graduating from Oberlin, Brooks-Church was recruited by the Carolina Rhinos Arena Football League. Unfortunately, a pre-season ankle injury cut his career short, so he instead turned toward graphic design. Still not quite fulfilled, however, he opened a lounge bar in Ibiza, Spain, his homeland, where he devoted two years to catering to tourists. Eventually, though, the bar lost its appeal for Brooks-Church, and it would take a friend's invitation for him to finally find his calling—in Cambodia.
Roger Dixon, a professional artist, had started a small project for street and beach children in the Cambodian town of Sihanoukville. The Cambodian Children's Painting Project (CCPP) helps children sell their artwork to support their families and escape sexual predation. Brooks-Church joined the program, and within four months decided it was where he was supposed to be. "I had always wanted to be involved in humanitarian activities, and since I love art and children, this project was a perfect fit," he says.
The children who participate come from poor families. Many don't go to school because they spend their days and, more treacherously, their nights on the beaches begging, collecting cans, or hawking baubles to tourists. CCPP not only provides the children with a safe, creative environment, it gives them access to education, medicine, food, and clothing. Half the proceeds from the children's art helps keep the program operational, while the other half eases the financial burden on their families. In the past four years, the program has grown to include more than 100 children.
Brooks-Church envisions a vocational training center for the older children and has considered a micro-loan system to further help their parents. To finance these projects, he arranged a three-month traveling fundraising art exhibition throughout Australia.
"I got involved in this project because it was grassroots and so transparent," he says. "If someone donated $100 that day to buy rice, then $100 dollars of rice was bought. It was a project that I would want to donate to."
Josh Spiro '09