Around Tappan Square
Good Chemistry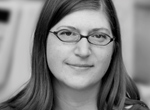 (photo by John Seyfried)
Assistant Professor of Chemistry Rebecca Whelan received a $345,000 grant from the National Cancer Institute to assist her and her team in searching for clues to detect deadly ovarian cancer. "We're all rooting for Dr. Whelan and her team at Oberlin," U.S. Representative Marcy Kaptur said in announcing the grant. "Ovarian cancer is the fifth most common cancer among women in the United States and claims approximately 15,000 lives each year."
Rebecca Whelan won the Henry Dreyfus Teach-Scholar Award: Read more here.
Notable Grants
Robinson Scholars Program Gets Boost
An anonymous donor has given $1 million to help endow the William L. Robinson '63 Scholars Program, which is open to students who attend all four years of Oberlin High School and qualify for admission to the college. Oberlin launched the partnership scholarship program 10 years ago, providing an unparalleled opportunity to attend a top-ranked, highly selective liberal arts college while simultaneously raising student expectations in the local school system. Nine Oberlin High School graduates were admitted to the college in fall 2011, the first class of William L. Robinson Scholars. An Oberlin native and 1959 graduate of Oberlin High School, Robinson is a renowned civil rights lawyer and founding dean of the District of Columbia School of Law and the University of the District of Columbia School of Law. In 2007, he was honored with the University of the District of Columbia's Distinguished Leadership Award, which recognizes members of the university community whose life work exemplifies outstanding leadership.
Mellon Supports New International Center
Oberlin College has been awarded a grant of $950,000 by The Andrew W. Mellon Foundation to strengthen international humanities teaching and research through the creation of a Center for the Study of Foreign Languages and International Cultures. The center will play a critical role in meeting the college's strategic goal of "internationalizing" Oberlin, by providing an ongoing source of support for faculty development, curriculum development, and humanities programming essential to sustaining a current and vital international curriculum.
For more information, visit http://new.oberlin.edu/home/news-media/detail.dot?id=3591761
NSF Funds Geology Renovation
A $925,000 grant from the National Science Foundation transformed Oberlin's geology department with a renovation and expansion of research and research-training facilities in the Carnegie Building. The renovation allowed the department to separate faculty offices from labs, and created a cohesive research wing that will provide greater visibility to student research projects. The project conformed to construction guidelines for LEED silver certification from the U.S. Green Building Council.
For more information, visit http://new.oberlin.edu/home/news-media/detail.dot?id=3196097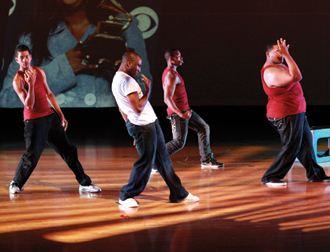 A Story to Tell
Dance Diaspora, a semi-professional dance troupe and class at Oberlin, presented the show There always has to be a story. A Hip-Hop Ballet on October 14 and 15. The show featured the choreography and performance of Dance Diaspora alumna Sherece Donalds '06 and local talent DJ David B.I.G. Hopkins. Dance Diaspora's mission is "to maintain traditional West African Dance forms and other African Diasporic forms by acknowledging the spirituality, philosophy, and diversity of African Culture and its global presence."
Green and Gold at Museum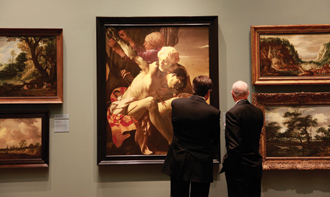 (photo by Jennifer Manna)
The Allen Memorial Art Museum's John G.W. Cowles Director Stephanie Wiles has accepted the position of director of the Herbert F. Johnson Museum of Art at Cornell University. Wiles saw the Allen through a comprehensive renovation that earned the building Leadership in Energy and Environmental Design (LEED) gold certification from the U.S. Green Building Council, confirming that it now meets rigorous standards of efficiency and environmental responsibility. Katherine Solender '77 has been named interim director. Solender, who previously led the museum as acting director from 2003 to 2004, has more than 30 years of experience as a museum consultant, arts editor, and community arts advocate.
For more information, visit http://oberlin.edu/amam/
Sex and the Constitution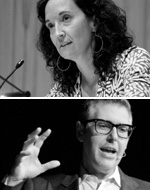 Convocation speaker Ira Glass
(bottom) talked about what
makes
This American Life
interesting.
(photos by John Seyfried)
Though the speech by Louise Melling '82 (top right) marked the college's celebration of Constitution Day, Melling talked more about the social and political climate and factors beyond the legal system that have a role in limiting women's rights. The blunt title of her talk, "I Have Sex: Why to Care About Reproduction Rights in the 21st Century," addresses what she sees as a new taboo against speaking frankly about abortion. Melling, deputy legal director of the American Civil Liberties Union and director of its Center for Liberty, noted President Obama's speech on the anniversary of the Roe v. Wade Supreme Court decision never mentioned the word abortion because there are "no points, no votes, no dollars, no benefits" to saying it.
To read the Oberlin Review stories on these speakers, visit Ira Glass or Louise Melling '82
News Briefs
Campus Gets Nuttier, Crunchier
Philip Rutter '70, one of the nation's foremost experts on nut crop agroforestry and founder of the American Chestnut Society, brought hazelnut trees to campus over the summer to plant near the Lewis Center for Environmental Studies. The crop is part of the Environmental Studies Program's experimental landscape.
For local news coverage Rutter's visit, please visit http://theoberlinnewstribune.com/local-news/oc-grad-plants-hazelnuts-here-as-a-sustainable-crop/
Book Looks at Board
Oberlin is one of 18 higher education institutions studied in Leading Change: How Boards and Presidents Build Exceptional Institutions, a book published by the Association of Governing Boards of Universities and Colleges. Oberlin's board of trustees is specifically examined for its ability to bring about institutional transformation. "Our biggest challenge was to help people become comfortable with change, that we could make important changes without changing the soul of the place," then-Board Chair Robert Lemle '75 told the book's author.
Cross Country Women Run Away With Title
For the third straight year and for the fifth time in school history, the Oberlin women's cross country team claimed the North Coast Athletic Conference (NCAC) championship. The conference also named the team's coach, Ray Appenheimer, Coach of the Year for the third year in a row. The Yeowomen had eight All-NCAC selections in cross country, the most of any program in the history of the NCAC. Runner Carey Lyons '15 was named NCAC Freshman of the Year.
For more information about Oberlin athletics, please visit http://www.goyeo.com/
The Apollo: Curtains Until Summer
The historic Apollo Theatre shut down for the final phase of renovations and improvements. It will re-open in early summer 2012.
Want to respond? Send us a letter-to-the-editor.