Your Oberlin, and Ours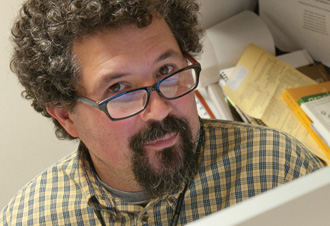 I remember coming back to Oberlin for my 20th reunion and posing with my classmates for a class picture on the steps of Severance.
I remember standing there and looking up and down the row at my classmates, bright sun bathing us in warm light. And I remember being overcome with one, solitary thought:
Who are these people?
Sure, I knew some of them, and at least recognized others, but I was struck by how many people I didn't know at all. Where were they when I was here in the first half of the 1980s? I felt like I was right in the Oberlin mainstream at the time. I mean — didn't everybody eat at Tank, call females over age 13 "womyn," join Democratic Socialists of America, and spend hours and hours in the Disco, A Level, the snack bar, and the Taphouse?
It was at that reunion, two decades after I graduated from Oberlin and two years before I would return here to become the editor of this magazine, that I realized what I thought of as a universal Oberlin experience was pretty narrow after all. I certainly knew there were different social circles and different interests, but I was pretty convinced that my Oberlin was the Oberlin.
D.A. Henderson '50 says he was able to lead a team that wiped out smallpox because of his experience working with WOBC, the college radio station. Claire Fitts '02 turned dessert-making for her co-op and ex-co class into a successful Vermont bakery and catering company. Poet Dore Kiesselbach '88 documented in the poem "Football" a "moment of revelatory tenderness" he witnessed as a starting defensive back for the Yeomen. Sometimes people find themselves in their own corners of campus, and that's where they truly find themselves.
This issue brings a new design to the magazine. In addition to the crisp new look, we've also created new features and sections that will allow us to include more voices, more Oberlins. Think of it as a continuation of those middle-of-the-night, meaning-of-life kinds of discussions you used to have in your old dorm or co-op or library alcove, only this time your conversation will include the wisdom of younger people and the fresh outlooks of older people.
With this issue we launch a dialogue section. In future issues we'll feature essays by alumni, faculty members, students, and staff, speaking in their own voices about matters great and small. We'll run an occasional feature called "Second Thoughts," in which alumni or faculty members will talk about something important about which they changed their minds over time. We'll ask a big question of an expert — or maybe a gifted amateur.
We want the magazine to challenge you intellectually in the way Oberlin first challenged you. But we also want it to welcome you. We hope it makes you laugh, scream, and take action sometimes. We hope it inspires you to write letters to the editor, to your classmates, to former professors or coaches. But mostly, we will try our best to accurately reflect Oberlin — or, perhaps, all the different Oberlins — so that you can see yourself in the magazine and remember that you're still a part of this community. Because even if you've left Oberlin, you probably feel Oberlin hasn't left you.
Jeff Hagan '86
Editor, Oberlin Alumni Magazine