Kander &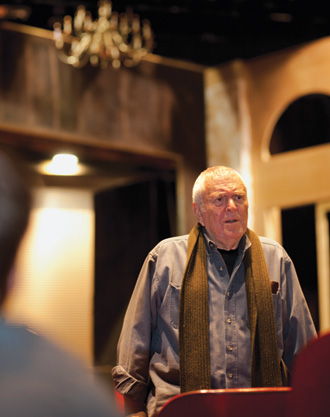 The theater icon who partnered with Fred Ebb for four decades is always open to collaboration — especially with the "Oberlin Mafia."
Musical composer John Kander '51 and playwright David "Tommy" Thompson stand in the middle of a row of theater seats toward the front of Oberlin's Hall Auditorium, facing away from the stage and toward the audience — the student cast and crew of Flora, the Red Menace. It's early April and, with the musical set to open here in about three weeks and again during Commencement / Reunion weekend, members of the company are settling into their roles. About 18 months before this night, Kander told President Marvin Krislov he'd be willing to come to campus and work with theater students on one of his productions, and he suggested Flora because the story, set in the Depression, echoes some of the economic hardships of today.
"Well," Kander asks the students, who have just rehearsed three big scenes in front of him, "what's wrong with it? What are you having trouble with?"
Silence.
Finally, Thompson blurts out with a laugh, "Oh, come on, you're all liars!"
The students laugh, too, but when the room quiets, the musical director, Ian Axness '09, says, "Well, actually... ."
Axness explains he's having trouble with a musical transition, and Kander agrees there's something there that doesn't work.
And that's when it begins. After the ice is broken — melted, really, by Kander's charm and openness — the actors flood Kander and Thompson with questions about the characters they play, about what the lines mean, about how the lines should be delivered.
Flora, the Red Menace opened on Broadway in 1965 and won a Tony Award for its 19-year-old star, Liza Minelli, in her Broadway debut. The musical was the first produced collaboration between Kander and his writing partner, lyricist Fred Ebb. Their four-decade partnership spawned, among other works, the stage musicals Chicago and Cabaret and the movie New York, New York, the theme song of which became Frank Sinatra's signature tune. So the play has pedigree.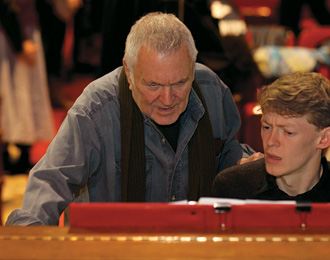 But the theater isn't a museum, and Kander isn't interested in reverence to the material. He wants it to evolve. He wants it to work well for the stage now, nearly a half-century after its debut. And he's interested in what young performers have to say about what works and what doesn't, and he's happy to change what doesn't.
Following the full-cast session, Kander, Thompson, Axness, and Holland Hamilton '11, who plays Flora, move to the piano to work out the vexing transition.
"When we got down to the keyboard, I had an idea and he had an idea for modifying that idea, and we ended up with something we both like," Kander explains in an interview the next day. "It's not like political collaboration where nobody gets what he likes. We ended up, by collaborating, getting what we both want."
"Oberlin had a huge effect on my life, and the experience of being part of this community and being in the perfect place for me, which I've often said, is something I've never forgotten."
This wasn't the first time Axness contacted Kander with a question about his music. In 2008, Axness and Josh Sobel '09 were working on the music for a winter-term production of Cabaret and got stuck. They tracked down Kander through OBIEWeb, the online alumni network, and called him up. "He put me on hold at one point, and when he came back on, I realized that he had changed phones so he could sit at his piano," Axness recalls.
"John just has the most gracious, humble attitude toward his music and his accomplishments, and I think he stays connected to the time when he was just another pianist arranging dance numbers in New York City."
Kander's long partnership with Ebb may have resulted in an openness to outside ideas, or perhaps that openness is what was behind the partnership in the first place.
"It's more of a character trait than a skill set, and I don't think he'll ever lose it," says Axness.
Just don't suggest to Kander that there's anything particularly generous about the way he approaches working with the students and others with aspirations in musical theater.
"There's nothing selfless about it," he says, smiling, "because it's our idea of a good time."
Kander's openness to input and collaboration is particularly strong when it comes to Oberlin students and alumni.
"Oberlin had a huge effect on my life," Kander explains. "And the experience of being part of this community and being in the perfect place for me, which I've often said, is something I've never forgotten. I didn't come back for a number of years because you're afraid to come back to the place that you love. Since then, I've been back a number of times and on each one of those visits I've connected with someone. And some of those people come to New York."
That network of Oberlin connections — what Kander likes to call "the Oberlin Mafia"—includes Greg Pierce '00 who met Kander through his Oberlin roommate, actor Jeremy Ellison-Gladstone '99. Pierce and Kander eventually collaborated on a one-act play called Andra. Kander showed the one-act to novelist, screenwriter, and playwright William Goldman '52, who encouraged the pair to write two more parts and turn it into an entire show. The result, a three-parter called The Landing, is set to open at New York's Vineyard Theatre in the spring. Working with such an icon as Kander is the chance of a lifetime for any young person in theater, but when Pierce once referred to Kander as his mentor, Kander says, "I practically slapped him.
"Greg is a fantastic writer, and so we're having a collaboration that's giving me great pleasure."
The feeling is mutual.
"Working with Kander makes it hard to work with other people," says Pierce. "It's an ego-free experience. The vast difference in our resumes never enters into it. It's just two people excited about making stuff. We play the 'What If' game, as John calls it, and come up with a million ideas, and then the ones we both love seem to stick around.
"Whoever's excited about a particular moment just jumps in. Lyric writing is new to me and is, at times, daunting," Pierce says. "But John is so supportive and passionate about the work we're doing, I never feel like I have to impress him. I can just do what feels right. Also, it helps that he's a genius."
To view a video about Kander, Oberlin, and Flora,
see The Making of a Musical at Oberlin College:
For more photos, visit: https://oncampus.oberlin.edu/source/articles/2011/04/26/legendary-broadway-composer-john-kander-51-coaches-students
Jeff Hagan '86 is the editor of the Oberlin Alumni Magazine.