Donald Sobol and the Case of the Elusive Mystery Writer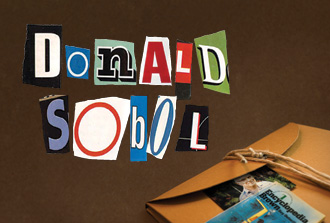 If you were or had a child anytime after 1963, you're probably familiar with Encyclopedia Brown. The perpetually popular, ongoing children's mystery book series by author Donald J. Sobol '48 centers on fictional child sleuth Leroy "Encyclopedia" Brown, the smartest 10-year-old on the block in his made-up town of Idaville, Florida.
To date, 27 Encyclopedia Brown books have been published, each containing 10 or so very short mysteries that young readers can solve using clues provided in the text. The main characters (who are reintroduced in each book) include Brown, his police chief father, his friend and bodyguard Sally Kimble, and town bully Bugs Meany. The series has been translated into more than a dozen languages and has never been out of print.
Sobol's most recent story, Encyclopedia Brown and the Case of the Secret UFOs, was published in October 2010 by Dutton Juvenile Books (a division of Penguin Group).
And while the books and their characters have cemented themselves in our cultural psyche, their creator, Sobol, remains a relative mystery. It's just what he prefers.
"What I really wanted, and couldn't achieve — it was just a pipe dream — was to remain anonymous," Sobol says from his Pinecrest, Florida, home, where he lives with his wife, Rose. "That never worked."
Still, he did what he could to stay out of the spotlight. He never granted television interviews, and he talked with newspaper and magazine reporters by phone to avoid being photographed. His picture appeared in only one of his books, and that, he says, was by mistake.
"I am very content with staying in the background and letting the books do the talking," he explains.
"All in all, I wanted to do what I wanted to do, go where I wanted to go, see what I wanted to see, and talk to whom I wanted to talk to." If people recognized him on the street as the author of the Encyclopedia Brown books, he says, "that would have changed everything."
Sobol is now 86, but you wouldn't know it from talking with him. His memory is as sharp as a digital camera image, and he recounts conversations and events from decades ago as though they just happened. Ask him about his time at Oberlin, for instance, and you can almost hear him smile across the telephone line.
"I have all good memories of my friends and my professors," he says.
Born and raised in New York City, Sobol applied to Oberlin at the suggestion of his seventh-grade teacher. He was accepted in 1942, after graduating from New York's Ethical Culture Fieldston School. His college plans were deferred, though, by WWII, in which he fought as a member of an independent combat engineer battalion with the U.S. Army.
After his discharge in 1946, Sobol enrolled at Oberlin: "The college rolled out the red carpet for returning veterans and made us feel as if we'd won the Medal of Honor." As a veteran, Sobol wasn't required to take a gym class ("a godsend," he says). When one of his friends, also a veteran, realized with horror that he had forgotten to answer the final question on a political science midterm, the professor read him the question and let him answer by phone.
During his junior year, Sobol took a creative writing class from English Professor Ralph Singleton. It was the only creative writing class offered at the time, and Sobol says it changed the course of his life and career.
"When I was 6, I wanted to be a cop. When I was 7, I wanted to be a fireman. When I was 10, I wanted to be a New York Yankee shortstop," Sobol says with a chuckle. He took up sculpting and creative writing in high school, but it was in Singleton's class that he fell in love with the craft of writing.
"In the last class I pumped up my courage and asked Professor Singleton if I could talk with him," Sobol says. "I asked if he would consider teaching an advanced course in creative writing. He looked at me in surprise, and said softly, 'The college offers only one course in creative writing, and you've taken it.' I should have thanked him for the course and for hearing my request and walked out. Instead I stood there like a dim-witted penguin watching water freeze."
The professor broke the awkward silence and asked Sobol if he had been in the war. Sobol said yes, and they talked about his experience. Singleton then spoke what Sobol describes as "two magic words: 'All right,'" and agreed to conduct an advanced creating writing class just for him.
"Without his help, I probably never could have had a career as a freelance writer. I owe him so much," Sobol says. "He gave me not merely his time, and he vastly improved my abilities, but he instilled faith in me, in myself. I will always be grateful."
A few weeks after graduating from Oberlin, Sobol published two stories he had written for Singleton in pulp magazines (the men's magazines of the day) and started working as a reporter for the New York Sun and then the Long Island Daily Press. In 1951, at the age of 27, he left to pursue fiction writing full time.
In the late 1950s, Sobol found some success writing historical children's novels. In 1959, he launched a fiction column for the Associated Press called "Two-Minute Mysteries," which was syndicated in the United States and abroad. Each column, geared for a general readership, was about 315 words and contained a mystery that could be solved in, well … about two minutes.
In 1961, Sobol and Rose, an engineer and writer, moved their family from New York to Florida. Today, they are parents to three adult children; their youngest son, John, graduated from Oberlin in 1985 with a degree in mathematics.
Sobol stopped writing "Two-Minute Mysteries" in 1968 but thought the format — short, engaging, easily solved mysteries—would appeal to young readers as well. The idea for Encyclopedia Brown was thus born.
But when Sobol sent his first manuscript, Encyclopedia Brown, Boy Detective, to potential publishers, he was met with almost universal rejection: 24 publishers said no. Finally, a year and a half later, one publisher, T. Nelson, said yes.
"I use that number whenever I talk to children or adults," Sobol says. "It's a concentrated way of saying, 'Hey, don't give up. Persevere, and don't take no for an answer. And if you really think (the publishers) are right, then look over the manuscript and polish it a little more.'
"I had faith in the format. I thought it would go eventually, and it did," he adds. In 1975, Sobol won a special Edgar Award by the Mystery Writers of America (named after Edgar Allen Poe).
Particularly important to Sobol was the longevity of the series. "I didn't think I'd be writing just one book — I'd hoped I wouldn't be," he says. "I was very careful not to put into any book anything that would be out of date in a few years." The main characters, for instance, never age, and Encyclopedia Brown always solves cases for just 25 cents.
When Sobol sent his first manuscript to potential publishers, he was met with almost universal rejection: 24 publishers said no. Finally, a year and a half later, one publisher, T. Nelson, said yes. "I use that number whenever I talk to children or adults."
Sobol credits the popularity of the series to a number of factors: their humor, which he admittedly works hard at; the solid mysteries contained in each book; and the fact that the main character, Encyclopedia Brown, is flawed — despite his intelligence — and therefore, likeable.
"I didn't want him to be like a comic book hero who charges into a phone booth and dashes out, ready to solve the world's problems in his underwear. He has to have some shortcomings," Sobol says.
Inspired by the English crime series The Avengers, in which a man and woman work together as a crime-solving team, Sobol gave Encyclopedia Brown a bolder female counterpart named Sally Kimble.
"In the early 1960s, girls and women weren't supposed to work up a sweat, and here was a woman doing a man's work," Sobol says.
Encyclopedia Brown is intellectually strong, but avoids violence. Sally Kimble is also bright, but unlike Brown, she can punch out most of the boys and protect Encyclopedia from bullies.
Elizabeth Bird, a children's librarian at the New York Public Library's Children's Center at 42nd Street, says the Encyclopedia Brown series is "sort of the go-to mystery series for kids — even today. When kids are first getting into early chapter books, what they want more often than not are mysteries."
Bird still remembers the details from a number of Encyclopedia Brown books, which she read religiously as a child. "There was something about how he wrote them, the words that he used, the types of mysteries that he did, that were entirely unique."
The books, she says, are checked out regularly. "Kids love to read all of the series. They don't care if the cover looks like it stepped straight out of 1982. They'll still read the book," she says.
And as for Sobol? He has no plans to stop writing anytime soon.
"I don't want it to end," he says. "I know how it will end — everybody knows that because we all end up in the same place."
He's even open to having a ghostwriter continue with the series, "if it means I'll have something when I'm gone, that my children can have a little extra support financially," he says. "I don't intend to give it up, but who knows what the future will bring? I hope I am able to do it as long as I want to do it."
Elizabeth Weinstein '02 is assistant director of alumni outreach and engagement at Oberlin and a freelance writer whose work has appeared in Billboard Pro, the Columbus Dispatch, and OhioAuthority.com.