Before Title IX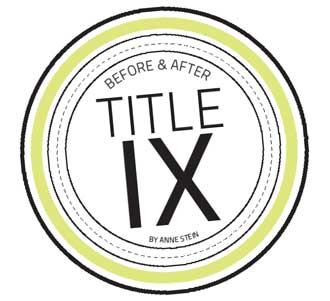 At a time when feminism was sweeping the campus and the nation, Army veteran and former national team modern pentathlete Dick Michaels arrived at Oberlin to coach. Michaels, who swam at the 1964 Olympic trials, was hired to take over men's swimming and soon added cross country to his roster.
Michaels, along with other Oberlin athletic department pioneers such as Don Hunsinger and Mary Culhane, quickly became key in empowering Oberlin women to pursue sports.The year was 1970, and, like nearly all athletic conferences around the country, the Ohio Athletic Conference existed to govern men's sports. Then came Title IX of the Education Amendments of 1972, the landmark civil rights law that prohibited gender discrimination at schools that received federal financial aid. It meant, among other things, that schools had to provide equal athletics opportunities to men and women.
It would be a few years, however, before sufficient money — and interest — would be raised to form more women's teams. Dick Michaels, in the meantime, encouraged female swimmers and runners to train with the men. When the women runners had no one to compete with, they would take part in the men's meets.
"I got in trouble for that once in a while, but it was Oberlin, so I never got in trouble with the college," says Michaels, who retired from Oberlin in 2006.
Including the women athletes was no big deal, he says, until a 1973 cross country meet with Kenyon and Ohio Wesleyan — which he calls "the incident." Ohio Wesleyan's coach, spotting two women warming up, stormed over to Michaels and announced that he'd pull his men from the meet if the Oberlin women ran. Michaels thought that was ridiculous.
"I told him that the women wouldn't be counted in the scoring, that they were running in exhibition," Michaels recounts. The other coach said it didn't matter — he wouldn't let his team compete. Michaels presented the issue to his team, which agreed that the women should run.
Michaels went back to Ohio Wesleyan's coach. "Kenyon is going to race, and we're going to race, and if you don't want to race, then go home," he said. Everyone competed, though Ohio Wesleyan later filed a grievance.
"Coach could have backed down, but he didn't," says Lisa 'Lee' Matovcik '76, one of the two women who competed that day. "He pushed it—he treated us like any other member of the team, and that was huge. Back then we practiced with the men's team, we were considered part of the team, and we even socialized as a team."
Implementing Title IX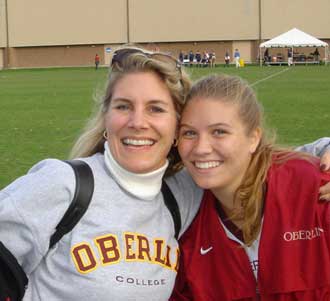 When it comes to sports, Title IX simply states: "A recipient which operates or sponsors interscholastic, intercollegiate, club, or intramural athletics shall provide equal athletic opportunity for members of both sexes." It took a while, however, for schools to comply.
Oberlin was offering women's field hockey and swimming when Michaels arrived, and the 1973-74 course catalogue states that varsity credit was offered for women's basketball, swimming, fencing, field hockey, and cross country. Some of those sports, though, didn't have enough women to form a team, so athletes instead earned credit for hours put in with a men's or club team. Over the next few seasons, women's basketball established a team and, in 1978, cross country fielded a full slate of Yeowomen.
Though Oberlin had never been a jock haven, Title IX forced the changes that some women were yearning for. It also created a welcoming athletics department for a generation of female students who grew up working out and admiring the likes of Mia Hamm, Dara Torres, and other female sports heroes.
Even without the legislation, says Michaels, "I believe Oberlin would have done what it did irrespective of Title IX."
The Early Years
The change was a long time coming, says Ann Stevens '55, who came to Oberlin "to major in physical education, study hard, and do synchronized swimming."
"We had some strong athletes, and if we had had interscholastics back then, they would have excelled," says Stevens, a retired physical education teacher who taught at Evanston Township High School in Illinois for 31 years. "Women were pushing for more competition, but it didn't go anywhere."
The Women's Athletic Association (WAA) at Oberlin instead sponsored synchronized swimming, modern dance, and tumbling, along with dormitory teams that competed against one another in archery, tennis, bowling, ping pong, basketball, and softball. Each March, the WAA hosted three other colleges on campus for a volleyball and swim sports day.
Throughout the 1950s and '60s, says Stevens, women athletes "knew we were capable of doing anything we wanted to do—it was someone else saying we couldn't compete. But that's been true in athletics and every activity that women take on. We've had to say, 'I'm perfectly capable of doing this job, whether it's law or business or whatever.'"
And the women's sports that did exist in those decades were too tame, Stevens says. "In volleyball you could hit the ball twice and assist the serve over the net, and there were no overhand serves. We wanted to play five-person, full-court basketball (rather than six-person, three-on-three or half-court). We didn't think we were the weaker sex. We knew what we could do."
The Modern Pioneers
Title IX didn't change the sports scene overnight, however. Two years after its implementation, Kathy Crowe Podmaniczky '78, a software engineer in Pleasant Valley, N.Y., who grew up playing sports, chose Oberlin for its academics and athletics. "I thought I'd struck gold in finding a school with all those teams, but I didn't know that everything was in its infancy — such as the small coaching staff and the athletic training," she says.
Since many incoming Yeowomen had little exposure to athletic opportunities, depth was lacking on every team. "Some of us had the passion to be the best athlete we could, and others were just learning the sport and how to be athletic," she says. "It was interesting."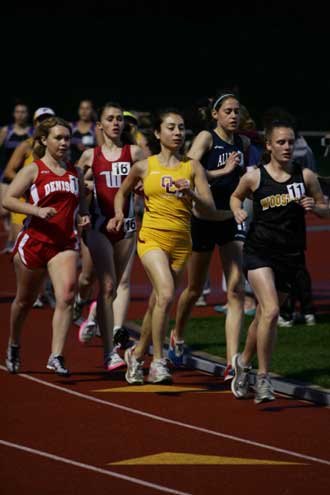 Podmaniczky ran cross country on Dick Michaels' men's team for a year and competed in women's volleyball, women's track, and women's lacrosse. Her passion, however, was women's basketball.
"I loved our coach dearly, but she didn't come from a basketball coaching background. That was difficult, but everything was really just getting started," Podmaniczky says. Though the women were issued shoes and uniforms, they practiced in the old gym. Once they moved to the newer gym, they shared a tiny locker room. "We were second-tier to the guys," she says, adding that some of the men's teams were served steak meals before games, something the women were never offered.
During Podmaniczky's four years on the basketball team, she experienced just one season above .500. "I wanted to develop my capabilities as an athlete, but it's awfully hard to feel you're doing that when as a team it's so hard to compete."
Her 25-year-old daughter's experience playing squash and running at Bowdoin was vastly different. "It was expected that her teams would work hard and compete. The coaches were the same for the men and women, and they got the same deal — the same kind of attention, the same expertise."
On the other hand, says Podmaniczky, who's now a road cyclist, perhaps being a star college athlete would have been too much pressure. "Maybe it's lucky for me that women's athletics were just getting started and I could be a big fish in a small pond that was just filling up. I felt like I had to figure things out for myself, what skills to work on, what strength exercises to do. But I've made peace with it."
Carla White Freyvogel '79, who served as the first woman president of Oberlin's Heisman Club, ran with the men until a woman's team was formed, and she was always trying to recruit other women runners.
"I knew an oboe player who was a good runner, and I tried to get her. There was an opera singer and I said, "You can sing? Great, you can run!"
Women just weren't open to being athletes in that era, Freyvogel says. But it's different today; in October 2011, for the third straight year, the Oberlin women's cross country team won the North Coast Athletic Conference Championship and have had female runners claim national recognition.
Freyvogel says the women's sports scene is so different now that it brings her to tears. "I was a run marshal at a "Girls on the Run" event. There were 3,500 girls (ages 8-11) running with 3,500 adult buddies, and I stood there crying."
"I wonder what it would have been like to be an athlete without the emotional baggage we had, without feeling like you were trying to prove something, or that you weren't supposed to be there or were in someone's way."
Yeowomen today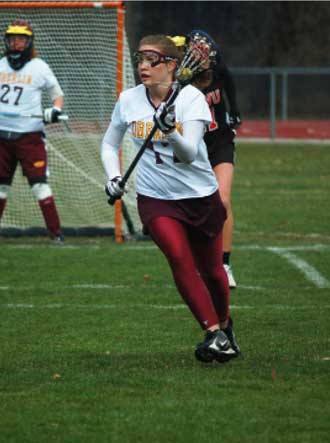 It's a feeling that her daughter, fellow Yeowoman Grace Eginton '09, who played field hockey for two years and lacrosse for four, never had. "Playing sports at Oberlin was an overwhelmingly positive experience. I'm still close with many of my teammates. It was one of my defining experiences there."
Eginton, who lives in New York City, describes coming to campus early her first year and instantly entering a world of new friendships with fellow athletes. "It provided a really good balance to the more academic side of Oberlin." And sports has been integral to her relationship with her mom. "Growing up and hearing about her experiences and seeing how much things have changed has been interesting," says Eginton. "As I have more contact with older athletes and people who had more difficulties than I had, I've become more conscious of Title IX and how many more opportunities I've had."
Without question, says Dick Michaels, the athletic landscape is completely different at Oberlin now than in previous decades. "The athletic department is unbelievable," he says. "Every team has a head coach and an assistant and budgets — but it took a while."
Part of what held things back after Title IX was a lack of interest from incoming female students who hadn't grown up playing sports, and opposition from female physical education staffers who wanted to maintain the status quo of intramurals and PE classes for women.
"A few tried to coach and did a good job, and a few tried to coach and didn't do a good job," Michaels says "The whole concept of varsity athletics had passed them by, so it took time to get that into place."
Oberlin today boasts a young generation of successful, passionate female coaches who were raised on sports. Typical is women's lacrosse coach Jacqueline McDevitt, born in 1983. This past year, in her first season at Oberlin, McDevitt coached the women to their best record since 1998.
"I didn't know that there weren't opportunities to play until I learned about Title IX in high school," she says. "My generation didn't think there was a difference between men and women athletes or that it was a privilege for us to play. We thought it was normal."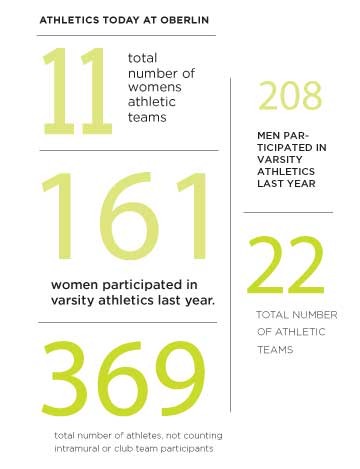 Along with one of her players, Ilyssa Meyer '13, McDevitt visited the White House over the summer to celebrate the 40th anniversary of the landmark act. "I'm ultra-aware of the opportunities I've been given, and I try to make my kids aware of them too," says McDevitt, who was voted NCAC coach of the year in 2012. "I couldn't imagine my life without sports. It wouldn't be as fulfilling or complete without the opportunity to teach and coach and compete."
Keeping up with Title IX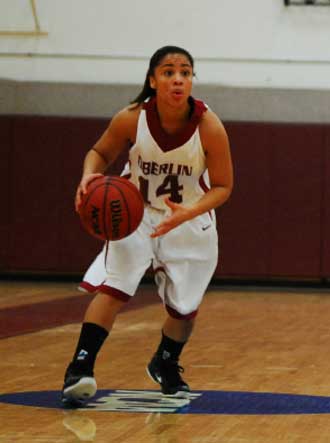 To comply with Title IX, a school must meet one of the following three criteria: An institution must have roughly the same percentage of female athletes as it has female undergraduates, a continuing history of expanding athletic opportunities for the underrepresented gender, or a full accommodation of the athletic interests and abilities of its student body.
"I think about Title IX every day," says Natalie Winkelfoos, Oberlin's interim Delta Lodge Director of Athletics and Physical Education. "My role includes making sure that women are being treated fairly and that there's gender equity within the department. For example, if there were to be a concern over locker room space — that men have a better situation — I would need to examine the issue. We must provide the same opportunities for women as we do for men. Title IX affects a lot of things — money, space, personnel, and facility access."
Money is an especially divisive issue on campuses with big, revenue-driving sports like football. While a Division I football program may generate millions of dollars, hefty budgets are needed to fund scholarships, top-notch facilities, travel, and uniforms. Rather than trim popular programs to expand women's sports, some universities have cut less-popular men's sports, like wrestling and swimming, which has led to a Title IX backlash.
At a Division III school like Oberlin, where athletic scholarships aren't an issue and football games don't pack in 90,000 spectators, sharing the budget pie isn't as contentious. In fact, says Winkelfoos, Oberlin's male coaches go out of their way to support women's sports by attending games and urging male athletes to attend women's games. "I can't imagine what it would be like to not have women's sports," says longtime Oberlin head football coach Jeff Ramsey, who's married to a former college volleyball player. "My father was a football coach, and I have two older sisters. The oldest always wanted to play tennis and it was difficult for her to do that….People should be able to do what they want to do in terms of educational opportunities. I think it's a shame that it took until 1972 to make this happen."
Today there are 11 women's teams and 11 men's teams at Oberlin. Last year, of the 369 athletes (not counting intramural or club team participants) on campus, 208 were men and 161 were women (some participate in more than one sport.) Though it's a small percentage of Oberlin's 2,959 students, athletics can be a life-changing experience for those who participate.
"Sports has shaped me as a person," says Sarah Orbuch '14, who plays soccer and lacrosse. "As I've gotten older it keeps me grounded and focuses me. Sports participation makes you feel like an equal to the guys, and if you feel like an equal in any sport, why shouldn't you feel that in the workforce or the classroom?"
The Aftermath
A few months after Dick Michaels defied the official rules of the Ohio Athletic Conference by letting women run in a men's meet, he was called to Ohio Wesleyan for a grievance hearing.
Michaels, along with Oberlin's athletic director and faculty athletics representative, were greeted at Ohio Wesleyan by pro-Michaels Oberlin students armed with protest signs and by reporters from across the country.
"It was a big stink," says Michaels, who went into the meeting and was told, "Just don't do this again." His reply? "I am going to do it again, and I'll do it next fall." That summer, the word "male" was removed from the Ohio Conference Bylaws, which had stated: "Every bona fide male undergraduate student of a member college is eligible to represent his college in intercollegiate athletic competition in sports controlled by the Conference subject to the provisions of other Rules of Eligibility of the Conference."
So why did Michaels take a stand? "I wanted to treat our students and our athletes as if they were my own kids. So I asked, 'Would I want my daughter to be included in sports?' Of course. It didn't have to do with any overriding philosophy or anything. It just happened to be the way I thought things should happen."
If events had turned out differently that day, says Lee Matovcik, who went on to earn a PhD and a law degree, "it would have changed my entire world view of what was possible. "It made me see that it was possible to be on an equal playing field and work toward equal rights. The alternative would have been dreadful; it would have been society, the world, Oberlin saying, 'you can't do this, you're not allowed.' That's something I would have taken forward the rest of my life." •
Anne Stein is a Chicago-based journalist and former bike racer who specializes in sports features. She has written extensively about Title IX for the Chicago Tribune and other publications.
---