From the Heart of the Country
When Mika Johnson '00 and Jeffrey Pence '88 set out to make a film adaptation of Franz Kafka's novel Amerika, they stumbled across something equally interesting to them: Americans.
"For this Oberlin film-making team, finding america was anything but Kafkaesque"
That's when the pair began a project they called The Amerikans, a web-based documentary series featuring the real-life characters they encountered during the creation of the feature film.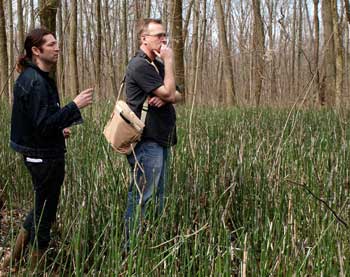 A native of nearby Amherst, Ohio, Johnson majored in religious studies at Oberlin and went on to study cinema and live abroad in Europe and Japan for several years. In 2008, his script for the film Amerika: A Notebook in Three Parts was a semifinalist in the Sundance Film Institute's Screenwriters Lab competition. He is also the film's director.
The documentary series that grew out of that project is a new model of independent, sustainable filmmaking that invites its participants into the creative process. The Amerikans highlights individuals (most from Lorain County) with varied personalities and life stories: a napkin collector, a Vietnam veteran, a hairstylist and drag queen, and a young boy fascinated with flight and space exploration. Each episode allows its star to define and share his or her imagination.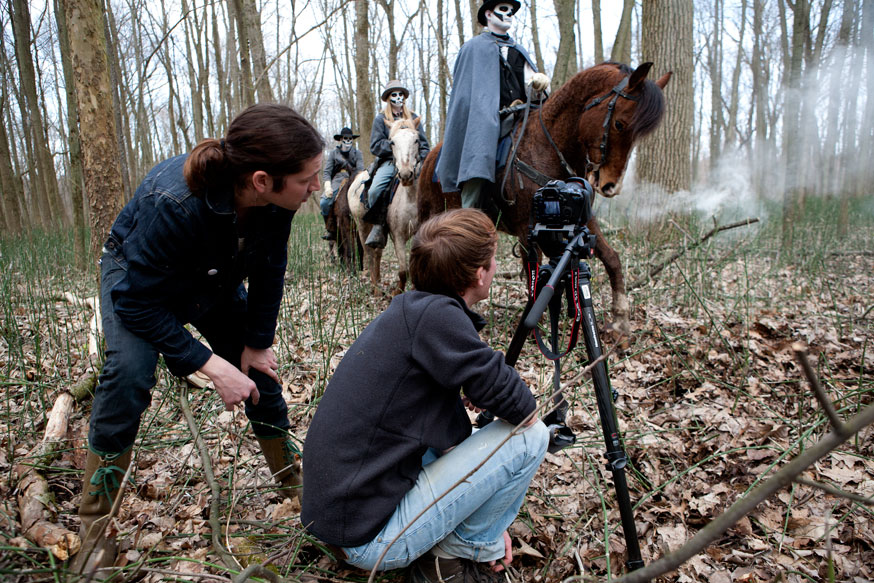 "There are people who think they don't have a story to tell, and we say, 'No, really, you do,'" says Pence, an associate professor at Oberlin and cofounder of the Cinema Studies Program. "We can tell these stories, but it involves laying the groundwork over a long period of time, building trust, and developing a relationship with a person. It's their story. They wear what they want to wear, they say what they want to say, they film in places they want to be in."
Johnson connected with Pence, then director of cinema studies, through Professor of Russian Tim Scholl, whom he cast to play a role in the feature film. In 2010, Johnson and Pence, now the film's producer, recruited Oberlin students to start shooting test footage for the feature as a winter-term project. (The majority of the film has been or will be shot in Ohio, with some scenes in other parts of the country, as well as Japan.)
One student, Micha Hilliard '11, a cinema studies major from Zurich, Switzerland, became integral to the project and is part of what is now a multigenerational triad of alumni filmmakers working together. Besides serving as cinematographer on Amerika and Amerikans, Hilliard also makes short documentaries about international humanitarian efforts from India to Rwanda.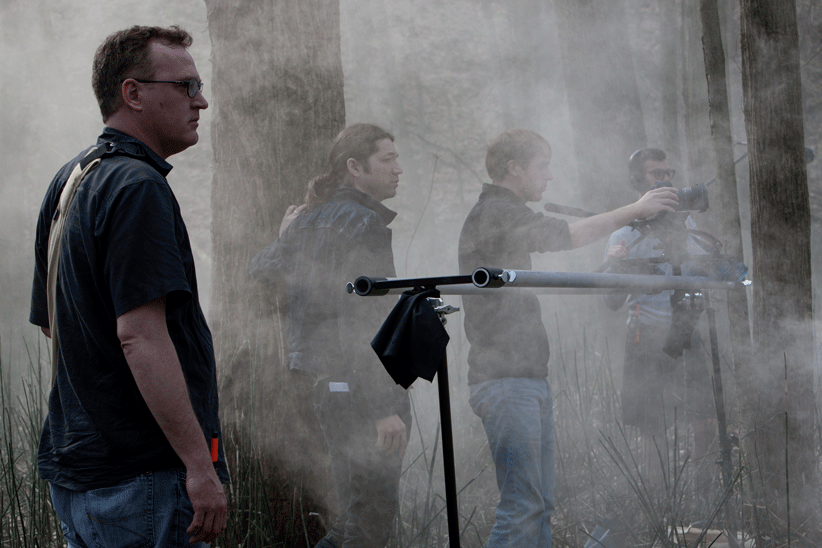 In 2011, Johnson and Pence made their collaboration official by forming their production company, Art+Practice, a venture they describe as sustainable, independent cinema. Both the feature and documentary projects have been developed through cooperative partnerships that enable media consumers to become producers, while minimizing the waste and excess of conventional filmmaking.
While doing test footage and working to raise funds for the film, Johnson, Pence, and Hilliard came across intriguing people who were eager to contribute. "Things were going really strong … but then the world economy tanked, and fundraising became difficult," says Pence. "We decided, 'Why stop?' We realized we had all these people who were interesting. So we started making films about these people. The initial few still had a role to play in the feature. That's why it was The Amerikans—these were people who were going to play a role in the film. Then gradually, we met more people who became involved along the way."
An important aspect of the filmmakers' model is that participants hold a screening for their family and friends, even if it's in their own living room, to talk about what the documentary meant for them. "Another reason I like to think this is a new model is the idea that you can use filmmaking to build relationships and form communities," Johnson says. "Everyone gets involved. The participants get to edit and coauthor; they become cocreators. Then they also have a screening, which can be in their living room, a town hall, a movie theater, or anywhere they choose. That, in effect, becomes its own community." The filmmakers have discussions and make audio recordings with the episode's stars before turning on a camera, and they work together to creative a narrative. In episode No. 7, "Napkin Tales," Amherst resident Ethel Moyers shares the sentimental story of her collection of 2,000 paper napkins.
"It's their story. They wear what they want to wear, they say what they want to say, they film in places they want to be in."


"Ethel was the art director—she designed each shot. She decided to write out the scenes, and hers is the only episode we've done where you don't see her speaking directly to the camera, because that's what she chose," Johnson says. "I was learning new things as a filmmaker, because she was that involved." Although Johnson has lived in New York City and abroad, he gets inspiration from the community in which he was raised. "Instead of going to New York or Los Angeles, you can go back to your own community and look at the assets you have there, as well as the people you could work with—people who like cinema and want to help out because they're interested."
Johnson's feature screenplay, the Kafka adaptation, follows the travels of Kat (played by Johnson's wife, Kaori Mitsushima), a young and attractive Japanese woman who abandons her life in Tokyo to embark on a surreal journey across America. When she was a child, her father talked about his dreams of going to America — until one day, when she was 9 years old, he vanished. She never saw him again.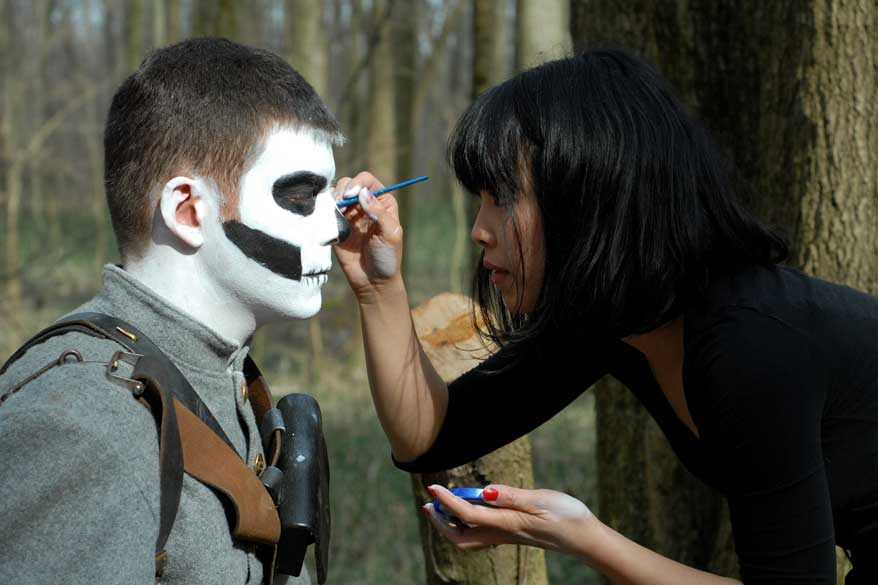 When Kat finally reaches America, she encounters an array of eccentric characters while drifting between the city streets of New York and St. Louis, the national parks of Mount Rushmore and Yellowstone, and the desertscapes of Death Valley, in an attempt to reach the California shores. Kat's story is about exploring American values, realizing her dreams, and discovering her own identity.
"There's a kind of symbiosis between the feature and the documentary," says Pence. "The documentaries are a way of giving something to the community and enticing people to work with us to make what we think, and hope, will be earth-shattering and different—but still fit the model of independent filmmaking. We'd like to distribute it internationally, in film festivals. As a practice model, it's not that unusual. The amount of close work and collaboration with community members and institutions is unique, however, and it grows out of the documentaries."
Both the feature and documentary projects are ongoing, with more filming and fundraising for the feature planned this fall. Both projects involve Oberlin students from the conservatory, cinema studies, and Technology in Music and Related Arts (TIMARA). Eli Stine, a senior TIMARA major, has done sound design for each documentary and helped find composers in the conservatory. Ryan Lester '11, who composes music for The Daily Show, composed original scores for each. To date, there have been six public screenings of The Amerikans in half a dozen venues, including the Firelands Association for the Visual Arts, the Akron Museum of Art, and Plutonium Pictures in New York City.
"The students who are involved get an experience unlike any community service project at the college," Pence says. "Our student helpers have said it has been the most valuable experience they've had." Johnson can relate to the challenges and trepidation cinema studies students may feel about establishing themselves as independent filmmakers. "It can be very difficult to make your own film, but the Internet is an amazing resource. These projects are really local, but global. That's where technology helps us. I'm very proud that it gives other people a sense of what you can do with very little."
To explore Amerika and The Amerikans, visit www.theamerikans.org
Amanda Nagy is a writer and the assistant to the director of media relations.