Thought Process
New Book Takes a Shine to the Rust Belt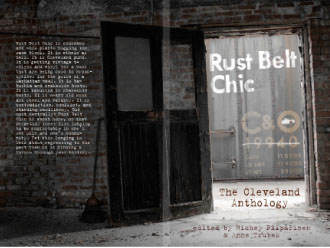 As summer approached, Anne Trubek '88, associate professor of rhetoric composition and English, considered how she wanted to spend her time. She contemplated a few professional and personal projects, as well as traveling to Croatia. What she didn't consider was assembling an anthology getting the idea, putting out a call for submissions, editing stories from more than 50 contributors (several of them Obies) and sending the finished manuscript off to the printer in slightly more than two months. But that is what she did.
Trubek was joined in creating Rust Belt Chic: A Cleveland Anthology by coeditor Richey Piiparinen, a fellow Cleveland resident and writer whom she first met last spring. Despite the brief time as friends, the speed of their collaboration suggests that the two are kindred spirits, at least when it comes to their views on their city.
Trubek was inspired to reach out to Piiparinen by his writing on the website Rustwire, where he muses on the changing dynamic of not only Cleveland, but many other up-and-coming blue-collar cities throughout the Rust Belt Detroit, Milwaukee, Pittsburgh, Buffalo, St. Louis. He calls this change Rust Belt Chic, a term that originated from a blog called i will shout youngstown
But Rust Belt Chic is a not just a term; it is a youth movement and period of revitalization in which Piiparinen has become something of an expert, blogging extensively on the concept and being referenced and quoted in national media coverage by Salon, The Atlantic, and NPR's Morning Edition.
On Grist.org, the website for an organization focusing on environmental news and commentary, Piiparinen describes how Rust Belt Chic is part aesthetic: the warmth of the faded, and the edge in old iron and steel. It's also part old-world, working culture, like the simple pleasures associated with bagged lunchmeat and beaten boots in the corner. And then there is grit, one of the main genes in the DNA of American coolness.
And while Rust Belt Chic can be simply defined as this sort of quintessentially American cool, it also runs deeper than the aesthetic of independent coffee shops side by side with dilapidated houses and abandoned steel mills. Rust Belt Chic is about home, or that perpetual inner fire of longing to be comfortable in one's own skin and one's community, writes Piiparinen on Rustwire. Yet this longing is less about regressing to the past than it is finding a future through your history.
[Cleveland] is often fodder for jokes, but that has started to shift in recent months, says Elizabeth Weinstein '02, the assistant director alumni outreach and engagement, who contributed to Rust Belt Chic a story about legendary Cleveland rock n' roll journalist Jane Scott. Reporters from major news outlets who have traveled to Cleveland are filing stories about this surprisingly cool Rust Belt city with amazing restaurants, an emerging arts scene, and a rich musical legacy.
It's not just the reporters who are flooding into the Rust Belt. The region's newfound trendiness is mostly thanks to an influx of young professionals between the ages of 21 and 34 many of whom have been pushed out of the overpriced coastal cities like New York and San Francisco and have headed back inland.
There's this sort of silent migration which is young, hipster types priced out of the larger cities and the coasts, finding that it's kind of cool, the kind of blue-collar Rust Belt aesthetic and culture, says Trubek. If you look at the demographics, a pattern is starting to emerge.
In a report entitled Not Dead Yet: The Infill of Cleveland's Inner Core, conducted by Piiparinen for Case Western Reserve University's Center on Urban Poverty and Community Development, he noted a shift back to Cleveland's urban center. Though the city's overall population has decreased by 17% over the past decade; that translates to about one out of every five people. The city's inner core and downtown have boomed, growing by 96% in two decades.
When this surge of new life began getting some national press, Trubek's attention was caught.
I had this sort of panicked feeling, she explains, that the national media was going to come talk about this town when we can talk about it better than anyone. So I had this idea with Piiparinen that was really a little bit of a lark, let's put together something really quickly that puts our stamp on what's going on in town and see what happens.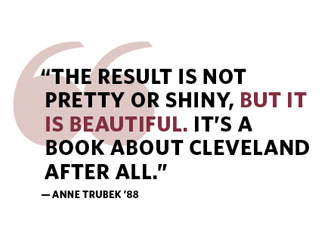 The two put out a call for submissions at the beginning of June, and within weeks they had pieces from more than 50 contributors, Cleveland natives and transplants alike.
"They only had three weeks to contact us," says Trubek. "And what's amazing is that most people wrote something expressly for the anthology. We said we would accept reprinted work, and we have a few reprinted pieces in there, but for the most part people wrote pieces just for the project."
Among the contributors are several with Oberlin connections. Along with Trubek and Weinstein, pieces were written by Dean of the College of Arts & Sciences Sean Decatur, who wrote about his childhood in Cleveland; Denise Grollmus '03, a former staff writer for Cleveland Scene and current contributor for the Village Voice Media who wrote about growing up in Cleveland's punk rock scene; and Jim Rokakis '77, whose piece "Ward 6" describes how at the age of 22 he became the youngest member ever elected to the Cleveland City Council.
"One thing we're really proud of in this anthology," says Trubek, "is that we're equally profiling very established, well-known authors like food writer Michael Ruhlman and Pulitzer Prize winner Connie Schultz as we are people for whom this is their first publication."
For Decatur — a native Clevelander for whom his piece "When the Number 9 Bus Was Like Home, and Downtown Was My Playground" was the first "overtly biographical writing I've done," much less had published in an anthology — the prospect of being included in the group of Rust Belt Chic contributors was at once flattering and intimidating.
"I've always wanted to write something about my experiences growing up in downtown Cleveland in the late '70s and early '80s. I was pretty terrified by Anne's invitation (I'm still pretty awed to be in the company of an amazing group of writers), but I thought this would be a fun and challenging writing project."
"This is just another story illustrating how this project has been really charmed," says Trubek. "I emailed [Dean Decatur] on a lark asking if he would write something, and I didn't think he would have the time or the inclination. But he worked really hard on this really fantastic piece."
Decatur's story is not the only charmed aspect of the anthology. The production process has been extraordinarily quick, helped along by the skills of the project's book designer, Jesse Miller '10, and the community support for the project.
"It's just taken our breath away," says Trubek. "The interest from the community has been extraordinary."
Trubek and Piiparinen are planning on hosting and attending several events in September to drum up publicity for Rust Belt Chic, which will be published on Sept. 5. They are also working on contacting regional outlets to see if they might stock any copies, and are preparing an expanded edition of Rust Belt Chic to be released as an electronic book.
After experiencing the stories of Rust Belt Chic, Grollmus hopes that readers will have a better sense of what Cleveland is about. Most people think: post-industrial, depressed, the Browns. But it's so much more than that and I think that, often, its incredible music and art scene gets forgotten about in the show of much bigger cities. I also hope people will see how the less desirable aspects of Cleveland also offer their own sort of beauty and inspiration.
With this book, Trubek hopes that they can do something for the city, That we can start to tell a new story about Cleveland. That's really it.
And if they sell as many copies as they print, that wouldn't hurt, either.
To learn more about Rust Belt Chic and pre-order copies of the book, visit rustbeltchic.com.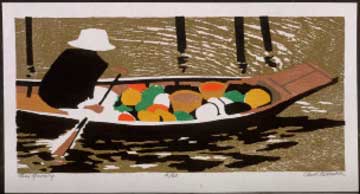 Making An Impression
Emeritus Professor of Fine Arts Paul Arnold was a double alumnus (BA '40, MA '41), a U.S. Army veteran who was awarded the Bronze Star, a local civic leader, and a dedicated supporter of Oberlin College. Readers of Oberlin Alumni Magazine first saw Arnold's artwork in the early 1940s when he drew cartoons about life in the military. Though he drew and painted, Arnold was best known for printmaking, which he began teaching in 1950. Thai Grocery (below), a color woodcut by Arnold from 2000, is part of the collection of the Cleveland Museum of Art. Arnold died July 2, 2012. See Losses, page 42.
The Political Internet: Not Just for the Young
Millions of young Americans have embraced the political Internet. Their devotion to it began in 2008, when the Obama team stocked its campaign website with an unprecedented array of gadgets and gizmos. Visitors could do everything from create their own interface (myBO) to buy an Obama sticker for their MacBook. The trend has since continued, with young people taking the lead in terms of liking candidates on Facebook and tweeting about political causes.
The "born digital" generation's exuberance and near obsessive use of online tools leaves many with the impression that the political Internet is primarily a young person's game, best suited for hipsters with a savvy sense of the technological. But in reality, the political Internet has something to offer to voters of every age and level of online sophistication. Candidate websites, for example — those relatively easy-to-use sites posted by candidates for nearly every office, from dog-catcher to president — have certain features that make them worthy of a look before election day.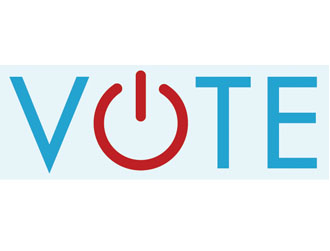 To begin with, these sites can be useful sources of information. Granted, campaigns do carefully craft the messages that are posted online, but discerning voters can find something online to supplement their normal diet of 30-second campaign ads or sound bites from the evening news. A quick glance at MittRomney.com, for example, offers specific details about Social Security reform, energy exploration, trade policies, and even some of his tax returns. In fact, these websites tend to include virtually everything that goes into a campaign, from biographies and policy statements to TV ads and stump speeches; consider them a one-stop shop for almost everything you'd like to know about the candidate. These sites are particularly useful for researching candidates who don't receive much media exposure; those at the congressional level and below typically don't run TV ads and are generally ignored by the mainstream press.
Campaign websites also offer an unmediated look at the candidate. Most of what we know about candidates and campaigns is filtered through the media, which can create subtle and sometimes undetected bias and distortion. A candidate website, however, lets voters connect directly with the candidate's message — a message that is not abbreviated, parsed, or taken out of context. Interpreting that message is up to the voter. It can be quite liberating to explore a candidate's website in the comfort and solitude of one's own surroundings, and then ask oneself: Do these policies actually make sense? Will they work? Is this person genuine? While there is value in hearing what commentators and pundits think, candidate websites offer a rare opportunity for intellectual voters to engage with a candidate one-on-one and form an independent assessment.
Finally, candidate websites often provide opportunities for voter involvement and interaction. Campaign communications traditionally run one way: the candidate expresses a message that the media passes along to voters. Campaigns have recently flipped the script on this, providing websites through which visitors can express themselves and share ideas with the campaign and other voters. BarackObama.com is perhaps one of the most interactive campaign sites to date. Visitors are encouraged to "Get Involved" by creating a "Dashboard" that allows them to connect with nearby volunteers and "join in the national conversation with campaign leadership and local supporters alike." Some sites are more accommodating and accessible than others, and some visitors' comments are more useful than others; but these sites do offer a way for voters to get involved with the electoral process, which is critical in a democratic society.
None of this is to say that campaign websites are the greatest campaign tool ever invented or that voters should abandon their regular sources of information, but more that these sites have the potential to offer benefits that can be overlooked — benefits that are not just for hip young people with a natural proclivity for all things Internet.
Endquotes
"We had a barbecue to celebrate safe passage through the high-risk pirate area in the Gulf of Aden. I got a surprise baptism with a bucket of sea water. Now it's offical: I'm a sailor."
-Travel blog of Allison Swaim '11, traveling around the world for a year on cargo and container ships and documenting the experience as part of a research project funded by the Watson Foundation
"You know, it was an awful flavor. It was Lemon Peppermint Carob Chip. You familiar with carob?"
—Jerry Greenfield '73, in response to the question, "What is the craziest ice-cream flavor you've ever developed?" in a Q&A with the Oberlin Review in September
"You really settled on the name 'obiechunks?'"
-Posting of Zoe Klar '12 on the Facebook page of obiechunks, Oberlin's new student-run, late-night cookie delivery service
"There's no one on the planet that has had that level of success."
-Warren Littlefield, former president of NBC, about sitcom director James Burrows '62
"The first thing you notice about the young guitarist Rafiq Bhatia's '10 music is its hunger to combine, though it never sounds like established tradition A plus established tradition B. He's merging more volatile tendencies—propositions, not facts—and he's in a hurry."
—Ben Ratliff, in the New York Times
"I loved Encyclopedia Brown as a kid. Donald Sobol passed recently, and that really brought it all back to me, how important his books were to my little self … What I loved about Boy Detective Leroy Brown was that (1) he was unabashedly smart (smart was not cool when and where I grew up) and (2) his best friend was a girl, tough Sally Kimball, who was both Leroy's bodyguard and his intellectual equal. Sobol did more to flip gender scripts in my head than almost anybody in my early years."
—Author Junot Diaz, New York Times Book Review