Around Tappan Square
Hall & Notes
The David H. Stull Recital Hall, a new performance space created at the west end of the conservatory's main classroom building, was constructed this summer and opened for student use in October.
The new hall addresses the conservatory's ever-increasing need for performance space and pays tribute to one of the institution's most influential former leaders. Stull '89 was dean of the conservatory from 2004 to 2013.
---
Beloved Author
The Toni Morrison Society, which moved its headquarters to Oberlin College in March 2012, celebrated its 20th anniversary in September of this year with a number of events, including a special convocation talk given by the Nobel Prize-winning author.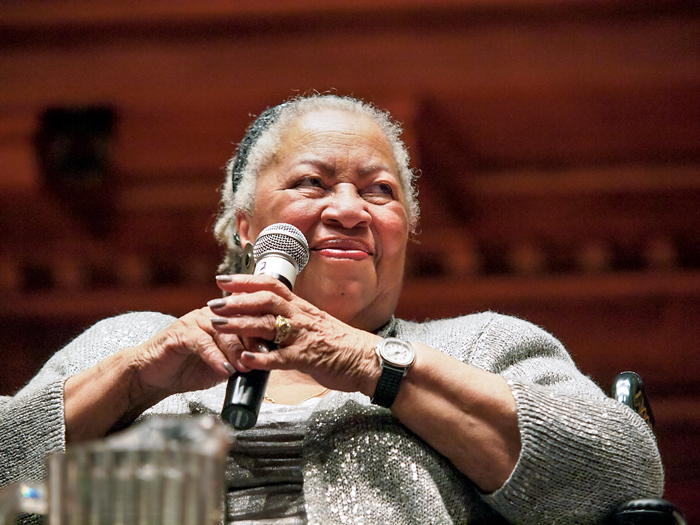 The celebration also included the inaugural lecture of the Toni Morrison Society Lectures series, delivered by Herman Beavers '81. Beavers holds joint appointments in the Africana studies and English departments at the University of Pennsylvania.
His most recent poems have appeared in MELUS, The Langston Hughes Colloquy, and Versadelphia. He has published essays recently on Morrison, as well as on August Wilson, Charles Johnson, and Ralph Ellison.
---
Algo Novo
Beginning this fall, Oberlin is offering a new sequence in Portuguese language and Brazilian studies. The increased presence of Brazil-focused content and Portuguese language is part of a multiyear project that will better prepare Oberlin students for a world in which South America's largest nation will be a major player in economic, political, and cultural spheres, says Sebastiaan Faber, chair of the program and professor of Hispanic studies.
---
Better Livers Through Music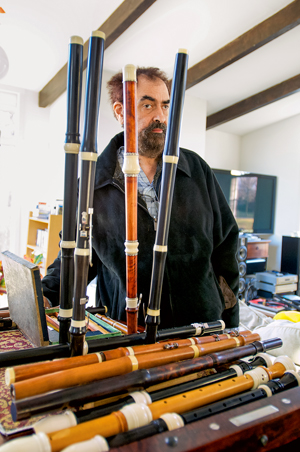 A group of Oberlin Conservatory faculty members, students, and alumni, along with members of the baroque orchestra Apollo's Fire, gave a benefit concert for the Cleveland Clinic's liver transplant program in May.
The impetus for the concert came from Oberlin Professor of Recorder and Baroque Flute Michael Lynn, who received a liver in a transplant operation at the Cleveland Clinic last fall.
In appreciation of the clinic's work, Lynn organized the concert, which took place at the Cleveland Museum of Art. Among those joining Lynn on stage was Lynn's daughter, Sarah, a soprano who entered the conservatory this fall.
---
Parallel Lives
Professor's book explores the long aftermath of the 
Korean War.
By Amanda Nagy
Associate Professor of East Asian Studies Sheila Miyoshi Jager brings her expertise in Korean history, politics, and culture to the masses in her latest book, Brothers at War: The Unending Conflict in Korea. The book, published by W.W. Norton in the U.S. and Profile Books in the U.K. in July 2013 to coincide with the 60th anniversary of the signing of the Korean War armistice, has received praise from the New York Times, the Economist, the Wall Street Journal, and many other publications for its comprehensive and balanced history of the Korean War.
Jager, director of the East Asian Studies Program, was nominated by her publisher and selected by the Library of Congress to participate in the 2013 National Book Festival on September 21 and 22 in Washington, D.C. Her presentation can be viewed on CSPAN's BookTV.
In Brothers at War, Jager draws from newly available diplomatic archives in the U.S., the U.K., China, South Korea, the former Soviet Union, and East European nations. Her narrative ranges from the middle of World War II—when Korean independence was fiercely debated by Roosevelt, Stalin, and Churchill—to the present day, as North Korea, with China's aid, stockpiles nuclear weapons while starving its people.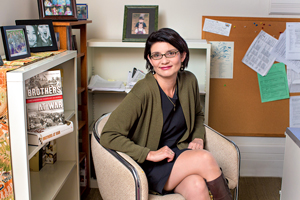 Sixty years after the North Korean troops crossed the 38th parallel into South Korea, the Korean War has not ended. To this day, no peace treaty has ever been signed by either side. Jager brings to life the bitter, ongoing struggle for a position of legitimacy—a "brother's war"—which continues to fuel tensions on the Korean peninsula and in the region.
Jager says she set out to write a history of the Korean War that was both scholarly and accessible to lay readers. She also wanted to write a book that is broad and comprehensive in scope. "Much of the academic history today has fragmented into various specialty fields—military history, cultural history, diplomatic history, etc.," says Jager. "I wanted to write a book on the Korean War that combines many of these sub-fields into one work. This book pays attention to the operational history of the war as much as it does the cultural, social, and political dimensions of the conflict."
But what really sets Brothers at War apart from other works on the conflict is that Jager examines the war beyond the 1953 armistice up to the present day. "Most of the scholarly literature on the war is concerned with the question of origins: who started the war or why the war began, and/or on the war years from 1950 to 1953. My book covers those issues," she says. "I am more concerned with the war's continuing impact on the region and the world."
---
Mac is Back
Jeremy Denk '90 gets a MacArthur
By Erich Burnett
Some people who work out on the step machine might feel as if they're doing a lot of climbing and not getting anywhere. Not Jeremy Denk '90.
"I was on the StairMaster at the gym when I got this mysterious call," he says, recounting the day in early September when the MacArthur Foundation cut his workout short. Ten minutes later, after scampering back to his Manhattan apartment for more privacy than a locker room could offer, he dialed back to hear the news.
And then he bounced off the walls, incredulous at what he'd been told: The 43-year-old pianist had been named one of 24 MacArthur Foundation Fellows for 2013. He couldn't tell anyone until the foundation officially announced the news, three weeks later.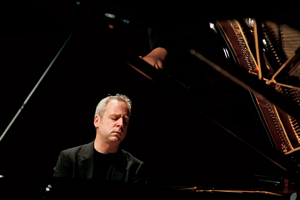 Often referred to as "genius" awards, MacArthur Fellowships are awarded to U.S. citizens across a wide array of disciplines—from science to the arts and all points in between—who display exemplary creativity in their work and the promise of great achievement in the future. (Denk, in his undergraduate days at Oberlin, happened to be both artist and scientist: He majored in piano performance and chemistry.)
Individuals cannot apply for MacArthur Fellowships; they are nominated by an anonymous panel, which recommends finalists to another anonymous selection committee. So Denk, like virtually all honorees, has no idea how he landed on MacArthur's radar.
Ultimately, how he got there matters less than what he gets now that he's made it. In addition to an exclusive brand of prestige, Denk will receive $625,000 over the next five years to spend as he wishes. The MacArthur Foundation, which names 20 to 25 fellowship winners each autumn, declines to place any restrictions on use of the grants.
"That was the most profitable trip to the gym ever," Denk says, still marveling at the possibilities he has yet to sort out. "You just start wondering about how it will change your life, and then the ways that you hope it won't change your life."
For Denk, a three-week vow of silence gave way to two days of insanity: congratulatory messages from every corner of his world, brand-new demands on his already limited time—and the welcome challenge of reconciling his latest tier of fame with his regular working life. A faculty member at the Bard College Conservatory of Music in addition to his performance career, Denk is also a thoughtful and expressive writer whose works have appeared in the New Yorker, the New Republic, and Newsweek, among other publications. His new CD/DVD recording of Bach's Goldberg Variations was recently released by Nonesuch.
Such is the life of a newly christened genius whose artistry has been beyond doubt for years.
"The MacArthur grant is a tribute to Jeremy's fertile intelligence, his amazing work ethic, and his ability to appeal to a broad range of audiences, including young people not usually attracted to classical music," says Peter Takács, a professor of piano whose tenure at Oberlin dates back to Denk's time on campus.
"Jeremy is a truly exceptional artist—a brilliant pianist with a remarkable intellectual curiosity, a passion for artistic exploration and discovery, and an extraordinary gift for drawing audiences alongside him on those expeditions, through performance and through his writing," says Andrea Kalyn, acting dean of the conservatory.
The honor for Denk comes one year after another Oberlin alum, flutist Claire Chase '01, was also named a MacArthur Fellow. Chase is co-founder of the International Contemporary Ensemble, or ICE, which also includes Oberlin faculty violinist David Bowlin '00.
"I'm a huge fan of Oberlin, and I obviously believe it was the right road to take," says Denk, who counts Chase as a friend and inspiration. "Oberlin was a sort of laboratory for all of my interests and to explore who I was. I feel that something about this prize traces itself back to my Oberlin days."
---
Go Yeo!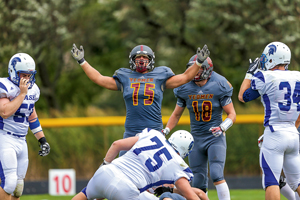 The Oberlin College football team opened the 2013 season on September 15 in dramatic fashion with a 19-2 victory over Case Western Reserve University. Look for the new Heisman Hall of Fame Inductees in the winter issue of the OAM.
---
Demand Met at Econ Conference
Oberlin's economics department celebrated 100 years of economics majors in April with Learning and Labor Economics, a weekend-long conference that also honored the late Albert Rees '43, a former Oberlin trustee. Alan B. Krueger, chairman of the Council of Economic Advisers, delivered the keynote address. The 20 economists who spoke or participated in panels included a dozen alumni. The weekend concluded with a Sunday brunch to honor Professor Hirschel Kasper, who has been part of the department for half of its life.
---
Campus Pride included Oberlin in its annual 
list of the "Top 25-LGBT Friendly Colleges and Universities" in the country.
---
CORRECTION
In our list of Fulbright grant winners in the summer issue, we omitted two names in error: 2013 graduate Magdalene Newhouse and Jacob Street '12. We've also since learned of additional alumni Fulbright winners Meade Klingensmith '12, Aisha Hadlock, and Eleanor Shapiro '74.
---
The Arts at Oberlin: Selected Upcoming Events
December 3, 2013
Artist Recital Series: The Cleveland Orchestra
December 5-7, 2013
Oberlin Theater: The Promise
February 22, 2014
Convocation Speaker: Avery Brooks '70
March 7 & 8, 2014
Essence Dance Concert
March 9, 2014
Punch Brothers 
(featuring Chris Eldridge '04)
March 12 & 14-16, 2014
Oberlin Opera: Albert Herring
Allen Memorial Art Museum Exhibits
Opening February 4, 2014
Between Fact and Fiction: 
The Artistic Imagination in Print
Through December 22, 2013
Harold E. Edgerton, Seeking Facts
The Human Comedy: Chronicles of 
19th Century France
Through June 22, 2014
Regarding Realism
: Modern and Contemporary Realisms
Details and ticketing information can be found at www.oberlin.edu/artsguide.