Class Notes
Old-School
College Lanes opened 50 years ago in the Hales Gym annex and served just the college community until the mid-'70s, when town leaguers were invited to finish their season there after the town bowling alley burned down. "The lanes have been open to the public ever since and have been one of our better intersections of town and gown," says Tom Reid '80, associate director of the student union. Gregory Wikstrom '12 produced a video profile of Reid that is also a gorgeous tribute to the meaning and machinery of bowling (no lie):
---
Charming Prints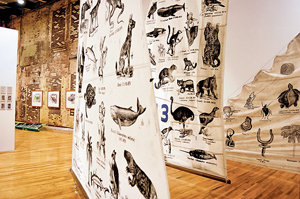 When artist Johnny Carrera '91 was finishing the installation of a two-person show (with Tom Phillips) at the Massachusetts Museum of Contemporary Art (MASS MoCA) titled "Life's Work," he was approached by a woman who asked, "Out of curiosity, what college did you go to?" When he answered, the woman beamed and introduced him to her daughter who had just been accepted by early decision. "Something about this work," she explained, "made me think it could only have been done by someone who had gone to Oberlin."
The MASS MoCA show, on view through January 20, 2014, is only part of what has kept Carrera very busy lately. He is the creator of the critically lauded 400-plus page Pictorial Webster's: A Visual Dictionary of Curiosities (Chronicle Books 2009), now in its fifth printing, which contains original wood engravings and copper electrotypes he culled from three 19th-century dictionaries. The project has turned into a minor industry for Carrera, the founder of Quercus Press: He created a pint-sized abridged version called the Pictorial Webster's Pocket Dictionary; is writing a novel based on Pictorial Webster's; and is launching a new clothing line, Quercus Prints, featuring the dictionary's images.
Carrera says he feels "a great affinity for Oberlin," and the feeling is apparently mutual: The college's libraries own a large collection of his books, including a broadside he made of a poem by Franz Wright '77. He also enjoys the support of fellow alumni, including Katharine "Kiffy" Waldmann '53; Andrea Volpe '88; Gretchen Primack, Stefan Economou, Anna Hepler, and Ravi Jain, all '92; Nina Brown Theis '93; and Hilary Heslep '97, all of whom showed up at his MASS MoCA opening wearing clothing Carrera had printed. His progress can be charted via his website, quercuspress.com, which he has vowed to be better about updating.
Visitors to MASS MoCA should also check out "Love to Love You," an exhibit of work inspired by fan culture curated by Martha Joseph '09, on view through January 5, 2014.
---
Think One Poster Can Change The World?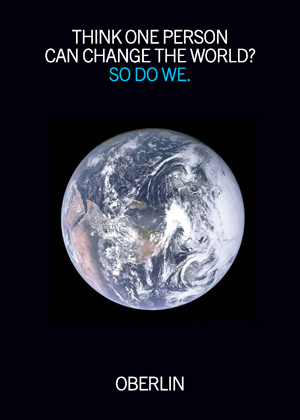 The 1990s Oberlin recruitment poster with a photo of the Earth and a caption that read, "Think one person can change the world? So do we," is why Katie McCall '96 came to Oberlin. "Well, technically I went to Oberlin because it was a good school, but that poster really tipped the scale for me when I was making my final selection. I wanted to go to a school with people who looked around and thought, 'We can do better than this, and I've got an idea how.'"
Two decades later, McCall found herself in San Francisco working as director of volunteer and policy programs at the Women's Community Clinic, a small, nonprofit community clinic that offers affordable reproductive health care to uninsured women and girls in the Bay Area. McCall was not surprised to find lots of Oberlin alumni among the clinic's staffers and volunteers.
Says McCall: "The Women's Community Clinic is the type of place that is looks around and says "Think one clinic can make a difference? So do we."
McCall was happy to find out that the recruitment poster is on its way back.
---
Not Goodbye, but See You Later
Any success or accomplishments that may be attributed to me as president of the Alumni Association exist only because I have been surrounded by extremely smart, creative, and quirky folks who are passionate about all things Oberlin. My term has been a very exciting one. Over the past two years, the executive board has been consumed (in a good way) with harnessing ideas to make the Alumni Council and the Oberlin Alumni Association more relevant to the college, conservatory, faculty, staff, students and the entire alumni body.
For me, it started more than two years ago with a whisper in my ear by Danielle Young, executive director of the Alumni Association. She expressed a compelling desire to see a greater number of alumni involved in ways that were different from what currently existed. The challenge has been to take this very big idea and create a plan to make it happen. The amount of time and energy expended by so many alums has, in many ways, been staggering. From brainstorms about Oberlin's core values to surveys of Oberlin faculty and the alumni membership, the wide range of ideas for programming our Association has encouraged us.
The culmination of our initial efforts came about this past September at our annual Alumni Council Weekend. Seventeen different focus groups came together to rethink and discuss opportunities for alumni engagement. We asked two questions of the focus group participants:
What sort of programming and new ideas would you like to see?
What can you as an individual do?
From those discussions we had dozens of ideas that fell into 16 categories, ranging from enhancing regional programming, leveraging technology in creative ways to bring Oberlin to you, and fostering more interactions between alumni and current students. The key finding from all of the groups: You like being asked these questions and it makes a difference to be heard. Both of the questions are still open and we would love to hear from you. Share your thoughts with us by sending an email to alumni@oberlin.edu.
I have passed the gavel and am happy that the Alumni Association is in the capable hands of Chuck Spitulnik '73. I will not miss the long flights from California to Ohio or, more recently, from Honolulu to Cleveland. What am I saying? It's not like I won't be back—there's still work to do! As I have been repeatedly reminded, I am past-president for life.
Peace and Blessings!
---
Endquotes
''My little sport is all grown up. 
All hail the disc. Hope they still start practices with 'Om.'''
Tweet from Bonnie D. Ford '79, who covers 
Olympic sports for ESPN.com, responding to the International Olympic Committee's recognition of the World Flying Disc Federation in May
"So many students have been taught to write what they know. I tell my students, 'You don't know anything. You're 18. I don't want to hear about your girlfriend or your grandmother. Forget about it. Write about something you don't know.'"
Toni Morrison, during a special convocation 
event in September
''He loved Oberlin. Oh, he loved it. 
I heard about it: 'Oberlin, Oberlin, Oberlin.' 
I heard about it lots and lots 
and lots.'
Actress Laura Linney about her father, the late 
Romulus Linney '53, the subject of a weekend-long symposium and celebration on campus in October
''It was kind of terrifying to me. But I have to 
say that I really relish doing things that absolutely terrify me.'' 
Violinist Jennifer Koh '97, about the acting part 
of playing Einstein in the opera Einstein on the 
Beach, on the website LAist
''My advice for you is you get a lot of freedom in college, don't use it all up in the first week.''
Parent of a new student, in the Oberlin-produced
 video Listen to Your Parents
"[David Orr's 'What is Education For?'] is a short, inspiring, and beautiful argument for humility and reflection about the goals of education."
Slate Plus editor Jeff Friedrich, in a roundup 
of recommendations for college freshman reading