Thought Process
Upsetting the Table
You can't sit on the furniture crafted by studio art major Lily Dithrich '13 for her series "Archetypes," but you can think on it. "By allowing furniture to stand in for the human form, I create open-ended character studies that represent nonspecific, yet deeply personal inquiries into singular and interpersonal interactions," she writes in an artist statement in the 2013 Senior Studio Catalogue. The artist, who graduated in May with high honors, lives in Chicago. More of her work can be seen at her website.
Lily Ditrich's Sitting Together, 2013.
---
Essay: Continuing the Fight
All americans are winners in the Trayvon Martin-George Zimmerman affair because there was a trial. The celebration that began more than a year ago, when the state of Florida decided to file charges against Zimmerman for killing Martin, should continue. The celebration must focus more on the fact that there was a trial and less on the outcome of that trial.
We must all thank those blacks, whites, and others who had to demonstrate, protest, and find every legal means to fight for a trial for the dead teenager. They achieved for us a victory that would have never occurred many years ago and almost did not happen, even in the 21st century.
Additionally, we honor Trayvon's memory, in part, by underscoring the importance of protesting the verdict with peaceful demonstrations and by offering our prayers that there will never be any attempts to subject Zimmerman to any bodily harm, however much we may feel that he is guilty. Trayvon's parents have made it clear that we must not besmirch their son's memory by shameful and hurtful acts. Their pleas should be respected.
Still, there is pain for the many who have to warn their sons to take extra precaution in public just because they are black, a reality that is all the more sorrowful because we are celebrating as a nation the 150th anniversary of the Emancipation Proclamation issued by President Lincoln.
Moreover, the injustice is intensified because if we are asked to believe most of George Zimmerman's account of what happened that fateful night—February 26, 2012—then he lied at a most crucial moment. That moment, according to his version, occurred when he was face-to-face with Trayvon for the very first time. Trayvon asked him if he had a problem, and Zimmerman replied that he did not.
The world knows that Zimmerman did have a problem with Trayvon. What we do not know is the reason that Zimmerman did not speak truthfully and tell Trayvon who he was, why he had been following him, etc. Instead, by his own account, he lied to Trayvon as the two stood in the dark and in the rain.
For that reason and many others, it should hardly be surprising that many Americans did not buy all of Zimmerman's account. But he was found not guilty in a trial that, everything considered, was fair. And in any trial, fairness is all that one should expect.
Let's work more aggressively, tenaciously, and astutely than ever before to fix a somewhat broken system and improve our country in ways that honor Dr. Martin Luther King Jr., show our gratitude to those who led the fight for a trial in the first place, and respect the wishes of Trayvon's parents.
- Booker Peek
Booker Peek is associate professor emeritus of African American studies. He received Oberlin's Award for Distinguished Service to the Community in May 2013.
---
Bookshelf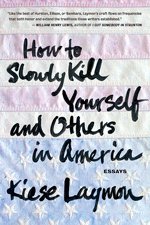 How to Slowly Kill Yourself and 
Others in America

By Kiese Laymon '99
Agate Bolden, 2013
Kiese Laymon has had a gun pulled on him by four people: a cop, a robber, his mother, and himself (twice). That fact sets the framework for this book of essays that leaves readers sometimes clenching fists, sometimes chuckling (sample line: "I wish I could get my Yoda on right now and sift all this into a clean sociopolitical pull quote that shows supreme knowledge and absolute emotional transformation, but I don't want to lie."). He indicts a number of worthy suspects but saves some of the harshest judgment for himself as he struggles with what he calls "the rickety bridge between right and wrong." Restlessness permeates the collection, but so does hope. "I hardly sleep," he writes, "but love to dream." This year Laymon also published Long Division, his debut novel.
With or Without You

By Domenica Ruta '01
Spiegel & Grau, 2013
The title comes from the U2 song the author's drug- and daughter-dependent mother used to listen to with her. 
It also hints at how Ruta recovered from her own addictions. "Freakishly brilliant, brilliantly freakish, this is one of 
the best memoirs I have ever read," says Gary Shteyngart '95.
The Good Lord Bird

By James McBride '79
Riverhead Books, 2013
McBride's latest book, his fourth, is a wildly irreverent take on the radical abolitionist John Brown, seen through the eyes of an 11-year-old slave boy named Little Onion whom Brown mistakes for a girl and rescues. The New York Times says McBride's story is "a rollicking good time" and "magnificent," but also that McBride "studiously honors history, perhaps more than 
many previous portraits of Brown have done."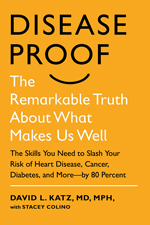 Disease-Proof: 
The Remarkable Truth About What Makes Us Well

By David L. Katz., MD, MPH, with Stacey Colino '85
Hudson Street 
Press 2013
While medical advances have prolonged lifespan, the healthy life expectancy—the number of years one might be expected to live without chronic disease and disability—lags about a dozen years behind. 
The authors argue that the answers to our serious health problems are not high tech, and are a lot closer to home.
That's It!
Preservation Hall Jazz Band

Ben Jaffe '93
Sony Legacy
After a half-century of touring and even longer 
in residence at its French Quarter namesake, 
this New Orleans jazz band is undoubtedly 
an institution. But creative director (and tuba player) Jaffe wanted 
to move beyond the precious relic status its history and name imply by recording an album 
of all new compositions, 
a first for the group.
---
Learning to Read
By Franz Wright '77
If I had to look up every fifth or sixth word
so what. I looked them up.
I had nowhere
important to be.
My father was 
unavailable, and my mother
looked like she was about to break,
and not into blossom, each time I spoke.

My favorite was 
The Illiad. True,
I had trouble 
pronouncing the names;
but when was I 
going to pronounce them, and

to whom?
My stepfather maybe?
Number one, he 
could barely speak English—

two, he had sufficient cause
to smirk or attack
without prompting from me.

Loneliness boredom and fear
my motivation
fiercely fueled.

Excerpted from the new book, 
F, Wright won the 2004 Pulitzer Prize for poetry.
Trail Magic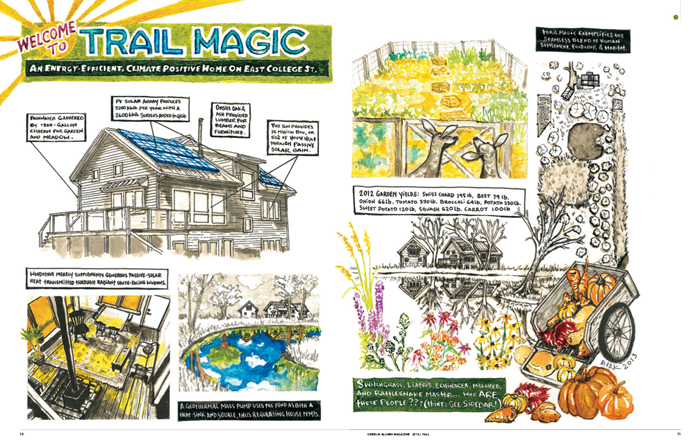 Magical Thinkers
Trail Magic: Creating a Positive Energy Home is the book written by biologist Carl McDaniel '64 about the climate positive house he and his wife, Mary, built on East College Street—
a house, he says, that "runs 
on sunshine." OAM asked 
Aaron Birk '01, an Asheville, N.C., artist who illustrated Bronx ecology and urban beekeeping in his 2012 graphic novel The Pollinator's Corridor, to give our readers a close look at what makes the McDaniels' house a net producer of energy, food, and well-being. Birk has two new books in the works—The Pollinator's Corridor, Volume II and a graphic novel about southern Appalachia mythology and lore. McDaniel's latest book, At the Mercy of Nature: Shackleton's Survival Saga Gives Promise to Our Future, is due at the end of this year. For more information, visit his website.


upsetting