Stories Worth Repeating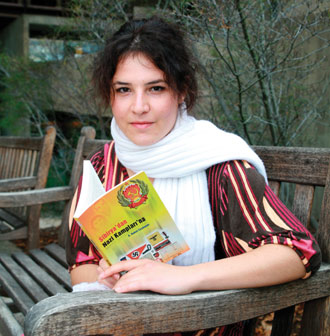 Student's soul-stirring
book explores "Black Day"
Arire Nezetli remembers the Russian soldiers who knocked at her parents' front door at 4 a.m., ordering her family to leave their Crimean home in Ukraine and board a train. Eager for her first train ride, Arire, then 13, fetched her favorite book and rushed to the train, hoping for a seat by the window. But as the 28-day passage unfolded, that window would reveal unspeakable acts of degradation: crying children separated from their parents, dead bodies being pulled out of wagons, and eventually, concentration camps.
That May day in 1944 came to be known as "Black Day," or the day of the Deportation of the Crimean Tatars. It's a subject not lost on Oberlin sophomore and book author Ayse Coskuner, an international student from Turkey who is the granddaughter of a Crimean Tatar.
Her oral history of the Crimean Tatars, the Turkic people who were tortured and deported after World Word II by the Nazi regime and then by Stalin, was published this year by Ufuk Ötesi press in Istanbul. From Siberia to Nazi Camps is written in her native Turkish.
Fascinated by the history of the Crimean Tatars, Coskuner spent nearly two years interviewing people who had survived deportation and labor camps in Siberia and Central Asia. At first, she found both the 60-year lapse and the subject's sensitivity hard to overcome; in Turkey only five people—all women—were willing to share their stories.
"Fortunately, I found out that there were a lot of Crimean Tatars who had immigrated to the U.S. in the 1960s, and they have a society in New York," says Coskuner. She traveled there during spring break last year and was able to interview 15 more people—both males and females. That's when she decided her project should be a book.
Coskuner separates the book into two parts: U.S. and Turkey. She turned her interviews into stories, with titles that reflect each person's experience, including "From Exile to Opera," "Escape in Nazi Uniforms," "Bombs and Children," and "One Month in a Cave." One soul-stirring story, "Birth in the Ground," belongs to a woman named Inayet Arikan, who, helped by a Jewish doctor, gave birth to her first child while en route to a Nazi work camp.
Coskuner tells another of Arikan's stories: "When they put us [the Turks] in wagons, we started to cry. We had heard what they were doing to the Jews. We thought they were going to do the same to us. … It was the last days of the war. We were still in a Nazi work camp. The concentration camps for Jews were right next to us. We saw them being stripped naked and forced into a building. There was heavy smoke and a terrible smell coming from the building."
Arikan also remembers being sent to a Stalin labor camp as a child and watching her sisters as they were stripped and thrown into the snow by soldiers.
"Such histories can contribute to our more general understanding of the Soviet period and to patterns of ethnic cleansing and the experience of exile and resettlement," says Oberlin Professor of History Heather Hogan, who helped Coskuner apply for a research award at Oberlin and sponsored her winter-term project in Turkey last year.
"All these things started coming together after I came to Oberlin," says Coskuner. "For this book and my other aspirations to come true, this community and school have helped me a lot. I was really encouraged."
Coskuner would like to see her book published in English. She feels uncomfortable doing the translation herself ("I might not capture the Turkish nuances"), so Oberlin College Rabbi Shimon Brand is helping to find a professional translator. The book, he says, is important.
"There is a tendency with emerging countries, even with America, to not want to look at how their peoples have fared, because it doesn't put their country in a good light," he says. "What Ayse did was to very sensitively help a people get the recognition—a vocabulary—for their experience."
Adds Coskuner, "What I tried to do with this project was not only reflect the history of a people, but help to build bridges among different ethnic groups by encouraging communication and tolerance. The Jewish-Muslim cooperation in Crimea gives hope that the current conflicts are resolvable indeed, if only they could be united under a single emotional bond, an aim."
Editor's Note - Effective April 22, 2010: Since this article originally appeared, the Litoff Building has been renamed. Oberlin's new home for jazz studies, music history, and music theory is now the Bertram and Judith Kohl Building.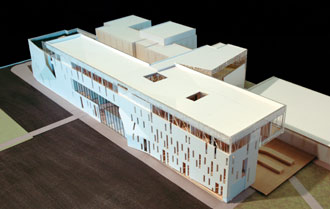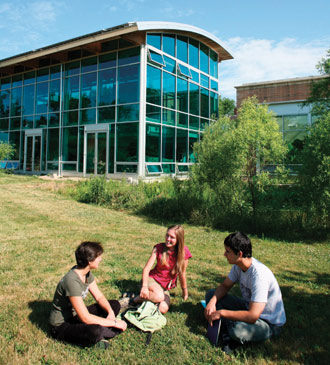 4 Plus 4 Plus 4 Equals $12 Million
It was the best pre-inauguration gift Marvin Krislov could have asked for: three separate gifts totaling $12 million pledged to Oberlin, all confirmed on the eve of his November 2 inauguration as Oberlin's 14th president.
One of the three $4 million gifts is earmarked for environmental stewardship; the other $8 million will assist construction of Oberlin's new home for jazz studies, the Phyllis Litoff Building.
"This is a great day for Oberlin," said Krislov. "These gifts celebrate the leadership, creativity, and innovative spirit found throughout Oberlin, a place where solutions to environmental issues are explored, and where the frontiers of music are expanded."
A Cleveland-area family, which wishes to remain anonymous, has designated $2.5 million of its $4 million gift for an endowed chair in environmental studies; the College has agreed to match it with a second chair. The program currently has one endowed chair, the Paul Sears Professorship held by David Orr. "It was President Krislov's vision, confidence, and leadership with respect to environmental issues that inspired the family to make this gift," Orr says.
An additional $1 million of the gift will be dedicated to technological upgrades within the Adam Joseph Lewis Center for Environ-mental Studies. The remaining $500,000 is earmarked for environmental planning grants to be shared by the College and the City of Oberlin, "allowing us to hire the best minds to address environmental issues and pursue energy conservation studies," Orr says.
The two $4 million gifts pledged in support of the Phyllis Litoff Building will also advance Oberlin's commitment to environmental sustainability. The building, expected to open by the 2009-10 academic year, is intended to be the first music facility in the world to attain a gold LEED (Leadership in Energy and Environmental Design) rating.
Chicago investment manager Clyde McGregor '74, a member of Oberlin's Board of Trustees, has pledged $4 million to the building as a way to honor his late mother, Lilly Marie Smith '43. His gift will support a student lounge area.
"My mother was a double-degree graduate in organ and English. She spent the majority of her career as a church organist and choir director, but she was a passionate lover of music of most types," he says. "She had a substantial repertoire of nightclub music from the 1940s and '50s that she played on the piano. I think she would find it highly amusing to have a lounge in a jazz facility named for her."
Oberlin graduate Joseph Clonick '57, a Chicago pianist, has also pledged $4 million. His gift, which will support a recording studio and performance space, follows an earlier gift of $1 million. Each of the gifts will boost the $5 million commitment by Cleveland businessman Stewart Kohl '77 and his wife, Donna, which launched the project in 2005. Total costs are projected at $22 million.
"This is certainly an extraordinary project worthy of great investment," says Dean of the Conservatory David H. Stull '89. "I am extremely grateful to Clyde McGregor and Joe Clonick. Their leadership in ensuring the future excellence of the Conservatory of Music and the College of Arts and Sciences is remarkable."
"With these two new new gifts, our fund-raising total is up to $17 million, and we anticipate raising an additional $3 to 4 million more before we break ground on the Litoff Building in the spring," adds Vice President for Development and Alumni Affairs Ernest Iseminger.
McGregor says he has never before given money to the Conservatory, but that he believes in the biblical adage: "To those to whom much is given, much is expected."
"Philanthropic giving is not about the project," he says. "It is about the relationship that you have with your wealth. It was time for me to raise my personal bar again."
For more on the Litoff Building project, visit www.oberlin.edu/con/.
Editor's Note - Effective April 22, 2010: Since this article originally appeared, the Litoff Building has been renamed. Oberlin's new home for jazz studies, music history, and music theory is now the Bertram and Judith Kohl Building.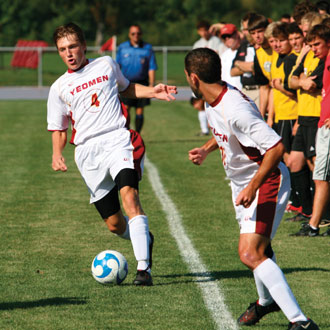 New Research Fellows Program Models McNair
In keeping with its commitment to diversity and inclusion, Oberlin is creating a new program designed to provide mentoring and research opportunities to help undergraduates who are low-income, first-generation college students, and/or minorities prepare for graduate school.
The Oberlin Research Fellows Program will provide the same kinds of services previously offered by the McNair Post-Baccalaureate Achievement Program. Among them were summer stipends that allowed students to remain on campus to conduct research with faculty mentors and attend seminars, lectures, and workshops.
When continued funding for the McNair Program looked doubtful due to changes in U.S. Department of Education regulations, the College stepped in to create a program of its own.
The effort got a big boost in November with a $100,000 gift from John Rogers Jr., the founder of Ariel Capital Management Corporation and son of civil rights pioneer Jewel Lafontant-Mankarious '43 and Judge John Rogers Sr.
"My mother had many wonderful memories of Oberlin College," says Rogers. "I am delighted to support the important work of the Oberlin Research Fellows Program and its efforts to enable students to apply their talent and original thinking to the business world."
Oberlin President Marvin Krislov says he is eager to continue the legacy of success that began with the Oberlin McNair scholars: four of them went on to earn PhDs, 13 have earned master's degrees, and 34 are enrolled in graduate or professional school.
"Oberlin, as you know, has been committed to educational access since its founding," he says. "We are thrilled to be launching a program that further supports the development and educational aspirations of students underrepresented in higher education."
Monique Burgdorf, assistant director of undergraduate research, says that student-faculty research experiences are an integral part of the Oberlin experience and are having a profound impact on students' intellectual and personal development.
"The structure and solace of a financially supported summer, where students can work with a faculty member and explore the mysteries of their research, completely transforms students' lives," she says.
"Where they were once simply students, their research journeys turn them into scholars—scholars who become activists."
Green Chemistry Takes Root
Professors in Oberlin's chemistry labs have long sought to modify experiments by using principles of "green" chemistry —using less and safer materials, reducing waste, keeping hazards to a minimum, and simplifying experiments overall. Now, students and faculty are taking strides to develop completely new experiments that advance the green chemistry curricula.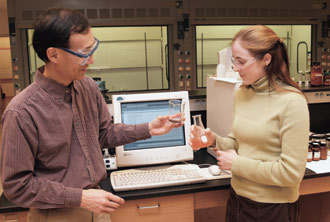 "Although not necessarily new, this is a new way to look at chemistry," says Associate Professor of Chemistry Michael Nee, who attended a National Science Foundation workshop at the University of Oregon recently that taught how to integrate sustainable chemistry concepts into the organic chemistry curriculum. Nee has since added three green experiments to his chemistry lab at Oberlin.
In one experiment, students are using liquid carbon dioxide to isolate natural products from spices—specifically ground cloves, ground cumin, and orange zest. This eliminates the use of organic solvents, which must be removed and disposed of as waste.
In a similar experiment, students are using bleach mixed with potassium iodide in an experiment involving the iodination of vanillin, the main component of the extract of vanilla beans. The mixture replaces more environmentally harmful, traditional solvents such as nitric acid.
Students are also avoiding the use of solvents in creating a reaction between two compounds in the solid state. This experiment has the added benefit of less by-product waste, since almost all of the atoms contained in the starting materials end up in the final product.
Professor of Chemistry and Biochemistry Albert Matlin is also using the solid-state, solventless reaction in his organic lab course. "This particular lab is relatively easy to perform, and it provides a good introduction to some general principles of running chemical reactions and purifying the products," he says.
These green chemistry concepts have encouraged students to think about other ways in which the field could become more environmentally friendly.
"I've always seen many laboratory experiments as wasteful," says biochemistry major Margaret Compton '09, who helped "green" two of Nee's existing experiments and developed new experiments of her own. Using Nee's herb and spice shelf, she has determined what works well with the liquid carbon dioxide extraction procedure and has investigated greener versions of oxidation reactions and dye synthesis. Nee plans to use Compton's green chemistry improvements in his organic laboratory.
"Using green chemistry principles makes sense from both environmental and economic perspectives, but the degree to which green chemistry ideas can be applied varies with the specific chemical reaction performed," he says. "Green principles can be applied to many areas of chemistry, not just organic chemistry."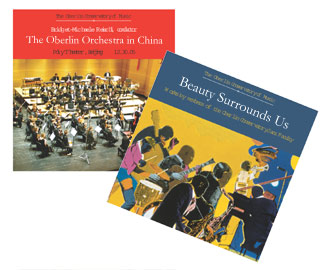 Conservatory Launches Commercial Record Label
Oberlin Music, the Conservatory's new record label, debuted this fall with two releases, Beauty Surrounds Us, works written and performed by members of the jazz studies faculty, and The Oberlin Orchestra in China, recorded live in December 2005 at the Poly Theater in Beijing. The recordings are available on traditional CD as well as on digital music channels worldwide, including Apple's iTunes, rhapsody. com, and audiolunchbox.com.
Oberlin Music's digital download capability is a significant factor in poising the label for success. According to Dean of the Conservatory David H. Stull, the future of the recording industry is already here. "The production and distribution of music is no longer a business that is developed through compact discs and retail space," he says. Hence Oberlin's bold and innovative move to create Oberlin Music as an online music store.
"The liability is that everything on the Internet will be retained and distributed," says Stull. "In this proliferation, people will seek a reliable and efficient means of navigating a chaotic environment. I believe that the key to the next phase of the recording industry will be to establish quality for the label itself, because the capacity for an individual to search the web for music based on qualitative reputation will be the most important factor in music distribution. Because the projects undertaken by the Oberlin Music record label will always be of the highest quality, audiophiles will have no trouble finding us in the labyrinth that is becoming music on the web."
Associate Dean of Technology and Facilities Michael Lynn is the producer of Oberlin Music. "The label allows us to be dynamic with the huge range of music that is performed here and on tour, from opera to jazz to classical to historical performance," he says. "And while many in the music world are familiar with the Oberlin Conservatory, for them to fully comprehend the quality and excellence of our work they need to hear us."
"The Oberlin Music label provides us with an extraordinary opportunity to educate our students in topics associated with the recording and music industry," adds Stull.
The label's next CD will feature the Oberlin Conservatory Symphony Orchestra's live performance at Carnegie Hall, and is expected to be released in 2008.
Although the first releases were recorded off-site, future recordings on the label will benefit from Oberlin's own high-tech recording facilities, which include a technologically advanced control room in Finney Chapel and high-definition cameras for live web casts and radio broadcasts. A world-class recording studio is also being designed for inclusion in the Phyllis Litoff Building.
Sample tracks of both releases are available at www.oberlin.edu/oberlinmusic. The CDs can be purchased for $15 each, plus shipping and handling, by calling Conservatory Audio at 440-775-8272, or by e-mailing mary.sutorious@oberlin.edu. All proceeds from the CD sales of Beauty Surrounds Us will go to the Wendell Logan Scholarship Fund.
Editor's Note - Effective April 22, 2010: Since this article originally appeared, the Litoff Building has been renamed. Oberlin's new home for jazz studies, music history, and music theory is now the Bertram and Judith Kohl Building.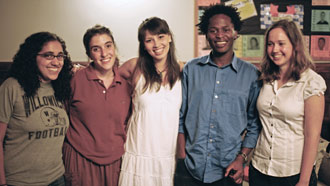 A School in Sierra Leone
After building and outfitting a primary school in Kenya two years ago, Oberlin Free the Children is setting its sights on another area desperately in need of educational resources: Sierra Leone.
Free the Children is a Toronto-based, Nobel Peace Prize-nominated organization with a network of 1 million youth working in 45 countries. Oberlin's chapter opened in February 2005 under the leadership of Rachel Rothgery '10 and Penina Eilberg-Schwartz, Lora Difranco, Tim Dustin, Mark Wessels, and Anne Hoffman, all '08.
The group raised $12,000 to build a one-room schoolhouse in the Narok district of Kenya; the money also paid for school supplies, teacher salaries, water sanitation, latrines, and a year of training for teachers. The school currently enrolls 45 students.
A primary school in Sierra Leone—where the median age is 17—will cost $8,500 to erect. So far, the group's fundraising efforts have yielded $5,500. With more success, construction could begin in the spring.
"People tend to forget about a place once the conflict is over," says Eilberg-Schwartz, speaking of the civil war in Sierra Leone that recruited hundreds of child soldiers. "Problems don't just go away. Education is a huge part of what the solution will have to be."
Ishmael Beah '04, a former child soldier in Sierra Leone and author of A Long Way Gone: Memoirs of a Boy Soldier, agrees. "Schools in these places allow youth to reconnect with a world that is almost forgotten," he says. "They can deter people from going back into violence and empower a generation to become active members of their society."
Beah met with members of Oberlin Free the Children (OFTC) while on campus in September to deliver a Convocation talk. He announced plans to start a foundation that would provide educational and vocational scholarships for Sierra Leone youth.
"People think it requires so much to make a difference in this part of the world. It doesn't," he says. "When a school is built, it puts the government in a very tough position. It brings about the kind of responsibility that wouldn't occur [otherwise]."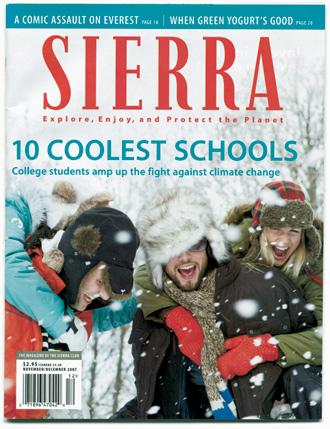 That's just what happened in Kenya, says Rothgery. Spurred on by the building of the school, government officials were inspired to enhance the community by donating 1,000 trees to plant in the Narok district.
"OFTC will try and contribute to the solution and think of Oberlin not just as a place to learn, but as a place that helps you find your role in society," says Rothgery. "I believe doing that can lead to something really powerful."
Green OC Tops Cool List
Oberlin's environmental accomplishments "are music to a tree hugger's ears," writes Sierra magazine, which ranked Oberlin number one on its list of America's Top 10 "Cool" Schools.
"For our first such survey, we looked at everything from colleges' clean-energy purchases and green building policies to their bike facilities and the food served in their dorms," writes Jennifer Hattam in the article "Go Big Green," appearing in the November/December 2007 issue.
Oberlin is directly followed by Harvard University, Warren Wilson College, the University of California system, Duke University, and Middle-bury College.
Sierra lists several reasons for Oberlin earning the top spot: a third of the food served in the dining halls is produced locally, the College hosts the first car-sharing program in Ohio, student activity fees subsidize public transportation, a considerable portion of electricity comes from green sources, a real-time monitoring system tracks energy use, and the first eco-friendly Commencement was held last spring.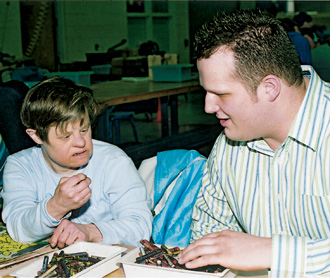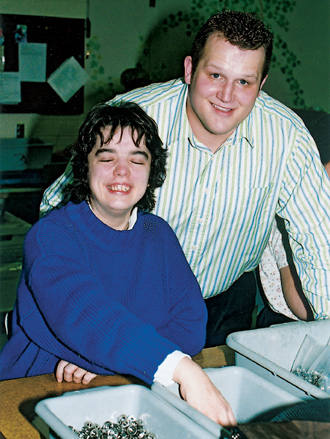 Wavemakers
Anthony Miller waves and smiles as he drifts through the corridors of the Murray Ridge Work Activities Center in Oberlin, keeping a steady pace while dodging in and out of offices. "I have a lot of friends here," he says, while greeting everyone in his path.
As a child in Lorain, Miller would often visit Murray Ridge with his mother, a registered nurse at the vocational center for adults with disabilities. By age 13, he was going alone.
"Hey, Tommy, what's up man?" he asks. "Emory, what's going on?" These days Miller devotes nearly 12 hours a week to some of the most physically and mentally challenged people at the center, where activities like bingo and coloring help develop motor skills. "Here, I'm part of something bigger than myself," he says. "I can give my time not just to studying, but to someone else."
Many Oberlin students have volunteered at Murray Ridge over the years, some in rehab, others by way of music; student vocal and instrumental performances attract an enthusiastic audience. It was no surprise then, when several students, including Miller, joined together last year to launch a new student organization, the Murray Ridge-Oberlin College Alliance, a long-awaited partner-ship celebrated by students and residents at a party on campus.
"Everybody from Murray Ridge and the College had such a good time," says Miller. "It was a great feeling to know that all of our organizing and work brought so much joy to so many people."
What did you do last summer?
I worked for the University of Utah's nonprofit dental clinic that serves low-income, uninsured, and state-assisted patients. I aided in patient care by dental assisting, and I gained valuable knowledge regarding dental terminology, procedures, and dentist-patient rapport.
What are your career plans?
Dentistry. I love to see people smile. A smile means you're feeling happy, you're confident, and you're healthy. If there's any way I can improve someone's health and confidence, I'm all in!
—Catherine Gabe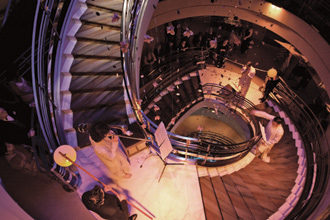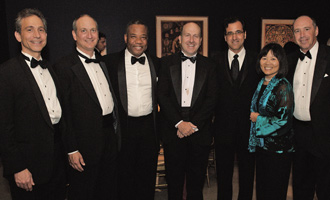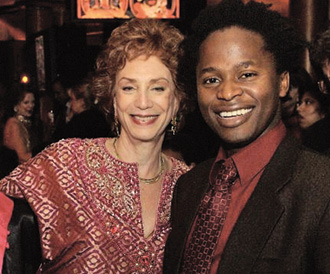 NYC Museum Celebrates Art, Music, and Oberlin
When Manhattan's Rubin Museum of Art, a museum of art from the Himalayas and the surrounding regions, celebrated its third anniversary in October, three Oberlin graduates were among the featured participants.
Author Ishmael Beah '04, who wrote the best-selling book, A Long Way Gone: Memoirs of a Boy Soldier, was honored with the museum's first annual Skye Cultural Ex-change Award. Beah worked as a guide at the Rubin from 2004 to 2006. The award honors his "early and sustained commitment to universal arts and culture."
Oberlin honorary degree holder Muhammad Yunus, the 2006 winner of the Nobel Peace Prize, accepted the museum's inaugural Mandala Arts and Humanitarian Award. A pioneer in the microcredit movement, Yunus established the Grameen Bank ("village bank") in Bangladesh, which loaned small amounts of money to people too poor to qualify for traditional credit. Since the bank's founding in 1983, the practice has been adopted by 50 countries.
Adding yet another Oberlin dimension to the evening was the presence of Chinese-born composer Huang Ruo '00, co-founder of the International Contemporary Ensemble. Ruo was commissioned to write a piece of music to reflect one of the museum's most striking architectural details—a six-story steel and marble spiral staircase. Circle of Steps: Vertical Installation for a Staircase and Six Musicians, pays homage to the structure.
Interestingly, ever since the museum's founding in 2004 by Shelley and Donald Rubin, seven Oberlin alumni have worked in its education department. Among them is Asha Kaufman '04, manager of the museum's guide program. "Having so many Obies work in a small education department in a small- to middle-sized museum in three years is really quite remarkable," says Kaufman, a religion major at Oberlin who minored in studio art.
"I'm always referring to my notes from Paula Richmond's and James Dobbins' classes," she says. "This job is a wonderful melding of my interests. I love being an educator, bringing together my education, love of art, and study of religion."
The museum's annual programming also includes a substantial number of musical concerts; last summer, jazz trumpeter Theo Croker '07 performed with his quintet. "It was spectacular," says Donald Rubin, who is not surprised that many of the musicians who find their way to perform at his museum are Oberlin-trained: "Oberlin is probably the best undergraduate program in the country for music," he says. He and Dean of the Conservatory David H. Stull '89 are hoping to expand the Rubin-Oberlin relationship even further.
"There are many Oberlin alumni living in New York City," says Rubin. "We would love for them to view the museum, with programming featuring Oberlin alumni and students, as a destination spot."