Honoring Our Own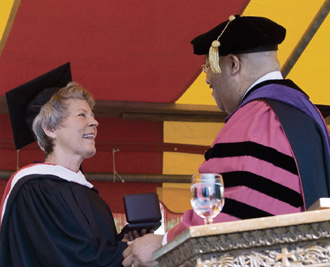 Each year, the Oberlin Alumni Association presents four awards that recognize the outstanding contributions and achievements made by alumni, both to Oberlin and to society at large.

The Association's top award, the Alumni Medal, is shared this year by Margaret Sahs Erikson '62, a retired director in the Alumni Association office, and the late Myron Robert Szold '56, a longtime Oberlin trustee and financial consultant.
"The Alumni Medal, the Alumni Association's highest award, recognizes outstanding, sustained, or unique service to Oberlin College," said Alumni Association President Wendell P. Russell Jr. '71. "For recipients who were employed by the College, like Margaret Erikson, the medal recognizes service above and beyond professional duties. If anyone has worked above and beyond on behalf of Oberlin, it has been Margaret."
Erikson's journey at Oberlin began as a student in the late 1950s. She majored in physical education, was a cheerleader, participated in the 1960 Mock Convention, and served as a resident advisor in Dascomb Hall.
She began working for the College in 1982, first as assistant director of Residential Life and Services and as a judicial coordinator, responsible for overseeing Oberlin's Judicial Board. In 1989, she joined Executive Director Midge Brittingham '60 in the alumni office, where she planned activities for Commencement/Reunion and Alumni Council weekend, as well as countless events for special interest groups.
Erikson also served as the staff liaison to the John W. Heisman Club, and her help planning programs for various academic departments culminated in the successful Conference on Law and Social Change in the 21st Century in 2003, which drew heavy alumni participation.
Retiring in 2005, Erikson and her husband, John Erikson '61, remain in Oberlin, where her community involvement includes the Oberlin City Planning Commission, the Ohio Community Improvement Corporation, the Oberlin City Design Review Board, Friends of the Oberlin Public Library, and, most recently, the Oberlin Heritage Center.
She also remains active with the Heisman Club, serving on the Hall of Fame Committee and as an at-large member of the executive committee, where she helped undertake an extensive update and re-organization of the club's history.
"Margaret has given much of herself to her alma mater and to the town of Oberlin, and continues to serve both with dedication and excellence," said Russell.
A second Alumni Medal was awarded posthumously to Myron Robert Szold '56, a longtime Oberlin College trustee and senior consultant with Talon Asset Management. Accepting the award in May was his widow, Pamela Crutchfield.
Szold arrived at Oberlin as a transfer student, earning a degree in economics in 1956. He was offered a fellowship at Yale University, but chose Army enlistment instead. He served in Germany until 1959, when he joined the Lehman Brothers brokerage firm. In the early 1970s, he launched a New York investment firm, going on to become one of six founding partners of Harris Associates, and eventually president and chief executive officer. He retired in 1992 and became a senior consultant with Talon Asset Management in Chicago.
At Oberlin, Szold served on his Reunion Gift Committee before joining the Board of Trustees' investment committee in 1994. "He brought his experience and insights as a philanthropist and investor, and he brought together people of different skills and widely different personalities to spark ideas and debate," said Russell.
Despite the diagnosis of cancer in the early 1990s, Szold remained active with Oberlin. He established the Szold Scholarship in commemoration of his 40th reunion in 1996, and in 1999 committed $500,000 as an initial challenge gift for the construction of Oberlin's Science Center. He also pledged to match every $4 given by a donor, plus an additional dollar, for any one match. His innovative giving encouraged others to consider larger gifts—ultimately raising more than $4 million and making the Science Center possible.
Szold continued to serve on the Board of Trustees until his death in 2005. He was also an active supporter of the arts; he was a sustaining fellow of the Art Institute of Chicago, a member of the Chicago Symphony Orchestra's finance committee, and a board member at Beloit College.
"With this award Myron's fellow alumni recognize his years of exceptional service and all of his contributions to Oberlin," Russell said.
The Association presented its other top awards during a September 28 dinner that opened the annual fall meeting of the Alumni Council.

Honored with the Alumni Association's Distinguished Achievement Award was longtime civil rights attorney William McNeill III '65. The award recognizes graduates who reflect Oberlin's values in their careers, volunteer activities, and their lives.
McNeill is the managing partner of the Legal Aid Society-Employment Law Center in San Francisco, where he oversees 13 attorneys who handle a docket of public interest cases on issues affecting low-wage and marginalized workers. Through the years, many of his cases have concerned racism and harassment, some of them resulting in large legal settlements.
"For 36 years, Bill has been breaking legal ground in the fight for the civil rights of disadvantaged and low-income workers," said presenter Bill Bradford '76, chair of the Alumni Awards Committee. "After law school at the University of Michigan, where he was one of nine African American students in a class of 400, he hit the ground running as a public defender in Boston, where he helped establish that individuals accused of crimes could examine the proceedings that led to their arrest."
In 1973, McNeill moved to Atlanta to became a litigator on behalf of employment discrimination cases. Later, while in private practice, he took on Davis v. the City and County of San Francisco, a settled case that eventually led fire departments to adopt new testing and promotion methods that were seen as more equitable to African-American, Hispanic, Asian, and female candidates.
Another case to receive national notoriety was Morgan v. the National Railroad Passenger Corp. The plaintiff, an African American railroad worker who had been racially harassed while working for Amtrak, had originally lost his case. Through McNeill's appeal to the U.S. Supreme Court in 2002, the case was retired, and a unanimous jury ruled in favor of the plaintiff.
"Bill's lengthy and ceaseless service to underprivileged and marginalized communities in the pursuit of justice has earned him this award," said Bradford. "When the opportunity arises for us to step forward to make society a better place, we should. Bill never lost focus of his passion—providing legal services for the underprivileged."

Carol Levine '84 was presented with the Distinguished Service Award in recognition of her outstanding and sustained contributions to the Oberlin Alumni Association.
"It takes a unique person to run a family business successfully and also find the time and energy to volunteer at Oberlin," said Bradford. A longtime contributor to the College—as an admissions representative and coordinator, alumni affiliate group chair, Executive Board member, and 1984 class president—Levine most recently was instrumental in creating the Alumni Association's new Development Committee as a way to establish a culture of giving at Oberlin among alumni and undergraduates.
Levine earned an MBA in management and international business at NYU's Stern School of Business in 1992. Since then she has served as senior project manager at United Management Technologies and a project manager at LoBue Associates, where her work focused on strategic planning, organizational redesign, and training. Today she maintains a successful career as president of the Arthur B. Levine Company and co-founder of CarMel Management Solutions in New York.

The Certificate of Appreciation was awarded to Jan Phillips '56 in recognition of her contributions to Oberlin, specifically to athletics, music, and the Alumni Association.
With a master's degree from SUNY Brockport, Phillips retired recently as a third-grade teacher with the Brighton Central Schools in Rochester, N.Y. She was an active member of the Heisman Club from the 1970s through the 1990s, and she now hosts and coordinates events for the men's vocal group, The Obertones.
Phillips is also a member of her reunion class gift committee, and since 2001 has served as vice president, and now president, of the Class of 1956. "Elementary school teachers I know have told me that you have to be somewhat of a mulitasker, especially when dealing with young children," said Bradford. "Jan displays that same energy, spirit, and enthusiasm as a volunteer for Oberlin."
---
2007 Volunteer of the Year Awards
Each year, staff members in the Office of Admissions, Office of Development, and Alumni Association have the chance to recognize four additional volunteers who have given service of great value during the previous year. Each was honored at the Alumni Council dinner in September.

The 2007 Class President of the Year Award was presented to Gay Thomas '82, chief planner of the 25th reunion of the Class of 1982 last May, "a weekend of well-attended and memorable activities," said Alumni Association Assistant Director Danielle Young. "We appreciate Gay's dedication and positive spirit, the amount of time she volunteered, and her ability to communicate well with others and to recruit volunteers."
Thomas is a senior research specialist at the University of Wisconsin and lives in Madison.

Carol Silverman-Kurtz '82, the 1982 Conservatory class agent and co-chair (with Thomas) of the 25th reunion gift and planning committee, earned the Class Agent of the Year Award. Credited with creating a memorable reunion, "Carol was able to inspire and encourage a large number of classmates to assist with fund-raising and planning," said Donna Ancypa Holmes '91, associate director of the Oberlin Alumni Fund.
"The end result, just over $190,000 raised, is a true reflection of how much Carol values the opportunity to build an alumni community. Oberlin is a much better place for her efforts."
Silverman-Kurtz lives in Tenafly, New Jersey.

The Regional Coordinator of the Year Award was reserved for Katherine Kornblau '90, an artist, jewelry designer, and owner of KJK Jewelry in New York.
"Katherine has spent a great deal of personal energy and initiative in reorganizing the Alumni Association's largest alumni chapter: the Greater New York City Club," said Director of Alumni Outreach and Education Paul Wolansky. "Her personal interest in identifying and promoting as many Oberlin connections as possible has led to multiple events featuring alumni, including a very well-received Oberlin Authors' Book Group."

Honored as the Admissions Coordinator of the Year was Don Philips '83, who for years has overseen recruitment activities in the San Francisco area.
"Don faithfully attends preview events in the fall, oversees an Interview Day in January, and organizes a reception for admitted students in April," said Senior Assistant Director of Admissions Josh Levy '91. "But what we love most about Don is his willingness to tell us when something isn't working quite right. It is through his critical eye that problems have been identified and remedied. For this, and for all of his hard and tireless work, we are eternally grateful."
Philips is an attorney with the U.S. Department of Veteran Affairs in San Francisco.
---
Singing Praises of Music Educator

Another Oberlin graduate to earn recognition this fall was Timothy Gerber '69, a professor of music education at Ohio State University. Gerber offered a workshop at the Oberlin Conservatory in September and was honored with the Distinguished Alumnus Award from the Music Education Division.
Gerber teaches undergraduate and graduate course at Ohio State, where he also supervises vocal/general student teachers and advises doctoral candidates. His research focuses on musical development in adolescents, and he is co-author of a popular high school music text and CD collection published by Glencoe/McGraw-Hill.
A popular teacher at Ohio State, Gerber also finds time to volunteer teach in the Columbus Public Schools. He is often invited to deliver lectures and keynote addresses—a recent venue includes the international conference on Integrated Arts Education at National Taiwan Normal University—and he served as the 2003 Steinecker Lecturer in Music at the University of Regina, Canada.
---
Meet New Alumni Association President Bill Hilton '65

Bill Hilton, a longtime member of the Alumni Council, began a two-year term as president of the Alumni Association in September. He replaces outgoing president Wendell P. Russell Jr. '71, who will serve another year on the Executive Board.
A seasoned human resources manager, Hilton works at St. Jude Medical in Sunnyvale, California. He and his wife, Kristi Iverson, have three adult children and give much of their time and energy to the Unitarian Universalist Church and to political and social causes.
"As the president of the Alumni Association, I hope to engage all alumni in celebrating, honoring, and supporting the unique and holistic education Oberlin creates for today's young men and women, many of whom will be international leaders tomorrow," Hilton says.
Read more about Bill at www.oberlin.edu/alumni.
---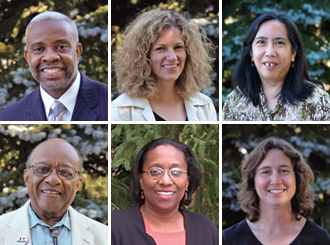 Also honored in September were retiring members of the Alumni Council's Executive Board (l to r): William Bradford '76, Gwen Haverstock Freed '85, Deeana Jang '79, Albert McQueen '52, Dwan Vanderpool Robinson '83, and Susan Schwarz Rudzinski '85.