Leadership, Creativity, Innovation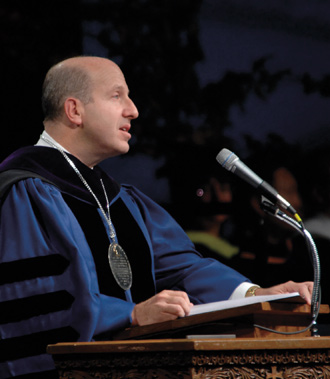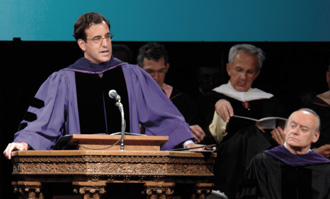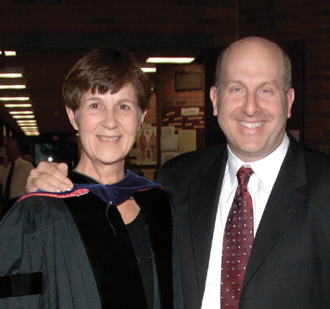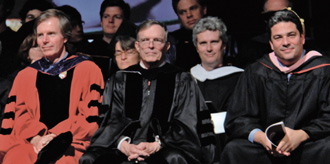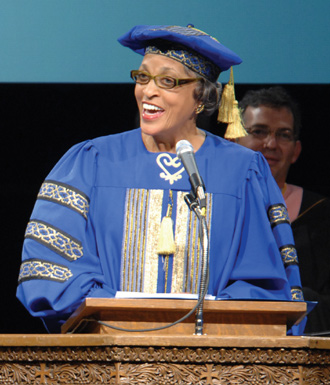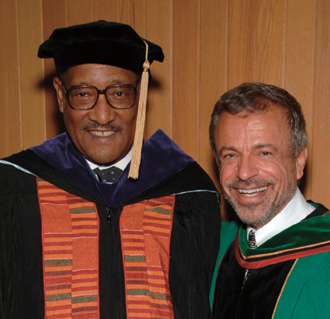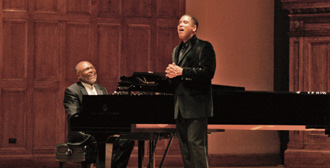 For just the 14th time in its history,
Oberlin College inaugurates a new president.
On a warm November day, on which brilliant colors still clung to the trees in Tappan Square, history and biography converged at Oberlin, marking an event rare in Oberlin's 175-year history: the inauguration of a president.
Marvin Krislov, who led the University of Michigan in winning a historic Supreme Court victory establishing the constitutionality of diversity considerations in college admissions, was sworn in as Oberlin's 14th leader on November 2 under the crimson-draped ceiling of the John W. Heisman Field House.
Circumstances such as these are the very ones for which pomp and pageantry are intended, and neither was in short supply. From the flow of academic gowns to the stately inaugural procession of faculty and staff members, trustees, delegates from other colleges, and for the first time, student senators, the room was alight with pride for all things Oberlin. The Oberlin Conservatory Brass Ensemble lent further flourish with Richard Strauss' Feierlicher Einzug der Ritter des Johanniter and Aaron Copland's Fanfare for the Common Man.
Presiding over the ceremony was Board of Trustees Chair Robert Lemle '75, who welcomed the audience and spoke of Oberlin's illustrious 175-year history and the College's ability to evolve and flourish over time. "In Marvin Krislov," he said, "we have a new president superbly qualified to provide outstanding and transformative leadership that celebrates and builds on Oberlin's distinctive strengths and core values. … I believe that Marvin is already one of us, and I am proud to be here today to install him as our new president."
Next to speak was University of Michigan President Mary Sue Coleman, who lauded Krislov for his work and commitment to social justice. "At first blush, there may not appear to be much similarity between Oberlin College and the University of Michigan," she said, then pointed out several parallels: both are set in sophisticated and educated communities, both have names that are respected worldwide, and both "love a good debate."
"Most importantly," Coleman continued, "we share a special bond: that of a deeply held commitment of holding open our doors to students of all backgrounds and all experiences. Our students, faculty, and staff are richer for it, and society benefits from our alumni who value different perspectives and mutual understanding."
Next, in offering greetings from the student body, Student Senator Nancy Nguyen '08 jokingly asked the president, "Do you know how lucky you are?" Her welcome was followed by a faculty greeting from Timothy Weiss, the Ruth Strickland Gardner Professor of Music, who spoke of his work with the presidential search committee: "When I met Marvin, I knew we had found the right match. Marvin is an effortless communicator … a visionary intent on empowering a great team of leaders and inspiring them to work creatively and in artistic and socially entrepreneurial ways."
Alumni Association President William Hilton '65, in his greeting to the president, chose words from the Tao Te Ching: "The mark of a moderate man is freedom from his own ideas," he read. "Tolerant like the sky, all-pervading like sunlight … he has no destination in view and makes use of anything life happens to bring his way."
Oberlin Mayor Daniel Gardner '89, who presented Krislov with a key to the city, noted that colleges often put themselves "behind walls or atop hills. But not so in Oberlin," he said. "In Oberlin, the College opens its front doors to the public square."
Ohio Lt. Gov. Lee Fisher '73 presented Krislov with a proclamation from Ohio Governor Ted Strickland. "There is an unbreakable link between education and economic prosperity and growth. Oberlin, perhaps more than any other institution of higher education in Ohio or in the country, represents that link—that link between creativity, knowledge, growth, work, labor, and prosperity," he said.
U.S. Congresswoman Marcy Kaptur, whose 9th district includes Oberlin, described the College as a leader in the movement for social change in America and the world for the past 175 years, adding, "Today, we've never needed that leadership more."
In a dynamic speech that earned enthusiastic applause, Johnnetta Betsch Cole '57, president emerita of Spelman College and Bennett College for Women, reminded listeners several times —with flair and a flush of pride—that Oberlin was her alma mater.
"How fitting it is," she said, "that Marvin is the brother president of a college that in 1835 was the very first institution of higher education in America to admit students of color, and in 1841 became the first college to award bachelor's degrees to women in a coeducational program. Marvin Krislov has been in the struggle for diversity and inclusion in the American academy and in American life for a mighty long time."
Serving as president of a college such as Oberlin, Cole added, "requires a combination of tough practical experience and good old-fashioned idealism; it requires a commitment to the life of the mind and a willingness to embrace that which is soulful." Marvin Krislov, she said, "has all of that."
Cole also included a "shout out" to the Krislov family: children Zachary, Jesse, and Evie; and Krislov's wife, biomedical researcher Amy Ruth Sheon. "I wish you well in your ongoing professional work, and I wish you much joy in your role as Oberlin College's 'first sister.'" Cole also recognized the 13 years of leadership and service of President Emerita Nancy Dye.
Krislov and Lemle then stepped up to the podium, where Lemle formally installed the president. "Upon your unanimous election by the Board of Trustees of Oberlin College … it is my honor to install you as the 14th president of Oberlin College," said Lemle. With Dye, he then presented Krislov with the Oberlin College Presidential Medal.
Krislov's inaugural address took the audience on an imaginary tour of Oberlin—the College, the Conservatory, and the town—looking at places relating to his themes of inclusion, leadership, creativity, innovation, and commitment to social engagement and environmental sustainability. Flanked by large screens bearing black-and-white images of sites around Oberlin, Krislov examined the significance of the Underground Railroad Monument, the Shansi Memorial Arch, the Adam Joseph Lewis Center for Environmental Studies, and other places.
"This College, this Conservatory, and this town were built by people unafraid of daunting challenges," Krislov said. "Their legacy, as constant as the geometry of Tappan Square, is now entrusted to us. Today, we celebrate the idealism of our founders and rededicate ourselves to translating it into a vision for the future."
The ceremony itself was only one part of a three-day affair that brought town and gown together to celebrate the arts, music, history, athletics, academics, and much more.
The Preservation Hall Jazz Band, under the direction of Ben Jaffe '93, brought its storied style of Dixieland jazz to a full house at Finney Chapel Thursday night. The performance culminated with a second-line parade through the pews and onto the stage, where the musicians were joined by nearly 100 audience members dancing to the final strain of When the Saints Go Marching In. Jaffe singled out the jazz faculty for special recognition: "Thank you all for making my dreams come true."
An inaugural classical concert on Friday night featured violinist Jennifer Koh '97; pianist Spencer Myer '00; baritone Robert Sims '88; and Farhad Hudiyev '08, Boris Allakhverdyan '06, and Anastasia Dedik '08 of the Prima Trio. Later that night Krislov was coaxed from a downtown restaurant to join other revelers at the Halloween Organ Pump in Finney Chapel, one of several Friday-at-midnight concerts given by organ majors throughout the year.
Saturday's events brought together a distinguished group of scientists, musicians, artists, and scholars—many of them alumni and faculty members—for a morning symposium titled "Education for the Twenty-First Century: A Call for Creativity, Leadership, Innovation." Delivering a learned and witty keynote address was Don Michael Randel, president of the Andrew W. Mellon Foundation and former president of the University of Chicago. His talk explored academic canon, the anti-intellectual strain in American culture, the role of higher education in America's future, and the charge of "political correctness" that is often "thrown from the right to the left.
"Political correctness, in current usage, came to be an issue only when the voices of multiple identities began to assert a right to be heard," Randel said. "The complaint about political correctness is most often the complaint of a voice that thought itself to be the one true voice of mankind. But if this was ever an issue, it is high time we got over it, for it flies in the face of everything we would like now to assert about the need to live in a diverse society and a globalized world."
After the keynote speech, audience members moved on to their choice of four, smaller panel presentations that covered topics of particular interest to Oberlin. In "The Changing Climate of U.S. Climate Change Policy," Environmental Defense attorney Karen Florini '79 called attention to growing public consensus on the need for serious governmental action in response to climate change. Oberlin's own David Orr concurred: "There is a public ready to move; what we're waiting for is national leadership."
In true Oberlin fashion, panelists in "Art in a Global Culture: A Fearless Pursuit of Excellence" immediately upended the topic. Speakers who work in the performing arts pointed out that fear, in fact, is very much a part of the creation of their art. Author and former New Yorker senior editor Charles Michener said that with the loss of "hierarchical mediation" in the arts, "If I were starting out again, I don't know that I'd become an arts critic. With the Internet, maybe we don't need art criticism anymore."
Panelists at the "Emerging Challenges in Science" group discussed the benefits of a multifaceted approach to science education. Stuart Card '66, senior fellow in human/computer interaction at the Xerox Palo Alto Research Center, warned of the alarming rate at which technology is expanding. He suggested that people in the sciences pursue two different specialties and a breadth of knowledge that will help them make more informed decisions and discoveries. Pamela Hines '74, senior editor of Science magazine, saw a need for greater science literacy among politicians and voters who face more and more complicated, science-driven policy issues.
Alumni in the legal and civil rights fields shared stories from the trenches at the panel "Inequality and Social Justice: A World View." Speaking about racial inequality, "It's painfully evident that we haven't made a lot of progress," said Jacqueline Berrien '83, associate director-counsel of the NAACP Legal Defense Fund. "I believe we are looking at a world where acceptance to inequality of life will not be predicated by national boundaries." Michael Santoro '76, associate professor at the Rutgers Center for Global Change and Governance, addressed the global inequality of business practices and medical access. "In the past two decades we have learned that NGOs cannot replace governments," he said. "We need to give workers basic information so they can fight the good fight for their rights."
While Saturday morning was set aside for contemplation, the afternoon was reserved for fun. Family-friendly activities such as climbing-wall lessons, bowling, and science lab demonstrations, along with tours of the art museum, the observatory, and the city's historical sites were open to the College and community. Sports enthusiasts had a taste of Big-Ten-like action with a crowded tailgate picnic held just before the Yeomen's rollover of Kenyon College, 63-33.
Krislov's inauguration, said Trustee Steward Kohl '77, brought to mind the Yiddish word bashert: "It was meant to be."
"Inauguration Weekend was a wonderful celebration of the rich history and vibrant contemporary life of Oberlin College and City," Krislov said afterwards. "I'm deeply honored to have been selected to be president. Thanks to all the faculty, staff, alumni, students, parents, and community members who worked so hard to make it such a success."
See video clips, photo galleries, speech transcripts, and much more at http://cms.oberlin.edu/inauguration.