Around Tappan Square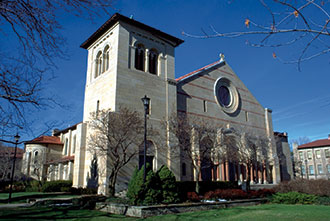 Happy 175th Oberlin
The year was 1832. Many settlers believed the West was the area to pursue their ambitions for a better life. Presbyterian minister John Jay Shipherd and his student, Philo P. Stewart, a former missionary, shared a dream. The duo envisioned a church-centered community that would build and support a school to train preachers and Christian teachers for work in Ohio, Indiana, Michigan, and Illinois.
Intrigued by a book written by John Frederick Oberlin, a minister in Alsace, France, who pioneered educational programs, established schools, built roads, and introduced the trades of masonry and blacksmithing, Shipherd and Stewart decided to replicate his efforts. They obtained the land for the new settlement and college, naming both in honor of the man who inspired them. The men began to recruit settlers to Oberlin to help them build the town of their dreams.
Established in 1833, Oberlin welcomed those who desired to be part of a community committed to progressive ideas about the church, education, civic responsibility, and social justice.
This year, the City of Oberlin and Oberlin College celebrate the 175th anniversary of their joint founding with a series of free public events and programs designed to honor the traditions and values set forth by the founders. The high point of the celebration will take place October 3 and 4, 2008, with a series of community and College events.
Several other areas of the College and town are also celebrating notable anniversaries this year:
---
The Oberlin-Wellington Rescue Coalition will celebrate the 150th anniversary of the day when African American and white residents of Oberlin rallied to rescue John Price, a runaway slave from Kentucky, and assisted in transporting him to Canada. The actions of the townspeople helped expedite antislavery legislation nationwide. A highlight of the September 13 observance will be a public celebration on Tappan Square, along with activities that involve the local schools and the College. Throughout the year, the coalition will partner with the City of Oberlin, Main Street Oberlin, Juneteenth Oberlin, Inc., and the Oberlin Heritage Center to provide speakers, activities, and other events to mark the occasion.
---
Oberlin Shansi, a community organization that promotes understanding and communication between Asians and Americans through educational programs and community projects, turned 100 in January. Originally called the Shansi Association, it is one of the oldest educational exchange institutions in the country, supporting programs in China, India, Indonesia, and Japan. Shansi will hold a Centennial Celebration during Commencement/Reunion weekend, May 23-25.
---
The Allen Memorial Hospital Auxiliary this fall will commemorate 100 years of providing essential community and financial support for Allen Community Hospital. The group's fundraising efforts have provided amenities to the hospital, as well as medical equipment, an ambulance, and remodeling.
---
Two of the College's buildings reach centennial status this year: Finney Chapel (pictured above), designed in 1907 by architect Cass Gilbert and dedicated in June 1908, cost about $135,000 and has a seating capacity of 1,900. Built in honor of Oberlin President Charles Finney, the chapel is often the central meeting place for town-gown public concerts, lectures, and musicals, as well as College convocations and performing arts groups. Special features include a chapel bell that chimes on the hour and a classic Fisk organ, installed in 2001.
---
The Carnegie Library was a dream come true for Azariah Smith Root, the College's first professional librarian, who helped plan, raise funds, and supervise the construction for a new building. New York philanthropist Andrew Carnegie contributed $150,000 of the $155,600 bill, requiring the College to raise the balance. Architect Normand Patton of Chicago designed the building. Construc-tion began in May 1907, followed by a dedication in June 1908. The library originally offered space for classrooms, a faculty room, a large reading room, and library offices. Today the Carnegie Building houses labs, offices, and classrooms of the geology department and several administrative offices.
For a complete schedule of anniversary events, visit Oberlin's anniversary website.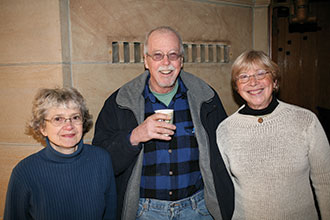 Oberlin Shansi Kicks Off Centennial Celebration
Oberlin College's first major effort toward global outreach began on the cold morning of January 30, 1908, when a small group of professors, students, and alumni, imbued with Oberlin's spirit of social and religious activism, gathered in a building on the north side of Tappan Square to found the Shansi Association.
Exactly 100 years later, Oberlin Shansi commemorated the very moment of its founding with a reenactment in Bosworth Hall, which is roughly the location of Shansi's first meeting. At exactly 11:30 a.m. on January 30, Carl Jacobson, Shansi's executive director, began reading the minutes of the inaugural meeting. He went on to give a thorough background of Oberlin's missionary involvement, Shansi's history and accomplishments, and the people who made it all happen.
Several alumni were in attendance, including Shansi Honorary Trustee Peg Leonard '37, emerita executive secretary who served the organization for 43 years. Also on hand was Bobbie Carlson '40, a Shansi rep in China during the eventful years of World War II and who sailed on the last boat from California to China in 1940.
Paul Arnold '40, emeritus professor of art at Oberlin, holds a special place in Shansi's history: he was born in the Shanxi province in China, the home of Shansi's first program and its namesake. Arnold, who has served the organization as board chair, honorary trustee, and former visiting faculty member in India and China, also led several Oberlin and Shansi alumni tours to China and Indonesia. "It's wonderful to celebrate 100 years of real service to the other side of the Pacific," he said.
The reenactment was just one of many Shansi events this year, which included a winter-term forum at George Washington University, several symposia, with topics ranging from Asian music to HIV/AIDS and ethics, and a half-semester course, Meanings of the Memorial Arch.
The celebration will culminate with three days of Shansi events during Commencement/Reunion Weekend beginning May 23. For details, visit www.oberlin.edu/shansi/centennial.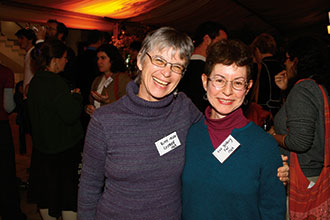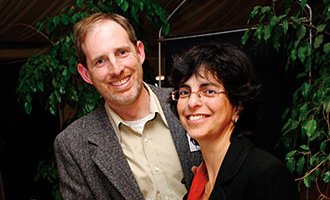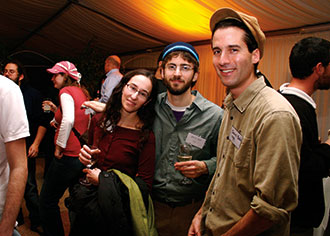 Oberlin Overseas
An alumni reception in Israel in December sparked a few lines in the Ha'aretz (Israel's version of the New York Times), which noted that Oberlin President Marvin Krislov, who was in Israel visiting family of his wife and many friends, was joined by 50 Oberlinians at the Bible Lands Museum in Jerusalem. The fete, hosted by the Krislovs to help kick off the College's 175th anniversary, attracted alumni from a noticeably wide range of class years.
"Obies of all generations told me it was their feelings toward Oberlin that brought them to the event," said reception organizer Joshua Shuman '86. "Moving to Israel was a life-changing experience for all of us, and whether Ultra-Orthodox or secular, a musician or a listener, Jewish or not, it was tremendous to note that the one thing that unites us all is Oberlin."
Alumni in Istanbul held a similar gathering, hosted by Ilter Turan '62, a professor of political science at Istanbul Bilgi University. Krislov said he was struck by the deep sense of loyalty to Oberlin from alumni in both regions, even from graduates who hadn't been back to campus in decades.
Admissions Programs Bolster Student Diversity
Jasmina Makota was a small child during the Bosnian War when her family fled the country and moved to Croatia, leaving everything they owned behind. "I still have pictures in my head of us running away," says Makota, a first-year Oberlin student who eventually moved to Chicago with her brother and mother.
Every week Makota meets up with her Oberlin "posse"—eight first-year students, all from Chicago, who were admitted collectively to Oberlin this year and awarded full-tuition scholarships.
"One of the main reasons why my Oberlin posse offers such support to me is because I am far away from my mother, who moved to Croatia this year," Makota says. "The company and friendship help me cope with that hardship."
The national Posse program, part of the New York-based Posse Foundation, Inc., was founded on the premise that multicultural students who begin college together as a group will support each other and help one another stay in school. Now in its 18th year, the program claims a 90 percent retention rate, with offices in New York, Washington, D.C., Los Angeles, Chicago, Boston, and Atlanta.
Prior to their freshman year, each team of students undergoes eight months of training in areas such as cross-cultural communication, diversity, time- and financial-management, and ways of adapting to college life. By training's end, members are not only better equipped to handle life on campus, but have made important bonds with their fellow classmates.
Last year, Oberlin entered into a five-year partnership with Posse Chicago to provide early-admission, full-tuition scholarships to the eight students. Eleven more have been accepted for next fall.
"I didn't know much about Oberlin, but during my junior and senior years, I started to research smaller colleges," says Posse student Amber Walker. "I liked that Oberlin was the first college to educate women and African Americans. Programs like Posse aim to create diversity."
Similar in scope to Posse is another national admissions program—QuestBridge —which recruits, develops, and supports exceptionally talented low-income students from high school through college and into their first jobs. The scholars, who represent diverse cultural and racial backgrounds, are also awarded full-tuition, four-year scholarships based on early admission. In its new partnership with QuestBridge, Oberlin en-rolled nine students this year. Five more will arrive next fall.
QuestBridge student Eric Oeur is the first in his family to be born free of the hardships of Siem Reap, Cambodia—his family's native city. Passionate about international studies, he says his family serves as inspiration.
"My mom, who had just come to America, wanted to buy groceries, so she got a ride from a church bus and went to the store," he recalls. "But she didn't know how to get home because she didn't know how to read the English bus schedule. She got really scared. She couldn't ask for help, she couldn't do anything. Two hours later, the people from the church started looking for her. When they found her, my mom wanted to say 'thank you,' but she couldn't."
Determined not to let language become an obstacle in his own life, Oeur plans to learn four languages by the time he graduates. His goals may seem high, but they are typical of QuestBridge students.
"Programs like Posse and QuestBridge are able to reach certain populations of high-achieving students, many of whom come from low-income and first-generation families," says Associate Director of Admissions Thomas Abeyta. "Relying on the strengths of these programs' community-based outreach and recruitment networks has allowed Oberlin's admissions staff to connect with a greater number of students, many of whom may not otherwise have considered a highly selective liberal arts college like Oberlin."
"These are extraordinary students, and they will get an education equal to what they can produce. I'm excited that they're here," adds Associate Dean and Director of Student Academic Services Brenda Grier-Miller.
"I don't have any worries about these students not being able to succeed at Oberlin," says Posse mentor Justin Emeka, a visiting assistant professor of African American studies and theater. "The fact that inner-city high school students have less presence is part of a bigger issue for many colleges. I'm interested in being part of the movement to engage that population."
Thus far, both programs have been very successful, says Abeyta, allowing for a rise in well-qualified, low-income, first generation students in Oberlin's applicant pool. Partnerships like these, he says, are necessary if Oberlin is to compete with peer institutions in recruiting, attracting, and ultimately matriculating a diverse student body.
Heather Harvey, a QuestBridge student from Indianapolis, puts it plainly: "If it weren't for the scholarship, I wouldn't be getting an education," she says. "Now [that I'm here] it's about finishing college, having money for grad school, and finding a job. These are things that I must do because it's who I am."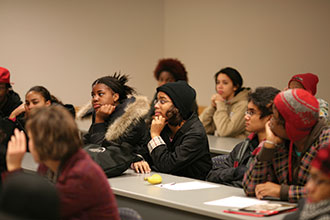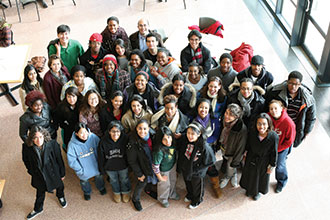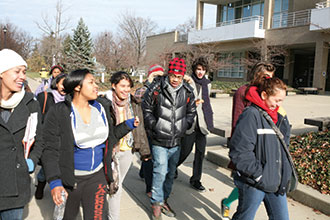 Test-Driving College
Photos by John Seyfried
Oberlin's ongoing work to diversify its applicant pool gets a boost each year through a series of popular "fly-in" programs aimed to attract and enroll students of color.
Six times a year, groups of qualified high school students are flown to campus for three days of programs and activities, all-expenses paid. "Our hope is that students who visit Oberlin will find it to be the right community and the right fit," says Associate Director of Admissions Thomas Abeyta.
The Multicultural Visit Program (MVP), which attracts about 180 students from dozens of states each year, is sponsored by the Office of Admissions, the Multicultural Resource Center, and the Bonner Center for Service and Learning.
Nearly 40 such students took part in a December fly-in. Day one included a campus tour, dinner at Afrikan Heritage House, and time spent in residence halls with student hosts, many of them former MVP students themselves. Lunch with faculty members the next day featured a talk by President Krislov. For the remainder of their stay, students attended classes and information sessions, met with faculty, and enjoyed social events.
"Everyone seemed so passionate about what they were doing," said Kelsey, a student from Los Angeles. Another prospective student, Jordan, from Alabama, was struck by the classes he observed: "Nobody seemed like they were trying to coast through. Before the weekend I didn't know if I wanted to apply to Oberlin, but now I definitely do."
Fly-in weekends are aided by members of the Admissions Student Advisory Committee, who meet the high schoolers at the airport, help them settle in once on campus, and organize concerts and other social functions that display the breadth of student activities and performance venues.
Abeyta says the popularity of MVP necessitates a competitive application process—a "mini college application" complete with transcripts, SAT and/or ACT scores, and a written statement. It's a selective process, but one that keeps the program small and individually focused. "We don't want to lose the personal touch by bringing in too many students at one time," he says.
Associate Professor of African American Studies Pam Brooks says Oberlin has a lot to offer to students of color. "This program is a great opportunity for them to concretize how they would fit in here."
Theater Student Sings His Way to London Stage
The English National Opera in London has tapped theater major Raphael Sacks '09 to sing the role of Andy and to understudy the role of Mr. Eddy in the U.K premiere of Olga Neuwirth's Lost Highway in April, co-produced by the Young Vic Theatre.
Sacks performed the role of Mr. Eddy, a ruthless gangster, during Oberlin's production of Lost Highway at New York's Miller Theatre last year. He, fellow cast members, and the Oberlin Conservatory Contemporary Music Ensemble performed two sold-out shows that earned rave reviews from critics.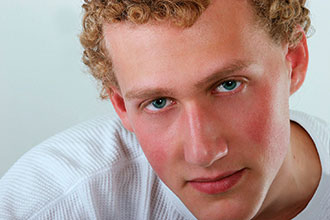 Sacks is on leave this semester to take advantage of this "dream-come-true" professional opportunity.
"Each role has its own challenges and requires juggling drastically different demands from the standpoint of vocal technique," says Sacks. He gives credit to Oberlin's Gerald Crawford, director of divisions of vocal studies, and Daniel Michalak, vocal coach and rehearsal pianist, for their support in preparing him for the audition.
At Oberlin, Sacks has lent his talents to a number of performances. He portrayed the MC in Cabaret, the provost in Measure for Measure, Czolgosz in Assassins, the devil in Stravinsky's L'Histoire du Soldat, Ed in Torch Song Trilogy, and Geoffrey in Six Degrees of Separation.
Of his post-graduation plans, Sacks says, "I am an actor first and foremost, and I intend to stay open to any opportunities that arise from the London experience."
Diverse Disciplines
Oberlin's Pablo Mitchell was named one of 10 Emerging Scholars of the Year by Diverse magazine, a twice-monthly publication of higher education issues. Mitchell, who teaches courses on Latina/o history, U.S. – Mexico borderlands, and sexuality and modernity within Oberlin's history department, wrote the award-winning book, Coyote Nation: Sexuality, Race, and Conquest in Modernizing New Mexico, 1880-1920 (University of Chicago Press).
---
Blackbird Strikes High Note
eighth blackbird, the music ensemblen that was born and bred at the Oberlin Conservatory of Music a dozen years ago, won the Grammy Award in February for Best Chamber Music Performance. Strange Imaginary Animals, its fifth recording, is the first Grammy-nominated work for eighth blackbird, whose members are flutist Tim Munro '02, clarinetist Michael J. Maccaferri '95, violinist and violist Matt Albert '96, cellist Nicholas Photinos '96, percussionist Matthew Duvall '95, and pianist Lisa Kaplan '96.
---
It's Back to School for Nancy Dye
Nancy S. Dye, president emerita of Oberlin College, is heading east. In February she was named the first president and vice-chancellor of the emerging Asian University for Women in Chittagong, Bangladesh. Set to open in the fall of 2009, the private liberal arts university will recruit women from the poorer areas of Bangladesh, Cambodia, India, Pakistan, and other nearby countries. Already, 125 students (out of 1,200 applicants) are set to begin a pre-matriculation program this spring. Financial backing for the university has come from the U.S. Agency for International Development, the Bill & Melinda Gates Foundation, and several other foundations.
Sharing Student Research
A newly charted student organization has created a virtual forum through which undergraduates can examine contemporary cultural and intellectual issues from a broad array of perspectives.
With a nod to biologist Edward O. Wilson's 1998 book, Consilience: The Unity of Knowledge, Oberlin's Consilience- Undergraduate Research Education (C-URE) provides a public space for peer-reviewed undergraduate work to be shared.
"We formed C-URE last year, after a late-night discussion about how so many Oberlin students toil for hours to write publication quality papers for their classes that, more often than not, are simply handed back and forgotten," says C-URE members. "Especially at Oberlin, there is undergraduate-produced research from which other researchers, undergraduate or otherwise, will benefit. C-URE intends to make that research available."
Following that initial late-night brainstorm, C-URE's founders, chemistry and biochemistry major Alex Nichols '08, neuroscience major Reva Stidd '09, and 2007 graduates Brandon Holmes (neuroscience) and Tymoteuz Kajstura (biology and neuroscience), developed the concept with the help of faculty advisors Manish Mehta, associate professor of chemistry, and Ken Kuttner, Danforth-Lewis Professor of Economics.
By representing various academic subfields, C-URE promotes consilience, the joining together of knowledge across disciplines, and encourages the synthesis of new approaches to academia. C-URE plans to examine a particular issue, such as gender and society and sustainable energy, at the beginning of each semester, and will accept submissions from undergraduates at schools across the country. The group is also working to develop partnerships with similar endeavors at other schools, such as Columbia University's Consilience: The Journal of Sustainable Development, which was launched this year.
Submissions to Oberlin's C-URE are reviewed by four student editors and selected faculty members from almost every department at Oberlin.
Thanks to financial assistance from the Student Finance Committee, the Office of the President, the Dean of the College of Arts and Sciences, and dorm and co-ops, C-URE offers an annual $500 scholarship to the author of the best paper it receives each semester. Oberlin politics major Colin A. Jones '08 received the first award for his paper on alternative strategies to prevent domestic violence.
For more, visit: c-ure.org.
Alumni Association, Office of Campus and Spiritual Life Seek Directors
Alumni Association Executive Director Laura Gobbi '91, who arrived at Oberlin in January 2004, has accepted a new position as director of alumnae relations at Mills College in Oakland, California. She will depart Oberlin in April. "Laura has brought the highest level of professionalism and enthusiasm to our division, and she will be greatly missed," says Ernie Iseminger, vice president for Development and Alumni Affairs. A national search for a new executive director will begin immediately, with a search committee headed by Alumni Association President Bill Hilton '65. Iseminger hopes to have the position filled prior to Alumni Council weekend in September.
Oberlin is also searching for a director of the Office of Religious and Spiritual Life, a 12-month Administrative and Professional Staff position that reports to the dean of students.
Applications from alumni are welcome for both positions. See complete job descriptions.
Wave Makers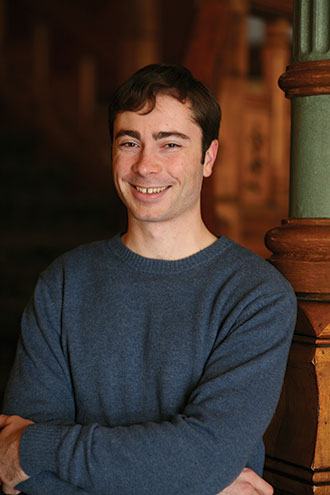 Graham Johnson '08
Major: Economics and music history/theory
Hometown: Chico, California
Activities: Oberlin Business Scholars, Finance and Investment ExCo instructor, Artist Recital Series, and more.
Graham Johnson is learning how to make and allocate money. As co-chair of Oberlin's Student Finance and Investment Club, he helps manage a scholarship fund portfolio valued at $294,000; as co-chair of the Oberlin Student Philanthropy Club, he helps award thousands of dollars in grant money to charitable organizations in Lorain County.
"Both clubs make investments, but they seek different kinds of returns," he says. "The finance club invests in corporations with the goal of growing a scholarship fund, while the philanthropy club invests in local nonprofits with the goal of helping the community in the most effective way possible. In both clubs we aim to be socially and financially responsible."
Seed money for the clubs' funds came from alumni donors, and students in both groups have benefited from the guidance of experts in the field. Members of the finance club meet weekly for educational presentations and decide as a group whether to buy, not buy, sell, or the hold the stocks presented. The fund's benchmark is the S&P 500, which the students' portfolio outperformed by more than 8 percent in the past year.
The philanthropy club, meanwhile, hit the ground running last semester. The group met with more than a dozen applicants in Lorain County and will make final grant decisions this spring. The club will track the progress made by each project it supports and, if necessary, offer extra help in the form of volunteer work to ensure success. Fundraising for the next grant cycle is already under way, with a promise from the organization's donor to match the first $10,000 raised.
"Although it's difficult to measure returns with the philanthropy club, there are many different measures of impact on people's lives," says Johnson, who will take a teaching job with Teach for America after graduation.
How has the finance club enriched your life?
I've learned how to find and evaluate in-vestment opportunities, made some good friends, and met a lot of Oberlin alumni with inspiring stories.
What about the philanthropy club?
I've discovered all kinds of amazing organizations that are doing good things for the community, and found that Oberlin students are actively involved in many of them.
Biggest fear?
Missing important happenings around me, or of others losing interest in what's going on in their local communities. When unsatisfied people don't appreciate what's happening in their own communities, or take an interest in improving their surroundings, they perpetuate the problems that are at the root of their own dissatisfaction.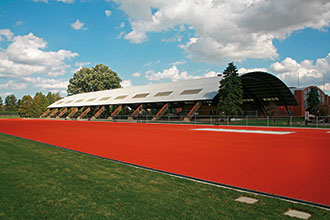 New Track and Field Runs with the Best
Thanks to the Robert Kahn Track and Fred Shults Field, Oberlin's new state-of-the art outdoor track and soccer/lacrosse complex, several Oberlin varsity sports teams expect to host national and conference-level championships in the next few years. Coaches, meanwhile, are just happy about the daily difference the new complex will make in the lives of Oberlin's scholar-athletes.
Robert Kahn '55 and Richard Bailey '51 funded the $2.2 million project, which includes an eight-lane, 400-meter track with a modern polyurethane surface. The track encircles an NCAA regulation-sized, 75×120-yard soccer field that doubles as a lacrosse field in the spring.
The track was built in the so-called European style, in which the radius of the turns is wider, allowing for more field space in the middle. The typical American track has tighter turns, limiting the width of the interior field to 55 or 60 yards.
Stadium seating will accommodate about 600 spectators, with room to expand in the future. The facility will have lights that will permit evening practices and games—a feature, says men's soccer coach Blake New, that will be a tremendous boon for the team.
"From an academic standpoint, it's very difficult for our student-athletes to transition from a 2:00 class and get ready to play at 4:30,'' New says. "And night games will be more of an event for the campus and the com-munity. I think it's going to be huge. We al-ready have top-notch facilities everywhere else.''
"This is an incredible upgrade—it's a world-class surface,'' says Ray Appenheimer, men's and women's track coach, who has led several individual conference champions. "We'll also bid to host the Division III national meet.''
Appenheimer also expects the better surface to help his program competitively. "It'll help push us to the upper echelon of the conference," he says.
The facility will boost women's lacrosse coach Deb Ranieri's ongoing, diligent recruiting efforts as she tries to build a high-quality team. Ranieri, in her fifth year at Oberlin, started out with only a handful of players who knew the game. This season, most of the players on her roster have had significant high school lacrosse experience.
Ranieri adds that the new track will be a far more effective training tool for her players when they toil through sprint workouts and timed miles as part of their conditioning. "The [older] track is really hard on the legs,'' she says.
The playing field within the track is named after Emeritus Professor of Athletics and Physical Education and longtime soccer and lacrosse coach Fred Shults '54. The first game at Fred Shults Field was played last August, when the men's soccer squad defeated Heidelberg College 2-0. The field was dedicated in September.
Winners!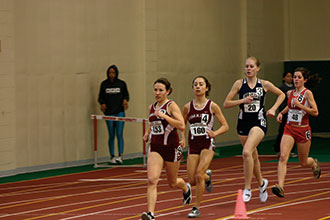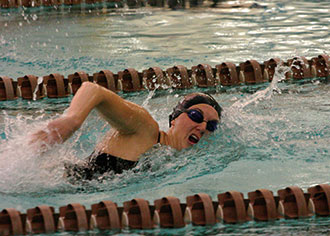 Congratulations to the Yeowomen's swimming and diving team, which earned its most dual-meet victories (6-3) in its 25 years after defeating Ohio Wesleyan 173-124 in January. The team also posted its first winning season (5-4) since 1989 and set 10 school records over the course of the year. Oberlin's cross country team, meanwhile, saw four students named to the U.S. Track and Field and Cross Country Coaches Association's All-Academic Team. Team member Joanna Johnson, a first-year student and 2007 NCAC Cross Country Champion, completed the 6K course in 22:48, earning NCAC Runner of the Year and NCAC Newcomer of the Year honors. Other All-Academic honorees are senior Marie Barnett, junior Nicky Ouellet, and junior Conor Doss. The track and field team coasted to one of its best NCAC conference finishes in school history in February, with the women placing third and the men finishing fifth. Read more at www.oberlin.edu/athletic/.