Child's Play
Oberlin Values in Action:
From time to time, OAM will spotlight alumni entrepreneurs whose work reflects their Oberlin ideals while also having an important impact on the larger world.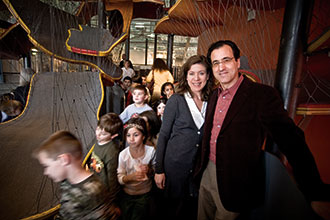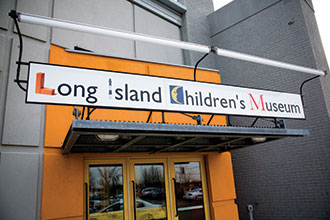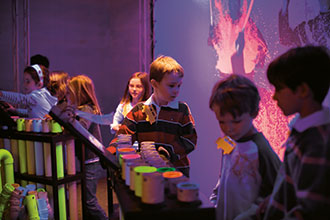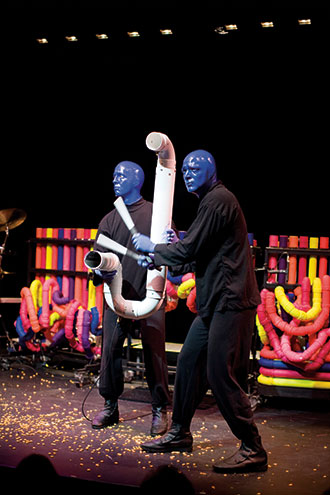 The Long Island Children's Museum gives kids a hands-on way to get excited about their world.
In 1989, three young couples, all residents of Long Island, New York, were having dinner together when the conversation turned to the dearth of activities in their area for families with young children. They talked about the children's museums they had visited around the country, when suddenly one said: "Why don't we start one?!"
That impromptu moment of nearly 20 years ago has a very tangible result: The Long Island Children's Museum (LICM), a lively, hands-on institution with a $5 million annual budget, 100 employees, and 65 volunteers housed in a 40,000-square-foot former Navy airplane hanger in Garden City. It is a source of great pride to Robert Lemle '75, chair of Oberlin's Board of Trustees, and his wife, Roni Kohen-Lemle '76, two of the six founders, and who have remained intimately involved with the museum since its inception. To this day, Lemle has continued to take a leadership role, serving since 1996 as president, and now co-chair, of the museum's board.
On a recent January morning, school groups and parents with small children spilled into the museum's airy, colorful space. A tiny girl doggedly made her way through a winding two-story climbing structure, her mother watching from the ramp below. Mothers and toddlers congregated in the TotSpot, which boasts, among other Long Island references, a railroad car with a real Long Island Railroad seat. Small children used water tanks and wands to create enormous bubbles.
One group of children experimented with a visiting exhibition of eccentric musical instruments inspired by the work of the Blue Man Group theater trio. In the 150-seat theater, donated by the Lemles, the Blue Men themselves performed a 15-minute version of their show for an invited audience of dignitaries, press, and giggling children. Upstairs in one of the workshop spaces, the pervasive smell of fish portended a fish-dissection and cooking workshop. In the Pattern Studio, cleverly placed mirrors turned a single person into a whole kick line. In the Communication Station exhibit, curated by Lemle, children examined such artifacts as a rotary telephone; guests could also broadcast the weather and create animations on up-to-the-minute equipment.
---
While the initial impetus for the museum was practical, the goal was always much bigger. From the beginning, say the Lemles, the project exemplified the core values they had absorbed at Oberlin. "The challenge to me was to create not just an inspiring place, but a self-sustaining institution," Lemle says. "Social activism, an important Oberlin ideal, is all about being a social entrepreneur, to improve society in some meaningful way. Long Island had been a bedroom community and, as a result, had developed few of its own cultural and educational institutions. This was a civic contribution that we could make: an institution that would be accessible to everyone and have an important impact on Long Island and our community." He adds, "The idea that one person can change the world? I have to say that it really takes a group of people!"
Accessibility, social activism, and the uniting of different segments of the community—all were implicit in the Lemles' plans for the Long Island Children's Museum. Today, LICM has adopted a broad, inclusive stance toward its community, serving not just visitors who can afford the $9 entrance fee, but also by reaching out to guests of all backgrounds, ages, and abilities with a kaleidoscope of programs and policies. The museum is not simply a winter substitute for Little League or a place where parents and children can find entertainment on rainy days, but a means for all children to explore the world, for parents and teachers to find resources to encourage that exploration, and for different segments of the community to meet one another.
Kohen-Lemle sees exploration as a key element of the museum's mission. "If you distilled our mission to its essence, it would be, 'Let's get excited about our world.' That's an Oberlin value to me—step out of your bubble, meet other people, share experiences, incubate ideas—and do so in a beautiful way."
Suzanne LeBlanc, who joined LICM as executive director in 2005, points out that children's museums, historically, have been important community institutions since the days of World War I, when the Boston Children's Museum, although struggling financially, decided to remain open because it was one of the few places in the community that had heat. "There's a big movement in museums to be accessible and multilingual, and children's museums, which often have the community as part of their mission, have led the way," LeBlanc says.
The germ of the larger institution was implicit in LICM's earliest years, but the startup work (which became a full-time job for the three women in the original group, all at home with their children at the time) was done by the six founders. That group, which included two lawyers (Lemle was general counsel of Cablevision Systems Corporation at the time), a writer, an artist, a teacher, and a musician (Kohen-Lemle), found that the project called upon all their skills. Aided by a part-time consultant, they developed a strategic plan and decided that by creating a small museum first, they would learn by doing. "Many institutions begin by hiring a consultant to conduct a feasibility study; we built our feasibility study," Lemle says.
The jobs included forming a 501(c)(3) not-for-profit corporation, getting a provisional charter from the state Board of Regents, raising $500,000, and finding rent-free space—5,400 square feet in an office building. Two of the founders attended a workshop on museum startups. The families took their children on exploratory trips to other museums (the Lemles' daughter and son, 3 and 6 at the time, were "secret shoppers") to examine models for exhibits and the museum as a whole. "From the beginning, we envisioned the museum as very interdisciplinary, creative, and housed in a vibrant space," Kohen-Lemle says. Adds Lemle, "We also wanted it to reflect social issues."
Lemle remembers vividly the museum's opening day in 1993, the weekend before Thanksgiving. "There was a line of people at the door that stretched along the first floor corridor, through the lobby, down the stairs, and out to the street," he says. "We were thrilled—and terrified. I went home that day and wrote a timed-ticket policy. We had days in our first year when the museum opened at 10 a.m. and all the tickets for the day were sold out by 10:15. We had to turn away literally thousands of visitors."
Plans to staff the museum entirely with volunteers were quickly reconsidered. A project director, who would become the museum's first executive director, was hired within two weeks. Because the building could accommodate just 98 people, LICM's first newsletter ran side-by-side headlines: "Museum Opens!" and "Board Begins Search for Larger Quarters." Projections of 25,000 visitors that first year swelled to 75,000 actual guests.
Those "larger quarters" became a reality in 2002 after securing a 60-year rent-free lease from Nassau County and conducting a capital campaign that raised over $17 million to convert an abandoned airplane hanger into a two-story museum. LICM now attracts some 265,000 visitors a year to its 14 interactive exhibits (13 ongoing, one rotating), workshops, theater performances, and cultural events that reflect art, science, music, technology, social issues, the natural world, and more.
With its expanded capacity, LICM put its commitment to community access into full gear. The KICKstart program, now in its sixth year, targets children and families from four of Long Island's neediest school districts. All preschoolers enrolled in a Head Start program and second- and third-graders make several field trips each year to the museum for customized activities. Teacher training and outreach to summer camps are offered. Special programs to promote family involvement are central to the program, with events for KICKstart families opening and closing the school year. Additionally, each family receives a free museum membership. So far, nearly 15,000 children have participated.
"The Long Island Children's Museum trips are very different from other museum trips because the children actually take ownership of their learning," says a third-grade teacher from Central Islip. "They go to the different stations and interact with the materials, and they become so excited because they are not afraid to touch things, not afraid to explore. And we know that one of the major ways that children learn is through exploration."
LICM also provides services atypical for a museum, such as a kindergarten readiness program for the nearby Uniondale School District, which has a fast-growing population of immigrant Latino families with limited English proficiency. Launched in 2006, "Juntos al Kinder/Together to Kindergarten" invites small groups of children to the museum every summer for a month of daily classroom activities. "We model kindergarten for children who have not been to preschool," LeBlanc says. Weekly workshops for parents offered in Spanish acclimate them to the culture and expectations of a U.S. classroom, enabling them to be advocates for their children.
The latest community project, "Be Together, Learn Together," funded by a $150,000 federal grant from the Institute of Museum and Library Services, is still in the planning phase. The museum is collaborating with the Nassau County Department of Health and Human Services and Family Court in serving foster and adoptive families and others served by these partnering organizations as well as providing a welcoming and positive setting for family supervised visitations.
"The county wants to change the dynamic of how people are served in social services buildings, and it approached us about doing something with families," LeBlanc says. Museum involvement may include such offerings as parenting workshops, museum memberships for foster and adoptive families, providing outreach for the county's welcome center, and creating a more inviting visitation room at the center. Once the parameters are decided, LICM will apply for a full implementation grant. "It will be quite a big initiative," LeBlanc adds.
The museum is also intent on making a better world through its ecological focus. A new outdoor exhibit, Our Backyard, is all about "ecology, gardening, and animals, and how everything is interconnected," says Hillary Olson, LICM's director of education. "Kids make a salad from the garden and eat it. Parents are stunned when the kids eat a radish! We have a composting project—the kids make their own composters in bottles and take them home with their own worms."
Such outdoor exhibits are expected to be the fastest-growing children's museum feature, says Lemle, who now has his eye on the unused airplane hanger next door, which LICM hopes to convert into an all-outdoor exhibition space. The $15 million expansion would be a very different process from that first start-up so many years ago, when the founding board of trustees did everything themselves. The Lemles acknowledge that managing the museum's transition into a mature institution—in which the board sets policy and does fundraising and leaves day-to-day operations to the staff—has been a challenge. "The museum was like our third child," Kohen-Lemle says. "Now it's an adolescent, and it's time to let it spread its wings."
With their own children now in college and applying to graduate school, the couple marvels a bit at the impact of that now two-decade-old bright idea. "At our 10th anniversary event five years ago, an 11-year-old boy said to me, 'I've been coming here my whole life,'" says Lemle, who can't help thinking about how amazing it will be to visit the museum with his own future grandchildren, remembering how he and his wife helped bring it into being.
Heidi Waleson, a New-York based writer, is the opera critic for The Wall Street Journal.