Teaching the Teachers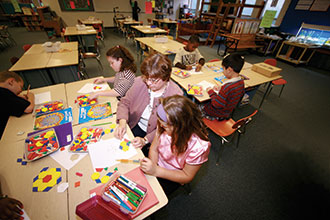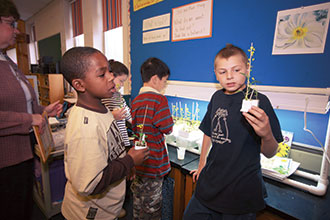 Today's educators face critical challenges. Oberlin is stepping in to help.
Oberlin is teaching teachers once again.
Founded 175 years ago to train teachers "for the boundless, most desolate fields in the West," Oberlin has been 30 years without a teacher education program in the Arts and Sciences. Come June, students, mentors, faculty, and indeed much of the Oberlin community will work together to expertly prepare a dozen new teachers each year.
"This program is built on the strengths of Oberlin College," says Deborah Roose, the Andrew and Pauline Delaney Director of the Graduate Teacher Education Program (GTEP). "We have high expectations—we want our graduates to come out able to teach anywhere in the country, help any student who has been struggling, and help change schools and communities."
True to Oberlin's values, says Roose, and its long history of preparing educators, GTEP goes well beyond the minimums needed for state licensure. It takes full advantage of the environment, knowledge, and resources of both Oberlin College and the city of Oberlin.
Roose previously helped create teacher education programs at two other small liberal arts schools. When she arrived at Oberlin two years ago, she discovered an excellent foundation: "First is the College's emphasis on social justice. Second, this school has great environmental resources, and at this point the world needs environmental educators. Third, the rigor of the academic study here is top-notch. And fourth, the town itself is an amazing, diverse community."
Teacher candidates will tackle a 12-month program that combines graduate study and a full school year in the Oberlin Public Schools. Successful completion leads to a Master of Education degree from the College and eligibility for initial teaching licensure in Early Childhood (grades PK-3) or Middle Childhood (grades 4-9), granted by the state of Ohio. The selective program will begin in June with 13 students and 13 public school mentors and their classes.
---
From day one, immersion is the operative word. Candidates will start working in the summer with the public schools' tutoring and summer school programs. They will spend at least three days a week in the schools during the fall semester and at least four days in the spring, including at least three full weeks of solo teaching time, all while taking graduate courses in the newly refurbished annex next to Oberlin's Lewis Center for Environmental Studies.
Getting a running start will be key, notes Kathy Jaffee, GTEP's liaison with the public schools, where she taught for 25 years. "As a new teacher, one of the most important things to understand is how you take a disparate group of students and turn them into a learning community," she says. "We've intentionally matched [GTEP] to the public schools' schedule, not the College's schedule, so that teacher candidates can experience the full range of planning and teaching that constitutes a year in a public school."
While all education programs require time spent working with an experienced teacher, preparing lessons, and working directly with students in the classroom, GTEP teacher candidates will be clocking weekly hours well above average. They'll sit in on staff meetings and parent-teacher conferences, and even attend professional development workshops.
The program will also give teacher candidates a taste of Oberlin community life by matching them with a local family with whom they will attend community and family events during the summer. In turn, each candidate will be a mentor and tutor for a child in the family for the full year. "This exchange will allow candidates to learn how communities affect schools," says Roose.
Week after week of balancing studies with an extensive immersion experience amounts to a lot of time, energy, and work, she says, but those who have taught know such preparation pays off. "Having an intense, rigorous year of professional education makes your first year of teaching—which many teachers say almost does them in—much less harsh," says Roose. "Districts who hire from programs like Oberlin's often say it's like they're hiring a second-year teacher."
Oberlin Public Schools Superintendent Geoffrey Andrews knows public school students will benefit from an additional adult serving in a teaching role on a regular, committed, and predictable basis. And GTEP students will receive an added bonus: Andrews looks forward to being able to hire future teachers from the program, "since we in effect get a year-long interview with each graduate student."
"There's a reciprocity there that we're really excited about," concludes Roose. "As our students grow, the education system in Oberlin will grow."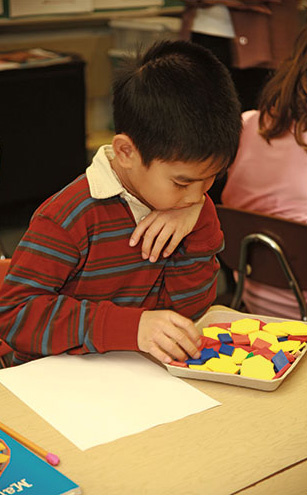 Three Ways You Can Support GTEP:
Alumni are Oberlin's best publicists. Refer prospective students (or yourself) to GTEP, or request copies of its new brochure to distribute or post in your community. If you work in a school system that might provide good job opportunities for GTEP graduates, let GTEP know.
If you work in higher education, consider being a GTEP contact person. "Undergraduates benefit from talking with people who know Oberlin, and they will pick up on your enthusiasm," says program director Deborah Roose.
Donate to the GTEP Gifts Fund. Roose says that scholarships for teacher candidates are always a pressing need.
For More Information:
Contact GTEP at GTEP@oberlin.edu or by phone at (440) 775-8008.
Visit GTEP on the Web:
http://oberlin.edu/teachereducation.
---
For information about the new Master of Music Teaching Program, visit www.oberlin.edu/musiced/mmt.
Learning to Teach
Unlike many teacher education programs that encourage education coursework at the undergraduate level, most GTEP candidates will come from liberal arts programs like Oberlin's, having few to no education classes. "About half of our applicants right now have gone off and done other things—the Peace Corps, practicing as lawyers, working at the Nature Conservancy—and now feel they should do something different," says Roose. "All will bring a strong background in their content area(s) and problem-solving skills, gained either from their undergraduate work or their career or volunteer expertise."
This approach garners rave reviews. "I personally believe that every teacher should have a non-education major as an undergraduate, and then get serious about teaching and pedagogy in graduate school," says Andrews.
Roose concurs: "The best teachers will be those who know their subjects well because that will allow them to be attentive to their students instead of their lesson plans. A broad liberal arts background is key to succeeding in this program. If you enter the program with solid content knowledge, we can teach you how to be a strong, beginning teacher in one year."
Andrews enthusiastically embraces the program as a way to educate the next generation of teachers. "The classroom immersion and academic preparation, compared with the standard prep that is typical of undergraduate teacher training programs, makes graduates of GTEP likely to be more effective teachers," he says. "They will have superior content area knowledge and a truer sense of what a teacher's day is like."
A Unique Position
It's no secret that our nation's schools face a range of challenges. Gaps are widening in academic performance and achievement. Social, economic, racial, and ethnic differences within communities add to the complexity. Some experts say major changes are needed if today's students are to compete in tomorrow's world—a world with problems they will soon inherit.
Oberlin's GTEP "is uniquely positioned to prepare its graduates even further thanks to the town's makeup," says Roose. Because the diversity of the Oberlin schools crosses lines of race, religion, class, and ability, she believes the schools are a perfect place "for a rigorous, exciting, and unique teacher education program where prospective teachers learn how to help all children succeed in school."
This diversity, adds Andrews, will make GTEP graduates very attractive candidates to the school districts that may employ them. National numbers certainly bear this out. A report by the Bureau of Labor Statistics describes a very positive job market for teachers willing and able to tackle poorer urban and rural districts. A surge in retiring teachers in the next decade, coupled with a high turnover of younger teachers in those poorer districts, means both plenty of job openings and plenty of room for GTEP graduates to help schools to improve.
Oberlin is also helping prepare its graduates for the likely curricula of tomorrow thanks to a planning grant from the Science Education for New Civic Engagements and Responsibilities (SENCER) Institute. The grant will support the development of an annual district-wide interdisciplinary project focused on the environment that contributes to the community.
History Lesson
From its founding, Oberlin produced scholars who strove to share their knowledge with others. Over the years, Oberlin formalized its work with a Teachers Department, an undergraduate major in education, and the first four-year degree program in music education in the United States. By the 1960s Oberlin had added Masters of Arts in Teaching (MAT) programs for both elementary and secondary education. But the face of education was changing.
"When the state clamped down with highly complex rules and regulations in the '70s, the teaching program was dismantled," explains Roose. The Conservatory retained its music education program and, in June 2008, will also begin offering a master's degree program, the Master of Arts in Music Teaching. (The undergraduate music education program is being phased out.)
Interest in teaching did not wane in the ensuing three decades. The most recent survey of professions of Oberlin graduates placed K-12 education seventh, and post-secondary education first overall. Oberlin students tutor and mentor dozens of youth year-round, and many teach at summer programs like Oberlin's MAD Factory or WAVE (Words Are Very Empowering) literacy program.
"Alumni and students were very important in getting this program running again," says Roose. Alumni in the late '90s specifically petitioned to have a teaching program reinstated. Former president Nancy Dye created the Oberlin Partnership with the Oberlin Public Schools in 2000. In turn, the partnership proposed to reinstate a program in teacher education at Oberlin that would deepen the connection between College and town.
It would take nearly seven years to navigate the difficult roads of state and national approval. "Where we are now is truly a testament to the dedication and interest shown by everyone involved —many, many everyones," says Roose with a smile.
Enthusiasm for the long-awaited program is strong. At a recent information session, potential applicants with majors ranging from economics to cinema studies to Japanese discussed their interest in working with children, their desire for solid work experience, and their fondness for staying in town, at least for a little while longer. The Class of 2007 earmarked most of its class gift to GTEP and the local public library for the development of curriculum materials. The Class of 1958 has designated GTEP as one of its 50th reunion class gift projects.
Within a few years, the GTEP staff hopes to prepare 21 teacher candidates per year. When coupled with their mentor teachers, they would directly affect at least one quarter of the students in the Oberlin Public Schools each year. GTEP also hopes to add a secondary education program (grades 7-12) in a few years.
The program's home at Oberlin bodes well for its success. "The best teachers learn how to use the resources of their town," says Roose. "This town has a college with an excellent art museum, a world-class music program, a top-notch environmental science program, students who want to help improve their world, and alumni who continue to stay involved."
And now, again, it has a teacher education program as well.
Aaron Mucciolo is a freelance writer and web designer in Oberlin.