Transforming the Ordinary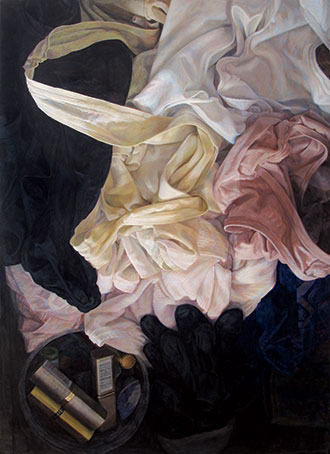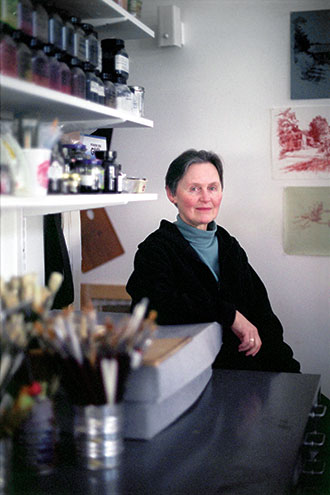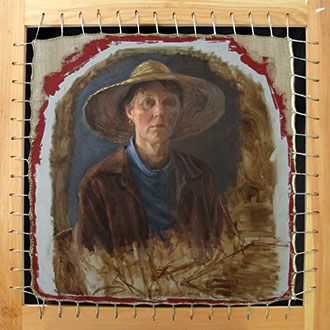 Artist Sarah Belchetz-Swenson '60 has two abiding passions: painting from life and studying the techniques of the old masters.
Sarah Belchetz-Swenson's six-foot-high painting, Open Drawer: Homage to Caravaggio, hangs prominently in her Williamsburg, Massachusetts, studio. A tour de force—one of many paintings, drawings, and prints she presents on this autumn day while talking about her long and prestigious career—the canvas embodies two of her abiding passions: painting from life what is close at hand and studying the techniques of the old masters.
In Open Drawer (pictured at left), silky camisoles in shades of ecru, pink, and white meld into a glorious jumble of fabric with opalescent highlights, the result of color layered upon color layered upon color. In the opposite corner, lipstick tubes, their metallic cases glinting, nestle with other cosmetics in a bowl. Everything else in the drawer—a patterned scarf, more lingerie, and leather gloves with wool-lined cuffs—the artist paints to enigmatic effect in tones of blue-black.
As Belchetz-Swenson's work on the painting progressed, Open Drawer became an homage to Caravaggio's Saint Matthew and the Angel. In that painting the startled Matthew is poised to write his gospel, while the angel, cocooned in a whirlwind of drapery, hovers over the saint he is instructing and inspiring. (Caravaggio's handling of that drapery is itself an inspiration, and its influence on Belchetz-Swenson is evident.) Both the saint and the angel appear brilliantly lit against a dark background, but the source of the light, and the direction from which it comes, are not apparent; the light seems to emanate from the figures themselves. Belchetz-Swenson's lingerie in Open Drawer gives off a similar glow; as Caravaggio's treatment of light evokes the divine, hers makes the mundane thrilling.
The distinguished Oberlin art historian Wolfgang Stechow, whom Belchetz-Swenson recalls as "a magnificent teacher; every lecture of his was a work of art," introduced her to Caravaggio and other 17th-century artists, notably Rubens and Nicolas Poussin. It took her years to see in Rubens what Professor Stechow so greatly valued. But his interpretations (and her first impressions) of Poussin's Et in Arcadia Ego—a meditation on mortality in which four shepherds contemplate a tombstone etched with the Latin phrase from Virgil ("And in Arcady I [implying Death] am too")—struck her immediately. It remains a strong thematic influence.
It is perhaps the sense of life subject to disruption, or the perception of the beautiful as fleeting, that makes Belchetz-Swenson focus on her immediate surroundings: the rolling hills and farmlands near her home, the people who inhabit them, and the ordinary objects she and they possess. Her paintings and drawings record what she sees, but not without an added complication or interference. Take the detailed sketch of a house she once lived in, over which she scribbled lightly with a pale ochre pencil. Or Elegy VI, the last in a series of carefully wrought drawings of her mother preparing to enter a nursing home. Over the drawing she splashed two separate, dripping washes of sepia ink and paint, shrouding the figure in darkness but illuminating the ravages of time on a once beautiful, proud woman.
Such techniques add aesthetic interest and emotional engagement; by "interfering" with her initial image, the artist reminds us of its transience—and our own. Belchetz-Swenson's take on Poussin's theme adds nuance to this interpretation. "Complication/interference represents a barrier. Something a mystic tries to overcome when seeking 'oneness,' or that which keeps us from becoming fully wedded to one another, from sympathizing and understanding," she says. "In my work each new project seems to engender its own kind of interference."
Belchetz-Swenson's Et in Arcadia Ego (1965), inspired by Poussin and Stechow, depicts two shelves in her kitchen. The top displays two bowls, two pitchers, and a stovetop espresso maker. The bottom shelf holds staples of the larder: cereal, rice, pasta, baking soda, brown sugar. A refrigerator occupies the space below on the right; the lower left is glaringly empty save for the outlet in which the refrigerator cord is plugged. One "complication" comes from imagining what Belchetz-Swenson's composition excludes. For the artist as a young mother and wife, the scene, painted from life, "seemed a perfect example of Poussin's theme," she says. "The subject appealed to me because of stark contrast: the daily-ness of the colorful boxes and jars; their empty subdued surroundings."
The Art of the Portrait
Belchetz-Swenson grew up in Larchmont, New York. Her formal art training began at age 9 with private lessons. At 13 she signed herself up for life-drawing classes at the Art Students' League and spent Saturdays there through high school; she remembers how the doors opened to the intoxicating odor of turpentine and paint. She got her first taste of art conservation in the lab at Oberlin's Allen Memorial Art Museum; later she worked under supervision in the Metropolitan Museum of Art's conservation department. Both experiences bolstered her commitment to understanding materials and using good ones properly. After graduating from Oberlin in 1960 as a studio art major (and an avowed figurative painter) she eschewed graduate school and the then-dominant tenets of Abstract Expressionism. But she did not stop studying.
Using Max Doerner's Methods and Materials of the Masters as a guide, she learned to underpaint—the process of "laying on" a "dead" color, usually gray, which is the first step in indicating tonal values. In 1966 she did 15 oil panels of her feet in the manner of artists ranging from Giorgione to Renoir. She borrowed an anatomical skeleton and got to work studying further the fundamental structure of human form and then scrutinizing that form in the flesh: "A trip to the supermarket," she once wrote, "could have a double agenda: to buy food, and to observe how the sinews of the neck attach to the collarbone."
With her 1971 series Revisions, Belchetz-Swenson proves she's also a masterful draftsman of architectural form. Based on Wooden Synagogues, a book of blueprints of Polish synagogues destroyed by the Nazis, Revisions grew from wanting to do something about the Holocaust but not wanting to veer from what she knew firsthand. By incorporating images of her children and surroundings with details from floor plans and cross sections of the structures, she seamlessly shifts a viewer's perspective from historical memory to testament of survival: in one pencil drawing a decorative cornice melds into a clothes dryer; in another her daughter sits, legs extended on a swing, its rope a natural extension of a roof truss.
Belchetz-Swenson's ability to convey emotion through gesture is evident in the 1980s series Rites, for which she used herself, her two daughters, and two friends as models in four black-and-white lithographs, four sepia monoprints, and 14 oil paintings. Shown at the University of Michigan Art Museum in 2000, Rites was inspired by her fascination with the Villa of the Mysteries, the ancient fresco cycle in Pompeii that depicts sacred cult rituals celebrating women's rites of passage. Belchetz-Swenson captures her models as they carry out such ordinary acts as putting on a coat or brushing hair—poses that surprisingly echo those of the female figures in Pompeii. To impart a sense of the strangeness of this highly interpreted frieze, she places the figures (in her paintings, for example) in an undefined black space, omitting the background and the props—the coat and the hairbrush. In these works, which tap into a spiritual realm, the mundane becomes mystical.
When Belchetz-Swenson signed on with the world-renowned Park Avenue agency Portraits, Inc., in 1979, her gift for creating what Theodore F. Wolff, in the Christian Science Monitor, called "speaking likenesses" that "probe and reveal character" earned her a word-of-mouth reputation and many independent commissions, primarily in academe. Her subjects include Oberlin past presidents Emil Dannenberg and Nancy Dye; Jill Kerr Conway, a scholar of women's biography; and Keith Reemtsma, chair and director of the department of surgery at Columbia University's College of Physicians and Surgeons.
Belchetz-Swenson's commissioned-portrait methodology includes spending several days getting to know her subjects, observing their mannerisms, deciding on color schemes and composition, doing preliminary sketches, and then taking black-and-white photos that become her ultimate studio models. Painting with exquisite, almost camera-like precision, she makes each commanding presence approachable, in some cases vulnerable. She perches Reemtsma on the edge of his desk in a white coat and scrubs; his face projects both the assurance and uncertainty inherent in his profession.
Posthumous subjects are her greatest commission challenges. Oberlin's Dannenberg was one, as was Aphra Behn (1640-1689), the first woman acknowledged to have been paid for writing in English. In Dannenberg's case, the artist mined her undergraduate memory of him, his legendary personal history, and found an excellent black-and-white negative in Oberlin's archives from which to work. Aphra Behn, a 1992 commission by the Huntington Library, was more problematic. Only three contemporary images of Behn exist: two engravings and a painting, none particularly a dead-ringer for the others. So she gleaned what she could from them and worked with a 17th-century apparition: a live model of similar body type, period-coiffed and costumed. Belchetz-Swenson's web site (www.belchetz-swenson.com) contains an account of painting a portrait she hoped might resemble Behn physically and suggests the author's indomitable spirit; she presented this talk at the unveiling and again in 2004 in Viterbo, Italy, where Behn's play Sir Patient Fancy was published in an en face translation. Belchetz-Swenson's Aphra Behn appears on the cover.
Historic Techniques
Drawing on others' interpretations might have proved less successful than "channeling" her own version of Aphra Behn, but Belchetz-Swenson used one artist's technique, and a replication of the material available in his era, to create a haunting likeness in her Self-Portrait Following RvR (2003) (above left).
The painting began as a demonstration of Rembrandt's technique, work she conducted as co-director of Northern Light Studio. On a rough-woven linen canvas, strung like a ship's sail with hemp to the kind of stretcher Rembrandt used, she first applied a rabbit-skin glue size followed by a seal coat of red ochre (a cheap and plentiful pigment). Next she underpainted a layer of warm gray. Then, like Rembrandt, she used van Dyck brown for the "dead" color, the stage in which to develop the drawing and composition. Over that she created her image using the few colors that comprised Rembrandt's palette: lead-tin yellow for the earring and highlights of the hat brim, and smalt, a mixture of glass and cobalt, for the turtleneck. Although the eyes are green, she used no green because Rembrandt used none; a mixture of yellow and black magically sufficed. The process was instructional, but the result is a revelation showcasing the master's methods and Belchetz-Swenson's creativity. She pays tribute to this great portrait painter in a canvas brimming with individuality and no hint of the copyist's slavish drudgery.
Northern Light Studio, founded in 1999 by art conservator (and current co-director) Phoebe Dent Weil, investigates such historic techniques of studio art practice—many forgotten or left to speculation—and teaches them to art historians, curators, artists, and the general public. Such work informs the field of technical art history, which studies the physical components of painting or sculpture in art-historical context. By making reconstructions, copies, or partial copies of an original work in the manner (and with the materials) of the original, NLS provides information and insight that scientific and historical data alone cannot. In hands-on workshops, such as one in conjunction with the Boston Museum of Fine Arts' 2004 exhibit Rembrandt's Journey: Painter, Draftsman, and Etcher, participants plunge themselves into the past by examining and using actual tools and materials.
Belchetz-Swenson and Weil formulated a theory—based on Rembrandt the etcher—about Rembrandt the painter's use of impasto (the texture produced by the thickness of pigment in a painting). "How he achieved these effects has been a topic of consideration ever since he died," she says. "I don't know how many secret recipes have been manufactured, how many speculations made about the way he painted, but my guess is that because he was a printer and a painter he knew about burnt plate oil, a basic ingredient of printing ink. He used it in his painting materials. If you add chalk to the mix, which he did, you achieve those effects very simply. We tried it and it works."
Trying it required following a process daunting to a layperson. To make burnt plate oil you boil raw linseed oil until it ignites spontaneously (800 degrees), reduces to about one-half its original volume, and becomes thick enough to pull from the pan in strings of 12 inches or more. Combine a small amount of it with lead white, drying linseed oil, small amounts of chalk, and voilà! Belchetz-Swenson and Weil produced paint with properties ranging from long and viscous to short and stiff, paint that in reconstructions approximated the whole range of Rembrandt's impasto effects.
Such conclusive results are controversial, but Belchetz-Swenson believes that an artist's studio practice, and familiarity with traditional technique and materials, are essential components in fostering a new understanding of the old; they are the basis for innovation as well. "Although the 21st-century art world may appear to have little connection with 17th- or 18th-century masters," she says, "there are many painters like me whose teachers had teachers who in turn had teachers and so on, forming a connection to traditional practice that extends back often hundreds of years." At venues such as the Smith College symposium, "Art of the Matter: Doing Technical Art History," Belchetz-Swenson advocates artists' continuing contributions to what she hopes may become a truly interdisciplinary field.
Chemistry has been crucial to Sarah Belchetz-Swenson's achievements. Whether she's observing a pigment's reaction to heat, interacting with a human subject to interpret how body language reflects an inner life, or adding interference to a serenely rendered scene, her experiments activate her innovative artistry. With works in progress at several stages, including Waking Up, a striking composition of diagonals that frame the view from her bedroom window, complication of a different sort looms: what to include in her next solo show, scheduled for October 2008 in Northampton's Oxbow Gallery.
Mary Bagg is a freelance writer and editor in Massachusetts. She coauthored the notes and introductions to The Oedipus Plays of Sophocles, translated by her husband Robert Bagg, with whom she is collaborating on a critical biography of poet Richard Wilbur.