Winer Term in South Africa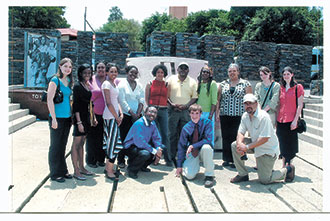 A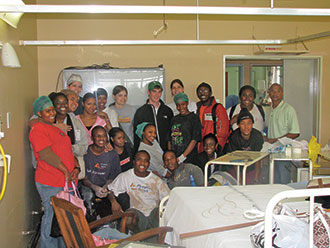 B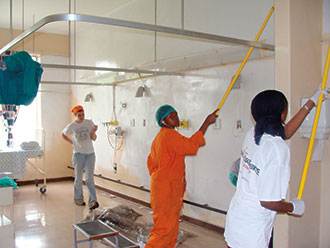 C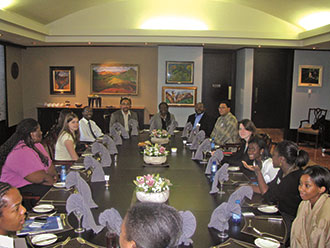 D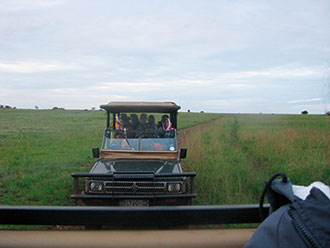 E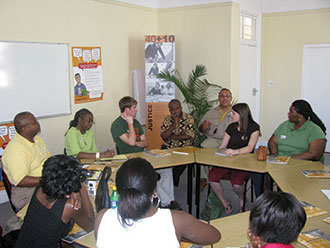 F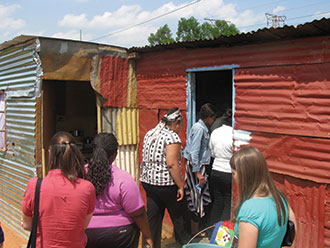 G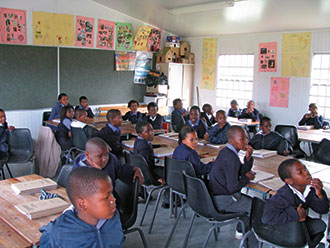 H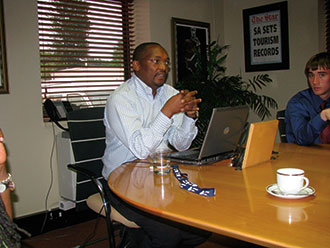 I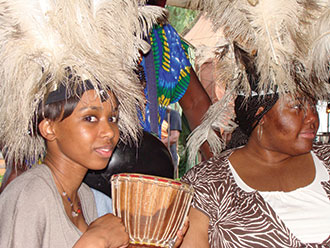 J
A group of students spent 22 days in South Africa during winter term working on a community development project in the Overstrand municipality (Western Cape province) and in Vereeniging (Gauteng province).
The trip was organized by a trio of faculty/staff members: Clovis White, associate professor of sociology; A.G. Miller, the Frances Ward and Lydia Lord Davis Professor of Religion; and Brenda Grier-Miller, associate dean, director of student academic services, and Agape faculty advisor.
Miller and White, who took a group of students to South Africa in 1997, said they were now curious to know what progress had been made since the apartheid machine had been dismantled, particularly in rural areas and small towns. Part of the trip's focus was to look at how religious-based non-governmental organizations are contributing to social development.
A Winter-term travelers included (front, l to r) Emmanuel Magara '11, Patrick Bourke '11, Clovis White, (standing, l to r) Caitlin Franc '10, Isoke Miller, Vanessa Coleman '10, Kristal Boyd '10, Asha Hannah '11, Yolanda Walker '09, A.G. Miller, Brenda Grier-Miller, Charlotte Collins '08, Jenny Gaeng '11, and Allie Mayer '10.
B, C The jam-packed agenda included partnering with two local church youth groups, the Seeker's Tower Ministries in Vereeniging and AFM Gateway Tabernacle in Rust-ter-Vaal, to paint ward three of Kopanong Hospital in Vereeniging, which serves an indigent population in the southern Gauteng province. D While touring the Standard Bank of South Africa, the country's largest financial institution, winter-term travelers took part in discussions about the area's economic development. E The Oberlin group also visited a wildlife game reserve, a trip hosted by Kennedy Bungane, CEO of the finance division at Standard Bank. F Students were given an overview of the social-political situation in South Africa by members of the civil rights organization Black Sash. Mary-ann Dougan, Black Sash's financial director, worked directly with noted activist the late Steve Biko. G The country's contradicting landscape was ever present, with class and economic lines existing literally side-by-side. In Soweto, the winter-term group toured an informal settlement and shanty neighborhood. The tour was funded by Benjamin Magara, CEO of Anglo Coal, who also sponsored a group tour of a coal mine in Vereeniging. H Stops were also made to Lukhanyo, a primary school in Hawston, and to the Human Rights Memorial in Sharpeville, the site of the 1960 Sharpeville Massacre that sparked a turning point in the human rights movement in South Africa. I Oberlin alumnus Moeketsi Mosola '93, CEO of South African Tourism, welcomed the students to his business, which markets South Africa as a tourist destination. J The students enjoyed a taste of authentic African food at Moyo, a popular restaurant chain.
Discussions about the black consciousness movement in South Africa were taken up with Richard Stevens, an activist in the African National Congress. Priest/activist/entrepreneur Edwin Arrison discussed his work as chair of Arabella Community Trust, an organization that supports community business projects. Arrison is also active with Black Economic Empowerment, a program launched by the South African government to redress the inequalities of apartheid. Finally, the group met activist Rev. Dr. Allen Boesak, the primary organizer of the United Democratic Front, which pushed the apartheid government to release Nelson Mandela and negotiated the country's transition to democracy.
Funding for the winter-term project came from the Minneapolis Foundation, the Geotrac Foundation,the Seekers' Tower Ministries in Vereeniging, AFM Gateway Tabernacle in Rust-ter-Vaal, and several Oberlin sources, including the 1835 Fund and Bonner Scholars. Additional support was provided by Afrikan Heritage House and the offices of the President, Admissions, Dean of Students, College Relations, and Development.