Losses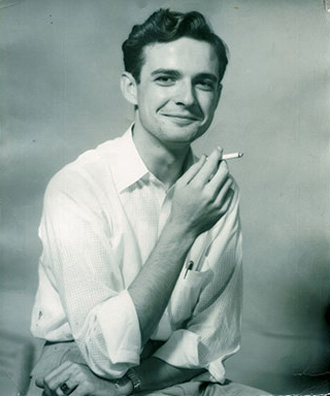 Garth Peacock '51
Emeritus Professor of Organ
If you knew Garth Peacock, chances are you knew where he was from—Protection, Kansas—because he would have told you, many times. He was proud of his small hometown in southwestern Kansas, which, most days has around 600 people. Garth's family was one of the few that didn't own a farm, although he worked on one growing up. His father, Jack, was the local mortician, mailman, and school bus driver. With his wife, Gladys, he ran a small confectionary. I'm not sure just how music came into Garth's life, but I believe it started with an accordion. Thankfully, he moved on to the organ.
Garth began his formal studies at Southwestern College near Wichita before transferring to Oberlin to study with Arnold Blackburn. At Oberlin he met his wife, Jean, a music major in the College who hailed from the rather larger metropolis of Chicago. After receiving the bachelor of music degree, Garth was inducted into the Army and reported to Fort Riley in Manhattan, Kansas. The chaplain, clearly thrilled to have a talented musician (and an equally talented typist) on base, asked that Garth be assigned to him. Garth always credited that chaplain with keeping him out of Korea at a time when the war was going very badly.
After his discharge from the Army, Garth returned to Oberlin to complete his master's degree, studying with Fenner Douglass. Still feeling the pull of his Kansas roots, he took his first job at Southwestern—a Methodist college that required all faculty to sign an agreement to neither smoke nor drink. Those who knew Garth also knew he enjoyed both of those things—immensely. Before long, Garth and Jean's apartment had become the local speakeasy. Shades were drawn, secret knocks were heard, and smoke and alcohol flowed freely. Three years later, still staying one step ahead of the college authorities, Garth took a job at Knox College in Galesburg, Illinois. During his first year there, a call came from Fenner Douglass, and thus began Garth's Oberlin career.
Garth loved teaching; in fact he was more than a teacher to many of his students. He was a counselor and friend, he even served as the best man at the wedding of one of his students. Garth's wild parties at 84 Elmwood Place were well known. To the howls of his students, and to the chagrin of his wife and children, he would invariably pull out his beloved theater organ recordings (George Wright was his favorite performer) as the evening wore on … and on … and on. During the day, he'd hold court in the Conservatory lounge and get to know students from all departments. I am amazed by how many Conservatory alumni I meet, many of whom never studied organ, who regale me with stories about Garth, often while blushing. (Think of what it must take to make an Oberlin graduate blush!)
Garth was also an accomplished performer who gave many recitals in the U.S. and abroad. In the fall of 1965 he studied with Andre Marchal in Paris, giving his family an unforgettable experience in Europe.
It was clear, however, even to his young children, that Garth always felt best while in his childhood home. Every summer he and Jean would load their five children into the station wagon for their pilgrimage back to southwestern Kansas. His mother still lived in the house in which he was born, and every summer Garth felt like he'd never left.
Garth's last faculty recital at Oberlin was in February 1987. He retired four years later, and the music literally stopped. The piano soon disappeared from the house, and, except for the occasional sound of George Wright, there was little evidence that a musician resided there. The pilgrimages to southwestern Kansas, however, continued until his failing health no longer allowed them.
Garth died October 7, 2007, at Oberlin's Welcome Nursing Home, less than two years after the death of his wife. He was buried with Jean's ashes on October 11. Where Garth is now is the great mystery, but I'm sure to him it looks and feels an awful lot like southwestern Kansas.
Ross Peacock is the director of Institutional Research at Oberlin College. This Memorial Minute was adopted by a standing vote of the General Faculty of Oberlin College on November 28, 2007.