Around Tappan Square
Apollo Purchased
Friends and Alumni Group Buy Historic Theater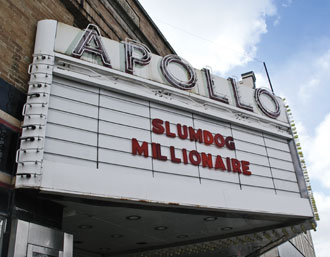 In hopes of preserving a cherished local institution, College Properties of Oberlin, a subsidiary of Oberlin College, purchased the historic Apollo Theatre in February. It is one of the few single-screen movie houses still operating in the United States. Cleveland Cinemas will manage the theater.
Oberlin's interest in purchasing the theater complex, which includes commercial and residential spaces adjacent to it, arose after it became clear that there were no viable alternatives to save it, says President Marvin Krislov. "The Steel family had put the theater up for sale months before, but no serious buyers emerged. Given the current state of the economy, it was not the best of times to buy a movie theater. Nor was it something we planned to do. But none of us could imagine Oberlin without the Apollo," he says.
Board of Trustees Chair Robert Lemle '75, who contributed to the effort, agrees. "It is important, given the difficult economic times, that the College was able to fund the purchase of the Apollo and its initial operating expenses entirely through private gifts," he says. "That reflects how important the theater is to the greater Oberlin community."
Others who funded the purchase and renovation of the theater were alumni, friends of the College, and local community members, including previous owners William and Sandy Steel; television director James Burrows '62 and his wife, Debbie Burrows; the Goldring Family Foundation; the Nord Family Foundation; and an anonymous Oberlin High School graduate.
The College is committed to maintaining the theater's historically valuable features, says Krislov. "Our hope is that the Apollo will become more than just a movie theater. We would like to see it become a venue for showcasing the wealth of theatrical, artistic, and musical talent that thrives in Oberlin. We also see it offering exciting new opportunities to students and faculty in our cinema studies and theater programs." Oberlin continues to graduate students who go on to have outstanding careers in theater, motion pictures, and television, such as Julie Taymor '74, Avery Brooks '70, John Kander '51, and Ed Helms '96.
The 840-seat theater was built in 1913 and purchased by the Steel family in 1928. That year, the Apollo screened the first "talkie," or sound film, in local history. It was last remodeled in 1950. The first phase of renovations, which consists of bringing the theater up to building codes, is expected to be completed this summer. A grand reopening will take place in the fall. In the meantime, the Apollo recently added matinees to its schedule of show times.
While the Apollo will continue to be a working movie theater, future plans include transforming other parts of it into a performance space and a venue for community events. For this part of the project, the College chose the architecture firm of Westlake Reed Leskosky, the same firm that designed Oberlin's Phyllis Litoff Building, currently under construction.
To financially support this phase, a Friends of the Apollo organization for local and national membership was formed. Fund-raising activities will benefit the theater's ongoing and future programming and educational outreach activities. The Friends steering committee members include actors Rhea Perlman and Danny DeVito, filmmaker Jonathan Demme, local arts advocates Kevin Flanigan and Jaqui Willis, and former students Elizabeth Ignat-Bausch '91 and Justin Ignat-Bausch '90.
For more information about Friends of the Apollo, contact Zachary.Pretzer@oberlin.edu. Marvin Krislov talkd to NPR about the Apollo purchase. Listen at www.wcpn.org/index.php/WCPN/an/24965/.
Editor's Note - Effective April 22, 2010: Since this article originally appeared, the Litoff Building has been renamed. Oberlin's new home for jazz studies, music history, and music theory is now the Bertram and Judith Kohl Building.
Watson Winner to Explore the Effects of Classical Music on At-Risk Children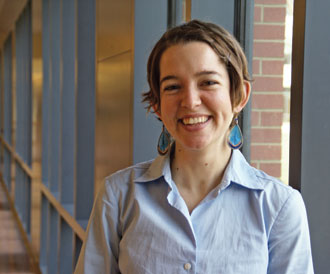 Danielle Koplinka-Loehr '09 is one of 40 students nationwide selected to receive a prestigious Thomas J. Watson Fellowship. She will use her $28,000 stipend to travel to four countries to examine youth orchestral programs that enroll street children, and search for the secret behind their success in a world where interest in classical music is waning.
Though the Watson program typically grants fellowships to 50 college seniors who "exhibit unusual promise" a year of independent exploration and travel outside the U.S., current economic conditions led to a decrease in the number of awardees; Koplinka-Loehr, a music education and trumpet and comparative literature major, is among the chosen few.
Koplinka-Loehr will study the success of four groundbreaking international musical youth education programs: El Sistema in Venezuela, Fundación de Orquestas Juveniles e Infantiles in Chile, Sinfonía por la vida in Ecuador, and In Harmony in the United Kingdom.
"When I return, I would love to work with one of several similar programs that are beginning in the United States, or begin my own program," she says.
It's Official, East College Street Project is Under Way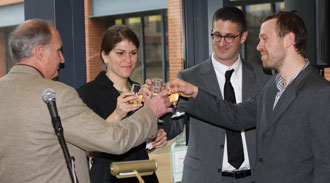 A tall, thin, and tired-looking Ben Ezinga '01 hunched over the microphone and silently wept. He, Naomi Sabel, and Josh Rosen would no longer have to wonder who among them would be the first to cry in front of the crowd of supporters that had gathered in West Lecture Hall this early March morning—they were all vying for first place.
It had taken eight long years of false starts and setbacks to get "the kids," as they are fondly referred, to this point. That's why the two-day-long groundbreaking celebration for the East College Street Project they started as students was all the sweeter.
Sabel '02, Ezinga, and Rosen '01 are redeveloping 2.3 acres of abandoned brown field in downtown Oberlin into a sustainable mixed-use complex with 33 residential units and 22,500 square feet of commercial space, thanks to investments nearing $16 million and supporters like Richard Baron '64 of McCormack Baron Salazar.
"As long as they were willing to keep working, there was reason to believe," Ezinga said of Baron and the many others who served as mentors. "These individuals not only assisted us, but helped to find new ways to bring businesses, living spaces, jobs, and tax revenue to Oberlin."
For more information, visit www.sustainableca.com.
Copeland Scholarship Keeps Family Legacy Alive
Financing a master of education degree at Oberlin will become a little easier for future Graduate Teacher Education Program (GTEP) students, thanks to a generous new scholarship fund.
The John and Delilah Copeland Scholarship Fund was established in October 2008 by a gift from Copeland family descendants, as directed by Brenda Pitts, the great-great-great-granddaughter of John and Delilah. The Copeland family has strong ties to the community, and, according to Pitts, John and Delilah were parents to John Anthony Copeland, who attended the Preparatory Academy at Oberlin College from 1854 to 1855.
John Anthony Copeland, who dedicated his life to the anti-slavery movement, participated in the Oberlin-Wellington Rescue and John Brown's 1859 raid on Harpers Ferry.
The Copeland family "instilled a sense of high self-esteem and a value for education, high integrity, and doing the very best job that you can do," Pitts says in an Oberlin College scholarship video. Many Copeland descendants, as a result, have become teachers.
The John and Delilah Copeland Scholarship will be awarded annually by the Office of Financial Aid to academically and financially deserving GTEP students to help them carry on the Copeland family legacy of excellence in education and the pursuit of social justice.
"Because Oberlin provided an opportunity for my great-great-great uncles and aunts to get an education, we felt it was our duty and responsibility to honor them by providing a scholarship so that other students can have the opportunity to receive the education that was so important to the Copeland family," Pitts says.
For more information, contact the Stewardship Office at stewardship@oberlin.edu or (440) 775-8569.
Green Amenities Abound in New Practice Space
A crack in a truss resulted in the closing of Jones Field House last February—the main practice space for varsity and club sports. The answer for a new facility, as it turned out, was only a few yards away. After partnering with Bostwick Design Partners and the Krill Company, Inc., the Department of Athletics has been busy converting the old Williams Ice Rink into a multiple-sport practice space. The adaptive reuse of the rink and added green features may result in the facility becoming the first Leadership in Energy and Environmental Design (LEED) Gold-rated building on campus.
The U.S. Green Building Council's LEED program is a third-party certification that sets nationally accepted benchmarks for the design, construction, and operation of high-performance green buildings. Besides the adaptive reuse of the ice rink, natural ventilation and skylights, abundant natural lighting, light sensors, enhanced commissioning of the mechanical and electrical systems, and many other environmental features will make the new field house a good candidate for Gold LEED certification, says Steve Varelmann, director of Facilities Planning and Construction.
The rink had ceased use as a skating facility in November 2001, when it fell into disrepair. It has since been used as a multipurpose building.
The new space, called the Williams Field House, serves as a year-round practice facility. The 25,000 square-foot building also features an 85-by-180-foot monofilament turf field.
Although Jones Field House was demolished, Varelmann says much of the material was recycled. Bricks were set aside for purchase by those seeking a piece of history. Visit www.goyeo.com/index.aspx for more information and to view pictures of the construction.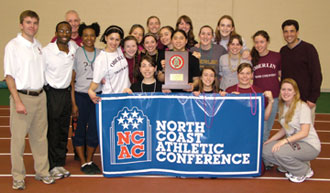 Yeowomen Claim their First NCAC Championship
The Oberlin College women's track and field team tied Ohio Wesleyan to earn a share of the 2009 North Coast Athletic Conference Indoor Championship crown in March. The Yeomen also matched their best-ever finish at the event by placing third. This is the first NCAC Indoor Championship for the Yeowomen and marks their highest finish at the event since 2000, when they placed second. Head Coach Ray Appenheimer was named NCAC Co-Coach of the Year, while senior Nicky Ouellet earned distance MVP honors.
For more visit www.goyeo.com/.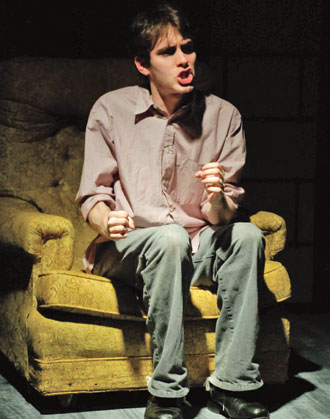 Oberlin's First Playwrights' Festival Packs the House
A lawyer who puts himself on trial for his wife's suicide is the focus of Dark Matters, a play written by Alex Huntsberger '09 and directed by Philip Waller '11. The production was one of two full-length one-act plays performed during Oberlin's first Playwrights' Festival from January 29 to February 15. In all, the festival showcased works written and performed by about 10 students and included five OShorts—one-act plays presented by the Oberlin Student Theater Association—and an original musical staged by the Oberlin Musical Theater Association. The event opened with a packed house. "Last fall, we had open submissions and received a handful of works," co-producer Josh Sobel '09 says. "We provided feedback to the writers who were not chosen, and during winter term, we held weekly playwright workshops. We really wanted to foster support for playwrights."
For more, visit new.oberlin.edu/arts-and-sciences/departments/theater_dance/dance/.
Journaling the Putnam
A Student's View Inside One Tough
Math Competition
Kateryna Kuksenok '11 likes solving problems that "force an unconventional method of thought." For the past two years, she has been a member of the Oberlin team that competed in the regionals for the world's most prestigious computer programming contest sponsored by IBM.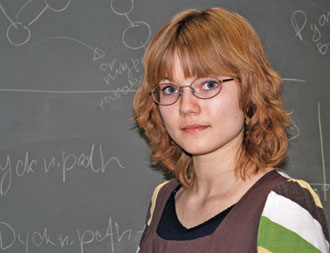 Her next challenge would be the most prestigious collegiate mathematics competition in the nation: the William Lowell Putnam Mathematical Competition.
Each year, some 2,900 undergraduates from 450 colleges and universities take the six-hour exam comprised of 12 problems worth 10 points each. The level of difficulty usually results in students earning far less than half of the total credit, with the median at, or very close to, zero. None of this was enough to deter the 21 Oberlin students from taking part in the competition.
The experience earned a young Kuksenok an impressive 18 points, but not until she had experienced six weeks of doubt, anxiety, excitement, and relief, as revealed in a journal she kept while studying for the test.
"I suppose I can feel good about embarking on the true path of enlightenment," she wrote, "but, mostly, I can't help but be frustrated every time I get a problem almost-almost-almost right."
Advantage Women: Female Players
Take to the Ice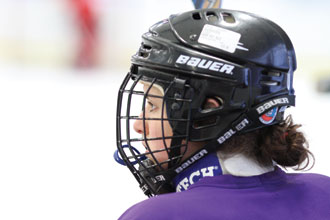 A large group of Oberlin spectators crowded the rink, avidly watching the Plague's match against Case Western Reserve. They ceased their rowdy heckling and came together in a single chant: "Let the girls play! Let the girls play!" The captain turned to Dianne Hurvitz with a dubious look, "Do you want to play?" Hurvitz grinned briefly, then covered her face with her helmet.
That was in 2001, when Hurvitz '05, currently earning a master's of education degree at Oberlin, was one of two female players on the Oberlin Plague, the College's co-ed club ice hockey team. Now women account for seven of the 22 players—the highest number ever. And they aren't just plentiful, "they're really good," says faculty advisor Cortland Hill '77.
In the last decade, ice hockey has become one of the fastest growing female sports in the world. According to Canadian sportswriter Jamie Fitzpatrick, women played their first recorded hockey game more than a century ago, but participation declined after WWII. The female sport didn't make a strong comeback in the U.S. until 1993, when the National Collegiate Athletic Association officially recognized the game.
The phasing in of women's hockey is visible in the continuum of experiences of many women on the Plague. Iliana Zamorska '10 of Connecticut, joined her high school varsity women's team after her figure skating coach broke the news that 5'10" was too tall for a female figure skater.
In contrast, first-year goalies Suzanne Herbst and Emma Karp have played nine and 11 years, respectively. Both began on youth leagues—Herbst in Vermont and Karp in New York—and later played on high school varsity teams. Karp also competed on a women's traveling league and considered playing in Division III.
But even for these veteran players, skating in the male-dominated arena of ice hockey brought its own struggles. As the only woman on her high school varsity team, Karp had to dress in a closet while the other players bonded in the locker room. Her coach even told male team members not to curse in front of her—special treatment that set her apart.
While Plague members share one locker room, playing on a co-ed team as a woman still has its challenges, namely, "the drive to prove yourself," says Zamorska.
"When I was in France last year, I didn't miss bagels or anything like that," she adds with a laugh. "I missed hockey. You get into a rhythm, and a certain time comes around and you want to be playing."
Club sports are student-initiated and student-governed activities. This year, Oberlin has 14 such clubs.
Mediation Techniques to be Taught at High School
When members of the Oberlin College Dialogue Center met with local high school students this year to discuss issues surrounding disenfranchisement—programming stemming from Oberlin's first Poverty Symposium—talking came easy for the young participants. Realizing that they could discuss their ideas with adults and community leaders outside the classroom proved to be the challenge. They needed confidence, says Yeworkwha Belachew, the center's director. It was exactly what her peer-mediation program could provide.
Peer-mediation, a service provided by the Oberlin Dialogue Center, is a student-to-student conflict resolution program. In turn, student mediators gain communication and listening skills, the same tools needed to effectively express themselves.
"There is nothing more empowering for students than to be able to own the outcome of the process," says Belachew.
"A lot of students want to work things out for themselves," adds William Baylis, principal of the 390-student Oberlin High School. "Instead of [administrators] telling students what they should do, the student will be taking the initiative."
Training for Baylis, his assistant principal, three teachers, and any student who wishes to learn how to be a peer-mediator is scheduled to begin in January.
"We are thankful to President Krislov and Superintendant Geoff Andrews for their encouragements," says Belachew.
Wave Makers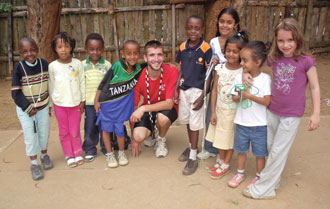 Michael Fry '09
Major: Psychology
Hometown: Richfield, Ohio
Avocation: Jump rope champion and enthusiast
When Michael Fry was a third-grader, he witnessed something amazing—a team of young people were jumping rope, but it wasn't your typical turn the rope and jump. They were performing double dutch, an exercise that involves at least three athletes who take turns doing a series of jumping, gymnastics, and dancing moves as two ropes twirl at lightning speeds. Fry wasted little time trying out for the team. Although he had never jumped rope before, the coaches gave him a chance.
Now 23, Fry, a member of the Akron, Ohio, based Heartbeats, continues to be fascinated by the sport. For 10 years he has competed in double dutch freestyle, single rope pairs, speed jumping, and double dutch team contests, in places as far away as Belgium and South Korea.
"Jumping rope has given me great opportunities to share with others," he says, referring to a winter-term project he designed in January that led him to several schools in Africa, including the Mkombozi Centre for Street Children in Tanzania and the Aga Khan Academy in Mombasa, Kenya. Armed with 200 ropes and instructional DVDs, Fry taught students there the art of jumping rope.
He hopes that his visit will lead to something more monumental—namely, having jump rope certified as an Olympic sport. Also a member of USA Jump Rope, Fry says the Olympic committee requires a minimum of 75 countries on four continents to sign on before any new sport is accepted. Thus far, more than 30 countries have signed up.
"Jumping rope brings people together because it promotes teamwork," he says.
Awards Earned: With Akron Heart-beats, Fry earned national championships in 2005 and 2006 and second in the 2006 World Cup meet. He also won a national competition for double dutch pairs, freestyle, in 2007. With Team USA, he won a gold medal in the junior mixed division in 2002 and took a silver medal in the 2004 grand masters competition. He was recently granted an Oberlin Creativity & Leadership Fellowship to start up national jump rope programs in Tanzania and Kenya.
—Marsha Bragg
To learn more about double dutch, visit nationaldoubledutchleague.com