Oberlin Beyond Oberlin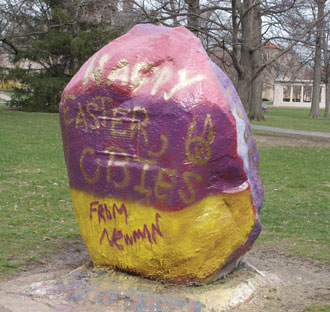 Boulder Statements
Laura Paxton, born and raised in Oberlin, launched her web site Oberlin Rocks (www.oberlinrocks.com) this past December to celebrate and commemorate the art and community news regularly slathered onto the stones in Tappan Square. So far, Paxton has gathered and posted more than 30 photos, ranging from talented high school art club reproductions of Picasso's Old Guitar Player, to anniversary announcements, and of course, three different Obama rocks (rock the vote, perhaps?). Paxton also includes the rocks' history—two were placed in monument to the classes of 1882 and 1898, and the third, a chunk of gneissoid granite from Erie County, to honor Oberlin founders John J. Shipherd and Philo P. Stewart, unveiled at Oberlin College's centennial in 1933. Since 1962, when they were painted as giant Easter eggs, the rocks have served as Oberlin's sacred stones, carrying news of the events and relationships in the lives of those who, like the stones, circle Tappan Square. If you have pictures of the rocks, e-mail them with dates and descriptions to Entries @oberlinrocks.com with Entry in the subject line.
Party Politics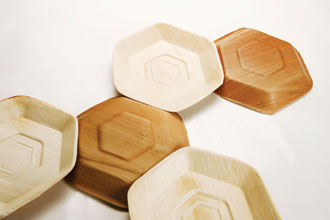 We all know to eat our vegetables, but what about eating with them? Emily Doubilet '06 serves up a series of delectable, disposable dishes on the web site of her new company, Sustainable Party (sustainableparty.com), explaining, "We love a good party. We want the next generation to love them, too." Doubilet's partyware is completely compostable—from the corn cups to the plant-starch cutlery. She's even working on an "After Party Take Back Program," so users can ship their dirty dishes back to the company to be composted professionally. To complement your leafy salads, Sustainable Party carries VerTerra wear, a state-of-the-art series of plates and bowls pressed out of fallen leaves. But Doubilet is peddling more than just products; she's sharing ideas. At sustainableparty.com, you can download a free "best practices guide" with tips to organize your own green party.
Obie Blog Watch
Blogger:
Jeremy Denk '90, doing blogger business as Think Denk
Tagline:
The glamorous life and thoughts of a concert pianist
URL: jeremydenk.net/blog
Sample:
"This week brought fresh revelations that the Boston Symphony, among many leading organizations, is heavily leveraged in atonal credit swaps, more than the most pessimistic theorists had previously forecast."
—From a March 19 satirical posting called "Leveraged."
Oberlin's Stamp on History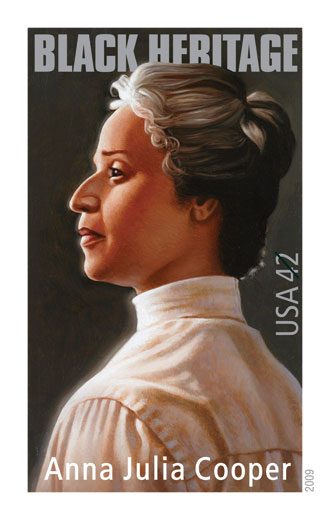 Although we haven't checked the archives to confirm, we're pretty sure that the class of 1884 has the highest rate of appearances on U.S. postage stamps of all Oberlin classes.
Anna Julia Cooper and Mary Church Terrell, two of Oberlin's earliest African American female graduates, were inducted into the United States Postal Service's (USPS) Civil Rights Pioneers and Black Heritage stamp series. The February release of the Civil Rights Pioneers stamp collection featured Terrell among other civil rights leaders; in June, Cooper will become the 32nd inductee into the USPS's Black Heritage stamp series.
Mary Church Terrell was a journalist, activist, educator, and driving force behind the African American women's suffrage movement. Born in 1863 in Memphis, Tennessee, to former slaves, Terrell earned a bachelor's degree in classics at Oberlin in 1884 and a master's degree four years later. While at Oberlin, she made her mark, writing for and editing the Oberlin Review.
Anna Julia Cooper was an educator, scholar, feminist, and activist who gave voice to the African American community during the 19th and 20th centuries. She tirelessly fought for social justice and civil rights for African American women, young people, and the poor through her scholarship, community outreach, and innovative educational leadership. She is best known for her educational leadership, her challenges to the racist notion that African Americans were naturally inferior, and her 1892 groundbreaking collection of essays and speeches, A Voice from the South by a Black Woman of the South. Born into slavery around 1858 in Raleigh, North Carolina, Cooper entered Oberlin College in 1881 and earned a degree in mathematics in 1884.
At least two other Oberlin alumni can be found on U.S. postage stamps: Nobel Prize winner and physicist Robert Millikan, class of 1891, appeared on a 37 cent stamp issued in 1982. In 1968 the U.S. postal service issued a 50 cent stamp featuring pioneering feminist activist Lucy Stone, class of 1847, as part of its Prominent Americans Issue.
Yeobook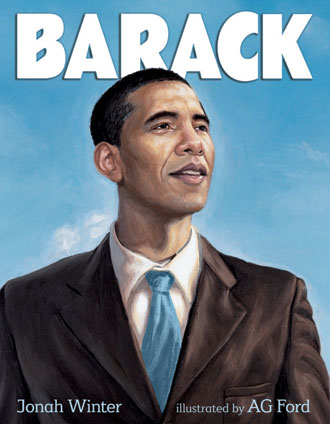 Barack, a picture book written by Jonah Winter '84 and published by HarperCollins, was one of three books about Barack Obama that shared space on the New York Times' picture book best seller list following Obama's inauguration. Winter has written books for children about musicians Benny Goodman and Dizzy Gillespie, artist Frida Kahlo, boxer Muhammed Ali, and baseball players Roberto Clemente and Sandy Koufax, among others. He has also written books of poetry for grown-ups, including the collection Amnesia, which was published by Oberlin College Press after winning the 2003 FIELD Poetry Prize.
Blair Waldorf, Class of 2013?
Many alumni were surprised and amused to hear their alma mater name-dropped on CW network's Gossip Girl earlier this year when the evil-doing character Blair Waldorf's plans for attending Yale are torpedoed by her evil-doing. "It turns out," she says, "I can still get into Oberlin."
One alumnus not surprised about the reference was Lenn Rosenfeld '01. He co-wrote the episode.
"Oberlin is a big part of who I am, and is largely responsible for my moving to L.A. a week after graduation and taking the plunge into the biz. So any chance I get to give Oberlin a shout out, I do it," he explains.
But does he really think Blair and Oberlin are a good match?
"There's a place at Oberlin for all different kinds of people—even the Blair Waldorfs of this world," says Rosenfeld, who's been with the show since it began two seasons ago. "That's what makes Oberlin, Oberlin."
Lillie Chilen '08, Aisha Hadlock '10, Jeff Hagan '86 and Harmony Pringle '11 contributed to Oberlin beyond Oberlin.