Reframing the
Big Box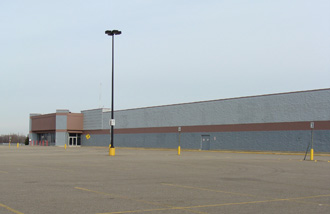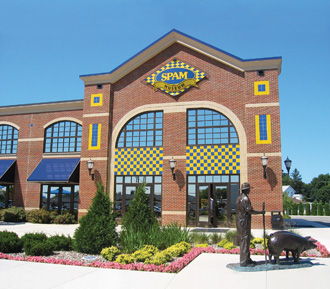 Visiting Professor Julia Christensen takes a look at what happens once the big box empties out.
Six years ago, Julia Christensen noticed that someone was finally doing something with one of two abandoned Wal-Mart stores in her hometown of Bardstown, Kentucky.
In Bardstown, as in other places around the country, Wal-Mart had expanded its operations by shedding its big box husks and building other, bigger stores elsewhere—leaving behind massive parking lots and all the complicated infrastructure created to power the buildings, regulate traffic, and handle water and sewage needs. One of the empty Wal-Mart stores had been demolished to make way for a courthouse. Christensen wondered if other communities saddled with abandoned big box stores were figuring out new uses for them.
Her curiosity led her on a multi-year, 75,000-mile odyssey around the country, where she discovered communities transforming their big boxes into libraries, indoor racetracks, museums, and more. Her book, Big Box Reuse, published by MIT Press, is not only garnering lots of attention but is also contributing to the national dialogue about such issues as public space and sustainability. The book is also part of the American Association of Academic Presses "Best Of" academic books exhibition, which is traveling internationally through April 2010. Christensen, who has a joint appointment in the College and Conservatory as Oberlin's Luce Visiting Professor of the Emerging Arts, calls the whole project an intersection of art and research.
"It started as a video and photography project," she says. "Then it grew into a storytelling project. Universities and city councils and other groups asked me to come and talk about my research, so it became a lecture. Then people started to say that these stories needed to be written down, and it became a book."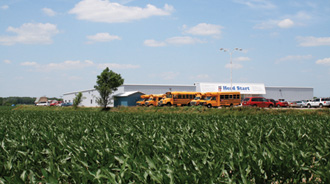 Former K-mart stores that were given new lives as a Head Start program in Hastings, Neb. (above), and a library, museum, and cafe in Lebanon, Mo. (below). (photo by Julia Christensen)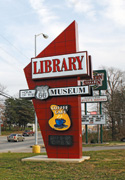 Like the big box reuse project, Christensen herself defies neat categorization. She's a photographer with works in several concurrent shows, including a touring exhibition called Worlds Away: New Suburban Landscapes that has traveled from the Walker Art Center in Minneapolis to the Carnegie Museum in Pittsburgh, and is currently at the Yale University School of Architecture Galleries. Her new media, video, and installation work has been shown at the Lincoln Center in New York, the Miller Gallery at Carnegie Mellon University, and other venues. She's played and performed music all her life and is the director of WAAM!, the Women and Art Music Ensemble at the Conservatory. She's an actress who's been part of The Yes Men, a group that "exposes, perhaps deviously, the nastiness of powerful evildoers." When it was time for her to declare a major at Bard College, nothing encompassed all her interests, so she helped create a major in integrated arts.
"I've always had a passion to open passageways between the arts," Christensen says. "Coming to Oberlin was a magical thing for me. I've been able to pull from my varied background and create a curriculum that both fills gaps at the school and allows me to be me."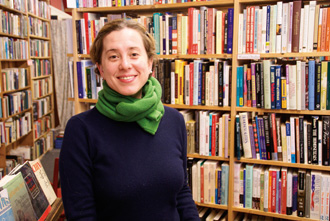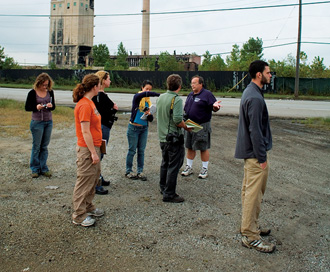 "There are hundreds and hundreds of these empty big box buildings … so it's not like they just go away."
Last fall, Christensen's course Land Arts of an Electronic Age drew students from a variety of disciplines to study ways in which contemporary artists connect with and interpret the environment. The students took a three-day field trip to Gary, Indiana, where they explored the vast industrial wasteland left by the waning steel industry. They followed up with research and an artistic response: kinetic sculpture, poetry, dance, an interactive audio installation, and more, all displayed in a November show at Oberlin's Fisher Gallery.
"The class opened my eyes to a whole new way of exploring the environment and our place in it," says environmental studies major Margaret Kent. "It was unlike any other class I've taken at Oberlin."
Christensen thinks that same phenomenon—the way the arts give people a different way to look at issues—lies behind the success of Big Box Reuse. When she visited communities to photograph and capture the stories of their big box projects, they opened right up.
"I'm an artist—not someone from city council or a corporation, not someone they see as having an agenda," she says. "And when I frame their work as a creative act, it's very empowering and exciting for them."
It's also exciting for communities who are stuck with abandoned big box stores to see potential in the hangar-sized monsters in their midsts. Christensen has received so many calls and e-mails from people looking for the resources to launch similar projects that she created a wiki web site, Wikireuse, where people can post their ideas and questions. So the Big Box Reuse project is not only reflecting change, it's helping effect it, too.
"There are hundreds and hundreds of these empty big box buildings," Christensen says. "Most of the buildings in the book were put up in the 1960s, so it's not like they just go away. My hope is that maybe we can alter the construction of them, and that design issues can go into the hands of communities, rather than corporations."
Kris Ohlson is a freelance writer in Cleveland.
From Our Town to Your Town, Inc. Carnegie Mellon exhibit and MIT Press book built on Oberlin foundation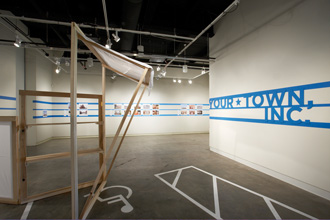 The UnBox, the central installation of the Your Town, Inc.: Julia Christensen exhibit at Carnegie Mellon's Miller Gallery, was built by the artist with help from Oberlin student interns last summer and designed with an ethos exactly the opposite of that behind the big box.
"The UnBox was built of locally milled wood, and we never entered a big box store in order to build it," says Christensen. "We only bought materials and tools at local stores, including Oberlin's Ben Franklin, Watson's Hardware Store, and Dave's Army/Navy. It is modular—a 1,500-square-foot structure that folds up into a box of about 5-by-9-by-6 feet, with shelves and tunnels and screens that fold out." The structure, she adds, was carted from Oberlin to Pittsburgh by Sam Merrett '05 in a vegetable-oil-powered truck.
Your Town, Inc. also featured photographs from the MIT Press book Big Box Reuse. The book had its major launch at the Carnegie Mellon gallery in November.
The Re-Purpose Driven Life: An OAM request for photos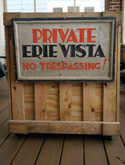 "Adaptive reuse" is a term used for taking often obsolete or unwanted objects and giving them new purpose through a few creative adaptations. For instance, a pair of broad, old-fashioned water skis can find new life as sleek shelving, or discarded pallets can be transformed into garden sheds. Adaptive reuse keeps useable material from the landfill and lessens the need to make and buy new.
If you've taken on such a project, we'd like to see it. Take a digital picture of what you've created (or rather re-created) and e-mail it to us at alum.mag@oberlin.edu. We'll publish pictures of some of the best in a future issue of OAM.
Pictured: an old crate-turned-outdoor-bar created by OAM editor Jeff Hagan '86, with the help of an antique sign given to him by Peter Jacobson '86.