Living for a Laugh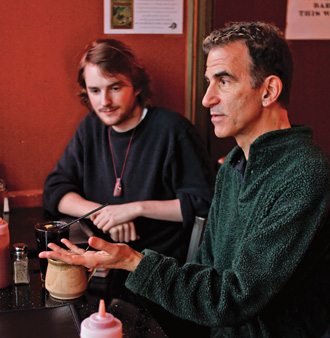 The most popular unknown playwright around, Rich Orloff mines the universe for humor.
One afternoon back in the late 1980s, a very funny man named Richard Orloff sat down at his desk and asked himself the following question:
What if the entire universe is just some nerd's science project?
Because Rich Orloff '73 is a comic playwright, his answer to that question eventually became The Whole Shebang—an award-winning and often-produced one-act play in which two ordinary human beings (Harvey and Edna, from Dayton, Ohio) discover that "the heavens and the earth" are actually nothing more than a college nerd's desperate attempt to earn a decent grade in a science course.
For the wildly unpredictable Orloff—an increasingly popular playwright whose wacky and often deliciously irreverent comedies have received more than 600 stagings—The Whole Shebang was a splendid opportunity to do what he does best: make theater audiences laugh their guts out.
Recently described by the New York Times as "rip-roaringly funny," the once-upon-a-time TV sitcom writer has spent most of the past two decades assembling more than 70 plays (many are sketches or one-acters) aimed at turning audience expectations on their heads while also evoking howls of unrestrained laughter.
Ask Orloff a serious question about the "themes that inform" his plays, and he'll stare at you like you just arrived from Jupiter.
"Sorry, but I never ask myself questions like that when I'm writing," he'll tell you with a groan. "That's the kind of question a theater professor might ask, but not me. What I do is to simply imagine a situation, often sparked by a thought that tickles me or a bit of dialogue that pops into my head.
"After that, I ask myself one of the most important questions in the world of theater: 'Will this situation play? Will it make an audience laugh? Can I find the humor that's potentially contained in that situation, if I work at it hard enough?"
"I think what's unusual about me as a playwright is that I've had this really strange, under-the-radar kind of career. I'm not a household name in the theater by any means … and yet almost every week they're doing a play or two of mine somewhere. And when I do the math, I realize, oh my God, I actually am making a life out of this."
Quite frequently, he can. During more than 30 years of entertaining TV viewers and theatergoers on six continents (his comedy Oy! was a recent hit in Bulgaria), the endlessly innovative Orloff has learned that one of the best ways to get a laugh (and this man lives for laughs) is to "turn the audience's expectations back on itself" in a comic reversal.
Visit Orloff's web site (www.richorloff.com), for example, and you'll quickly notice an intriguing menu choice that promises a revealing look "inside the playwright's head." Click on that item and you'll find a nicely detailed set of x-rays of the playwright's teeth.
That's vintage Orloff, and nowhere does his knack for crafting zany one-liners shine more brightly than in The Whole Shebang, an outrageous comic extravaganza which so far has been produced more than 100 times around the world, including for broadcast on A&E (and which also earned inclusion in The Best American Short Plays, 1994-1995).
In Shebang, Orloff launches the mother of all comic reversals—a scenario in which two ordinary humans from Dayton (still clad in their nighttime pajamas) are unexpectedly summoned to meet their maker.
Imagine their surprise when Harvey and Edna discover that their creator is actually a science nerd in another dimension who invented their entire cosmos as his end-of-the-semester project. Appalled and terrified, the duo struggle to come to terms with the fact that they're actually nothing more than a glorified term paper:
Harvey: Uh, can I ask you a question?
Student: Yes?
Harvey: Who the hell are you, and why are we here?
Student: Well, since you asked, my roommate teleported through a warp in dimensional barriers to Dayton, Ohio, where he realigned your molecules into a pure energetic code. Then he teleported you here and, having analyzed your cellular structure and DNA, re-atomized you into this dimension.
Harvey: Yeah, I figured it was something like that.
Student: Don't worry. This is just what, in our dimension, is the equivalent of one of your universities. These [two onlookers] are professors in my department, and I'm a student. You're just here as part of my project.
Harvey: Oh, yeah? And what's your project?
Student: I created the heavens and the earth. (It takes a moment for this to fully sink in on the humans.)
Harvey: Wait a second. Are you telling us that you're—
Student: I am who I am.
Edna: Sounds like him.
Harvey: You mean to tell us that, like, the universe is just like … a science fair project?
Student: More or less.
Harvey: Suddenly I feel so cheap.
One of America's most popular unknown playwrights?
Spend a few hours hanging out with Orloff and you'll soon discover that one of his favorite comedic targets is himself.
"I think what's unusual about me as a playwright is that I've had this really strange, under-the-radar kind of career," he says over a cup of coffee at the Feve Bar and Grill in Oberlin. "I've yet to have a big break on Broadway, off-Broadway, or even at a major regional theater, but many of my plays have become enormously popular at smaller professional theaters and amateur groups, on college campuses, and at high schools all around the country.
"I'm not a household name in the theater by any means … and yet almost every week they're doing a play or two of mine somewhere. And when I do the math, I realize, oh my God, I actually am making a life out of this.
"I'm probably one of the most popular unknown playwrights in America today."
Orloff isn't exaggerating. As the winner of several regional and national awards for playwriting, he's earned high praise from critics over the years for dozens of side-splitting comedies ranging from sketches to full-length works. Among the most widely-produced plays are such gems as the one-act farce Oedi, "a retelling of the Oedipus Rex story, which focuses on the fact that if Oedipus married his mother, she had to be old enough to be his mother. It's sort of Sophocles meets the Marx Brothers"; Oy!, "a collection of 12 (but for you, 13) short comedies, a comic tribute to all things Jewish and all things human"; and the sketch At the Orgy, a parody of Abbott and Costello's classic routine Who's On First?, featuring a novice at an orgy trying to get to the bottom of the question, "Who's on top?"
One of his own favorites is Domestic Tranquility, a full-length comedy about a trio of escaped convicts who hide in a family's home and are driven nuts by the family. (Other than the part about the escaped convicts, Orloff claims it's autobiographical.)
After success in TV, he left
it all behind
Born and raised in Chicago as the fourth and youngest child of a hardworking trade show manager and a stay-at-home mom who together maintained a "classic, mid-20th century, middle-class home," Orloff arrived at Oberlin in the fall of 1969. Shy and self-critical, he was interested in theater but had trouble connecting with "an extremely avant-garde theater program in which everything seemed to be very dark and edgy, but they didn't seem too interested in such basics as character development and writing effective dialogue.
"I took a few theater courses," Orloff says, "but nothing seemed to really click. It was very intense, but so far out. When one student wrote a play about giving birth to a refrigerator, everybody in the program loved it. That wasn't for me. So instead of writing plays, I decided to have a go at comic essays."
Eager to develop his writing skills, in the summer before his junior year Orloff wrote four sample humorous op-ed essays, hoping to earn a spot as a columnist on the Oberlin Review. Marcie Berman, the editorial page editor at the time, rejected three of them. But she liked his parody of the then-popular novel Love Story by Erich Segal.
"Amazingly enough, people read it and laughed!" Orloff says now. "So I wrote another piece, which the Review also published, and another and another, and by the end of the school year the Review had published over 20 of my pieces. It was the first time I realized that my sense of humor actually had value.
"I'd go into the dining hall before dinner, and as people were opening the Review, some of them were looking to see if there was something of mine in there, which was thrilling enough. But then I'd see them reading it and laughing out loud, and that was just wonderful. Today, when I tell people that I love Oberlin, that's one of the stories I tell them in order to explain why.
"Of course, losing my virginity is a close second."
After earning his degree in 1973—a watershed year that marked the end of U.S. participation in the Vietnam War—and after a short stint as a newspaper reporter, Orloff moved to Los Angeles, where within a few years he began writing for such sitcoms as Three's Company, Mama's Family, and Flo.
After a few years beneath the California palm trees, however, the Chicago transplant realized he wasn't happy. As a matter of fact, he hated his life.
"Basically, I woke up one day and realized that I was miserable writing for television," he recalls. "That experience taught me a great deal about the discipline of scriptwriting, but I rarely enjoyed writing for the shows I was given an opportunity to write for, and by the time I was working, the kind of groundbreaking sitcoms I admired (All in the Family, the Mary Tyler Moore Show, M*A*S*H), were no longer being produced.
"In most of the jobs I had, I would write scripts and hand them in, and the producers would say: 'We're sorry, Rich, but we don't like this and we're gonna rewrite it completely.' Or else they would say: 'Oh, Rich, this is absolutely fantastic—and we're still gonna rewrite it completely.'"
After a few years, Orloff grew weary of working with other writers on scripts that included relatively little of his own individual creativity. "I remember one show that was seen by millions of people, and I remember sitting around a table with six other writers, revising a script of mine—and I was so bored that I was just counting the hours to the end of the day. I was making a good living, but I didn't feel alive."
By the mid-1980s, Orloff had had enough, and he began writing plays. "My inner voice always told me, 'You're a playwright.'" Hoping to further both his career and his craft, he moved to New York in 1988. It was slow going at first, he says. "I got an incredible number of rejection slips, and there were days when I wondered if I'd be able to hang on. But I stayed with it. By then, I believed I had talent. What took time was developing my craft."
Orloff says he got a "major boost" in his change of vocation from his beloved alma mater. Always active in alumni affairs (he's been both a class president and class agent), he was fascinated to learn that the College planned to sponsor a special theme reunion weekend focusing on campus life during the tumultuous years of the Vietnam War (1965-74). Deeply interested, Orloff volunteered to write a script for the event. "I was delighted—or perhaps more accurately, amazed—that both the Alumni Association and the theater department decided to support the project. I was still an unproven playwright, but Oberlin believed in me."
On Orloff's behalf, the Alumni Association sent a letter to everyone who graduated between 1964 and 1974, requesting they write him about their Vietnam-era campus experiences. Orloff received more than 100 letters. In addition he sought out campus activists from the time and spent days reading back issues of the Review.
The result was a full-length play about the war years, which won rave reviews on campus in 1989. After a second production the following year, Orloff rewrote the script (now titled Vietnam 101: The War On Campus). In December 2008, Orloff returned to campus to watch a platoon of Oberlin undergraduate actors bring that era alive.
"For me, putting together the Vietnam play at Oberlin in the late 1980s was one of those happy accidents that can change your life," says the playwright today. "That experience, which was quite challenging and grueling at times, forced me to teach myself about the structure of plays … about dramatic architecture and the importance of cause and effect in theater, and the need to think not just about plot but to take the audience on a journey."
Divorced in 2001 ("awful marriage, great material"), Orloff inhabits a cramped one-bedroom apartment on Manhattan's Upper West Side. "The bedroom is barely larger than the bed," he says with a chuckle, "but the living room is large enough that I can make one part of it an office and another part a living room. Very Manhattan."
When involved with a production, Orloff's life is filled with auditions, rehearsals, meetings, and often revisions at all hours. "As a playwright, my work week can vary significantly from leisurely researching and mulling over a new play idea or being immersed in the world of writing a first draft to the very different focus it takes to rewrite a play, be in rehearsal, or deal with the business side."
Inverting the usual snobbery with which the theater treats television, Orloff aspires to hone his craft the way the best TV writers have.
"Whatever talent I have is a gift, not an achievement, but I take great pride in my sense of craft," he says. "Sitcom writers like Norman Lear, Larry Gelbart, and James L. Brooks are my heroes. Their shows not only had great wit; at their best, they explored what was comedic about all situations in life—including situations that we don't normally think of as funny.
"In my own small way, I'm trying to live up to that standard by creating plays that succeed at making audiences laugh, even as they seek to articulate something insightful about what it means to be human."
Tom Nugent is a freelance writer in Hastings, Mich.
VIETNAM 101
Orloff play brings 1960s era back to life for today's Oberlin students
First performed in November 1989 at Oberlin (under the title Days of Possibilities), Rich Orloff's full-length play about life on campus during the Vietnam War era recently enjoyed another successful run at Oberlin's Little Theater.
Renamed Vietnam 101: The War On Campus, the show was presented to enthusiastic audiences by the College's Theater 101 class last December. The play is based on the recollections of more than 100 former Oberlin students who provided Orloff with letters and phone interviews in the late 1980s.
Full of emotional scenes in which students wrestle with the ethical dilemmas presented by the war, Vietnam 101 traces its impact on the college campus—from President Lyndon Johnson's decision to dramatically escalate America's involvement in 1965 through the tragic shootings at Kent State University on May 4, 1970, and beyond.
Facilitated by Oberlin Associate Professor Matthew Wright, the production featured four student directors—fourth-year student Alexander Birnie, and seniors Alex Huntsberger, Anna Strasser, and Elizabeth Woodbury—and a cast of Oberlin undergrads.
For many of the audience members—including the playwright himself—watching the high-energy ensemble of Oberlin students wrestle with moral problems was a deeply moving experience.
"Those were extraordinary years, and to see them being reenacted onstage by contemporary students was very moving," says George E. Langeler, who served as Oberlin's dean of students from 1966 through 1989. "The students of that era faced some very difficult choices, and so did those of us who were serving on the faculty.
"Down deep, I was sympathetic with those who thought the war was inappropriate. And I was convinced that it was a really dubious enterprise. But I also thought I had a responsibility to protect the academy—to keep the College open and to do my best to keep people talking to each other.
"It was a very painful time … but it was also a time of great creativity and intellectual growth for so many of our students. I think we all owe Rich Orloff a debt of gratitude for bringing so much of that amazing era back to us in his wonderful play."