Letters
Portrait of the Actor as a Young Soldier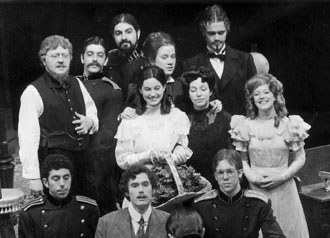 As an alumnus and fellow student, I was pleased to see that Eric Bogosian's unique career received the attention it deserves (Winter 2008-09). While I wouldn't presume to contradict Dade Hayes' review of Eric's eclectic background, I would like to augment the information by identifying two projects equally worthy of note.
Eric played a central role in Atom Egoyan's Ararat, a remarkable movie about the Armenian massacres at the hands of the Turks. The movie is good, and Eric is very good in it. Beyond that, it is a story that should not disappear from our awareness.
The second bit of biographical information is one that Eric's Oberlin fans might enjoy: In June of 1975, the Inter-Arts Program presented Anton Chekhov's Three Sisters. Most notable is the very young Eric Bogosian as a Russian soldier, bottom left in the picture (see photo).
For Oberlin historians, there are two other notable members of the cast: David Young, emeritus professor of creative writing (upper left, with such poise) and Ronald Suny, former professor of history (upper center). Wedged comically between them, with a handlebar moustache, is a much younger me.
For David, Ron, and myself (all returned to more familiar academic pursuits), the very heights of our short but memorable theatrical careers turned out to be the beginning of Eric's remarkable career, something I (for one) brag about at every opportunity.
Stuart Robbins '75
Oakland, Calif.
Green Issue, Recycled
John Tanner '51 thinks advocates of green energy absent nuclear energy are living in a dream world (Letters, Winter 2008-09). Let me suggest a way to put that to direct test. Suppose we adopt policies (which I fully support) of putting all energy sources on an equal footing via comprehensive environmental taxes and exactions on externalities. That means a stiff carbon tax and expedited nuclear approvals, but also a requirement that nuclear plants forego Price-Anderson protection and instead purchase bonded open market insurance against Chernobyl-sized catastrophes and also post an endowment large enough to cover on-site waste disposal in perpetuity. But we don't actually have to run this test to get an informed answer. Instead, I suggest that Tanner talk to any nuclear power industry chief financial officer, and find out who is really living in a dream world. Nuclear power appropriately priced is not even competitive with coal, let alone wind or thermal solar (even allowing for transmission lines and diurnal cycle storage).
David Burress '66
Lawrence, Kan.
Thank you so much for the articles on the sustainability measures being taken by Oberlin students, professors, and alumni! It was very inspiring and encouraging. And great motivation to make my own waves to get into the next green issue. Keep up the great work!
Chris Stratton '02
Eugene, Ore.
After reading the issue on Oberlin's green grads, I'd like to suggest you write something on the elders who have been dedicated pioneers in the green movement their whole lives and not limit your focus to the "bright young things" who have just made a splash and won notoriety shortly after graduation.
I can think of two classmates who have spent their lives in the "green" movement. Alan Hooper '59, who's been teaching soil biology at the University of Minnesota for most of his life, and Barbara Gilruth '59 (now deceased), who took up organic farming, managing a vineyard and walnut orchard by herself in Paso Robles, Calif., for many years, and built a straw-bale house. I'll bet you many of us were "green" pioneers before that was even a term. In my case, after joining the San Francisco's Zen Center, I learned to grow and cook organic vegetarian foods, raise cut flowers and herbs organically for the San Francisco market, and lived on an organic farm and Zen retreat center for 20 years. That's a part of my green story. Now [among other things] I do restoration horticulture and design, putting streams back together, reveging their banks, and restoring native plant habitat in urban and rural settings.
There must be lots of us. Could that become some kind of article for you? Might be interesting to put out a request to folks over 60 or 65. What do you think?
Katharine Cook '59
Marshall, Calif.
Editor's Reply: Sounds good to us. We'll be compiling information on Oberlin's early green graduates for a possible future story—so, readers, let us know your story. Write to:
Oberlin Alumni Magazine, 145 W. Lorain St.,
Oberlin, OH 44074-1089
e-mail: alum.mag@oberlin.edu
P: 440.775.8182
F: 440.775.6575
The editor reserves the right to edit for clarity and space.
Remembering Sylvan Suskin
As a pre-frosh, I thought I wanted to major in sociology but the intro, prerequisite course met at 8:30 a.m., so I never took a single sociology course. I chose my courses mostly upon the recommendations of upperclassmen. "You must take Suskin," several of them told me. That this pallid, squat, frizzy-haired Jewish man with thick glasses was not the target of mockery at Oberlin, but rather a beloved icon—this was proof enough that in choosing Oberlin I'd done a good thing.
One of Suskin's first assignments was for his students to attend a classical concert and write about it. I hadn't a clue about how to write about music, but thankfully we were allowed, encouraged even, to write about the whole "experience"—a hot word in those days, but still a good one when it comes to art. I attended a solo piano concert and wrote about the venue—not Finney Chapel where Shankar and the other big draws played, but the smaller, newer, Warner Concert Hall designed along with the rest of the Conservatory by Minoru Yamasaki, the Japanese-American who later designed the World Trade Center. I'm sure I mentioned the shiny silver organ pipes in my essay—there are 3,400 of them! I remember commenting on the lighting, the pianist's clothing, his movements and facial expressions, the noises and silences before and after the music, my thoughts and flights of fancy while I was listening. I'm sure this assignment has stayed with me because it told me that my own humble perceptions were fair game, a place to begin, and in doing so motivated me to perceive more and better. Ironic that in those days of New Criticism (the work and only the work matters) such an assignment might have been viewed as squishy or wholly beside the point, whereas in these days of deconstruction and cultural criticism, it would seem to get at many of the most important—and political —"contextualizing" questions.
I loved going to Suskin's class. To enter the Con, you had to walk through Yamasaki's Japanese garden with its pond that reflected the building's latticed façade, and the latticed façade somehow suggesting piano keys and organ pipes and maybe the musical staff placed on its side. Of course, as students, we were always rushing from one place to another; nevertheless, passing through that garden with its pygmy maples and craggy rocks and lily pads, we were for a moment snagged by its hushed beauty, its spare delicacy—a reminder that our 50 minutes in Intro to Music was to be relished.
Many of those 50 minutes were devoted to Mr. Suskin's extraordinarily inventive, exuberant, and subtle embodiment of the joy and genius of Mozart's Symphony #40 in G Minor. Each class, the elfin man stood on the stage and pointed to the projected score and talked, sang, and literally danced his way through measures of the piece so that we could hear every nuance in every note. This is where I learned about theme and variation; about repetitions, reversals and transpositions; about keys, rhythm, dynamics, embellishments; about how the opening bars might go underground only to surface again and again in the most surprising and satisfying ways. This is where I learned that you could love the most aural and abstract of arts with your whole body.

Leslie Lawrence '72
Cambridge, Mass.
I was saddened to learn of the recent passing of music history professor extraordinaire Sylvan Suskin. I took his 18th Century Classical Music class in the fall of 1978.

Those who didn't know Mr. Suskin need to know that he was a large, physically intimidating, wall-eyed man. Mr. Suskin had a reputation for being demanding and intimidating that preceded him into every classroom. He was scary for most of us, if not downright terrifying! It was extremely serious business to attempt to get a "B" in that class, let alone an "A." So what took place on a particular fall morning was especially memorable.

As soon as we settled in, Mr. Suskin announced, "Tonight, you will not do your homework for this class." We looked around at each other. Then: "You will not do your homework for any other class." At Oberlin, that's asking a lot. What was this guy up to? "Tonight, you will go home and turn on your televisions and watch the live Metropolitan Opera broadcast of Verdi's Otello."

All eyebrows in the room were raised, but Mr. Suskin was only getting started. "This will be a great musical experience for you." He began to get a certain mischievous glimmer in his eye. "This will be one of the greatest musical experiences of your life!" Now wasn't he getting just a touch hyperbolic? And he still wasn't done. He was building, his comic timing perfect, pausing just long enough between each proclamation to keep us hooked. "This will be one of the greatest experiences of your life, period!" What?! "Well, I guess losing your virginity is a little more exciting … but this will still be one of the greatest experiences of your life!!" Needless to say, we barely heard that last phrase. Students were rolling out of their seats laughing. THIS man was making jokes to us about sex?!

We were so fortunate to have had the opportunity to learn about music with this very special man.

Rachel Abelson Hickson '80
Sandy Spring, Md.