Alumni Notes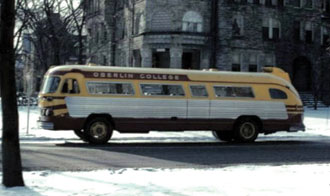 The members of the Class of 1959 who come to Oberlin for their 50th reunion this year may remember the bus in this picture, taken by Rosalee Figge Beasley '59 in 1958.
The 36-passenger bus, brightly clad in college colors made all the more lively in the photograph by the contrast against the drab sandstone of Talcott Hall, was purchased in 1953 and described at that time as "natty" by the Oberlin News-Tribune. It was used by Oberlin's athletic teams and by the Social Board to take students to special events in Cleveland and elsewhere. It replaced a broken-down 17-passenger bus affectionately (we think) known as the Green Spleen.
Members of the Class of 1959 will be particularly interested in an exhibit of materials related to Oberlin campus life in the late 1950s, organized for commencement/reunion weekend, May 22-25, 2009, by the Oberlin College Archives, in the Goodrich Room on the fourth floor of Mudd Library.
Race: Let's Talk About It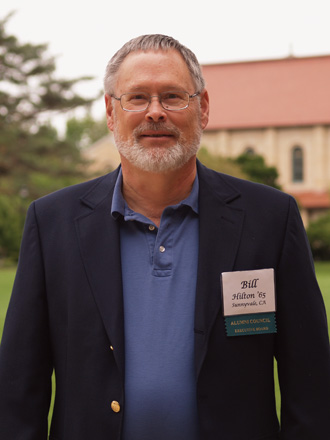 That the inauguration of President Obama has spawned thousands of conversations about race in the U.S. and the world does not surprise me. My "conversations" have encompassed memories of overt racism, the most poignant of which was written by San Francisco columnist Chip Johnson, who apparently grew up in Oberlin in the 1970s.
Johnson and two of his buddies had biked six miles from Oberlin to South Amherst, Ohio, to buy ice cream. However, the boys—varying degrees of skin tone—were stopped by a policeman who asked where they were from and why they weren't in school. When Johnson and his friends told the officer they did not have school that day, the officer explained that since the kids in South Amherst were in school, they were not allowed to be in town. "It wasn't until I saw Obama on that stage that I understood how profound that moment was," Johnson recalled. "Americans elected a black man, a man like me, with the blood of many nations running through his veins. His election has reinvigorated me, and for the first time in many years, I feel hope and pride for the country where I was born."
On Sunday of inauguration week, my minister, a white woman, recalled several racial incidents from her early years in Oklahoma. The content of her stories was too familiar—even though I grew up in western Pennsylvania. She concluded her talk by observing that our congregation of mostly white "religious liberals" may not have evolved much beyond Oklahoma of the 1950s. I have to agree with her.
One conversation held much hope for the future. My physician, a native of India, had just returned from the inauguration when I went to see him for a routine procedure. He had traveled to Washington with his family to witness a defining, historic event, and was still talking about it when I went under.
Had we not elected Barack Obama, none of these three "conversations" would have occurred. Now, however, it is up to us—all of us—to carry on vital conversations about race in America and the world.
As an Oberlin alumnus, I want to believe I am ready to do so, but am I? Are you? If not, it seems that may fit the Oberlin tradition too, for in 1835, few were ready to welcome blacks to study at Oberlin, according to the late Professor Geoffrey Blodgett's revealing essay, "Myth and Reality in Oberlin History." No one would come to Oberlin, Blodgett wrote, "not Finney, or Mahan, or Morgan, or the Lane rebels, and there would be no money from the Tappans—unless Oberlin agreed to a policy of open admissions irrespective of color. ... [Founder John Shipherd] was dismayed to discover that the people of Oberlin were profoundly unenthusiastic about the whole idea—particularly about the admission of blacks." Only after Trustee Chairman John Keep broke a tie vote on the issue did Oberlin finally accept it.
Over the century and three-quarters since that vote, Oberlin's growth toward equality has occurred not because we were all "on board," but because we have often enough found the courage to learn from one another. That is where we are now that an African American is in the White House. Today we are not called to the "barricades" or to voter registration drives as we were in the 1960s. Today we are called to reveal ourselves to people who are mostly like us, but who are of different histories, traditions, and skin tones.
Bill Hilton '65
President, Oberlin Alumni Association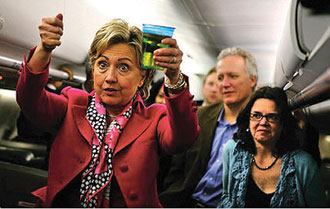 Signed on to Cover
Hillary Rodham Clinton
When Beth Fouhy '83 signed on to cover Hillary Rodham Clinton's 2008 presidential bid for the Associated Press, she never imagined being part of an epic contest that will go down in history as one of the most compelling presidential elections in recent memory.
Beth covered the campaign from the day Clinton entered the race in January 2007 through June 2008, when the former first lady conceded the Democratic nomination to Barack Obama. In countless plane flights and hundreds of campaign events, Beth watched Clinton, once the "inevitable" nominee, transform into a scrappy underdog and champion for working class families.
With Clinton gone, Beth climbed aboard the Straight Talk Express with Republican nominee John McCain and covered his candidacy through the general election. She was there for Sarah Palin's debut on the national stage and followed the Alaska governor on several campaign trips.
Along the way, Beth squeezed in a few weeks on the campaign trail with Obama and covered his presidential transition. She asked him the first question at a November news conference, where he unveiled his economic team.
All told, Beth traveled with candidates to 40 states in 2008 and spent more nights away from home than she cares to admit. She's back home in Pelham, N.Y., with her husband, Joe Marty, and their 12-year-old son, Jonathan. Beth is launching a new beat covering the nation's governors and getting used to not living out of a suitcase.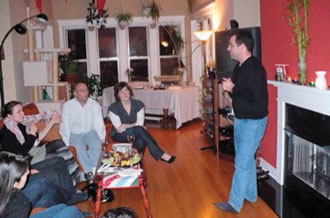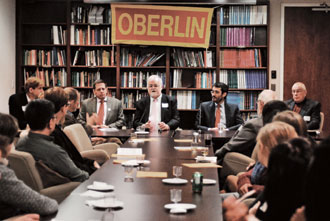 Regional Roundup
What's Happening in Your Region?
Find out at ObieWeb, www.oberlin.edu/alumni/oberlinClubs.
Chicago, Ill.
An Evening with Professor Pablo Mitchell
On January 17, José W. Meléndez, 2001 class president and Oberlin Latino Alumni Association chair, hosted Pablo Mitchell, chair of the history department, at his home in the Rogers Park neighborhood of Chicago. During the three-hour gathering, Pablo spoke about his current and upcoming research and publications while attendees enjoyed drinks and boquitas. All in attendance had a wonderful time, and said they were thrilled at the opportunity to eat, drink, and converse with fellow Obies after a week of sub-zero temperatures.
Washington, D.C.
The First 100 Days: Challenges and Opportunities for the Obama Administration
On January 22, Washington, D.C., area alumni listened to a panel discussion on challenges faced by the Obama administration. Patrick Clawson '73 served as moderator, and panelists included Peter Lavoy '83 on foreign policy, John Rother '69 on health care reform, Carl Gerber '58 on the environment, and Warren Weissman '80 on global finance. The event included a silent auction fundraiser for the D.C. internship fund, which supports Oberlin students who pursue summer public-service internships in the Washington, D.C., area.
–John Keller
If you're interested in serving on the steering committee of your local alumni club, contact John Keller, director of regional activities and education, at 440-775-8692 or e-mail john.keller@oberlin.edu.
Ry Russo-Young: Writer, Producer, Director, Actress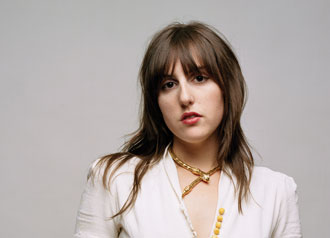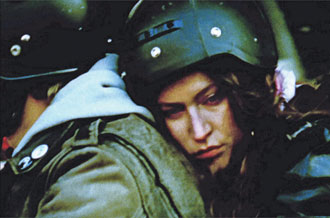 Ry Russo-Young '03 hadn't had a good night's sleep in more than a week when OAM phoned her New York apartment in late January. Not to mention she had gotten off the plane from Park City, Utah, just hours earlier. Should we talk a little later? "No, no, this is good," she quickly assured in a raspy but welcoming voice. The 27-year-old had just returned from the Sundance Film Festival, where You Won't Miss Me, the feature film she directed, co-wrote, and produced had premiered. The adrenaline was still pumping.
"It was really insane—parties, press stuff—you're operating on four hours of sleep a night. It was intense, but good." Besides, she added, "I just got in last night and slept for 13 hours."
As she continued to talk—touching on past and future projects—it was as if a fog machine cued and OAM's remember-when reel started to churn.
OAM first met Russo-Young in February 2004, when she and Clara Latham '04 stopped by our office to inform the staff that their 10-minute film, Babes in Toyland, had been screened at the Torino Film Festival in Italy. They were so excited. Shot in Oberlin in 2002, the film starred Russo-Young and Latham as women who existed "in a colorful and deranged alternate universe in which they were the center of attention, the result of which was chaos and death."
Babes in Toyland, one of Russo-Young's many student projects, was done to "subvert and critique issues of sex and violence in Hollywood cinema," she said. Not too ambitious for someone who, by age 15, had already received favorable reviews from the New York Times for her one-act play Hopscotch—performed at the New York International Fringe Festival, no less.
Her film repertoire would later include the 2005 movie Marion, a riveting, three-screen deconstruction of Alfred Hitchcock's Psycho, which the New York Times called "visually interesting and unexpected." Marion garnered several awards, including the jury award for Best Experimental Film at the 2006 South by Southwest (SXSW) Film Festival. Another film, Orphans (now available on Netflix and Amazon.com), tells the heartbreaking story of two reunited sisters. It won a special jury award in the narrative feature competition at the SXSW Film Festival in 2007. And of course, You Won't Miss Me, the 2009 portrait of Shelly Brown, a 23-year-old alienated urban misfit recently released from a psychiatric hospital, that landed Russo-Young at the largest independent cinema festival in the U.S. Out of 9,000 submissions, Sundance chose just 200.
"Though it's awesome that I made it to Sundance, the ultimate goal is to be able to make another movie," Russo-Young said, her voice bringing the interview back to the present. "Yes, you do have to have a lot of confidence, but I think it's more wanting to communicate with people. Having people see what they wouldn't normally see.
"I come from an unconventional, open family. My parents are lesbians," the writer, producer, director, and actress offered. "They aren't artists, but they are bucking the system. I have so much respect for them and want to be as brave as they are."
You Won't Miss Me is making its way around the film-festival circuit, including the Brooklyn Academy of Music festival in New York and the Method Film Festival in Calabasas, California, where the film's lead actress, Stella Schnabel, picked up the top acting award. Russo-Young is slated to act in a movie this fall. In 2007, she appeared as Rocco in Hannah Takes the Stairs, released by IFC Films.
For more, visit http://www.ryrussoyoung.com/home
—Yvonne Gay Fowler