Around Tappan Square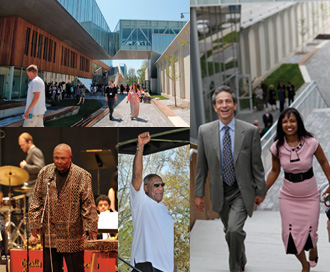 (photos by Ma'ayan Plaut '10, Kevin Reeves, and Jennifer Manna)
A momentous jazz concert featuring Stevie Wonder; Leon Dorsey '81; Stanley Cowell '62; James McBride '79; the Oberlin Jazz Ensemble, under the direction of professor Wendell Logan (lower left); and a host of others concluded a two-day dedication celebration of the Bertram and Judith Kohl Building on April 30 and May 1. An honorary degree ceremony also recognized Wonder and Bill and Camille Cosby for their humanitarian efforts and philanthropic leadership. Bill Cosby (middle) later performed his one-man show in Finney Chapel, while Avery Brooks '70 discussed theater and dance in Warner Hall. Oberlin trustee Stewart Kohl '77 and his wife, Donna (right), gave the the lead gift for the new building for jazz studies, music history, and music theory in memory of Stewart Kohl's parents.
Read more about the Kohl Building in an upcoming issue of OAM and at http://www.oberlin.edu/kohl/celebrate.html.
Crime in the Classroom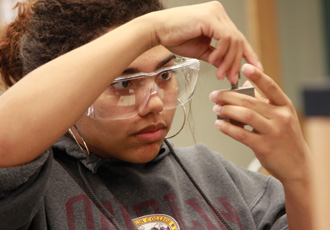 Students study glass, powder,
blood left at the scene
Sometimes chemistry is murder. At least that's what it is in two of biochemistry professor Rob Thompson's classes. Thompson's class for chemistry majors, Analytical Chemistry, includes a lab unit involving forensic chemistry. He also teaches Chemistry and Crime.
Inside the chemistry crime lab on a fall afternoon, senior Miriam Vishniac and her classmates in the analytical chemistry class hover over test tubes, computer keyboards, and beakers, busily examining bloodstains, shards of broken glass, and a white substance—possibly cocaine. There's been a murder, and Vishniac is investigating.
"So far, we've found a positive match between the shopping list, suicide note, and one of the pens, but if I told you anything more I'd be jeopardizing the investigation," she says.
The class—divided into prosecution and defense teams—has only a few weeks left to present their findings. Vishniac's lab, working for the prosecution, has charged their fictional suspect, Donna Stevens, with aggravated (first-degree) murder.
To prepare students for the crime lab unit, Thompson shows them how to use the lab to coax out secrets a piece of evidence may hold. "We use instrumental methods to analyze physical evidence that may tell a tale of murder or other dastardly deeds," says Thompson.
Thompson devised the crimes used in the class a decade ago with then-student Ruth Hook '00, an English/chemistry double-major.
"Every scenario has multiple suspects, any of whom could be the real criminal depending on how the evidence is compiled," recalls Hook, now a chemist at Dow Chemical Company.
To solve the crimes, students use numerous techniques: gas chromatography and mass spectrophotography to test blood samples and a suspicious liquid found in a victim's ashtray; furnace atomic absorption to test four samples for gunshot residue; optical microscopy to test the refractive index of several glass samples; flame atomic absorption to test the glass composition of several samples; gas chromatography to test burned and unburned carpet samples and two gasoline like samples; and Fourier transform infrared spectroscopy to identify a suspicious powder found at the scene.
"It's not like CSI; crimes don't get solved in an hour," Thompson says. "There are six or seven pieces of evidence. A pair of students examines one of those pieces, whether it's poison on a note, or lead in the carpet." After weeks of investigating, the results are revealed during a mock trial, where non-science faculty members serve as the jury, and Thompson, clad in a green choir robe and gavel-equipped, as the judge.
In Chemistry and Crime, non-majors learn about the science behind real-world scenarios. "We cover topics that impact students' lives, like drinking and driving, and famous crimes or topics that students know about," like the O.J. Simpson murder trial, Thompson says. "We've had students who have taken that class and decided to become science majors."
In 1997, Thompson spent part of a sabbatical learning about trace explosives at the FBI Research and Training Center in Quantico, Virginia. During a more recent sabbatical he studied pepper sprays at the National Institute of Standards and Technology, which has led to his current research on capsaicinoids, the hot agents of chili pepper. Thompson's expertise was called upon by a law firm investigating a pepper spray incident.
Thompson's legal knowledge comes in handy when the two teams in his analytical chemistry class face off in court with a jury of faculty members.
"The students have to display the information and explain it in a way that makes sense," Thompson says. "The faculty jury has always been very impressed. I smile and sit back and just see how [my students] have matured over the semester. It's a great sight to see."
Obama Awards Conservatory
with Medal of Arts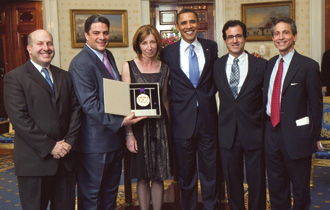 President Barack Obama presented the 2009 National Medal of Arts award to the Oberlin Conservatory of Music during a White House ceremony in the East Room in February. The award is the highest honor given by the United States government to artists and arts patrons in recognition of the wealth and depth of their creative expressions. A dinner celebrating the honorees took place at the National Museum of American History, sponsored by the President's Committee on the Arts and the Humanities. Dean of the conservatory David H. Stull accepted the award on behalf of the conservatory.
The Oberlin Conservatory of Music is the only professional music school to be so honored by President Obama. The other honorees for 2009 were singer and songwriter Bob Dylan; director and actor Clint Eastwood; graphic designer Milton Glaser; architect and sculptor Maya Lin; singer, dancer, and actress Rita Moreno; soprano Jessye Norman; arts patron and design advocate Joseph P. Riley Jr.; painter and sculptor Frank Stella; conductor Michael Tilson Thomas; composer and conductor John Williams; and the School of American Ballet.
Read more at www.oberlin.edu.
2010 Tennis Championships to be Held at Oberlin
The college will host the 2010 Division III men's tennis championship finals right before and during Commencement/Reunion Weekend, May 25 to 30. The men's tennis championships will feature the top eight teams from across the country. In addition to competition for the team championship, the nation's 32 best individuals and top 16 doubles pairings will vie to become the country's best.
Oberlin Named to
Clinton Climate Initiative
The college joins 17 other leading projects
around the world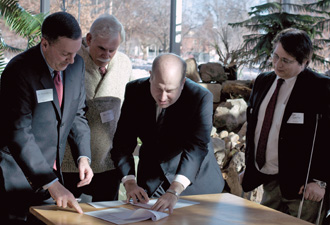 The Oberlin community—college and city—has been selected to join the Climate Positive Development Program (CPDP), a joint initiative of the Clinton Climate Initiative and the U.S. Green Building Council. A formal announcement and celebration of the partnership took place in Oberlin on March 4.
Launched in 2009, CPDP supports the development of large-scale urban projects that demonstrate that cities can grow in ways that are climate positive—able to reduce the amount of on-site CO2 emissions to below zero.
The Oberlin Project, one of the college and town's most recent green endeavors, speaks to the goals of CPDP. At the heart of the Oberlin Project is the revitalization of a 13-acre block near the city center that will include development and/or renovation of a dozen buildings during the next five to seven years. The investment in construction, renovation, and energy technology is intended to stimulate the expansion of businesses and create new enterprises.
Look for a story about the Oberlin Project in an upcoming issue of OAM.
OC Trains High School Students
as Mediators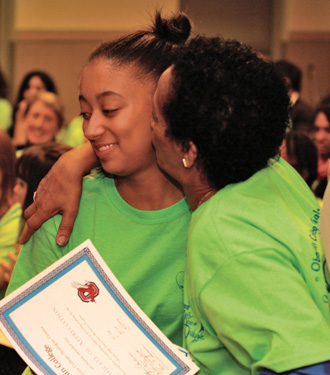 Wilder Hall became a bustling and boisterous training site for Oberlin High School (OHS) students interested in learning the skills needed to become peer mediators. The students, who were joined by 39 faculty members, staff members, and college students, received a five-day training session in January by the Oberlin College Dialogue Center on the social justice model involved in conflict resolution. The model helps mediators get at the core of what is really creating the conflict between individuals or groups.
According to Lynn Swanson, guidance counselor at OHS, the student mediators will use their skills to reactivate the school's Peer Mediation Program that operated from 1994 to 2000.
"It's not as if we have a lot of fights at [school]," said junior Taylor Jones, one of eight OHS students who received the training. "But this will give a new approach to help us resolve conflicts."
Launched in 2001 under college ombudsperson Yeworkwha Belachew, OCDC promotes change through conflict transformation, mediation, community building, and dialogue. OCDC offers mediation training every two years to college faculty members, staff members, and selected students. The idea to include high school students stemmed from the college and town's desire to find more opportunities to strengthen Oberlin community relations, especially where teens are concerned.
What makes Oberlin's program unique and enriching, explained Leah Wing '84, workshop coordinator, is its focus on multipartiality—the belief that each person's voice should be heard in mediation to help bring about meaning and understanding as to the cause of the conflict. Wing was part of the team that developed Oberlin's mediation program. The goal is not for the mediators to formulate a solution, but for the disputants to determine the outcome, she said. In doing so, they are more likely to change behaviors and commit themselves to an agreement.
Through role-play, small-group discussions, hands-on demonstrations, creative dialogue, videos, games, and other presentations, the participants received extensive training in preparation for service in the college, community, and high school. This year's participants also included Swanson and an OHS teacher.
"This is one experience that I will always have with me," said OHS student Janet Gonzalas, who decided to join the Oberlin workshop after classmates and friends had told her for years that she was a good listener and problem-solver. "I learned so much, not just to help my school and my community, but also things that will help me."
Read more about OCDC at www.oberlin.edu/ombudsperson/ocdc-join.htm.
Professor Nabs Grammy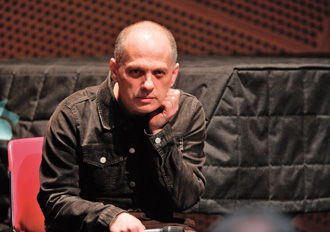 (© Craig T. Mathew/Mathew Imaging)
Distinguished Visiting Professor and Composer in Residence David Lang's The Little Match Girl Passion received the 2010 Grammy Award for Best Small Ensemble Performance. The recording was named one of the best CDs of 2009 by the Washington Post, Time Out New York, and National Public Radio, among others.The composition, first performed in late 2007, had already earned Lang a 2008 Pulitzer Prize.
Careers in Sports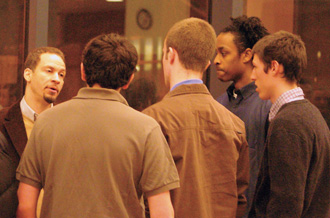 Students interested in sporting careers got the opportunity to speak with professionals in the business through the Heisman Club's Career in Sports Networking event.
Chris Broussard '90, a senior writer for ESPN The Magazine served as master of ceremonies and other alumni in the field were on hand to discuss careers and answer questions. These included Don Blumenthal '73, part-time Oakland Raiders scout; Laura Pierce '03, head cross country coach at Millikin University; and Chad Kutting '06, account executive for the San Francisco '49ers.
In addition to this event, the athletics department has created an online career network linking student-athletes and alumni.
Read more at www.goyeo.com.
The Adjective Sandwich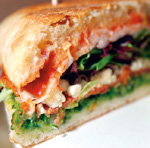 (photo by Ma'ayan Plaut '10)
Creative, unexpected, scrumptious: adjectives, yes, but to senior Ma'ayan Plaut they are sandwiches.
Plaut's "adjective sandwiches" are all the buzz on campus, causing some to wait in utter mouth-watering anticipation until the start of one of her short shifts at Wilder Hall's DeCafé, formerly known as the snack bar.
Plaut starts with a few simple queries of her customers—sandwich or wrap, vegetarian or meat, loves and hates—and a not-so simple one: she asks them for an adjective. Next, Plaut whips up a concoction with unimaginable combinations of ingredients that are symbolic of the modifier offered. For example, in one "Winter Wonder-land" sandwich, Plaut sprinkled Parmesan cheese to represent snow. "Spunky" spurred Plaut to layer sliced provolone, Swiss, and cheddar cheeses; roasted tomato spread; sweet chili sauce; honey mustard; and ranch dressing between two slices of wheat pita, which she grilled until crispy and topped with fresh spinach, diced onions, and chopped roasted red pepper.
"I have no idea how many sandwiches I've made, more than a hundred for sure," says Plaut, who also serves as a student manager at the café. "Each shift averages about five adjective sandwiches, and I've been doing this since my sophomore year.
"It all started when my dear friend Harris got tired with the standard DeCafé offerings," says the cinema studies major. "Harris Lapiroff wanted something new, something different, so he told me his mood and I made him a sandwich." Neither of them remembers the defining adjective that started it all.
Since the adjective sandwich was born, patrons have feasted on everything from "blustery" and "blooming" to "Harry Potter" and "amnesiac" creations. Back home in Hawaii while on break, Plaut's parents even asked her to make them two "starry-eyed" sandwiches for their 25th wedding anniversary.
"I love playing with food. I love making people happy with their food, and I love being creative," Plaut says.
For those sorry to see Plaut graduate in May, there may be some hope. "I bought a Panini press during Oberlin's town-wide yard sale, so I still plan on making sandwiches for myself," she says, "and for anyone who drops by."
Read what went into Ma'ayan Plaut's starry-eyed sandwiches and learn more about her adjective creations on her blog at blogs.oberlin.edu/about/ethos/snazzy_spicy_so.shtml.
Stressed? Draw It Out!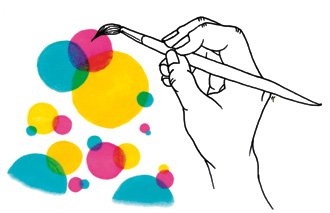 Students needing help to unwind are encouraged to pick up a paintbrush and pencil, courtesy of the art therapy program of the college's Center for Leadership in Health Promotion. "Art therapy is a way for students to decompress, get out of their head, and just take a moment to relax," says the center's director, Lori Morgan Flood. "Stress can sometimes cause physical, psychological, and spiritual difficulties for students, and we acknowledge that and want to support them. A common misconception many people have about art therapy is that they need to be an artist when, actually, it's about using the vehicle of art to move a person into a place of relaxation."
Begun in February, the program is just one of the center's initiatives intended to reach sometimes-overwhelmed and overburdened students. The center also organizes a massage program—offering students sessions with a professional body worker at a reduced rate—as well as study breaks in Mudd library during high-stress times such as finals week. There, students can get free 15-minute massages, healthy snacks, and wellness kits. Each kit contains a booklet filled with information on wellness—much of it Oberlin-specific (gym hours, resources on campus, etc.)—as well as chamomile tea, dark chocolate, a biofeedback stress dot, and a stress ball bearing the image of President Krislov.
Rex Lee, Inside the Actor's Studio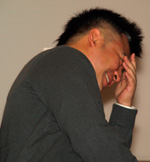 (photo by Dale Preston '83)
"I go to work trying to create art," said actor Rex Lee '90 during a February campus visit. "Even if that's not what everyone else is doing."
Lee's performance as Lloyd, the flamboyant and co-dependent but loyal assistant to Hollywood agent Ari Gold on HBO's Entourage, won him three SAG Award cast nominations and two Asian Excellence awards for Outstanding Supporting Actor in Television. "I don't know if you've noticed, but I'm of Asian descent," Lee joked.
Associate Professor of Theater and Dance Matthew Wright interviewed Lee in the style of BRAVO's Inside the Actor's Studio. During the interview Lee credited Oberlin for helping to hone his approach to acting.
"Respect for the text, that's something that I have as a byproduct of being here," said Lee"
While at Oberlin, Rex Lee offered quite a few one-liners. Read them here.
Earthquake Relief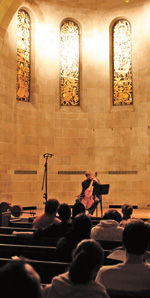 (photo by Jennifer Manna)
Juniors Iliana Zamorska and Josh Meadow were scheduled to travel to the Anse Rouge commune in northern Haiti for their winter term projects, but were rerouted to the Dominican Republic when earthquakes hit the region in January. There they quickly joined a group of Ananda Marga Universal Relief Team volunteers tasked with coordinating transportation of fuel and medical supplies to Port-au-Prince, Haiti's capital.
The Oberlin community also rallied in support of earthquake-stricken areas by holding a series of drives and benefit concerts throughout the academic year.
Before taking their seats in Fairchild Chapel to hear cellist Steuart Pincombe perform unaccompanied works by Telemann, Schenk, Abel and Bach, audience members were encouraged to donate to the American Red Cross's Haiti Relief and Development Fund.
Oberlin College Students for Haiti, formed by Haitian student Vanessa Champagne '13 and Reivin Johnson '11, organized a weeklong series of events in March that included a lecture on the history of Haiti's economic and political struggles, a candlelight vigil on the two-month anniversary of the earthquake, and a campuswide clothing drive. The $350 raised and more than 20 boxes of clothing collected was donated to a summer camp for displaced children in the Port-au-Prince region.
Another earthquake relief effort included Nathan Lesser '10 and members of his violin studio, who invited the community to a benefit concert at First Church. Proceeds were given to the New Victorian School in Port-au-Prince, a nonprofit organization dedicated to academic, linguistic, and musical instruction for children and adults.
Andrés Feliciano '12, Michael Dirda '09, and Yvonne Gay Fowler contributed to this article.
The 10-Year Peace Streak
For the 10th year in a row, the college has placed on the Peace Corps' list of top schools in producing volunteers. With 16 alumni currently serving as Peace Corps volunteers, Oberlin ranks 15th among small colleges and universities.
Read more at www.oberlin.edu.
In Celebration of Steven Plank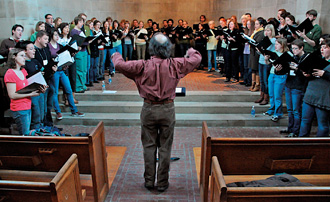 (photo by John Memmott)
More than 50 Collegium Musicum alumni rehearsed in February under the baton of Professor of Musicology Steven Plank. Former members of the ensemble came from around the country to perform alongside current students for two days in celebration of Plank's 20th season as director. Rounding out the weekend was a special concert featuring Spem in Alium, a motet for 40 voices by Thomas Tallis that is rarely performed due to the challenges imposed by its size.