Live from the Periphery
Independent theaters founded by Obies
thrive in Chicago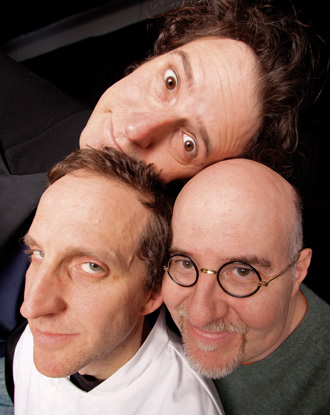 On a mild Tuesday evening in late August, more than a dozen arts patrons gather in a house in Wicker Park, a trendy Chicago neighborhood situated northwest of the Loop.
The house, which belongs to Chicagoans Justine Jentes and Dan Kuruna, is actually made up of two 1880s buildings combined; it features a scenic courtyard garden neatly hidden from street view. Jentes, who is director of the Mies van der Rohe Society at the Illinois Institute of Technology, also sits on the board of directors of Blair Thomas & Company, a small Chicago-based theater company known for its contemporary puppetry and visual theater productions.
On this particular evening, Blair Thomas '85, the company's founder and creative director, has converted Jentes and Kuruna's contemporary art-filled living room into an intimate performance space—complete with a large, intricately constructed puppet stage— for a production that is part of the company's "Living Room Tours" fundraising series.
Blair Thomas & Company, founded in 2002, is a not-for-profit organization that relies on support from foundations, corporations, and arts-loving individuals—many of whom are seated near the stage this evening, sipping from wine glasses and waiting in eager anticipation for the show, St. James Infirmary, Thomas's newest work, to begin.
Eventually, a tall, lanky man clad in black pants, a black vest, oversized clown shoes, and stark white face paint makes his way to the stage, where he takes a seat behind a curtain and begins to manipulate two small, lifelike puppets—one man, one woman.
St. James Infirmary, which is based on a traditional New Orleans folk song about a man whose lover is dying, is performed with rod marionettes, a motorized paper scroll, and a one-man pit band. Thomas, who was a double-degree student at Oberlin (tuba and English), switches effortlessly between trumpet, symbols, guitar, and voice as his puppets dance in exaggerated movements across the stage. Comic strip style drawings—some X-rated—decorate a moving scroll in the background.
After the show, the audience's enthusiasm is palpable. It's remarkable just how much emotion can be conveyed on the face of a lifeless puppet. "Isn't Blair amazing?" someone says with a hushed sigh.
"The Big Three"
Thomas is one of Chicago's independent theater elite—a group that features a handful of Oberlin graduates from the 1980s to the 2000s. While at Oberlin, Thomas befriended two other young men—Greg Allen '84 and Adrian Danzig '87. The trio acted in and directed student productions together, and each would ultimately end up living and working in Chicago, founding three distinct, innovative, and successful independent theater movements. In theater and Oberlin circles, they're often referred to as the "Big Three."
"I met them all my first year [at Oberlin]," says Tanera Marshall '87, a professor of voice and speech in the performing arts department at the University of Illinois at Chicago. "They were just so creative, fun, really cute—all of those exciting things that a young woman would want to be around." An English major with a passion for performance, Tanera worked with the men onstage at Oberlin; they also inspired her to work in theater in Chicago after college.
"Knowing there were people from Oberlin here making a living in art was an enticement," she adds.
Tuba, Or Not Tuba
As a high school student in Jacksonville, Alabama, Blair Thomas worried that he didn't have the grades to get into Oberlin. He did, however, shine at playing the tuba, even though at that point he didn't consider himself a musician. In 1980, he auditioned at the conservatory and was accepted, though he claims it was mainly because the conservatory had only one tuba player and needed more. Later, with the help of teacher recommendations, he entered the double-degree program.
"I was lucky to get into Oberlin," he says with a laugh. "I always said I snuck in through the back door."
Though Thomas majored in English, theater consumed much of his time at Oberlin. Greg Allen lived across the hall, and the two became fast friends, taking classes together and sharing an interest in the plays of the Italian Futurists.
"There was a great moment when Greg was in a big production," Thomas recalls. "He forgot his line and went totally blank onstage—it was during a climactic moment of the play. I'll never forget that moment."
Another unforgettable Oberlin memory, Thomas says, was the semester that he and a roommate spent living in a tent in the Arb. The idea was inspired by a story—possibly a myth—they'd heard of an intrepid student who had pulled a similar stunt years earlier.
Oberlin, Thomas says, nurtured his creative process. "Oberlin has always championed original thought. I'm interested in originating ideas and the process of research and discovery."
Back to the Futurists
Greg Allen grew up in Chicago's North Shore neighborhood and fantasized about going to school on the East Coast to escape his suburban upbringing. But after touring 17 colleges in New England, Midwestern Oberlin was what ultimately caught his attention. "I was impressed by its liberal history," he says. "It wound up being my salvation and my inspiration for lots of what I have done."
Like Thomas, Allen majored in English but devoted much of his spare time to theatrical endeavors. He says he taught the first full-credit Exco class ever offered by a student—a seminar on Shakespeare and film—and ran the student film series. An avid co-oper—he belonged to Tank and often ate at Harkness—he and his friends viewed themselves as the "kings of Oberlin who could do anything we wanted, anytime." This included "various nude endeavors" and, one time, mounting a theater production in a space he was not legally allowed to perform in on campus.
"College was an extremely formative time in my life. I think I actually am who I am because of Oberlin," says Allen, who went on to become a prolific actor and founding director of the Neo-Futurists, a theater collective known for its signature show, Too Much Light Makes the Baby Go Blind. It's the longest-running production in Chicago today, first opening in 1988. After 19 years, the show, in which actors frantically attempt to perform 30 topical plays in 60 minutes, is a Chicago institution; it's so popular, that it spawned a second company in New York.
"The origins of the Neo-Futurists are deeply embedded in Oberlin," Allen says. "It's where I first learned about the Italian Futurists, and first mounted some Italian Futurist plays, which later became the inspiration for Too Much Light Makes The Baby Go Blind." As a student, he latched onto the idea of "audience participation as a central mode of my aesthetic," he says, and came to approach theater from a philosophical perspective.
"Oberlin was amazing at inspiring individuals to follow their own goals and reinvent the wheel," he says. "You look at the [theater] careers that have launched [from Oberlin], and they're all kind of going about it from a different perspective. In New York you've got Julie Taymor ['74] and Eric Bogosian ['76] and Bill Irwin ['73], all of whom didn't go the mainstream route at all, but wound up gaining public accolades."
"In Chicago," he adds, "Blair Thomas, Adrian Danzig, and I all founded alternative theater companies with their own aesthetics that have all wound up being sort of central to the Chicago theater experience. We each had our own specific vision of what theater can be."
Allen's vision, as embodied by the Neo-Futurists, is theater as a non-illusory, interactive, spontaneous, and honest fusion of sport, poetry, and living newspaper at "headslappingly affordable prices."
The actors work out of an intimate performance space, above a funeral home in Chicago's Andersonville neighborhood, called the Neo-Futurarium. With a cult appeal, the group consistently draws sizeable, enthusiastic crowds, though the 11:30 p.m. Saturday show is the most popular and rowdy. When a show sells out, the theater buys pizza for the audience.
Upon entering the theater, cash is exchanged for admission tokens and audience members are given "name tags" with nicknames made up on the spot. Audience members determine the sequence of the 30 plays by shouting out the names of skits listed on the program.
In March 2008, Allen brought his troupe and vision to Oberlin for a show at the Cat in the Cream. Not surprisingly, the Oberlin community embraced it. "It is certain they will be welcome here again the next time they take a trip east," wrote Laurel Fuson in the Oberlin Review.
"It's truly an Oberlin show. When we go back and perform at Oberlin, I always feel like that is the audience this show is created for," Allen explains.
"Oberlin just eats up Too Much Light. So much of it has Oberlin at the heart of its center, in terms of accepting people for who they are. It's a very real, authentic, enthusiastic launch into the void of the world, which I think Oberlin really inspires.">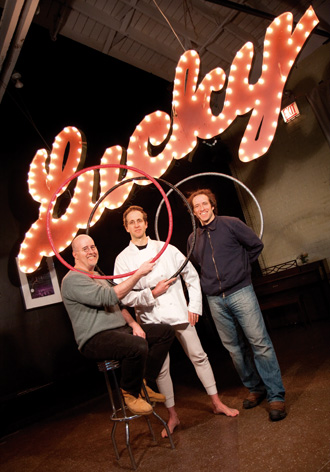 Send in the Clowns
When Adrian Danzig, originally from New York City, arrived at Oberlin as a first-year student, Blair Thomas was literally the first person he talked to on campus; they met in line at the snackbar, (now called DeCafe) and discussed an Exco class Thomas was teaching on street theater. They became fast friends.
"I've known Blair longer than I've known my wife (Leslie Buxbaum Danzig), who works as a director for 500 Clown)," Danzig says. "We've had life-changing history together, which is really cool.""I've known Blair longer than I've known my wife (Leslie Buxbaum Danzig), who works as a director for 500 Clown)," Danzig says. "We've had life-changing history together, which is really cool."
Though he majored in government at Oberlin, Danzig came to college knowing he was a "theater person," he says over brunch at an upscale restaurant in Lincoln Park. "But I went to Oberlin because it didn't have such a strong theater department that I would be compelled to do theater all the time."
Danzig, who with long, curly hair bears striking resemblance to John Corbett (Aidan on Sex and the City), founded his nonprofit theater company, 500 Clown, in 2000. It uses circus arts, improvisation, and action-based performance to break down theater's traditional fourth wall.
There are no actual clowns in 500 Clown. For Danzig, clown theater is more of a philosophy. Charlie Chaplin and Buster Keaton—not Bozo—are his inspiration. The actors in 500 Clown's productions, which includes 500 Clown Macbeth, 500 Clown Frankenstein, and 500 Clown and the Elephant Deal, often find themselves in sticky situations and keep the audience on the edge of their seats, waiting to see how the action will reach a resolution.
"We want the audience to feel like we are creating this experience together," Danzig says. "Theater has, at its core, action. If the audience is watching action, they can be engaged. Action is compelling and allows the audience to create a narrative."
He adds, "Words are great at specifying and clarifying meaning, but they also limit what the audience is thinking about."
Despite an economic recession, 500 Clown—the only small touring theater company in Chicago—actually grew last year, performing better financially than anyone expected. "The wisdom is, in a down economy, people want to laugh," Danzig says.
In fact, documentary filmmaker Daryl Miller spent a year and a half following and filming the cast and crew for a serialized Web documentary titled Clown Make Monster (http://clownmakemonster.com).
The question the documentary sets out to answer is, "What happens to a group of clowns in a theater company that push against authority when they believe that theater itself is the authority?"
Danzig credits Oberlin for helping him learn "to expect that I could be effective in the world," he says. "One of my peak moments as a student was realizing that world history—especially recent world history—is predicated on actual relationships that people have."
Much of Danzig's work as an actor and director, then, is about cultivating relationships between the actors, the characters, and the audiences on a nightly basis.
Bright Lights, Midwestern City
For Oberlin graduates hoping to make a living in the theater, Chicago has a special allure. "In the mid '80s, Chicago was the focus of theater in the country," says Greg Allen. "I didn't want to go to New York. It was way too competitive and not really in the realm of what I wanted to explore in theater. Chicago then and now is the loci of do-it-yourself theater, of people directing their own work."
Why? Because Chicago is affordable, accessible, and welcoming to newcomers, he says.
"We are constantly creating our own way and work," he adds. "There's really an audience for what you're doing. You're not swallowed up in the world of Broadway."
According to Travel + Leisure magazine, Chicago ranks second (behind New York) for best theater scene among U.S. cities.
"Chicago is easy to live and work in," says Blair Thomas. "Real estate isn't formidable, and opportunity is pretty much everywhere. People are always interested in people doing new work. It's a livable town."
"One thing Chicago has in theater is an audience," adds Thomas, "which is an important thing. People who live in this town like to go to the theater. They're not tourists looking for something to do. There's not a tourist-driven theater scene of great substance. The real audience is made up of people who like to go out and see theater. It ends up rooting you, having an audience like that."
Danzig says that former classmates Thomas and Allen were the reason he moved to Chicago after completing a workshop at the O'Neill National Theater Institute in Connecticut.
"I had big brothers to go to Chicago with," Danzig says. "I had my people from Oberlin who were giving me a soft bed to land on. The idea is community."
Plus, he says, "Chicago seemed like a good place to do agitational theater."
Tanera Marshall moved to Chicago to pursue an MFA at DePaul University's Theatre School and signed with a talent agent shortly after graduating. "The theater that's being made in Chicago is constantly evolving. It fosters innovation," she says. "It doesn't have the pressures of success that New York has."
Marshall has worked on and off with the "Big Three" over the years and with other Oberlin alumni in the Chicago area. "I wouldn't say we're bound together because we're Obies," she says. "We're bound together because we are a subset of theater-making.
"But the older we get," she adds, "the more fondly we look at fellow Obies."
One relative newcomer to the Chicago theater scene is actress Taylor Bibat '07. After graduating with a degree in theater with a concentration in acting and directing, she returned to her native Chicago. Already, she's worked for companies such as Redmoon Theater, Blair Thomas & Company, Collaboraction, Victory Gardens, the Building Stage, Silent Theatre, and Thresholds Theater Arts Project. Like Danzig, she trained at the O'Neill National Theater Institute.
Bibat isn't yet able to earn a living doing theater, so she has a number of part-time gigs to get by; she tutors, babysits, teaches puppetry, substitute teaches, and works office jobs. Ultimately, she says, "I would like to do theater full time and find my own voice in the theater, as far as creating work."
At Oberlin, she says, her classes focused on traditional acting methods, such as Stanislavsky, but since moving to Chicago she's found herself "breaking off and doing more visual theater, with that foundation of technique."
"After I graduated, I fell in love with the city—as an adult," she says. "I found a theater niche here. I've been working with companies that are visual and object-based; they tell stories in a theatrical way, incorporating other disciplines."
She received an e-mail from a recent Oberlin graduate who, like Bibat, was looking to move to Chicago and act, asking for advice.
"It's cool to know that Obies are out there, and that they'll always be out there, on two levels," she says. "One, that the friends I made there will always be my friends, even if I don't talk to them for a couple of years. And also that there are Obies I didn't go to school with are out there, and we have a connection immediately."
Elizabeth Weinstein, assistant director of alumni outreach and engagement at Oberlin, is a frequent contributor to OAM.