Winter Term 2010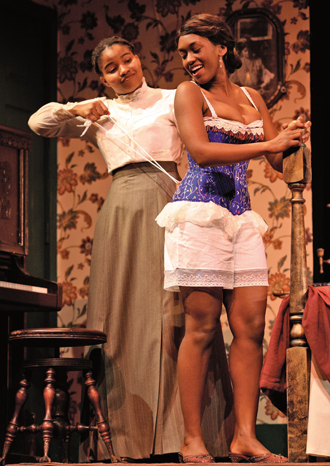 Commemorating Black History Month, the Oberlin College Theater and Dance Program sponsored the winter-term production of Intimate Apparel, (left) a play by Lynn Nottage about an African American lingerie designer and her relationships with a Whartonian socialite, a prostitute, and an Orthodox Jewish merchant in Manhattan in 1905. Juniors Heather Harvey, Lisa Mon'a Brown, and Samantha Boyd, and sophomores Ralph Johnson, Atty Siegel, and Billy Ferrer constituted this small but striking cast, whose long hours of rehearsal in January—often six to eight hours a day—paid off in both the final performance and the winter term experience. "Being in Oberlin in January was cold, but it was fun being in a play with a small cast, because it gave us all a chance to bond and have clear story lines onstage," said Harvey.
Nicollette Buckle
Four Obies spent their four weeks in Tallahassee, Florida researching thousands of organisms called Pogonomyrmex badius, also known as the Florida harvester ant. First year student Nicollette Buckle and juniors Loke Jin Wong, Marta Robertson, and Casey Lee assisted myrmecologist a Florida State University with his research. The group made aluminum and wax casts of the ant colonies, and even tackled their own individual research projects. "It was a great way to get out and do things that we never did before, like cutting down trees with one-man saws and learning a lot about Pogonomyrmex badius through our individual experiments," said Buckle (above).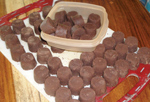 (photo by
Elizabeth Gilmour '13)
First-years Elizabeth Gilmour and Laura Rose Brylowski traveled to Costa Rica, where they volunteered on an organic chocolate farm (left). From peeling cacao to consuming "choco-bananas," the duo combined farming, exploration, foreign-language practice, and pure deliciousness in one fantastic winter term. "Every day there was something that happened that made me think, 'I'm going to remember this for the rest of my life,'" Gilmour said.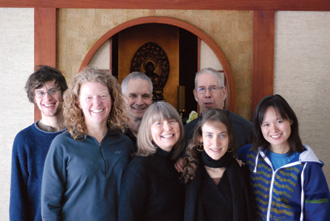 Where else could you find Obies in January? Perhaps at the Rochester Zen Center in Rochester, New York, where first-years Lynny Brown and Kevin DiGuglielmo worked alongside John Pulleyn '67, Chris Christoff '68, John Botsford '69, Cecily Fuhr '91, and Rebecca Mendelson '03 (left). One of the largest Zen Buddhist training temples in the country, the Rochester Zen Center provided Brown and DiGuglielmo with three-to-four hours of meditation a day, and four-to-five hours of work. "I really enjoyed the experience and felt that sitting still to lessen my attachment to my thoughts was one of the most valuable winter-term projects I could have chosen," said DiGuglielmo. "Having to face every thought as it arises makes you very aware of how strong the ego's incessant demand for attention is."
For more information: Read student blogs: http://blogs.oberlin.edu/learning/winter_term
To learn about offering winter term internships for Oberlin students: http://www.oberlin.edu/career/alumni,
Paris Achenbach, a first year student and writer in Oberlin's Office of Communications, is from Washington, D.C.