Alumni Notes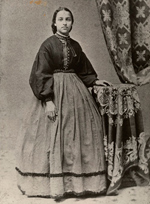 (Courtesy of Oberlin
College Archives)
The goal of graduating minority students from Oberlin has been a priority since Oberlin graduate Mary Jane Patterson became the first African American woman to receive a bachelor's degree in 1867. Today, efforts to retain minority graduates can be seen through the mission of the Oberlin Alumni Association of African Ancestry (OA4). The organization, chartered in 1997, serves to facilitate the relationship between the college and its African ancestry alumni; to increase the visibility of African ancestry persons and concerns in the life of the college; and to work with the college to increase admission and retention of African ancestry students, among other duties. To strengthen the bonds of the organization and explore how it can continue in its efforts, OA4 will hold its annual reunion from October 8 to 10 under the theme "Since 1835: Building on Our Legacy; Celebrating 175 Years of African American Heritage at Oberlin College." This year, "we are compiling stories and artifacts from many alumni, to be shared at the reunion," explains Andrea Hargrave '97, affiliate group representative. "We will commemorate our varied and shared experiences with stimulating alumni panels and performances." All registrants will receive a copy of Constructing Black Education at Oberlin College: A Documentary History, written by retired college archivist Roland Baumann.
For more information about the reunion visit http://oberlina4.ning.com
Our Oberlin Journeys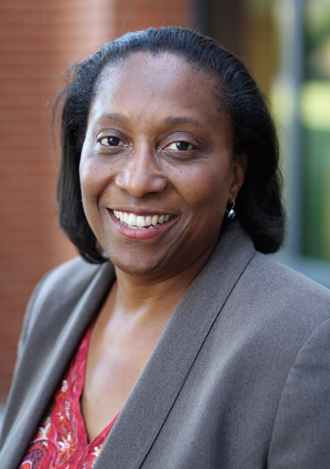 I am continually amazed at the trails that Oberlin College alumni are blazing all over the globe. Alumni have been making their mark on all aspects of life in numerous areas including, but not limited to, literature, music, the sciences, the arts, and social sciences. Their accomplishments add to the aura of being an Oberlin alumna and underscore the importance of students receiving a strong foundation and quality preparation as undergraduates. As we encounter other Obies and hear about their contributions to society, it's hard not to reflect with pride about our experiences around Tappan Square, and the strong foundation and quality preparation we received as undergraduates. It is clear that the Oberlin way has made an imprint on many, shaping our extended worldview, our paths, and our perspective on life.
With the recent news that President Obama has presented the Conservatory of Music with the National Medal of Arts, which honors and celebrates Oberlin's creativity, we are again reminded of the impact Oberlin has made on the national scene and the world. It is an honor shared by the entire Oberlin community, as the award recognizes not only of the vast network of Oberlin faculty, alumni, and students who are themselves artists, but also those who have interfaced with Oberlin artists and are positively influenced by music and the arts.
In addition, Oberlin currently has 16 alumni serving in the Peace Corps and, as a result, was recognized recently as one of the top small schools making its mark on the world through volunteerism. These accolades reinforce our legacy and confirm our impression that Oberlin alumni of all generations continue to change the world in positive ways.
Although not everyone is making news, appearing in headlines, or receiving honors, Obies everywhere are making personal and professional decisions that benefit the environment, improve organizational performance, educate young people, and strengthen the fight for social justice. They are conducting business ethically, expanding scientific understanding, and raising children who are intellectually curious. Their trails may be less visible, but they are just as crucial and important.
We all have personal journeys, but Obies have an inclination toward pathways that benefit others and society. What might have influenced our collective formation and development? As you consider your own life and where you are today, how much of a role did Oberlin play? Did a special professor or classmate change the trajectory of your journey? Have you been inspired by a novel written by an Oberlin alumnus, a concert performed in Finney Chapel, or a special flavor of Ben and Jerry's ice cream? Whatever it is, how has Oberlin touched you?
We have all had many influences, but let's not forget the one we all share: Oberlin. Let's brag about its accolades, such as the National Medal of Arts. Talk to young people about what makes your alma mater unique. Keep in touch and see how you might support Oberlin's efforts to recruit the most promising students and help place them in careers. Attend your next reunion and contribute to your class gift. Share your chosen pathway by sending your narrative to the Oberlin Stories Project at stories@oberlin.edu. Continue on your unique trail and let us know where it takes you.
Dwan Vanderpool Robinson '83
President, Oberlin Alumni Association
Regional Roundup
What's Happening in Your Region?
Find out at ObieWeb, www.oberlin.edu/alumni/oberlinClubs.
Why is having an active and diverse alumni regional program so important? Not only are our alumni the best ambassadors for the college and conservatory, but regional programs are a lot of fun. They allow Obies to connect and engage with each other and their alma mater. They also allow alumni to interact with current and prospective students; foster opportunities for life-long learning; make important career connections; and help others in the neighborhood and beyond. In a nutshell, regional programs help CONTINUE THE OBIE EXPERIENCE!
Oberlin Cares—Alumni Day of Service
In April we launched Oberlin Cares–Alumni Day of Service (www.oberlin.edu/alumni/oberlinClubs/oberlincares.html), a day for alumni, students, and friends from across the country to get together while performing service projects in their local communities. The long-term goal is to make Oberlin Cares an annual event. This year the program is off to a great start with 10 of the 26 alumni clubs participating!
Oberlin Summer Picnics.
Alumni will soon receive an announcement for summer programs, including the annual Oberlin Summer Picnics with their favorite Oberlin faculty members.
So it is with spring emerging from its winter doldrums that hope springs eternal, and it is my hope that you'll see in the year ahead a variety of alumni programs and events that will not only encourage you to attend but also get more actively involved and continue your Obie experience!
Below is a small sample of what our alumni clubs have done over the past few months. Feel free to contact me at 440-775-8692 or john.keller @oberlin.edu to get plugged into your local scene and continue your Obie experience. Thanks for your commitment to Oberlin College.
Oberlin Club of Washington, D.C.
Celebrating Obies in D.C.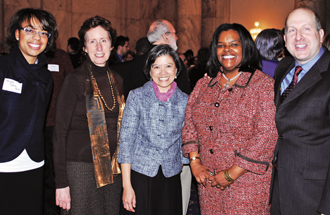 We kicked off the New Year in grand style as nearly 400 alumni, students, and friends joined U.S. Sen. Sherrod Brown and President Marvin Krislov for a reception celebrating Obies in the Obama Administration and the numerous current students interning in D.C.
Oberlin Club of Chicago
USW, a new chamber opera by Lewis Nielson.
Chicago-area Obies enjoyed an evening watching Lewis Nielson's new opera USW and meeting him along with the cast and crew, many of them Obies, at an alumni reception. Nielson is professor of composition at Oberlin.
Oberlin Club of Pittsburgh
Obies Night Out!
Pittsburgh hosted an alumni happy hour in February and welcomed new co-regional coordinators Nicole Johnston '99 and Anne Clair Goodman '00.
Oberlin Club of Portland
An Evening with the Oregon Symphony.
Twenty-two alumni had a chance to meet the Obies performing with the Oregon Symphony before hearing two rare works: the Rossini-like Sixth Symphony of Franz Schubert for the first time in 30 years and Rossini's operatic Stabat Mater, which hasn't been heard here since 1925.
Oberlin Club of Cleveland
An Evening at MOCA Cleveland.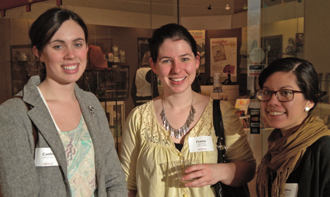 Alumni from northeast Ohio had an opportunity to hear from Stephanie Wiles and Andria Derstine, both from the Allen Memorial Art Museum. Wiles serves as director and Derstine as curator of collections and curator of European and American art. Alumni in attendance at the Museum of Contemporary Art in Cleveland (MOCA) viewed From Then to Now: Masterworks of Contemporary African American Art, which brought together for the first time the rich holdings of contemporary African American art drawn from preeminent collections of contemporary art in the region, including the Allen Memorial Art Museum.
Oberlin Club of Georgia
Alumni Reception Honoring Thomas R. Frieden '82.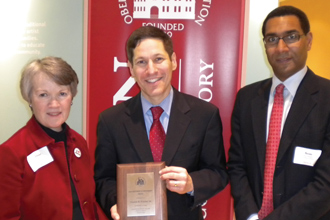 Atlanta-area alumni joined Dean Sean Decatur at the Global Health Odyssey Museum, Centers for Disease Control and Prevention, as he presented Thomas Frieden with the Alumni Association's Distinguished Achievement Award. The award recognizes an individual's outstanding contributions and achievements that reflect Oberlin's values in a career field. Congratulations again to Frieden!
Oberlin Club of San Francisco
Alumni Picnic in the Park with Ben Jones '96 and Danielle Young.
More than 50 Bay Area alumni joined Ben Jones '96, vice president for the Office of Communications, and Danielle Young, executive director of the Alumni Association, for an alumni picnic hosted by Paul Sciortino '90 and Jana Sciortino '92 at Golden Gate Park on a beautiful San Francisco day in March.
Oberlin Club of Phoenix
Second Annual Yeoman Baseball Bash.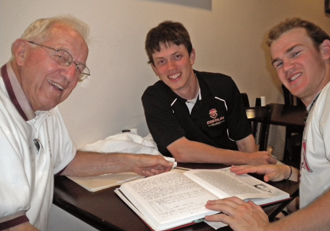 With the Yeoman baseball team off to one of its best starts in recent memory, more than 25 alumni and parents cheered the team at a doubleheader followed by a celebration with the team at the Second Annual Yeoman Baseball Bash.
John Keller
Director of Regional Activities and Engagement
---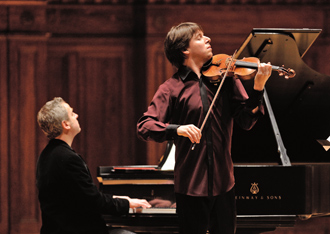 © 2010 Roger Mastroianni
In a sold-out performance at Oberlin's Finney Chapel, violinist Joshua Bell and pianist Jeremy Denk '90 performed a program of violin sonatas from the 18th, 19th, and 20th centuries by Bach, Schumann, Saint-Saëns, and Ravel. Their performance on February 3 was one of the first stops on a two-month U.S. tour that culminated in performances at Seattle's Benaroya Hall, Los Angeles' Walt Disney Concert Hall, and New York's Carnegie Hall. According to a Plain Dealer review of the duo's Finney performance: Denk "made a lively partner, baiting and responding to his friend with masterful sensitivity."
---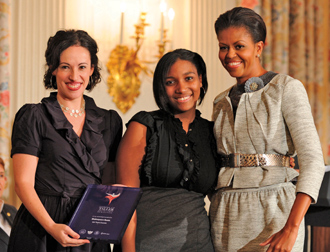 Life is a funny mix," writes Zak Berkman '93. "My wife and I have two amazing sons, one of my plays has been optioned to become a film, and Epic Theatre Ensemble (cofounded with Melissa Friedman '93 and Ron Russell '92) received the President's Committee on the Arts and the Humanities Coming Up Taller Award at a White House ceremony hosted by First Lady Michelle Obama. And yet as with so many in the arts, education, and the "nonprofit" world (can we change the name to "pro-community"?), it's a constant struggle to pay the mortgage, health care, and avoid insomnia from all the stresses of parenthood in this precarious time." Coming Up Taller is a national initiative that recognizes and supports outstanding out-of-school and afterschool arts and humanities programs for children. Pictured are Melissa, Epic Theatre student Shana Brown (holding the plaque), and First Lady Michelle Obama.
Mark Boal: No Hollywood Ham
For writing the screenplay The Hurt Locker, Mark Boal '95 took home an Academy Award and almost took home a miniature pig.
In a New York Times article "Oscar Casts Its Glow on a Regular Guy," Boal is the titular guy, maneuvering through a seven-month award season that saw him and his film (he's the screenwriter and one of the producers) nominated for Academy, Golden Globe, BAFTA, Critics Choice, and Writers Guild of America awards, and scores more. In addition to the Oscar, Boal won the BAFTA and Writers Guild awards, along with a host of film festival prizes. That required his presence at a dizzying number of ceremonies and banquets—he estimated 10 in January alone—and the purchase of two tuxedoes to wear in rotation. Though he called the awards process grueling, he realizes a series of champagne banquets full of celebrities—and accompanied by extravagant gift bags (whence came the miniature pig offer)—isn't something he should complain about too loudly.
This is not the usual life of a magazine journalist, the position Boal held before drawing from his experience covering the Iraq war for Playboy to write the screenplay for The Hurt Locker, a film about an army bomb squad in that conflict.
Boal, who will team up with Hurt Locker director Kathryn Bigelow again for his next movie, accepted the awards and the accolades graciously, although he did turn down the pig.
- by Jeff Hagan '86