Around Tappan Square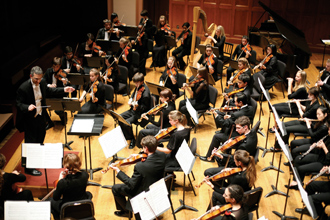 Professor of Conducting Timothy Weiss directs the Oberlin Orchestra on December 12 in a preview concert of its 13-day, seven-concert Asia Tour. The orchestra toured Asia from December 25 to January 6, performing concerts in Shanghai, Beijing, Wuhan, and Singapore.
Speaker Addresses "Islamophobia"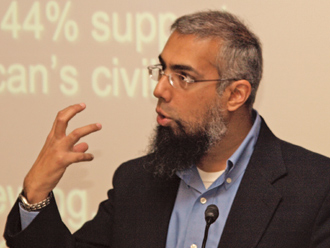 The coordinator of Muslim life at Yale University told an Oberlin audience that the key to ending the public's fear of Islam is to learn more about the faith. "The ignorance about Islam enables stereotypes to be perpetuated," said Omer Bajwa during his multimedia presentation "Islamophobia" last November. "The hope that we have is that we educate those who want to be educated."
Bajwa's talk, hosted by the Office of Religious and Spiritual Life, traced the roots of Islamophobia back to Orientalism and up through post-9/11 anti-Muslim propaganda.
Bajwa drew from a reservoir of examples perpetuated by politicians, graffiti, news reports, rallies, and, especially, film. "Hollywood is much more powerful in being the historians of our century. In the last 50 years, more than 20 movies show the military killing Arabs and Muslims." The terrorist attacks on 9/11, he said, only intensified what he worries will become "the demonization of Islam."
"The 'Islamic threat' is used to explain, justify, and simplify complex American political, social, and economic problems," Bajwa said. "Many don't see [the response to] 9/11 as a war on terrorism but a war on Islam. Cornell [University] did a study that found that 44 percent of people—not half, but very close—support some curtailing of Muslim-American civil liberties."
In addition to his talk, Bajwa met for lunch with college deans and directors of student life to examine how they can help Oberlin become more hospitable to Muslim students.
Dean Linda Gates to Retire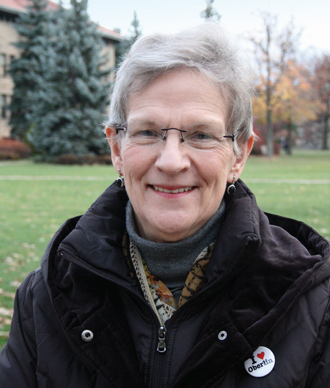 Dean of Students Linda Gates has announced her intention to retire at the end of this academic year. She joined Oberlin in 1989 as a lecturer in English as a second language, accepting the positions of associate dean of student academic services and director of student support services in 1997. She was promoted to dean of students in 2005.
"It has been my pleasure and privilege to work closely with an extraordinary group of professionals in student life and services for nearly seven years," Gates says. "Working in the Office of Student Academic Services for the preceding 14 years provided experience with the systems at Oberlin College that led to a smooth transition to this position. I cannot imagine a better place to work or a more professional, dedicated group of colleagues who are devoted to the mission of Oberlin College."
Among the highlights of her career, Gates says, was working with Newman Architects and providing support, direction, and leadership to the Office of Residential Education on a master plan for student housing. This included construction of Union Street housing for upper-class students, the Robert Lewis Kahn Hall for first-year students, and renovation of seven residence halls (Harvey, Kade, Price, Noah, Lord-Saunders, Burton, and Asia House).
Gates' support and promotion of collaboration between curricular and cocurricular enterprises led to the creation of a position shared by the Division of Student Life and the College of Arts and Sciences—associate dean for academic diversity. In addition, her collaboration with the athletics department created a director of club sports position, administrative support for club-sport athletes, a wellness initiative, and a director of wellness and health promotion position.
During her tenure, Gates improved administrative procedures and helped restructure student health services and the counseling center, with the goal of providing additional support to students. She continued refining the class dean system, a campuswide support network begun by her predecessor, Peter Goldsmith.
"In my retirement," says Gates, "I intend to spend more time with grandchildren and other family members, travel, and catch up on reading and myriad projects that I haven't had time to pursue."
Oberlin AD Joe Karlgaard Heading
to Stanford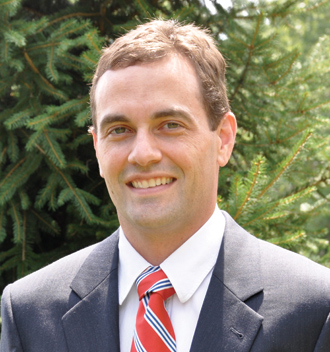 Oberlin College Delta Lodge Director of Athletics Joe Karlgaard stepped down from his position February 15 to return to his alma mater, Stanford University, as the associate director of athletics for development.
"I am extremely grateful for having the opportunity to be the athletics director at Oberlin over the last six years," Karlgaard said. "I made some tremendous relationships along the way and will greatly miss working with such wonderful people. Our family has truly grown to love Oberlin, and I thank everyone who has made our time here so special."
Since 2005, when Karlgaard became interim director of athletics, Oberlin improved its North Coast Athletic Conference All-Sports Trophy point total four out of five years, including record totals in 2007, 2008, and 2010. During his tenure, 11 varsity sports achieved their highest conference finish in school history. And as a result of a 2008 task force he led with Dean of Students Linda Gates, Oberlin now boasts one of the most robust club sports programs among liberal arts institutions in the country.
"Joe has done an outstanding job with our athletics program," said Oberlin College President Marvin Krislov. "He has improved the overall competitiveness of varsity athletics, overseen a significant upgrading in our facilities, strengthened club sports and intramurals, and revitalized our health and wellness activities. He leaves behind a significant legacy."
Natalie Winkelfoos, associate athletics director, and Ray Appenheimer, head track and cross country coach, are serving as co-interim directors as a national search for Karlgaard's successor takes place.
Under Pressure:
Oil and the Middle East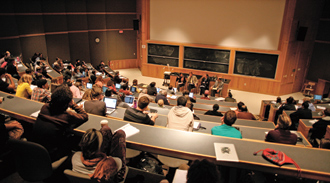 Any dialogue on the Middle East inevitably turns on the theme of oil. "Oil is special, and Middle Eastern oil is even more special," said Sonia Shah '90 during the first session of Politics 199: Oil in the Middle East, a four-part mini-course held during fall semester. "It's sweet, light, and easy to refine. The stuff is literally coming up under its own pressure."
A journalist and author of prize-winning books on science, human rights, and international politics, Shah drew on the research she did for her 2004 book, Crude: The Story of Oil, when she took part in the panel discussion "Oil and U.S. Foreign Policy." She recalled talking with oil executives who pointedly asked her, "Do you want to freeze to death in the dark?" "What I learned," she observed, "is that it's true—we need this stuff. It makes sense that it plays a huge role in our foreign policy."
Shah's fellow panelists weren't so emphatic. Patrick Clawson '73, deputy director for research at the Washington Institute for Near East Policy, disagreed outright. "Strategic issues and not oil have driven U.S. concerns," he said, citing America's close relations with Israel, and the simultaneous sanctions in the '90s on three of the five biggest oil producers in the region. He also dismissed the idea that the current war in Iraq is a gambit to further U.S. oil interests. He noted that since the war began, the majority of oil contracts have gone to Chinese and British companies, with American companies having a minor presence.
Stephen Zunes '79, chair of the Middle East studies program at the University of San Francisco, argued that "the concerns about oil and the larger strategic issues are inseparable." The Iraqi war, in Zunes' view, presents a perfect example. It has allowed America to establish permanent bases in the region and "in effect control the town."
Commenting on the course, Professor of Politics Ben Schiff noted that the first session addressed a topic that was the focus of great debate and controversy, "particularly because of the persistent idea that oil is what drives policy. I thought this would be something in which students would be interested and about which there is considerable interesting difference of perspective among experts."
Schiff organized and moderated the course, with generous support from Bill Smith '38 as part of the Williams-Smith symposia, which focus on topics relevant to free enterprise and democracy. The course was the result of the efforts of Tanwir, a student group interested in Middle Eastern studies.
Other events focused on the subjects of oil and the environment with Toby Jones of Rutgers University; oil and economics with Djavad Salehi-Isfahani, professor of economics at Virginia Technical University; and oil and democracy with Jill Crystal, an Auburn University professor and associate director of its PhD program.
A Reunion in Jerusalem
The U.S. Embassy to Israel hosted a reunion of the Palestinian and Israeli students who participated in Oberlin's 2010 American Democratic Culture Partnerships (OAM, Winter 2010-11) in January at the American Center in Jerusalem.
The 2010 endeavor included a spring semester course—taught by history professors Gary Kornblith and Carol Lasser in conjunction with partners at Tel Aviv University and Al-Quds University—and a summer program that brought the students of all three institutions together on Oberlin's campus. The two plan to repeat the project this year.
New Minor: MENA
Oberlin has established a new academic minor in Middle East and North African Studies. The new minor, to be administered by the Middle East and North Africa (MENA) Studies Curricular Committee, was approved by the faculty in the fall.
"The minor came about in response to vigorous demand from students who see the growing importance of the region and have in increasing numbers been seeking independent majors in the area," says William G. and Jeanette Williams Smith Professor of Politics Ben Schiff, who chairs the committee. "The minor can provide an advising framework for students interested in the area and helps them show their preparation as they pursue related work or study opportunities after Oberlin. At the same time, establishing the minor might be a step toward establishing a major in the subject."
Students can now add the MENA minor to any major and gain advising from a faculty member interested in MENA studies. Student transcripts will note that they completed the minor, which entails language study as well as a selection of relevant humanities and social sciences classes that deal with the region and its cultures, politics, and religions.
Faculty Panel Addresses
Middle East Issues
The Office of the Dean of Arts and Sciences and the Tanwir Middle East Studies Association sponsored a faculty panel discussion titled "Perspectives on Recent Events in the Middle East" in February. It featured Ali Yedes, associate professor of French; Zeinab Abul-Magd, assistant professor of history; Maren Milligan, visiting assistant professor of politics; and Jafar Mahallati, presidential scholar of Islam.
Students Win YouTube
Orchestra Seats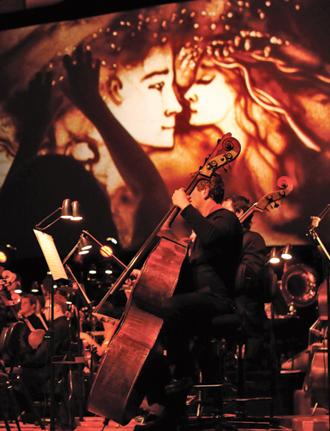 Three Oberlin students traveled to Sydney, Australia, in March to take part in the 2011 YouTube Symphony Orchestra. French horn player Matthew Berliner, a senior; violist Dillard "DJ" Cheek, a junior; and oboist Xiomara Mass, a 2010 graduate and first-year artist diploma candidate, rounded out the 100 musicians selected through video auditions on YouTube. They performed at the Sydney Opera House on March 20 under the direction of Grammy-award winning conductor Michael Tilson Thomas.
To be chosen for the orchestra, musicians from around the world posted audition videos on YouTube. Members of nine orchestras narrowed the field to 300 finalists, who were voted on by YouTube users. Those votes were taken into account when Thomas selected the final orchestra.
Read Matthew Berliner's travel blog at www.matthewberliner.com/blog.html
In Other Words
"The right wing is terrified that this country is about 20 minutes away from no longer being a majority European-American country, and, of course, there are culturally differential birth rates and they're aware of that."
–Gloria Steinem, writer, lecturer, feminist, and political activist, during a convocation talk at Oberlin
---
"A 15-year-old kid who kills himself because he's gay and is bullied—what he's saying is that he can't picture a future with enough joy in it to compensate for the pain he's in now. As a gay adult who got through that stage in my life, including a suicidal little chunk, I heard about Aaberg and Lucas [two gay teens who committed suicide after being bullied] and felt helpless and angry and had the reaction that so many gay adults have when we hear of these stories: 'I wish I could have talked to that kid.'"
–Dan Savage, founder of the It Gets Better Project, in an interview with the Review while on campus for a lecture.
---
"Ethiopian Jews have to see a special Ethiopian rabbi to get married. There's something wrong there. Some of them have to undergo conversions, and these are Jews who have been practicing and preserving Judaism for thousands of years, and now it's not good enough."
–Beejhy Barhany, founder of Beta Israel of North America, in an interview with the Review while on campus for Black History Month.
---
"Do I really have to point out that Oberlin is a nationally prominent college whose self-confidence should easily withstand the appearance of a politically controversial speaker?"
–Tim Hall, associate professor and chair of the philosophy department, writing in the Review about last semester's campus speech by Republican political operative Karl Rove.
---
"The earliest Homo sapiens are from Africa, and so everybody's carrying around little bits of their DNA. If you want to assign race or geography to your DNA, I prefer to say it's just all human, but if you want to put it somewhere, it comes from Africa."
–Nell Irvin Painter, artist, professor at Princeton University, and author of The History of White People, speaking with the Review while on campus for a convocation talk.
Summer Theater Festival Heads into Third Season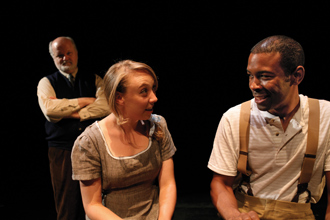 Now entering its third season, OSTF presents free and family-friendly productions to Lorain County residents. The festival's productions are professional and intergenerational, starring Equity guest artists and Oberlin College alumni. Summer 2011 productions will include The Little Prince, directed by Alexis McNab '01, A Raisin in the Sun, directed by Justin Emeka '95, and Hamlet, directed by Paul Moser, associate professor of theater and producing director of the festival.
"In an era when theater audiences are shrinking nationally, we are attempting to build a broad-based, family audience in the area," says Moser. "We want theater to be as accessible as the public library and cherished as a fun, enriching cultural activity that families can share." Moser says that one-fifth of the festival's audience last year was made up of children under 18.
In addition to McNab and Emeka, alumni involved in this year's festival include Meg Lindsey '09, Alex Huntsberger '09, Nicholas Sweeney '00, Ben Sandberg '10, Daryl Johnson, '07, Pete Ferry '72, Aaron Muciollo '02, and Joey Rizzolo '97. Matthew Wright, associate professor of theater, will again be in the company, and Heather Anderson Boll, visiting professor of theater, will again run the festival's Shakespeare Day Camp for high school students.
For more information, visit http://www.oberlin.edu/ostf/