DancePartners
The alumni behind FLY: Five First Ladies
of Dance

When Anna Glass '96 and Georgiana Pickett '90 first contemplated asking famed dancer Carmen de Lavallade to come out of retirement, they assumed the answer would be no.
"We thought it was crazy-talk," says Glass. "She was untouchable; she opened for Josephine Baker!"
Glass and Pickett are the managing and executive directors, respectively, of 651 ARTS, an organization committed to advancing the contemporary performing arts and culture of the African diaspora. They were planning the organization's 20th anniversary celebration when they hit upon the idea of contacting de Lavallade. They knew it would be a stretch to get her and the rest of their dream line-up—Germaine Acogny, Dianne McIntyre, Bebe Miller, and Jawole Willa Jo Zollar. All are legends of modern and contemporary dance. They also are all over 50; the oldest has been dancing professionally for more than 60 years.
"In the world of dance, you are old when you're 30," says Pickett. "As they age, choreographers who are also dancers tend to work themselves out of their own choreography. It doesn't seem fair that as audiences we don't get to see enough of these masters."
And so, they decided to put aside their doubts and ask. To their surprise, all five women—"the Michael Jordans of modern dance," in Glass's words—said yes. Even more unexpectedly, each agreed to perform an ambitious solo in the collaborative concert, FLY: Five First Ladies of Dance.
Beginning with a single concert in New York, FLY became a multi-city tour with stops in Washington, D.C., Philadelphia, and Newark. In December, the dancers performed to full audiences in Oberlin's Hall Auditorium in concerts cosponsored by DANCECleveland and Oberlin's Theater and Dance Program. The weekend visit also included panel discussions, lectures, and master classes.
Both directors emphasize their delight that Oberlin audiences experienced the event. "While I was at Oberlin, having opportunities to see dance that was coming from outside of the campus was very limited," says Glass, who studied dance at Oberlin. "I wanted students to see that there is a lot out there, more than you'd recognize."
FLY proved a dynamic event, the five solo works by turns fierce and lively, and startlingly diverse. Dianne McIntyre's solo was accompanied by acclaimed jazz pianist and Oberlin Conservatory alum George Caldwell '76. An exploration of legacy centered around three artists who have influenced McIntyre, the piece began with Caldwell and McIntyre walking into the spotlight and bowing to each other.
"It's as if we carry within us what has gone before us, and we bring it into the space and acknowledge it before we start," says Caldwell. In keeping with the theme of McIntyre's dance, after the performance Caldwell spoke of the mentorship he received from Oberlin jazz studies founder Wendell Logan, who passed away in June.
Glass looks up to the five FLY dancers as "unsung heroes," noting how her own appreciation of their work has been altered by her role as producer. When rehearsals first began, she saw each dance through the lens of her knowledge of form and choreographic vocabulary. Now, she sees the dances in a different light. When she watches Miller's dance Rain, "I see her strength, her ease, and her peace in her body."
"I hope this project sparks something in everyone who sees it," says Glass. "I hope they walk away curious to see more, and also inspired to pursue whatever it is they are passionate about, regardless of age."
Anna-Claire Stinebring '10 is a writer living in Oberlin.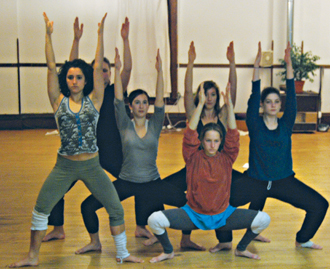 In Noon: In Oberlin, and Elsewhere
Helen Joyce '11 of the newly formed In Noon Dance Collective describes a recent duet with member Kai Evans '11 as being "about the difficulty and tension of being together and being apart."
The self-described "migratory dance collective" knows a little something about that. In Noon has four geographic bases—Ann Arbor, Boston, Oberlin, and Portland, Oregon—and includes 17 dancers, choreographers, and musicians—all recent Oberlin graduates or current Oberlin students—scattered across the country. And yet In Noon's creative process depends on close collaboration among its far-flung members.
Group members converge at intervals for intensive work sessions, and the collaborative spirit is fostered by the shared responsibilities of living, cooking, and traveling together. The rest of the year, they must rely on e-mails and conference calls.
In Noon's debut performance took place in February in Boston, and the collective is planning to perform during commencement, followed by its first tour in early summer. With broadening the accessibility of dance as a goal, it plans to seek new venues and social contexts for dance, as well as new ways to weave other media into dance, through installations and collaborations with guest artists.
"Dance is in many ways a rarefied art form—it doesn't always permeate everyday life in the way text, visual art, and music do," says Jan Trumbauer '10, who joins Katherine Anderson '10 and Holly Heidt '10 as artistic directors of the collective. "With In Noon we are looking to close the gap between dance and everyday life."
—Anna-Claire Stinebring '10