Engine for Change
Bogi Lateiner '00 threw a wrench into her plans of becoming a lawyer, and it's worked out pretty well.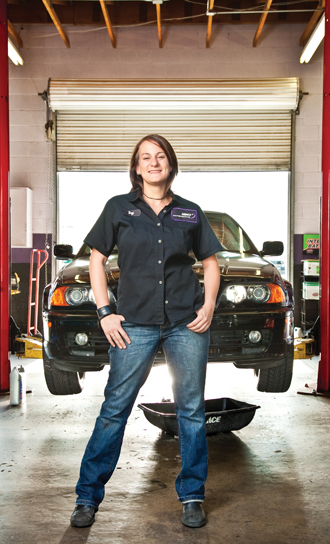 Most of the women who can be found in an auto mechanic's garage are on calendar pages on the wall, and they're not usually wearing coveralls.
According to the United States Bureau of Labor Statistics data for 2009, of the roughly 800,000 people employed in the automotive service industry, less than 2 percent are women.
That reality was just the kind of thing Sarah "Bogi" Lateiner '00 wanted to undo. (Her nickname, by the way, is shortened from the Hungarian name Boglinka, which she adopted during a high school exchange program in Hungary.)
Lateiner owns and operates a thriving automotive service and repair shop in Phoenix that educates and empowers women. She named her garage 180 Degrees Automotive, because, as she puts it, it's 180 degrees from what most people would expect.
In fact, it's not even what Lateiner expected. She was drawn to Oberlin when she saw a statement on Oberlin's admissions literature: "Think one person can change the world? So do we." She majored in pre-law and women's studies with almost every intention of going to law school. Almost.
In high school in Montclair, N.J., Lateiner bought an old Volkswagen Beetle for $500 and rebuilt it from the bottom up in her auto-shop class. "In the beginning, it was really to prove a point more than anything," she says. "It was something I wasn't supposed to be interested in. So I thought, why not?"
While at Oberlin, Lateiner worked with victims in a rape crisis clinic in Cleveland. It left her disillusioned about her ability to effect change. That's when she began to nurture what she calls 'a harebrained idea' that drew on her high school hobby.
She turned to her academic advisor, Oberlin Professor of Politics Paul Dawson, for advice.
So, I resigned, with tears in my eyes and scared out of my skull. I had little money in my bank account, so I called all my friends and family to bring their cars to me. Business has been out of control ever since.—Sarah "Bogi" Lateiner '00
"After my senior year, I sat down with Professor Dawson. He asked me why I wanted to go to law school," she recalls. She admitted that she really didn't want to go after all. "And I told him that I had this plan to merge my interest in auto mechanics with helping women. He told me to go for it."
Lateiner enrolled at Universal Technical School in Phoenix. "I was usually the only girl in class, I was a little older than most, and there was a big difference in class and background," she says. "At the same time, I found myself shocked about certain stereotypes I held. I was really impressed with these young people who were already married, had a baby and a house and two cars, and were putting themselves through school."
Lateiner was accepted by BMW's elite mechanics program and for seven years made a career as the only female mechanic in the employ of several auto dealerships. But she felt she had lost sight of her initial vision.
"So, I resigned, with tears in my eyes and scared out of my skull. I had little money in my bank account, so I called all my friends and family to bring their cars to me. Business has been out of control ever since."
She opened 180 Degrees Automotive in 2006, initially intending to focus on car education for women. Customer demand, however, has been so high that the shop is booked weeks in advance. In the last four years, her business has doubled in size each year. Today, Lateiner is looking at hiring more technicians and meeting with investors to open a bigger shop, and she continues to work on empowerment for women.
Once or twice a month, she holds a Ladies Car Care Clinic, covering skills like how to deal with a service writer and how to change a tire. The clinics teach women not just how to care for their vehicles, but how to take charge of their lives. Working with a Phoenix charitable foundation, she also started a nonprofit called Local Meets Global that raises money to provide micro loans for women in the world's most impoverished countries, allowing them to start their own businesses and become self-reliant. And she's starting a scholarship fund for women who want to pursue a career in the automotive field.
Lateiner estimates that about 60 percent of her customers are women. She currently employs two male technicians and—another rarity in the industry—a female service writer, Lisa Skinner.
"Having worked with Bogi, I now see more possibilities and things that I can do," says Skinner, who joined the shop last year. "She makes me want to be a better person. She's always positive and upbeat … she sets goals for herself, and now we do that together.
"She's always willing to go out of her way to explain things to me, the technicians, and the customers," Skinner says. "At the end of the day, we go home happy."
As it turns out, though, it's not just women who find Lateiner's approach empowering.
"There's no judgment in my shop," says Lateiner. "We're women-friendly and gay-friendly, yet straight men appreciate that they don't have to pretend to know everything about their vehicles."
Amanda Nagy is a staff writer in Oberlin's Office of Communications.