A reminder from the Alumni Association
Vote for Alumni-Elected Trustee
Alumni participation in the trustee elections has been approximately 10 percent for many years. We need more alumni to exercise their right to vote! Anonymous donors have pledged to donate one dollar to the Alumni Fund for every vote received beyond the number cast during the last election (3,184). Your vote during this election will allow you to help choose the leadership of Oberlin College and will benefit the Alumni Fund—it's free to you and demonstrates how much alumni care about their alma mater! Be part of Oberlin's history and future by casting a vote.
To vote for an alumni-elected trustee, complete the election ballot at http://new.oberlin.edu/office/alumni/. You will need to sign in to OBIEWeb to vote. (If you don't remember your user ID and/or password, please retrieve it at http://tinyurl.com/obieweb.) Any Oberlin graduate who has not received either a paper or electronic ballot should call the alumni office at 440-775-8692. Voting deadline is April 15, 2011.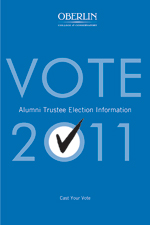 All Oberlin graduates are eligible to cast a vote for an alumni-elected trustee, a tradition that dates back to 1878. A vote for one of the candidates is an affirmation of the Oberlin tradition and confirmation of your support for Oberlin. It costs nothing, but has immense value.
Oberlin is unusual among liberal arts colleges in that six of the 34 seats on its Board of Trustees are filled through direct election by alumni. As alumni, we, therefore, have a unique opportunity to ensure that the Board of Trustees includes members who will be mindful of the traditions and heritage of the institution while implementing the important fiduciary responsibilities that are incumbent upon any member of any board. Even if you believe that both candidates are qualified for a position on the Board of Trustees and will serve Oberlin College well in the coming years, please take time to review their credentials and vote.
Alumni-elected trustee elections have traditionally taken place during the fall; however, the Trustee Search Committee has adjusted the election timeline to reduce the amount of time between the conclusion of the election and when the chosen candidate takes his or her seat on the Board of Trustees on July 1.
The candidates for this spring's election are Terence Dougherty '91, general counsel at the American Civil Liberties Union since 2005, and Danette DiBiasio Wineberg '68, vice president and general counsel to the Timberland Company since 1997. The alumni trustee elected this spring will serve a six-year term (July 1, 2011, to July 1, 2017).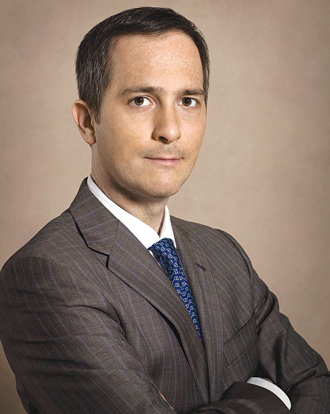 What Strengths Would You Bring to the Board?
I believe that I have a keen understanding of how organizations should operate so that they can do their best work and be most effective. Through my current job at the ACLU, my work as a volunteer for several nonprofit organizations, and my past experience as a schoolteacher, I see the value of communities working through organizations.
As an academic community, Oberlin is fascinatingly diverse and serves and requires input from many constituencies: primarily the students and professors, but also administrators, alumni, funders, and the local and global community in which Oberlin operates. And each of those constituencies incorporates its own constituencies: individuals with different racial, gender, sexual preference, class, regional backgrounds, and different interests and experiences. I strongly believe that unless transparent, fair, and consistently applied structures are in place at an organization, certain constituencies and individuals may be disempowered, and an organization will not be able to do its best work. I see the Oberlin College Board of Trustees as the group responsible for ensuring that these structures are in place and consistently applied at Oberlin so all of its stakeholders have a real and meaningful opportunity to be heard. If there is a fair process for decision-making, including meaningful opportunities to be heard, hard decisions that have to be made will have integrity, and the many individuals and constituencies Oberlin serves will continue to see themselves as stakeholders in the institution. I would bring this perspective and experience to the Board of Trustees at Oberlin College.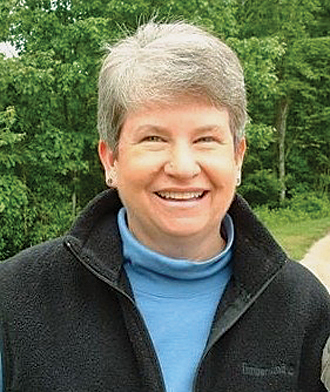 I am dedicated to Oberlin College, to its values, and to its community. My Oberlin experience extends farther than my four years as a student. I cannot remember a time when I did not know and care about Oberlin. I was introduced early to Oberlin by my parents (Toni and Sparky DiBiasio '40), who brought us to reunion and commencement events from infancy, and whose wide circle of friends included many Oberlin alumni. My own alumni work only increased my commitment to this institution, which has produced so many thoughtful, interesting, challenging, and diverse graduates, all making a difference in the world. As Alumni Association president, I was fortunate to work on the college's strategic planning process with a group of faculty, administrators, staff, trustees, and students. That experience provided me a special opportunity to participate with the broader Oberlin community in analyzing what is so special about Oberlin and what the college's plans for the future could include. I also experienced Oberlin through the eyes of a parent when our son, Bryan Appleby-Wineberg '92, attended and graduated from the conservatory.
I believe I have brought to my service on the board a lifelong commitment to Oberlin and its values; experience with Oberlin through my service with the Alumni Association; a deep belief in the importance and value of a liberal arts education; a commitment to constructive problem-solving; an interest in working with all kinds of people who represent many points of view; and experience working in a variety of settings, from educational to nonprofit to corporate.
For much more information, including candidate bios, visit http://new.oberlin.edu/office/alumni/