Around Tappan Square
Notable Grants and Awards
Catherine Oertel '99
Awarded NSF Early Career Grant
Catherine Oertel '99, assistant professor of chemistry and biochemistry, is the latest Oberlin faculty member to receive a prestigious CAREER grant from the National Science Foundation.
Oertel, who studies the corrosion of historic Baroque organ pipes, received a five-year grant of nearly $475,000 to study the corrosion mechanism using laboratory exposure experiments, analyses of authentic organ pipe samples, and the synthesis of corrosion products and related compounds. The grant will support the work of Oberlin undergraduate researchers, who will collaborate with Oertel in each stage of the project.
"My research brings something new to the chemistry department because there's an emphasis on materials research, which is at the interface of chemistry and engineering," says Oertel. "This work is a different than pure chemistry. There's a growing interest among Oberlin students to engage in multidisciplinary study."
The NSF Faculty Early Career Development Program (CAREER) funds teacher-scholars who integrate research and education in their work. Oberlin counts a growing list of past and current CAREER grant recipients, most recently Mike Moore, assistant professor of biology, who is on the second year of his grant. Other recipients include Taylor Allen, associate professor and chair of biology; Matthew Elrod, professor of chemistry and biochemistry; Manish Mehta, associate professor and chair of chemistry; and Sean Decatur, dean of the College of Arts and Sciences and professor of chemistry.
—Amanda Nagy
College and Main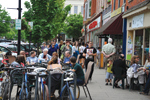 (Photo by Greg Pendolino)
Oberlin Among Intergenerational Award Winners
The city of Oberlin was selected to receive one of five inaugural America's Best Intergenerational Communities Awards by MetLife Foundation/Generations United. The Best Intergenerational Communities Award was created to heighten awareness of the importance that intergenerational connections play in building strong, supportive communities. The program was made possible with a grant from the MetLife Foundation. A blue-ribbon panel of judges selected the winning entries from among a host of applicants from across the country. The other communities receiving the award are Lamoni, Iowa; Georgetown, Texas; Virginia Planning District 10; and the County of San Diego, California. Read more at gu.org.
Corps Stories

Number of years Oberlin College has placed on the Peace Corps' list of top schools nationwide to produce Peace Corps volunteers

Oberlin's 2010 ranking in the Peace Corps' list of top schools nationwide to produce Peace Corps volunteers

Oberlin alumni are currently serving as Peace Corps volunteers

Number of Oberlin alumni serving in the Peace Corps in 2010

Oberlin's current ranking in the Peace Corps' list of similar schools nationwide to produce Peace Corps volunteers

Number of Oberlin alumni who have served in the Peace Corps since its founding in 1961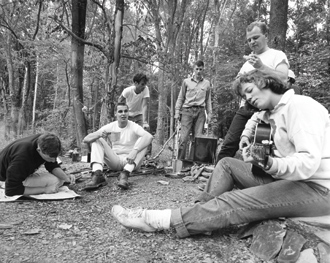 For the 12th year in a row, Oberlin has placed on the Peace Corps' list of top schools nationwide to produce Peace Corps volunteers. This year, however, with 24 alumni currently serving, Oberlin has moved up to the No. 3 spot among small-sized colleges and universities from last year's No. 18 ranking with 17 volunteers in service. Between 1963 and 1967, the Oberlin campus was the site of one of the Peace Corps' first regional recruiting and training centers, and 530 Oberlin alumni have served in the organization since its 1961 founding.
Among them is Dory Trimble '10, who is working on human rights issues in the Dominican Republic—primarily among Dominicans of Haitian descent—though her original posting was as a community environmental development promoter. Trimble is documenting her 27-month tenure through "Twenty-Seven Stories," an online storytelling project that abandons the random observations and self-revelations common to blogging in favor of fully thought-out personal essays on her work and travels.
"'Twenty Seven Stories,'" she writes, "aims to guide you, with a sense of humor and an optimistic eye, to parts unknown."
To read Trimble's stories, visit http://twentysevenstories.com.
To read about the experiences of Laura Wendell '90, who served in Togo, West Africa, and Lawrence Siddall '52, who served two years teaching in Poland at the age of 67, visit the summer 2000 issue of the magazine. You can read more about Siddall and order his book, Two Years in Poland, at his website www.lawrencesiddall.com.
At the Root of the Cherry Trees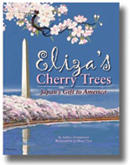 While the 3,000 cherry trees planted in Washington, D.C., and dedicated 100 years ago this March were a gift from Tokyo Mayor Yukio Ozaki, the idea behind the trees belonged to Eliza Scidmore, who attended Oberlin in the mid-1870s. Scidmore, a pioneering Washington-based writer and photographer and the first female board member of the National Geographic Society, became enamored of the trees during a trip to Japan in 1885. For 24 years she tried to persuade a parade of city and national leaders that the trees would be perfect to spruce up the swampy land around the Tidal Basin. She finally found a sympathetic ear in First Lady Helen Herron Taft, who had seen the brightly colored blossoms during her own trip to Japan.
On March 27, 1912, Scidmore was on hand when Taft and Viscountess Chinda, wife of the Japanese ambassador, planted the first two trees on the north bank of the Tidal Basin in a simple dedication ceremony. An annual festival to celebrate the blossoms began in 1934. Today, the two-week-long National Cherry Blossom Festival, heralding the arrival of spring to the nation's capital, draws more than a million visitors.
A children's book about Scidmore, Eliza's Cherry Trees: Japan's Gift to America, was published last year. Its website, www.elizascidmore.com, has a wealth of information about Scidmore and the cherry blossoms.
Constructive Criticism
Senior Jacob Street was awarded the $10,000 Rubin Prize in Music Criticism at the conclusion of the first biennial Stephen and Cynthia Rubin Institute for Music Criticism, the first-ever program of its kind focusing on performance and performance review.
Oberlin Conservatory of Music Dean David H. Stull '89 and Stephen Rubin, president and publisher of Henry Holt & Co. and benefactor of the Rubin Institute, awarded the event's top prize to Street, from North Reading, Massachusetts. Street was selected by Rubin and a panel of prominent national critics following a weeklong series of public events, including performances, keynote addresses by journalists, critical reviews, and discussion panels.
Street was among the 10 Rubin Institute Fellows, students chosen to participate in the Rubin Institute from the conservatory's new course, Introduction to Music Criticism. The fellows engaged in intensive workshops in music criticism, working with some of today's most respected writers in the field: New Yorker magazine critic and author Alex Ross; Washington Post critic and author Anne Midgette; Wall Street Journal critic Heidi Waleson; writer and arts critic John Rockwell; and University of Southern California professor and author Tim Page. Those writers, along with author and journalist Charles Michener, also presented keynote addresses, while composer David Lang, pianist Jeremy Denk '90, and flutist Claire Chase '01, founder of ICE, participated in a panel discussion.
A full list of winners and details on the Rubin Institute, including concert reviews by the Rubin Fellows and members of the public, biographies on all those involved, concert programs, and more, can be found at the institute's website, www.oberlin.edu/rubininstitute.
Journeys to Cleveland and Oberlin
Unexpected Journeys, an original collaborative work, was performed in February by Oberlin students representing a variety of majors in the college and conservatory. Directed by Oberlin Associate Professor Caroline Jackson Smith and choreographed by Dianne McIntyre, the show was the opening performance of a collaboration between Oberlin's theater and dance program and Cleveland's PlayhouseSquare. The performance also featured the premiere of Ntozake Shange's choreopoem why i had to dance, directed and choreographed by McIntyre. For more information, read The Source article at http://oncampus.oberlin.edu.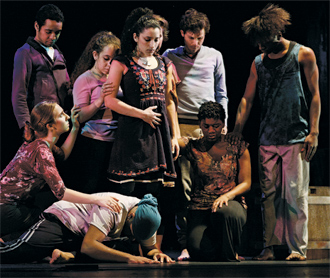 (Photo by John Seyfried)
Rocker Winger Composes Conversation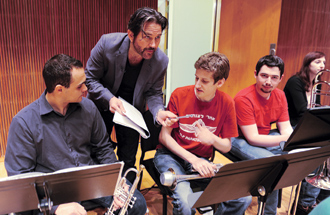 "I think they're going to kill it."
In the parlance of heavy metal, that's high praise, and it's what Kip Winger, of the '80s hair metal band Winger, said about the Oberlin conservatory students with whom he was about to record the music for his contemporary ballet. Winger, a bass player and vocalist, hired the 62-piece all-student Oberlin Orchestra to record his composition Conversations with Nijinsky in Warner Concert Hall in January.
It wasn't the rocker's first foray into classical music: in addition to composing Ghosts, a ballet premiered by the San Francisco Ballet in 2010, Winger himself studied ballet for two decades. Through a number of connections in music, and his own knowledge of the strength of the conservatory, Winger said that "everything kind of just fell into place" to make the recording happen. "Oberlin was perfect," he says. For more information about Winger experiencing Oberlin, and Oberlin experiencing Winger, see the Oberlin.edu news article.
Finney & Ferd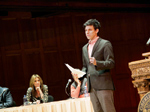 (Photo by Dale Preston '83)
The college held a lively public speaking competition in February that was part debate, part American Idol. In the inaugural Charles Finney Oratorical Competition, named for the college's fiery orator and second president, student contestants could choose one of four topics to speak on for a maximum of five minutes. Speakers did not have to memorize their talk—they could use notes—but they could not read it. The speeches were judged by Carol Costello, CNN anchor and reporter; dean of the conservatory David Stull '89; and Professor Anu Needham. Ben Jones '96, vice president of communications, was master of ceremonies. The competition was organized by Ferd Protzman '75, assistant to Oberlin's president and a long-time journalist. To read more, see The Source article at http://oncampus.oberlin.edu.