Lena Dunham is Having a Moment. An Awkward One.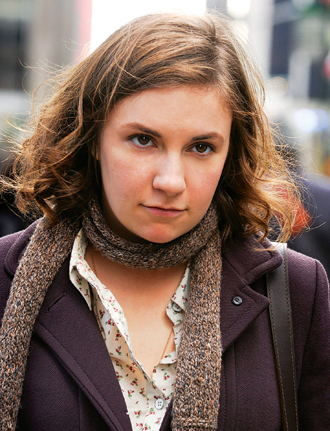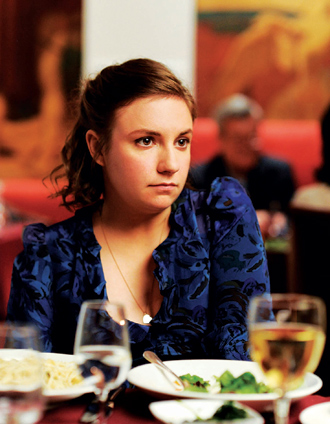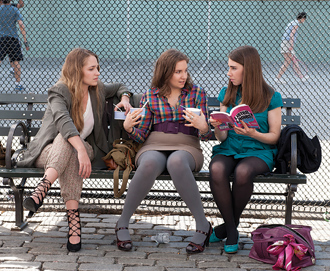 The 2008 grad may — or may not — be the voice of her generation. She's unsure.
At age 25, with an assistant, a publicist, Judd Apatow for a mentor, and her own HBO television series,Girls, Lena Dunham '08 just might be the Obie we all love to hate. Except when we can't help but love her, for hilariously depicting young adults coming of age and taking Oberlin along for the ride.
Dunham's twisted affinity for Oberlin comes through in her show, her choice of collaborators, and, of course, her lifestyle. (In both New York and Los Angeles, you'll find her haunting juice bars and health food restaurants, perhaps hoping that they'll rival the food at Tank.) The deeper she delves into the 20-something-self-discovery genre, the more she turns to her Oberlin experience for material—humorous or not.
"Oberlin is a quintessential liberal arts college, in that it has its hippie aspects that you can make fun of, but it's also a serious place for serious thinking," Dunham says. "Four years there makes you smart, but also spoils you. You get into the world and your job is no longer pursuing your intellectual passions with your best friends, sitting around a tree."
In that spirit, Girls tells the story of four recent liberal arts grads struggling to make their way in New York City through jobs, friends, sex, plenty of humiliation, and "financially limited pursuits," Dunham says. She plays Hannah, one of the four main characters, three of whom are Oberlin alums, according to her script. Besides starring and serving, with Apatow, as an executive producer, she is also a writer and director of the series, which began airing in April.
The awkward relationships and pathetic moments featured in the show are a sort of sequel to Dunham's 2010 award-winning film Tiny Furniture — about a college grad returning home from Ohio to live with her family, filmed in Dunham's parents' Tribeca loft — with more of her signature, hyper-ironic self-awareness. In the Girls trailer, her character says, "I think that I may be the voice of my generation, or at least a voice of a generation."
"This series has fun with how technology has changed how people navigate relationships. It's also about how stupid smart people can be at that age. Everyone needs to take a beating to figure out who they are. And those awful moments are fun to watch."
— Judd Apatow
"I want to point out that's the character's rock-bottom, delusional moment," Dunham disclaims. "She's on drugs, speaking to her parents, trying to get them to continue supporting her. It's a dangerous thing to say, because it could be taken as me, the author, saying, 'Look world, I'm here!'"
On the other hand, Dunham admits that Girls is her attempt at bringing the experience of some millenials into mainstream popular culture.
"These girls grew up watching Sex and the City, and now they're living in a world that's very different from their expectations," she says. "This is the first generation that can expect to do less well than their parents, and that's a terrifying prospect. They're trying to find jobs in an economy that has nothing for them. And this is a generation that was raised on social networking — they've been IMing (instant messaging) since fifth grade. They consider text more appropriate than a phone call. I wanted to capture all of that."
And her fellow executive producer Judd Apatow professes a strong belief in her efforts. "I would never say anyone is a voice of a generation, but she definitely speaks to the complexities of being young during this particular decade," he wrote in an e-mail. "When I worked on Freaks and Geeks, we highlighted life before computers and texting changed everything. This series has fun with how technology has changed how people navigate relationships. It's also about how stupid smart people can be at that age. Everyone needs to take a beating to figure out who they are. And those awful moments are fun to watch."
But Dunham doesn't seem to be taking a beating these days. Though she says she started "to quietly feel like an imposter" on the big professional set at first, she's grown more confident. Plus, help is never far away. Apatow played a big role in casting the show and editing the scripts. He even cowrote a script with Dunham.
Girls
Airs
Sundays
10:30 p.m. EST
HBO
---
"I sound cultish when I talk about him: 'He's changed my life. He's a wonderful man,' " she says with a laugh. "I cherish that relationship, but I've also realized you can't get your job done and walk around in total awe all the time."
Dunham splits her time between New York, where Girls is filmed (she lives in Brooklyn Heights) and Los Angeles, where she is working on a number of film and television projects. She's already been commissioned to write some scripts for her show's second season. She's also started drafting a screenplay of Dash & Lily's Book of Dares, a commission that came from producer Scott Rudin. Her rising star was duly noted by Forbes magazine, which included her — along with Jonah Hill and LeBron James — in the entertainment category of its "30 under 30" list of young people whose careers are worth watching.
Another recent project is the indie film Nobody Walks, directed by Ry Russo-Young '03, one of Dunham's best friends, whom she met in New York. Dunham and Russo-Young cowrote the film, a drama about a young woman from New York who comes to L.A. to make a movie and interrupts the family life of her sound designer. The movie made its world premiere at Sundance this year, and Russo-Young sold it to Magnolia Pictures.
Dunham says the project was eye-opening: "I'm interested in exploring serious issues, but I couch them in comedy. Ry's not afraid to have a scene that's not about the laugh, but about pure intensity of emotion. It was freeing for me; it's really not self-conscious." There might be more drama in Dunham's future. If she were making a movie in Oberlin now, she imagines it would be an adaptation of a short story by Emma Straub '02, the writer called "the belle of the Brooklyn indie lit ball" by the New York-centric Gothamist.com.
In the meantime, Girls has been an all-consuming project for Dunham. Though it's based on some of her classmates from Oberlin, its characters are composites, so she's not spoofing any one person. "But I hope the Oberlin community will see some of themselves in these girls, who are seeking, inquisitive, and conscious in a very Oberlin way," she says.
As for whether the series showcases a certain Oberlin sensibility, Apatow writes, "The only Oberlin sensibility I am ever aware of is that I often work with great writers, and at some point I learn they went to Oberlin. Then I wonder why I went to USC."
Liz Logan '05 is a freelance writer based in New York City. Her writing has been published in Time, Poets & Writers, and Time Out Chicago.