Losses
Dewey Ganzel
Emeritus English Professor
1927 - 2011
Dewey Alvin Ganzel was born in Albion, Nebraska, in July 1927. He served in the U.S. Navy during WWII, then finished his undergraduate work at the University of Nebraska in 1949. He taught high school in Nebraska for three years, then had a Fulbright year in Pakistan before entering the PhD program at the University of Chicago in 1953. In 1955 he married Carol Henderson and in 1958 he took a job at Oberlin, where he remained until his retirement in 1997.
Dewey's 40 years of teaching at Oberlin saw many changes, in the college and in the department where he served. His leadership of the English department was directly responsible for its emergence as a strong and diverse institutional presence, characterized by high morale, productivity of many sorts, and a significant commitment to equality. His "velvet revolution," made possible by a series of '60s and '70s retirements, instituted equality of voice, vote, teaching load, schedule, and coverage to a group for which those issues had long been problematic. Whether they know it or not, those who teach English at Oberlin are indebted to him and to his model for a strong department.
In the culture of the college, beyond the department, Dewey's role was perhaps more gadfly than leader. He could be refreshingly contrarian, and in faculty meetings his input, while not always greeted with enthusiasm, was generally thoughtful, pointed, and ultimately useful.
In the Oberlin community at large, Dewey served yet another role, active in city affairs and serving on our city council for eight years, two of them as chair (in effect a sort of mayor). If you want to understand his legacy, look around you: Many of our most useful and tasteful buildings—the fire station, the public housing units, the police station, and the public library—owe their existence to his interest in modern architecture and his desire to make city planning both a creative and a sensible exercise.
Dewey's scholarship had considerable range, beginning as it did with the plays of Bulwer Lytton (subject of his PhD dissertation) and including the career of John Payne Collier (whom he exonerated, in the biography Fortune and Men's Eyes, from many long-standing accusations of forgery), but reflecting also his interest in American writing, from Mark Twain (he published Mark Twain Abroad in 1968) through James, Hemingway, Fitzgerald, and Faulkner. These latter were the writers he taught most consistently and successfully, and if we had nothing more than the record of his memorable teaching of them, we would have more than enough to commemorate and admire: a teaching career that reflected the best values and clearest meanings of a liberal arts college.
The variety and plenitude of such a career make any summary difficult. Dewey was a character, and Dewey had character, in plenitude. Acting in plays, setting type in his basement, collecting first editions, hosting students for small discussion groups at his Elm Street residence, searching out antiques, researching at the British Library, hosting large parties, Dewey surely exemplified the nature and quality of the college where he chose to have his multifaceted career. He died on January 31, 2011, and he is much missed.
David Young
Emeritus Longman Professor of English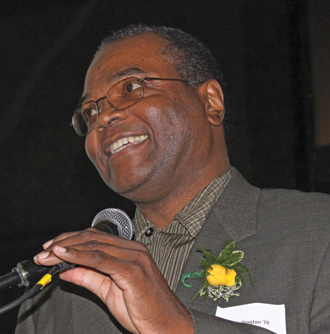 Al Wellington '70
Al Wellington '70 died on January 24 at the age of 63. While a student at Oberlin, he was three-time letter-winner in basketball, played a season of lacrosse, and was inducted into the Oberlin College Athletics Hall of Fame in 2010.
During his freshmen year, Mr. Wellington and his friend and teammate Randy Miller signed and sealed a written statement that said, "We solemnly pledge to work hard to improve our skills and conditioning and win the Ohio Athletic Conference Championship in basketball before we graduate from Oberlin." Wellington was named co-captain for his junior and senior campaigns. Sticking with the original pledge, the team's hard work paid off as he and his Yeomen teammates won the 1970 OAC Tournament Championship by defeating Wittenberg 65-58. The team's achievement is still highly regarded as one of the greatest moments in Oberlin athletics history. That year, he averaged an impressive 18 points per game, and during the four-game championship series, he raised his average to 23 points per game, making 41 out of 69 shot attempts. Wellington and Miller recently chronicled that magical 1970 season with a book they co-wrote entitled, Oberlin Fever, A Championship Spirit in Black and White (see Oberlin Alumni Magazine winter 2011/12).
Success also followed Mr. Wellington to the lacrosse field, where he was second on the team in scoring and was named to the All-Midwest Second Team during his senior season.
After earning his bachelor's degree in sociology, he was hired by the college as an assistant director of admissions, responsible for minority recruitment. In 1972, he won a seat as an at-large city councilman for Oberlin, becoming, at age 23, the youngest elected official in Ohio.
In 1975 Mr. Wellington earned a master's degree in marketing from the Wharton School at the University of Pennsylvania. In 1978, he founded the Wellington Group, which became a dynamic force in the African American consumer marketing industry.
In addition, Mr. Wellington was the principal promoter and visionary of Sports Plus, Inc. Founded in 1982, Sports Plus comprised African American attorneys, accountants, investment advisors and professional managers, and a sports agent, Everett Glenn '74, whom Mr. Wellington had recruited as a student. Sports Plus eventually represented more than 30 athletes, including future football Hall of Famers Jerry Rice and Richard Dent and broadcaster and former basketball player Clark Kellogg.
Mike Mancini
Assistant Director of Athletics for Communications
James Walker White
Director of Financial Aid
1924 - 2011
James Walker White probably picked the wrong career when he chose to go into admissions and financial aid work at the college level. Instead, he should have been a bridge builder.
The bridges he built between the college, the city of Oberlin, and Lorain County continue to impact the college and people who think they have little to do with this institution. The bridges he built between the college and countless first generation, working class, African American, and Hispanic students changed us and enriched the lives of hundreds of young people who never thought they could attend Oberlin, let alone graduate. And, the bridges he built linking the college and the community—through an incredible list of institutional and political affiliations—were significant.
It is always ironic that the "memorial minute" of a valued member of the college community occurs long after their obvious roles in the community have ended. We would bet that a significant number of the folks assembled for this faculty meeting knew little, if anything, about Jim White before this past year.
That year was incredible for Jim, as his name, picture, and life accomplishments were before us frequently when he was named Oberlin's Person of the Year and honored by the college as the recipient of the Distinguished Service to the Community Award. His obituary and the tribute given him by the executive director of the Oberlin Heritage Center reintroduced Jim to this community. Don and I cannot do better than that.
Instead, we want to chronicle briefly the bridge building that made James Walker White the special person he was. We sought out people who knew Jim in Oberlin and those who remember his years at Muskingum College. We cannot tell all of their stories, but a few stand out.
Jim loved Oberlin athletics. He never missed home games and precious few played elsewhere. He knew the young people on the teams. He also knew their families and helped many who needed financial aid to matriculate here. Far more importantly, however, he understood that many of these young students needed bridges to succeed and thrive. He made sure that first generation students became part of the total Oberlin community.
Jim loved classical music and opera. Every year he encouraged financial aid students, many of whom had never been exposed to classical music, to attend conservatory productions. He also arranged trips to the ballet and the Cleveland Orchestra and Cleveland Opera. He did that quietly, without fanfare, and his students embraced the opportunities he helped make possible. This kind of bridge building enhanced the quality of life of our students. It made this a better place.
James White bridged another chasm in the Oberlin Community. He, perhaps more than any of us, understood that students' academic success here was frequently undercut when families encountered divorce and financial turmoil. He went the extra mile to understand the situations of individual students and their families.
One young woman—now a distinguished academic—described how Jim salvaged her Oberlin career. A divorce altered her family's financial need status and she had to withdraw from the college. She spent a year working 80 hours a week to save enough to return to Oberlin but soon learned that would be impossible. Jim restructured her financial aid, worked with her unemployed mother, and made it possible for the student to return. She reported that when she opened the letter outlining the new aid package, she broke into tears. She grasped the fact that she could return to Oberlin.
That exemplifies the diversity bridge Jim was instrumental in building at Oberlin. Jim fiercely embraced need-blind admissions, and his efforts made it possible for working class, rural, small town, first generation, and special needs young people to enter, embrace, and help build a richer, better Oberlin.
And he did not limit his belief in diversity to this campus. For years he was instrumental in founding and implementing what came to be called the Access Program. Through it, Lorain County schools—many of them devoid of sufficient guidance counselors—recruited professionals to assist students as they sought admission to college and the financial aid they needed to complete their educations. He tried to help them get to college and stay there, and he did not care if that college was Oberlin or another institution. He bridged another gap.
Jim will build no more bridges, not even to a favorite Manhattan. He died on December 7, 2011. Generations of Oberlin students and faculty will, however, benefit from those he has left us.
James Leo Walsh and Donald J. Hunsinger
Professors Emeriti