Alumni Notes
The Return of Hunter Dupree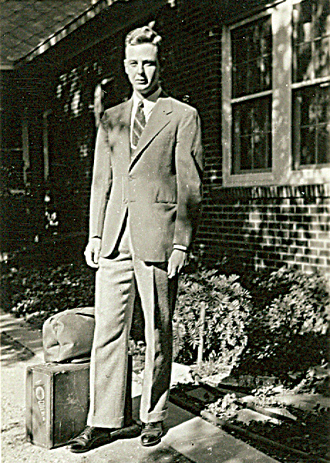 This photo of A. Hunter Dupree '42, from approximately 1939, was taken in front of his parents' home in Lubbock, Texas, as he was departing for Oberlin. An Oberlin pennant sticker is visible on his suitcase. Hunter and his family will be honored on Sunday, May 27, for their donation of the A. Hunter Dupree Family Papers to the Oberlin College Archives. Dupree, a historian of science, is the author of a book about botanist Asa Gray. Fellow alumni from the Class of 1942 will be joining the Dupree family for a mini 70th reunion that weekend.
Met by Day, Knight by Night
It's been a good year for Maryan Wynn Ainsworth '71, curator of European paintings at the Metropolitan Museum of Art in New York. In January, her book Man, Myth, and Sensual Pleasures: Jan Gossart's Renaissance (New York: Metropolitan Museum of Art, in association with Yale University Press, 2010), about an important Netherlandish painter who bridged Northern European and Italian Renaissance styles, won the coveted Alfred H. Barr Jr. award from the College Art Association. Originally printed in English, Dutch, and French, the book went quickly out of print and has just been reprinted in English.
Last September, Ainsworth was knighted by Belgium. For the second time in her life. She was awarded the Knight of the Order of Léopold for the book and the exhibition it catalogues.
"The first (time) was the Knight of the Order of the Crown, about 10 years ago," Ainsworth says. The Léopold, awarded by royal decree, is "a big step up," she says. "I was kind of hoping for a castle this time, but no such luck," she jokes.
Ambassador Herman Portocarero, Consul General of Belgium in New York, lauded Ainsworth for having made "very substantial contributions to the knowledge and appreciation of the cultural heritages and history of Belgium." Ainsworth, he said, "has illustrated our diversity, our complexity, and the creativity and the depth of our national character."
Cool Job Q&A: Billie Streets '86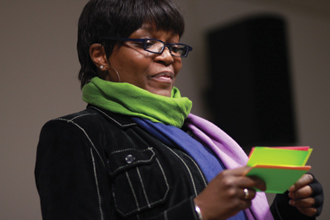 Theodosia "Billie" Streets '86 was a three-year basketball player as an Oberlin student, so her job as vice president of corporate events and communications administration at Madison Square Garden suits her pretty well. In February, she came to Oberlin for a campus talk co-sponsored by the Heisman Club, the Office of Career Services, and the Multicultural Resource Center. James Blankenship '12 and Assistant Director of Athletics Mike Mancini asked her a few questions for Oberlin Alumni Magazine.
What's the best part about your job?
I get to do what I really enjoy, what I really love. I need the type of job where I can continue to learn and continue to grow, and I happen to work with somebody who understands that, so I'm always given new opportunities to grow.
You studied sociology at Oberlin. Did that have any impact on your decision to go into your current job?
Honestly, when I came to Oberlin I wanted to be a psychiatrist. And if I had to do it again, I'd be a forensic psychiatrist. I don't know if I can say sociology helped me any way specifically, but I would say overall that my liberal arts education helped me become the person I am, helped me to respect different cultures in a different way. I grew up in a town that was really WASPy, really white, really the same. I was in a class of 532 students, and 15 were black. So I think being here and learning about sociology and being with other Oberlin students helped me become a more well-rounded person.
You've been at Madison Square Garden for 20 years. What's the coolest event you've done?
After September 11, our owner wanted to raise funds, and so in a very short period of time, we put together the Concert for New York. That was the coolest event because there was so much passion about being a New Yorker at that time and so much passion about being an American. It was like everyone was working toward this amazing cause. It was for a purpose. A lot of times when we do events, everyone has their own accountabilities and responsibilities and people they have to answer to. But with this event, everyone worked toward one cause.
Do you ever get a chance to go out and shoot around with the players?
I have shot around when the players were there [laughs], but I have not shot around with the players. There's an important distinction there.
Reuniting in Oberlin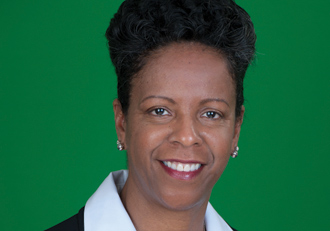 Oberlin reunions hold a special place in my heart for many reasons, but there is one story in particular I'd like to share with you. It's about love.
In 2001, my son, Jared Glenn '07, and I were preparing to go on a tour of colleges. The plan was to visit schools in New York and Boston and then swing back around for him to visit Oberlin while I attended my 25th reunion. At the very last minute, Jared informed he had an exam that could not be rescheduled. I considered canceling my trip as well, but decided to attend my reunion. I am so glad I did because I met my partner, my husband Charles, at the reunion.
Charles did not attend Oberlin College, but his sister, Yvonne Hughes '71, did. Yvonne was having her 30th reunion that same weekend, and Charles agreed to accompany her. I did not know Yvonne, but I met some of her classmates and she met some of mine. We all ended up hanging out together, and we had a blast. I went back to Oberlin with the goal of reuniting with old friends and was delighted to meet folks I did not know before. Who knew I would also meet my husband there?
The campus echoes with so many remembered traditions, like Mudd Library and its ball chairs (we called them womb chairs at the time), Tappan Square and its colorful rocks, Gibson's whole wheat donuts, Finney Chapel (where you could see artists like Ray Charles perform for next to nothing), and the newly renovated Allen Memorial Art Museum. And then there's the thrill of discovering what's new on campus, like the Science Center, the Environmental Studies Center, Kahn Hall, the Kohl Building that houses the jazz studies department, and, of course, the Dewy Ward '34 Alumni Center. Commencement/Reunion Weekend is filled with so much energy and excitement from the various reunion activities, senior activities, parents, and the commencement ceremony.
Another reason why Oberlin reunions are so special to me is because in 2006, while I was president of the Oberlin Alumni Association of Afrikan Ancestry (OA4), we held a very successful reunion. More than 200 African American alumni returned to campus to celebrate and To Rise! We were able to convince folks who had yet to return to campus after graduation—and those who swore they would never return to Oberlin—to attend the reunion. Many are now strong supporters of the college.
There are many reasons to return to Oberlin. The classes celebrating reunions in 2012 are 1996, 1997, 1998; 1987; 1976, 1977, 1978; 1962; 1946, 1947, and 1948 (plus some from 1942!). If you can't make it back to campus for a reunion or commencement on May 25—28, 2012, the Conservatory of Music will hold its first-ever reunion June 14—17, 2012.
If this column inspires you to come back, I'd love to hear from you. Please seek me out during Commencement/Reunion Weekend. I'll be the one partying with the Half-Century Club (50th reunion and beyond) reunion folks on Saturday night, reuniting with my Class of 1976 classmates, and giving a speech at the Champagne Luncheon on Sunday. Or, drop me a line at alumni@oberlin.edu.
Jackie Bradley Hughes '76
President, Oberlin Alumni Association
Regional Clubbing
The Oberlin Alumni Association's regional clubs keep alumni, parents, students, and other friends of Oberlin connected to each other and to the college. There are 27 regional clubs, including an international club in London. Some of the activities are simply about getting people together, while others involve the kind of intellectual explorations that Oberlin's lifelong learners seek out.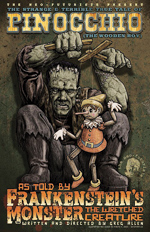 This spring, the Oberlin Club of Chicago attended the latest work by the Neo-Futurists, a theater company founded by Greg Allen '84. The Strange and Terrible True Tale of Pinocchio, as told by Frankenstein's Monster, the Wretched Creature, written and directed by Allen and featuring puppets by Blair Thomas '85, uses puppets, clowning, and video projections to stage Carlo Collodi's original story of the wooden boy, seen through the eyes of Mary Shelley's similarly-fabricated character.
Clubs also organized book readings and signings with Oberlin authors, a talk by Oberlin Athletic Director William Roth, a performance by the Obertones, a professional basketball game, happy hours, and the annual Oberlin Cares—Alumni Day of Service.
During summers, the clubs host annual picnics to which admitted students and their parents are invited. This allows incoming students to mingle with each other and with Oberlin alumni before they arrive on campus, and allows parents to meet people connected with the college. "By the time they get to campus," says John Keller, director of alumni regional activities and education, "they already feel part of the Oberlin family."
Athletic Alumni Make the CnXn
Ever notice those professional football players with their home area codes emblazoned across their eye black? You're not the only one. As it turns out, two recent alumni are building a business in the hopes that many more athletes will express this kind of hometown pride.
CnXn, short for "Connection," is the brainchild of Brian Verne '09 and Jack Dunn '10, both four-year starters and two-year captains for the Yeomen baseball team. After leaving Oberlin, both moved to Cleveland to start work on their startup idea: a company that makes top-of-the-line, area code-specific athletic apparel. "Made for the athlete," its website proclaims, "worn for the city."
The entrepreneurial trio—Verne, Dunn, and longtime friend Mike Eppich—has grown CnXn slowly, relying on their own funds and tenacity to promote it and to bring in clients. But they do more than sell t-shirts.
Once an athlete becomes part of a CnXn regional online network, the company connects them to the top tournaments, camps, combines, instructors, and fitness centers in each area code," Verne says. "Our online platform allows athletes to post game film, photos, statistics, workouts…and at the same time interact, comment, and share this info with other athletes within their area code."
Fortunately, the trio had close ties with several sports agents who put them in contact with and helped sign their first brand representatives. These days, more than 50 professional athletes represent the CnXn brand. Phil Brua '11, who pitched for the Toronto Blue Jays' Single A affiliate, and Chris Schubert '08, who plays in the Arena Football League with the Spokane Shock, are among the athletes signed to the company. "Relatively speaking," says Verne, "CnXn is going very well."
Verne, Dunn, and Eppich aim to operate on a national level one day.
"As athletes, we have an innate competitive fire—that will to win," says Verne.
Pianist Jingge Yan '10 Nets Top Prize in Beethoven Competition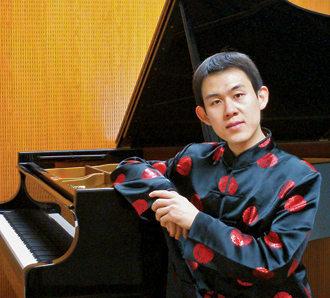 Pianist Jingge Yan '10 recently captured first place at the fourth annual International Deutsche Telekom Beethoven Competition Bonn, a prestigious victory that carries with it a €30,000 prize, a recording contract, and performance opportunities in Germany and abroad. The competition was held in Bonn's premiere concert venue, Beethovenhalle, on December 10, 2011.
A native of China, Yan began his musical studies at an early age and continued them through high school in Beijing. At Oberlin, he developed a keen interest in Beethoven that was nurtured by Professor of Piano Peter Takács, who at the time was recording all of Beethoven's piano sonatas for his recently released CD set, Beethoven: The Complete Sonatas.
"[Takacs] helped me cultivate a deep love of Beethoven by digging in and finding out the real spirit and meaning behind the notes," Yan says.
In addition to winning first prize in the Beethoven competition, Yan also claimed the special prize for chamber music. Yan and the second and third prizewinners made a special appearance during BeethovenNacht on December 16 in the Beethovenhalle. Also, in addition to a 10-concert tour with Klassische Philhamonie Bonn throughout Germany, Yan will perform in the U.S., Slovakia, Netherlands, and Italy.
Yan is currently pursuing graduate studies at the Mozarteum in Salzburg, Austria.
For more information, read Jingge Yan '10 Nets Top Prize in 2011 Deutsche Telekom Beethoven Competition Bonn.