Thought Process
Awesome, Illustrated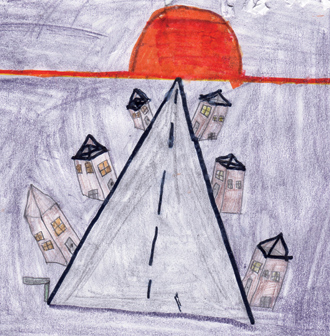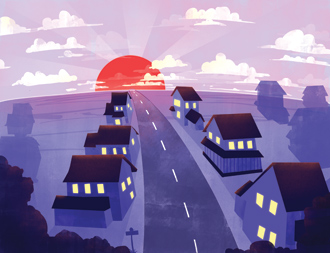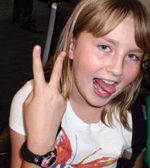 (Courtesy of Ashley Clifford)
Washington, D.C. software engineer and illustrator Garrett Miller '06 says kids often have great ideas for artwork, but they don't always have the ability to draw exactly what they imagine. That's where his web project, Imaginawesome, comes in. Miller takes the raw work of inspired children and applies his prodigious skills as an illustrator to make a new piece of art — which Miller's site simply describes as "Kid's Drawings + Awesome Dust."
OAM asked Miller to apply said dust to a drawing of Oberlin's Union Street by 10-year-old Liberty Naval, who lives in Langston residence hall with her aunt, Ashley Clifford, resident director for Langston, Burton, Noah, and Zechiel and coordinator of theme housing at Oberlin. Both artworks turned out pretty, well, awesome.
Miller has a number of whimsical and creative participatory projects going on at his site — check them out at www.heyitsgarrett.com.
Great Moments in Oberlin Sports History, in Chronological Order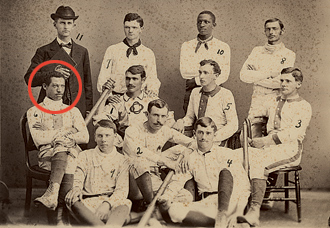 Moses Fleetwood Walker, Oberlin Class of 1883, becomes the first African American to play professional baseball.
---

Men's soccer remains unbeaten for 42 straight matches starting in 1950 and lasting through 1955.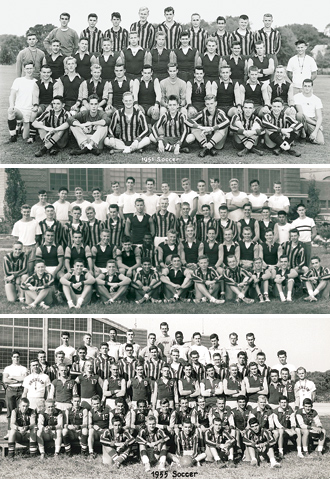 (Photos Courtesy of Oberlin College Archives)
---

Oberlin wins the 1970 Ohio Athletic Conference basketball tournament in dramatic fashion over Wittenberg, 65 - 58. The story of that team is well-documented in Oberlin Fever by Al Wellington '70 and Randy Miller '70.
---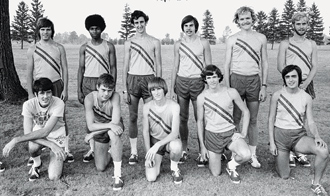 In November 1973, Coach Dick Michaels runs Lisa Matovik and Joan Atkins in a men's cross-country meet, over the objections of other coaches. The fight that ensued ended when the Ohio Athletic Conference (OAC) changed its bylaws to include women, opening the door for female varsity athletics in the conference.
---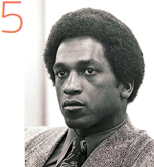 Oberlin hires Cass Jackson in 1974. He was the second African American head football coach at a nonhistorically black college in the National Collegiate Athletic Association.
---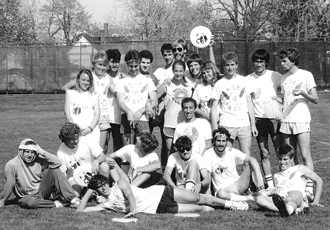 Oberlin's Ultimate Frisbee team was founded in the fall of 1976. The team, now known as the Flying Horsecows, is an integral part of campus life at Oberlin and has enjoyed three trips to the National Championships.
---

Sean Fri wins the 1988 Division III national title in the 1-meter springboard, becoming the first individual national champion in Oberlin history.
---

Ann Gilbert is named NCAA Division III Female Athlete of the Year in 1991. She led the nation in scoring her junior year and was second as a senior, when she set the division record for scoring in a game: 61 points.
---
Swimmer Mike Heithaus wins three consecutive Division III titles in the 400 Individual Medley (1993, 1994, and 1995).
---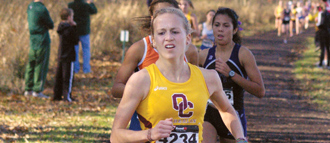 On February 10, 2012, Molly Martorella becomes the first woman in Oberlin history to run a sub-five-minute mile, beating the previous record by 4.46 seconds.
List compiled by George Smith '87 and Sean Gavin '98, respectively the outgoing and incoming presidents of the Heisman Club, an alumni group that supports Oberlin athletes and athletics.
---
Here are some of the runners-up offered by Sean Gavin '98:
- 1968 Oberlin beats the mighty swim team from Kenyon College as well as Ohio State to finish the year undefeated.
- The John W. Heisman Club is founded in 1978 to support varsity and club athletes as well as general health and welfare for the entire student population. The club has played an integral part in sustaining the role of athletics at Oberlin and provided an excellent forum for alumni relations.
- Lysle Butler '25 helped form Oberlin's physical education program in the 1950s
- Joanna Johnson '11 (2007-2010) is a six-time All-American (3 times in cross-country and 3 times in track)—the most in school history.
- Oberlin beating Ohio State in football in 1921.
140 RMS, PKVWS
A view of Central Park is something coveted by many New Yorkers, but Betsy Pinover Schiff '67 has 140 of them. For five years, the photographer visited homes, restaurants, embassies, offices, and hotels that ring the four sides of the 840-acre New York City landmark to capture the views from their windows and balconies for her book, Windows on Central Park: The Landscape Revealed (Schiffer Publishing, Ltd., October 2011). In this picture, Window View, Pinover Schiff's view of 90th Street and Central Park West is beautiful, but—with its mirrored reflections—slightly disorienting. Turns out, one of the best images in the book is the view from somebody's bathroom.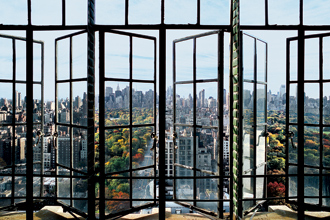 (Photo © 2011 Betsy Pinover Schiff)
Endquotes
"I don't mean to stereotype, but I know Oberlin graduates probably lean toward the liberal end of the political spectrum, and it's very important that, whatever your politics are, to always be intellectually curious and always be trying to challenge your own assumptions...Listen to people who you strongly disagree with and try and find the places where your views are different from your peer groups."
New York Times columnist Ross Douthat, Convocation speaker
Just outran a cheetah! Wait. Nope. Never mind. It was just a Cheeto. I outran a Cheeto."
Ed Helms '96, on Twitter, March 17
My publisher asked me to (write a memoir), but there's a point at which your life is not interesting, at least to me. I'd rather write fiction."
Author Toni Morrison during her visit to Oberlin, where it was announced the Toni Morrison Society would establish a residency at the college
"Kudos to the kids from the Oberlin Contemporary Music Ensemble and their director, Timothy Weiss, who played the heck out of this extremely challenging music. In the dark."
From a review of the group's February performance accompanying the 2001 Bill Morrison film Decasia, at the World Financial Center Wintergarden in New York City, in FeastofMusic.com
"What I hear from employers now is that they're placing a much higher premium on adaptability, analytical and problem-solving skills, and the ability to view problems from a variety of perspectives than they ever have before. The world has shifted in favor of applicants who can flex and move, and liberal arts graduates are wired to do just that."
Richard Berman, Oberlin's new director of career services
Sources: Oberlin Contemporary Music Ensemble, FeastofMusic.com; Douthat, Oberlin Review; Berman, oncampus.oberlin.edu; Helms, Twitter; Morrison, the Plain Dealer.