Alumni Notes
Can You Caption This Photograph?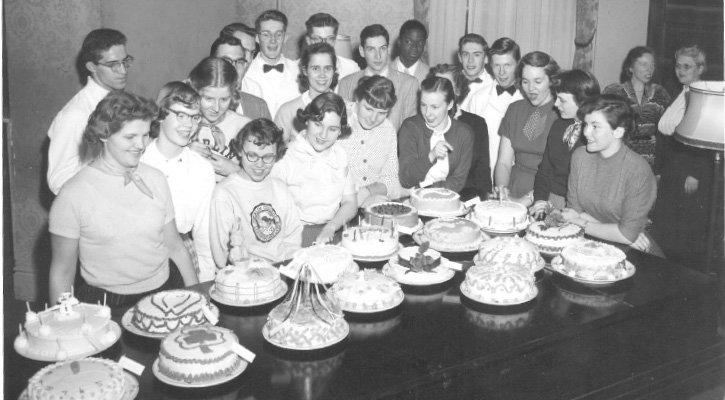 This gorgeous photo from March 1953 includes a note on the back reading "Dormitories: May Cottage Birthday Cakes." Drop us a note if you can explain!
---
Food as a Source of Community
As the Alumni Association prepares for another exciting reunion weekend this May, I find myself thinking about the things that unite us as a community. One facet that connects students, alumni, faculty, staff, community members, and families is food.
I am reminded of the dinners I enjoyed as a student at Afrikan Heritage House (formerly known as "Afro House" or "the House"), where you could get the best food on campus. Ms. Cheney, cook extraordinaire, was known for her fried chicken, macaroni and cheese, greens, yams, and fried fish. My mouth waters by just listing her dishes, which at the time reminded me of HOME. Folks from the north end of campus would make the trek to Afro House through rain, sleet, and the inevitable snow for a meal at the House. Afterwards, many students would gather around the piano in Lord/Saunders lounge for an impromptu jam session with congas beating, guitars strumming, and voices lifted in song. Others would gather around to hear about what was happening on campus.
I have heard countless stories of lifelong friendships formed at Dascomb's Fourth Meal, of culinary excellence coming out of a co-op special meal, and of a few experiments that may have gone awry in a dorm kitchenette during winter term. What all these stories have in common is a shared experience in Oberlin facilitated by food.
This discussion would not be complete without mentioning food activism. Obies—current students and alumni—continue to fight for what's right in food. Sustainable production practices, fair trade, supporting local producers, and composting are just a sampling of the myriad causes connecting Obies with what they eat. The annual Oberlin Cares Alumni Day of Service in April features regional clubs lending a hand at food banks to ensure that food gets to those in need.
This year, Oberlin will continue its commitment to sustainable food practices throughout reunion weekend. Bon Appétit, Oberlin's food services company, is committed to providing food sourced locally. All major dining events will have composting stations and will feature biodegradable plates and flatware. And of course, we will have food options for everyone's dietary needs.
If this issue of the Oberlin Alumni Magazine has reminded you of some of the food experiences you shared at Oberlin, I encourage you to reach out to those who shared them with you. With the OBIEWeb portal found on the Alumni Association's website (http://oberlin.edu/alumni), you can search for alumni whom you may have lost touch with and send an e-mail. Through OBIEWeb, you can also register for alumni events in your region. If you are a professional in the culinary world, let us know with a class note where we can taste your work. If you have a recipe or story you would like to share, you can send it by e-mail to alumni@oberlin.edu.
I hope we can share a meal together soon.
---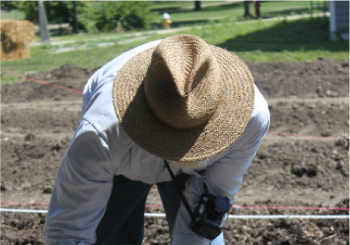 HAZELNUT NUTS
On their fruit, nut, and produce farm in the Blue Ridge Mountains of North Carolina, Kristen Bell Travis '01 and husband David are testing the commercial viability of a hazelnut orchard. Why hazelnuts? In addition to the nut's taste, health benefits, and profitability, the trees can be grown sustainably with few inputs. A hazelnut crop is not without risks, however; Kristen says they are susceptible to a fungal disease, and most varieties are not suited to a southern Appalachia climate.
In researching viable varieties of the tree, Kristen looked in part at the work of southern Minnesota sustainable agriculture researcher Phil Rutter '70, who breeds hazelnuts and chestnuts and is president and cofounder of the American Chestnut Foundation. Phil dreams of developing hazelnuts as an alternative to traditional row crops; for decades he has been working at creating a commercially viable hazelnut bush and is now experimenting with machines to quickly harvest the crop. American hazelnuts grown by Phil are pictured on the cover of this magazine.
---
The Wizard of Wipo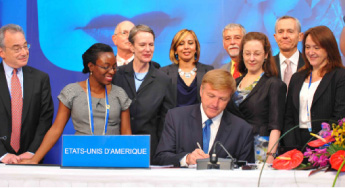 Justin Hughes '82, an intellectual property specialist, led the U.S. delegation at a diplomatic conference in Beijing last summer that led to the World Intellectual Property Organization (WIPO) Audiovisual Performances Treaty—the first multilateral intellectual property treaty in 15 years. Justin, who holds a law degree from Harvard, served as the chief copyright negotiator for the United States, a position he says "evolved" from his part-time work as an adviser on this issue to the Obama administration. He was joined in Beijing by his nephew, Robin Comisar '10, an East Asian studies and economics major while at Oberlin and now a video editor in New York. Justin's regular job is as a professor at the Cardozo School of Law at Yeshiva University in New York, where students chose him for best professor awards in 2000, 2006, 2009, and 2010. One European Union official introducing him at a Singapore conference asked, "What happened in 2007-2008?"
---
Endquotes
Ruby Saha '14, blogpost "This Post Will Probably Make You Hungry"
What's your favorite cookbook?
Josh Adler '01, owner, Paris Wine Company
What's your favorite Oberlin food memory?
Adam Rhodes '79, co-owner of the Granville, Ohio, craft brewery Homestead Beer Company
Did you arrive at Oberlin already interested in food, or did your interest develop in Oberlin?
Trevett Hooper '98, owner of the Pittsburgh restaurant Legume
What's your favorite Oberlin food memory?
Shoshanah Inwood '99, assistant professor, University of Vermont
Young Kim '85, executive director of the Fondy Food Center in Milwaukee
---
Coming Reunions 2013: May 24-27
10th Reunion

Classes of 2002, 2003, 2004

25th Reunion

Class of 1988

30th Reunion

Classes of 1982, 1983, 1984

45th Reunion

Classes of 1967, 1968, 1969

50th Reunion

Class of 1963

Half Century Club Reunions

Classes of 1952, 1953, 1954