Around Tappan Square
Campus Responds to Bias Incidents
In the early morning hours of Monday, March 4, a person reportedly wearing a hood and robe resembling a KKK outfit was spotted between South Hall and the Edmonia Lewis Center, in the vicinity of Afrikan Heritage House.
For weeks leading up to the sighting, repeated incidents of hate speech—including defacing campus posters with racist, homophobic, and anti-Semitic messages—prompted students and administrators to hold a series of forums, a sit-in at the Science Center, and a march of solidarity that was attended by nearly 500 students.
In the hours immediately after the March 4 incident, student leaders declared a Day of Solidarity. Administrators suspended classes and urged all students, faculty, and staff members to participate in the day's events. These included a teach-in led by the Department of Africana Studies; a demonstration and march beginning in Wilder Bowl; and a community convocation, "We Stand Together," that packed Finney Chapel and was live-streamed to more than 1,500 viewers. The day's events, and the incidents leading up to them, garnered widespread media attention across the nation and beyond.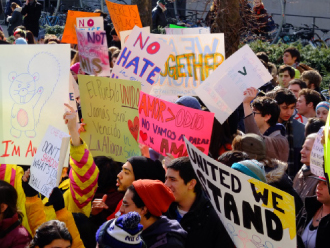 Oberlin Safety and Security officials, working with outside law enforcement groups, promptly instituted additional security measures to ensure the continued safety of all students. Following an investigation, two student suspects were identified and removed from campus. To maintain the fairness of the ongoing internal judicial processes and to protect privacy rights, administrators were not able to disclose details of the investigation.
On March 19, a group representing the work of more than 200 students presented a written proposal to the administration seeking to make the college and conservatory more diverse and inclusive. Some issues raised by the coalition—including changes to new-student and new-faculty orientation—have already been implemented, and additional concerns are being considered by the administration and board of trustees.
"The bias incidents are hateful and hurtful. But the response from our students, faculty, staff, and fellow citizens highlights our educational mission and the strength and vitality of our community," President Marvin Krislov wrote in a March 19 letter that was posted on the campus website. "The incidents have sparked ongoing and varied teaching, discussions, and actions, and we commend the many Oberlin students who have been instrumental in leading efforts to make Oberlin an even more diverse and inclusive place. Oberlin has faced many challenges since its founding in 1833, and has always emerged a stronger institution. We, as an institution, are committed to doing this work. It reaffirms Oberlin's long-standing values of inclusion, respect for others, and abiding faith in the worth of every individual."
---
Cradle of Presidents
Oberlin will say goodbye in June to David H. Stull '89, dean of the Conservatory of Music, and Sean Decatur, dean of the College of Arts and Sciences, both of whom have accepted new roles as presidents of other institutions.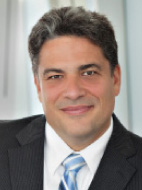 David H. Stull Dean of the Conservatory of Music
Stull will become president of the San Francisco Conservatory of Music, a nearly 100-year-old institution that enrolls about 400 students. Decatur will lead Kenyon College, located 80 miles south of Oberlin. "While we are very sorry to lose our two top deans, I know both will be outstanding presidents," says Oberlin President Marvin Krislov. "Their success at Oberlin will also help us attract worthy successors." Stull's new appointment closes his 13-year tenure at Oberlin, where he served for four years as associate dean of the conservatory prior to his promotion to dean. His wide range of achievements includes securing several major collections, professorships, scholarships, and building projects. Under his direction, the conservatory opened the 37,000-square-foot Bertram and Judith Kohl Building, home to Oberlin's jazz studies department.
"These last nine years have been the most extraordinary of my professional career," Stull says. "Oberlin is my alma mater and will always be my home, and I am proud to pursue another endeavor knowing that the Conservatory of Music at Oberlin is truly the best undergraduate training program of its kind in the world."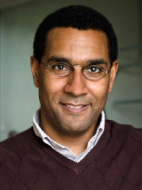 Sean Decatur Dean of the College of Arts and Sciences
Decatur, who arrived in July 2008, led efforts to reinforce the rigor of Oberlin's curricular and cocurricular offerings, an undertaking that resulted in the adoption of a new set of general requirements in the College of Arts and Sciences and an institution-wide course-credit system. He was instrumental in securing funding for initiatives throughout the college, including a $950,000 grant from the Andrew Mellon Foundation to establish the Oberlin Center for Languages and Cultures, and an $800,000 grant from the Howard Hughes Medical Institute to strengthen teaching and learning of quantitative skills in the natural sciences.
"Oberlin is a wonderful institution, and it has been a pleasure to be a part of it," says Decatur. "I appreciate the support and opportunity I have received here."
Associate Professor of Religion Joyce Babyak will serve as interim dean of the College of Arts and Sciences, and Associate Dean Andrea Kalyn will serve as interim dean of the conservatory. National searches will be held for both positions.
---
Musical Union Turns 175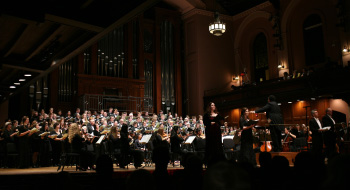 Union The Oberlin Musical Union, the country's second-oldest community chorus, celebrated its 175th anniversary in December with a performance with the Oberlin Orchestra and conductor Jason Harris in Finney Chapel. The concert featured Mozart's Great Mass in C Minor, K. 427 and included Oberlin voice faculty member soloists Salvatore Champagne, tenor, and Timothy LeFebvre, bass, in addition to soprano voice alumnae Ellie Dehn '02 and Marcy Stonikas '02.