MEMORIAL MINUTE

Paul Arnold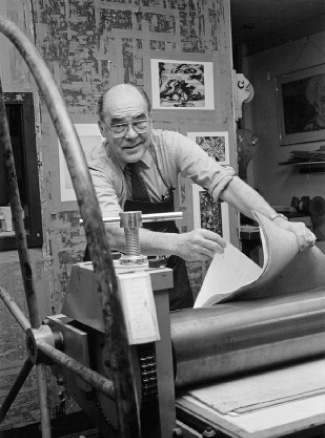 Paul Arnold was a humble and gracious gentleman who was not prone to either give nor appreciate longwinded speakers or lecturers, so I will respect that and be very brief.
First and foremost, Paul was a family man—loving not only his immediate family, but also embracing of, and loving to, the families of his colleagues. I think he enjoyed himself more in the company of my children than he did in my company! Most important for Oberlin, he thrived on being involved with his students and their work. He was a patient listener, rarely if ever seeking center stage, and he seriously engaged students in helping them solve their problems. While he always remained personally committed to traditional-style woodblock printing methods for his artistic expression, he was just as dedicated and supportive as an educator to all methods of artistic production. He was generous with his students, never begrudging their incessant demands for attention and always devoting a great deal of extra time to them. It seems as though Paul was always dealing with the art department or college business, demonstrating a particular technique, giving a formal critique, or simply chatting with his students.
The immense amount of time and effort paid off, and his dedication did not go unnoticed. Paul served three years as president of the College Art Association, as well as a term as president of the National Association of Schools of Art. He also had local commitments, particularly to FAVA (Firelands Association for the Visual Arts) and to his church.
By the end of his career as an artist, Paul's work had appeared in more than 225 exhibitions, many of them solo exhibitions.
He had won numerous awards and accolades and was part of 15 public collections, including those at the Cleveland Museum of Art, the Seattle Art Museum, the Allen Memorial Art Museum, and the Library of Congress. I, personally, missed him a great deal after he retired, and his presence is still felt and missed in the department.
---
J. Milton Yinger
On July 28, 2011, Oberlin College lost one of its most distinguished professors and teachers, world-renowned sociologist J. Milton Yinger. Milton was born in Quincy, Michigan, in 1916. His parents were Methodist ministers, and he grew up in a large family of five brothers and two sisters. His father trained his children in choral singing, and the "Yinger singers" gave hundreds of concerts in Milton's youth. He was interested in a variety of fields, from architecture to mathematics, but ultimately settled on economics and sociology, which he studied at DePauw University.
Milton subsequently received a master's degree in sociology from Louisiana State University (1939) and then moved on to the University of Wisconsin, where he received his PhD in 1943. At Wisconsin, he studied with a group of inspiring and subsequently famous sociologists like Howard Becker and the German émigré Hans Gerth. Shortly thereafter, in 1947, Milton joined Oberlin College, after a brief career at Ohio Wesleyan. Milton taught at Oberlin for 40 years (1947-1987), educating thousands of undergraduates in the theory and practice of sociological thinking and research.
Milton became a world-famous sociologist on account of his distinct contributions to three broad fields: the sociological study of religion, the sociology of race and ethnicity, and as the inventor of the term "counterculture."
In view of his upbringing, Milton's preoccupation with religion may seem understandable, but it is important to note that it was rather unusual in the early days of sociology as a discipline in the United States, where problems of immigration, crime, and race/ethnic relations in urban neighborhoods were the focus of the still dominant Chicago School. In a very important sense, therefore, Milton was one of the founding fathers of the sociology of religion in the U.S. Combining his knowledge of the European sociological classics with an insider's understanding of religion, intimate familiarity with religious texts, and propensity for theoretical generalization, Milton wrote four books on religion, culminating in his great synthetic effort, The Scientific Study of Religion (1970).
Milton's functional theory defined the phenomenon of religion in terms of "what it does" rather than "what it is," and what religion does is to provide "purpose in life and meaning in the face of death, suffering, evil, and injustice." In Milton's own, more informal formulation, religion is "a citadel of hope built on the edge of despair." Quite obviously, perhaps, this broad functional definition of religion made it into the kind of citadel that could take many forms beyond officially recognized and established religions, from Native American ghost dances to liberation theology, enabling Milton to uncover similarities and differences between what on the surface appeared to be incommensurable phenomena. Milton developed a multilinear model of the evolution of religious institutions from "sect-like" to "church-like" and balanced his account of religion as a "functional system" with the recognition that religious systems contained elements of coercion and conflict and were not autonomous from outside influences.
Milton's second major contribution lay in the sphere of the study of racial and ethnic relations, an interest that he himself dated back to the two years he had spent in Baton Rouge, where he quickly became known as the Yankee. Subsequently, Milton and his wife, Winnie, served as directors of a Quaker camp in Indianapolis, interacting with workers of different ethnicities and races, a practical experience in early multiracialism and multiculturalism that soon became a vehicle for combining practical work with sociological investigation. Out of this effort, and his collaboration with Professor George Simpson, was born the pioneering textbook Racial and Cultural Minorities, a book that won the Anisfield-Wolf award for the best scholarly work on race relations, an honor that the two authors shared with Dr. Martin Luther King Jr. Almost without knowing it, Milton noted later, he and his research collaborator had become activists in the civil rights movement. Milton's intellectual preoccupation with race and ethnicity culminated in his theoretical synthesis on the subject, Ethnicity. Source of Strength? Source of Conflict? (1994).
Finally, there was Milton's interest in counterculture, oppositional movements that not only advocated but also embodied alternative values and ways of life in opposition to dominant creeds. Whether religious sects, hippie companionships, or, we may add, our own vegan co-ops, these movements arose in situations in which dominant creeds became unresponsive to new needs and societal demands. In the resulting situation of anomie characterized by the discrepancy between aspirations and achievements and "normlessness"—countercultural movements served to "highlight, dramatize, and anticipate" drastic problems that lay ahead. In Milton's view, three such major problems would continue to haunt human societies well into the 21st century: 1) "how to increase justice among societies, ethnic groups, races, classes, ages, sexes," 2) "how to attain peace, i.e. eliminate organized violence as a means for resolving major conflicts," and 3) how to protect the environment from over-crowding, depletion of resources, and pollution.
As is readily apparent, Milton's sociological diagnosis of our age is far from outdated. Beyond this diagnosis and his many honors—including the highest one of all—presidency of the American Sociological Association (1976-1977) was Milton Yinger, teacher, and man.
Milton saw teaching as an integral part of his many research endeavors, and he stuck with Oberlin, one suspects, not least for this reason. His own thought on the subject was: "Think out loud in front of students. Give them a sense of my own struggle with the complexity and often the ambiguity of a topic; and then listen to them. The best help I can give them, I believe, is to teach them to ask themselves powerful questions on important topics." He himself did just that—asking important questions on important topics—throughout a scholarly and teaching career that spanned half a century. He also left the sociology department with an endowed lecture fund that has enabled us to enrich our intellectual life year in and year out.
Milton was a devoted family man—having being married to Winnie for 61 years, until she passed away in 2002. He was a good, kind, and peace-loving man; a scholar, teacher, sociologist, and humanist. If only more of us were like him, the world would indeed be a better place. Let us cherish his contribution and honor his memory.